I've been driving a run of midsize SUVs recently and I am starting to understand the motivations behind purchasing one. Of course, these two-row roomy SUVs such as the Nissan Murano, Honda Passport or the new Chevy Blazer, are not as gigantic inside as their larger third-row equipped siblings, or as cost effective as the insanely popular compact segment, but they do offer more power, comfort and space than the compacts, and a greater focus on style.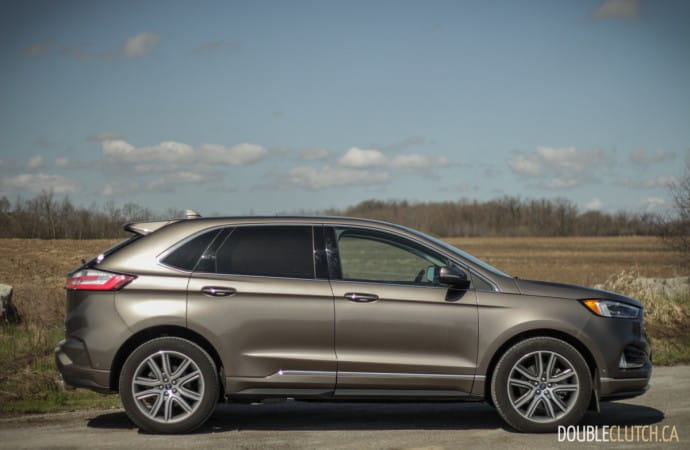 For that reason I am tempted to call this the "lifestyle SUV" segment. None of these are intended for off-roading, but they're ideal for camping, cottaging, road trips and even commuting. There's broad appeal here from young families to empty nesters – the idea that you can have more adventures in a vehicle like this than a sedan keeps the interest high. I drove the refreshed 2019 Ford Edge Titanium to see how it stacks up to the growing list of competitors in the segment.
The Edge gets a mild exterior refresh for 2019 making it distinctive from its predecessor, but just barely. The bulk of the tweaks were done up front, with a new fascia and hood that has a bit more character than the previous more generic look. Overall, it's a handsome SUV and the aggressive curves and creased bodyline give it a tough athletic look. I also appreciate that the styling doesn't write cheques it's capability can't cash. There is no excessive cladding, big tow hooks or fender flares. As a result, it looks more mature and refined than many of its competitors. Our tester finished in Stone Grey did have a tendency to disappear into the crowds.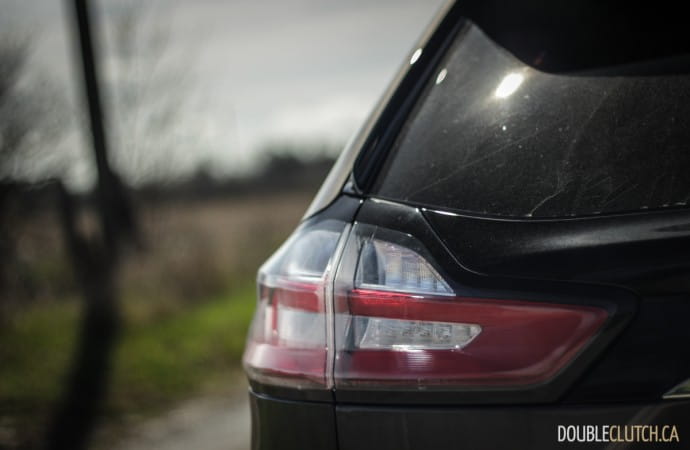 One exterior feature our tester came with, which I think is a must have, is the $1,500 Titanium Elite package which adds 20" alloy wheels and a very tasteful body colored skirt package all the way around. The package is very well executed and gives the exterior of the Edge a much more upscale look by way of eliminating all the cheap matte black plastic around the bottom of the vehicle.
The interior in the Edge is very much standard Ford fare, with a dashboard and center stack layout that easily could've been out of an Explorer, Escape, or just about anything else in the current Ford lineup. That's not necessarily a bad thing as the layout is clean, visually pleasing and controls are all simple and easy to navigate – except for the danged heated steering wheel buried in the climate menu within the touchscreen.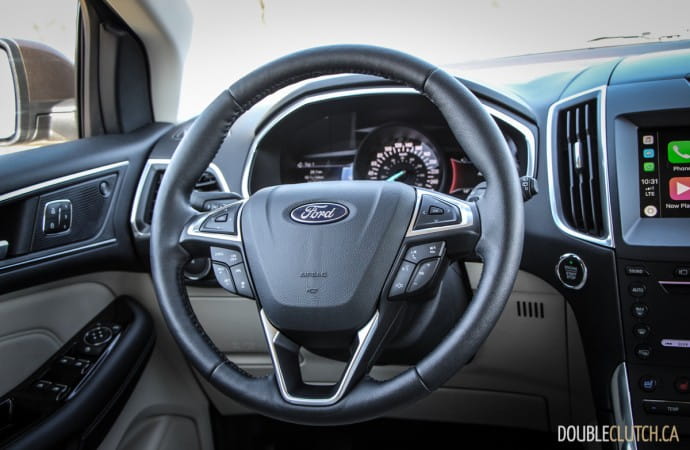 The materials and general fit/finish are not overly luxurious, but in line with expectations at this price point. One thing about the Edge though, due to its aerodynamic shape and tall roof, the windshield and dashboard are massive, so from the driver's seat it appears to be acres of matte black plastic and glass ahead of you. I can't help but wonder if there was a more space efficient way to execute here.
Regardless, the Edge Titanium is actually supremely comfortable thanks to the soft perforated leather seats, which in our tester re heated and ventilated up front and heated in the rear. Thanks to dual pane glass, the Edge's natural aerodynamics, quality Pirelli tires and good soundproofing, the interior of the Edge is almost vault-like quiet while motoring down the highway. It's much quieter than the Honda Passport (reviewed here) or Nissan Murano.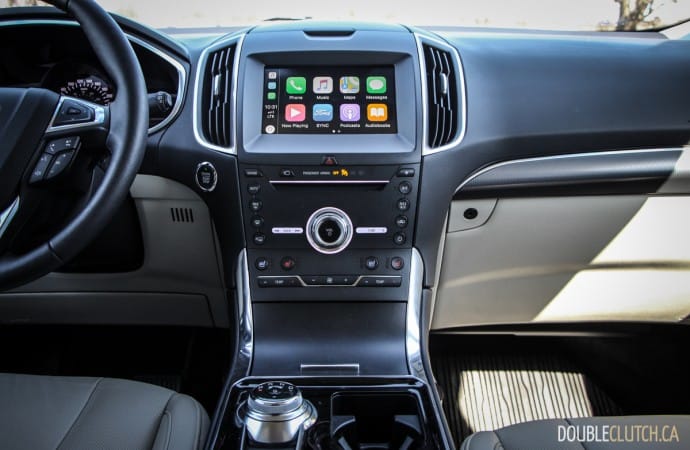 Since there is no third-row to worry about squeezing in, space is abundant throughout the cabin, including the cargo area as you'd expect in an SUV like this. Up front, there are plenty of well placed cubbies and other storage areas to keep all of your daily carry items easily at hand. In fact, the versatile storage up front is probably one of the Edge's best strengths when it comes to daily livability.
Under the hood, even in Titanium guise, the Edge does come up a bit short on cylinder count. Where most of its key competitors are touting V6s, the Edge gets by with the EcoBoost 2.0L turbocharged four-cylinder. However, don't let the size fool you; the 2.0L is a powerhouse making 250 horsepower and a healthy 280 lb-ft. of torque at a very useful 3,000RPM. By comparison, the Nissan Murano's 3.5L V6 makes 260 horsepower and 240 lb-ft. If you do demand a V6 though, the Edge can be had in ST trim (reviewed here) with the punchy 335 horsepower 2.7L.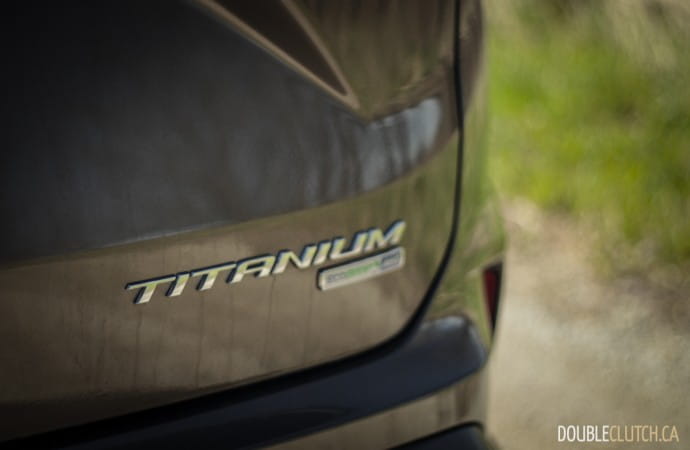 On the road the 2.0L feels quite peppy, and more responsive than the Murano or Passport. Also to the Edge's credit is the refinement of its four cylinder, which is quiet, smooth and more linear than I would have expected. What I don't like about the Edge's drivetrain is the eight-speed automatic, which struggles to find the right gear, resulting in shudders and inconsistent response at low speeds. It does get much better when traffic is flowing at a normal pace.
Steering and brake inputs are light but effective, and most importantly the Edge has a nice and solid on-center steering feel while cruising along at speed on the highway, which is what road trippers will want to hear. Combine this with the quiet cabin, soft ride and great seats, and you have an SUV that is very easy to spend lots of time in, whether it's for that long drive to the cottage or the slow daily commute.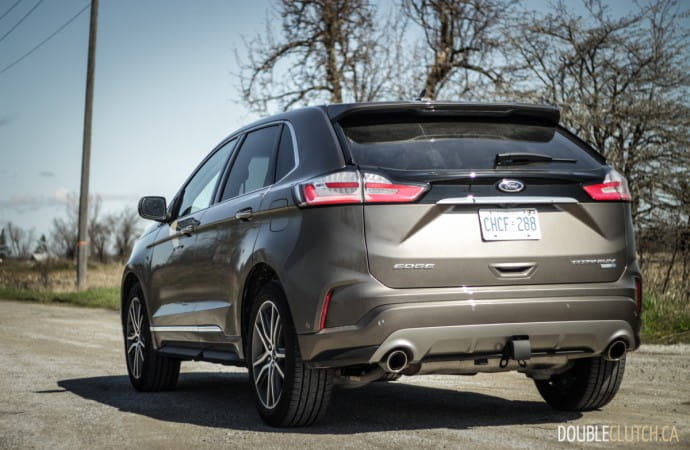 As a benefit of the four-cylinder, fuel economy is palatable returning 10.9L/100km on a week of rush hour commuting into the city, which is slightly improved over the 11.1L/100km I averaged in the Honda Passport Touring. The Edge is happy on regular 87-octane fuel, despite being turbocharged, as are most of the players in this segment.
All Canadian Edge models come standard with Intelligent AWD, which helps keep you moving through winter's worst. As well, the system helps keep the Edge under control in wet conditions or in emergency maneuvers. A towing package is also available which takes advantage of the Edge's 3,500lb tow rating and adds Trailer Sway Control, an innovative system that applies brake and throttle inputs to straighten out the trailer if sway is detected.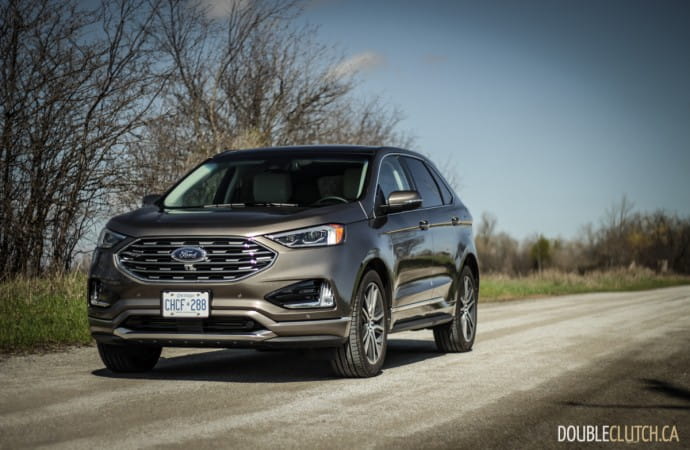 Pricing on the Edge is also right in-line with its competitors, which means Ford isn't necessarily taking the value approach here, but rather aiming to compete head-to-head in the segment against foreign rivals. A basic SE model starts at $34,099 and does come with the standard AWD and Ford's Co-Pilot360 advanced driver assist technology. For an extra $500 you can step-up to the SEL, which gets dual-zone climate control & Ford's SYNC 3 infotainment system, for the extra money this upgrade is easily the way to go.
The Titanium tested here starts at $39,999 and comes with leather seating, B&O sound system, wireless charging, foot activated rear lift gate, and lots more. In addition to those features our tester also got the $1,500 Titanium Elite package, $600 towing package, and the $5,000 301A package which adds goodies like the full-length panoramic sunroof, park assist, ventilated front seats, and Ford Co-Pilot360+. With the current $3,500 discount Ford is offering, it stickers at $49,049, or within a few hundred of the loaded Honda Passport.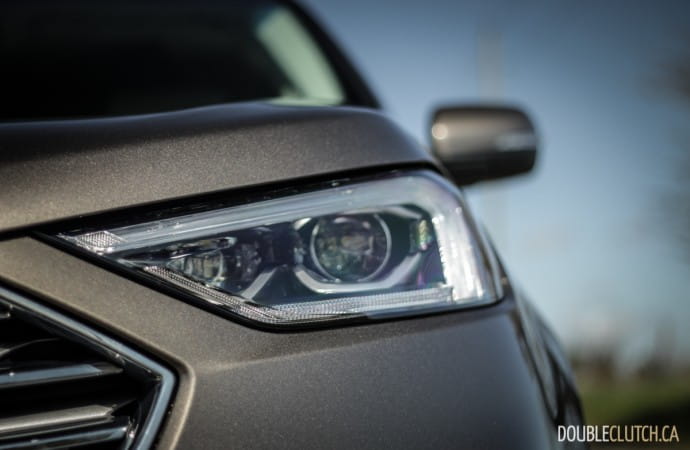 If one of these 'lifestyle' SUVs might be for you, the Ford Edge is one of my favorites in the segment simply because I find it more comfortable, especially in terms of ride quality, interior noise and driving position. Our tester wasn't perfect however, as it appeared to have a leak allowing rain water to pool in the rear foot wells – something that we would get addressed under Ford's warranty program if it were ours. That said, this would be one of the vehicles to have if we were making a long drive up to the cottage, after an equally long week of commuting.
See Also:
First Drive: 2019 Nissan Murano