With a history of 10 generations starting in 1973, it has become a household name and one of Canada's top selling vehicles. This compact offering competes in an extremely competitive market with a wide reach of driver types. Arguably, everyone begins their journey of automotive ownership with offerings from the compact car segment as they are well priced and economical. Being the high volume cash cow for Honda, the Civic needs to be good at everything to everyone. The Civic has always remained at the top with competitors trying to take its crown.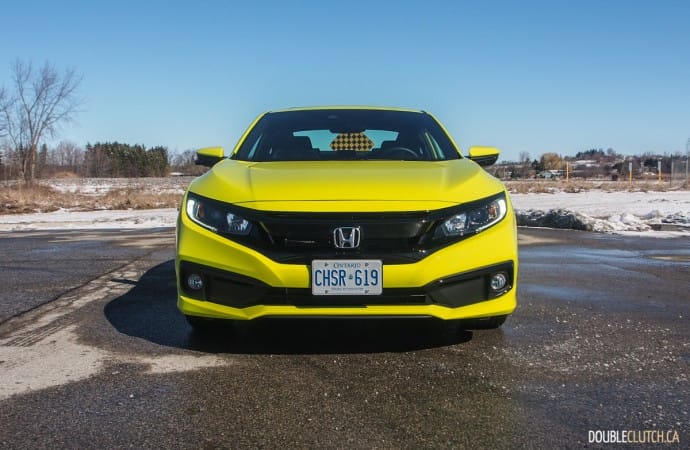 This week we get to experience what 10 generations of Honda engineering and evolution has to offer in the 2019 Honda Civic Coupe Sport. I must say, you will be hard pressed to find a better car to start your journey into the wonderful world of car ownership. The 10th-generation Civic already impressed everyone when it first released in 2016. This year Honda has given the 2019 Civic a refresh, so let's take a deeper look and decide if this version of the Civic can still be the king of compact cars.
As part of the 2019 refresh, Honda has given the Civic updated front and rear bumper designs. The previous front bumper had three separated angular lower grills; the new front bumper has a one-piece lower grill giving the front end a wide and athletic look.  The new "Sport" trim includes a black-out treatment to the usual chrome accents. This grill makes the Civic appear aggressive and sophisticated by removing the chrome that made the car a bit over-styled.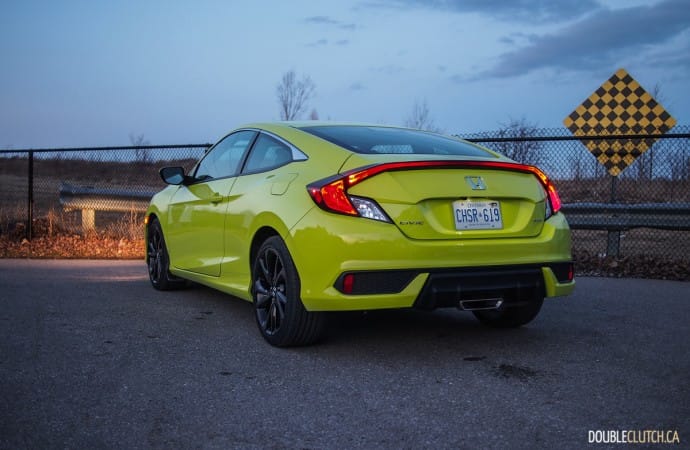 The rear now sports a center mounted exhaust with an unconventionally wide exhaust tip. Some say it looks like a HDMI port, but it works well with one piece taillight design with the integrated spoiler to widen the rear aesthetics, giving the Civic Coupe an athletic stance.
Our tester came in an ultra-sharp Tonic Yellow, a is a $300 option. You also have the following options; Aegean Blue, Rallye Red, Crystal Black Pearl and Platinum White Pearl ($300). There are enough options to satisfy the more expressive or reserved buyers. Regardless of which colour option, the Civic is no longer a boring subtle compact car that blends in with the masses. It's genuinely a sculpted, athletic and sporty design standing out in a traditionally conservative segment.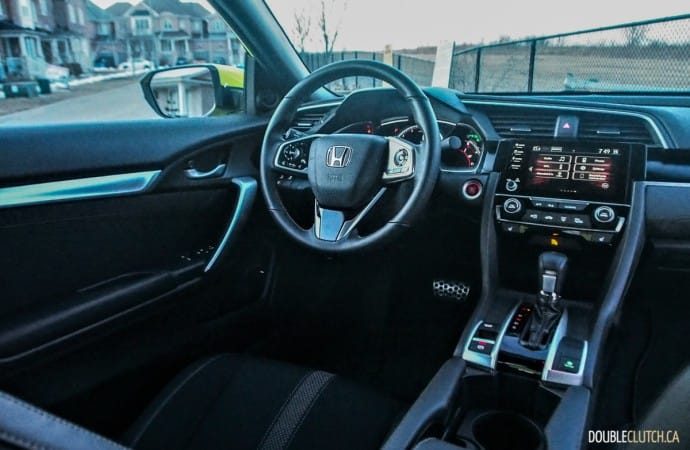 The interior continues to impress with a modern and functional design. The Civic comes equipped with a digital gauge cluster. The main display mimics an analog tachometer with digital speedometer in the middle. The display is high resolution with vibrant colours making it easy to read in most lighting. It can be challenging to read under bright sunlight in certain angles, but mostly the display is very legible.
The touchscreen infotainment unit is upgraded with physical buttons for key functions such as home, audio, phone and back. Most important of all, Honda has brought back the physical volume knob. There was overwhelming feedback regarding to the lack of a volume dial in the previous model, and Honda listened. Equipped with Android Auto and Apple CarPlay, you may not notice the omission of built in navigation or satellite radio (neither can be added as an option)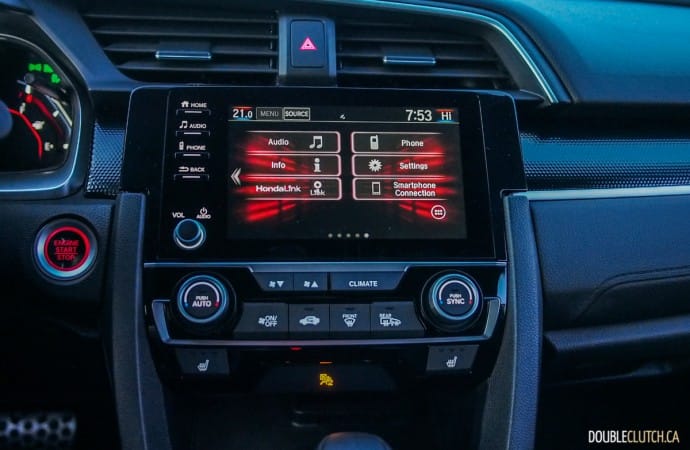 In true Honda fashion, interior ergonomics and usage of space is sublime. The center storage compartment is deep with a clever modular set up which allows you to move the cup and create room for taller bottles. The seats are partial fabric and leatherette offering good comfort, but thigh support was a bit lacking during longer trips. Rear leg room is very good for a coupe. Materials in the cabin are high-end for the class with soft touch materials at all touch points. Hard plastics are kept to a minimum exuding a quality feel in the cabin.
The 2019 Honda Coupe Sport is equipped with a 2.0L i-VTEC four-cylinder engine providing 158 horsepower at 6,500RPM and torque output of 138 lb-ft at 4,200RPM. A manual gearbox is standard, though our test vehicle was equipped with the volume-selling CVT. On paper, the power figures will not set your pants on fire. The Civic reminds us Honda can build some of the best naturally aspirated four-cylinder engines. The engine is very eager to rev and the CVT is quick to put you in the sweet spot of the power band. Perceived notions of slow and sluggish CVTs does not apply here.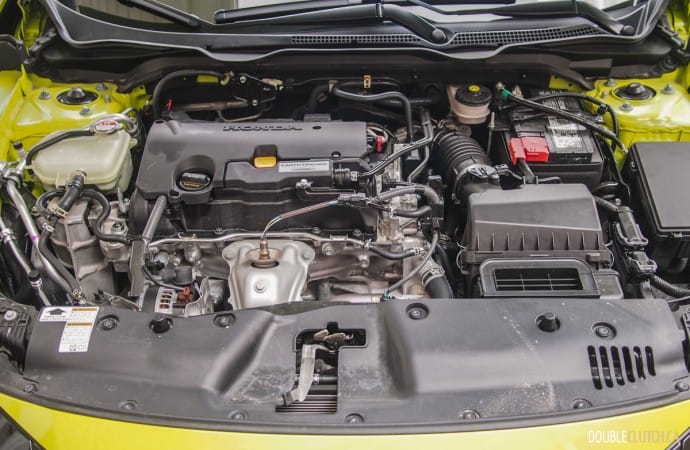 The powertrain does produce some CVT drone and a busy engine note. Luckily the Civic comes equipped with paddle shifters and a manual mode where the transmission mimics seven gear ratios. More spirited acceleration has a more traditional tone and the engine is allowed to rev out. Overall, we were extremely impressed with how smooth the engine performed and paired beautifully with the transmission.
The powertrain combination not only provides great response but also excellent efficiency. The fuel economy ratings are 8.3L/100km city and 6.6L/100km highway for a combined 7.5L/100km. My observed fuel consumption this week was at 8.6L/100km with 80% city driving. The Civic is equipped with an ECON mode which adjusts the car's throttle responses the help you save even more fuel.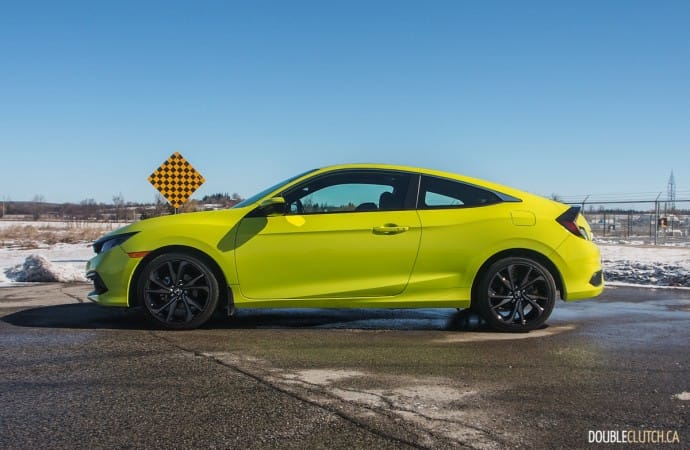 Agile, responsive and fun are words that come to mind when driving the Civic Sport. It feels light on its feet, responding well to quick directional changes. You don't get body roll like the econo-boxes of old. You can dive into highway on ramps or curvy back roads with a bit more spirit and feel confident that car can handle the workout with ease. This is all thanks an independent strut setup up front and independent multi-link rear suspension.
Front and rear anti roll bars, power assisted front and rear disc brakes, and 18" alloys are equipped all around. In addition to the mechanical goodies, Honda has applied their Agile Handling Assist (AHA) system. This system gently brakes the necessary wheel to ensure the car does not over or understeer in corners, helping the Civic feel like it is on rails.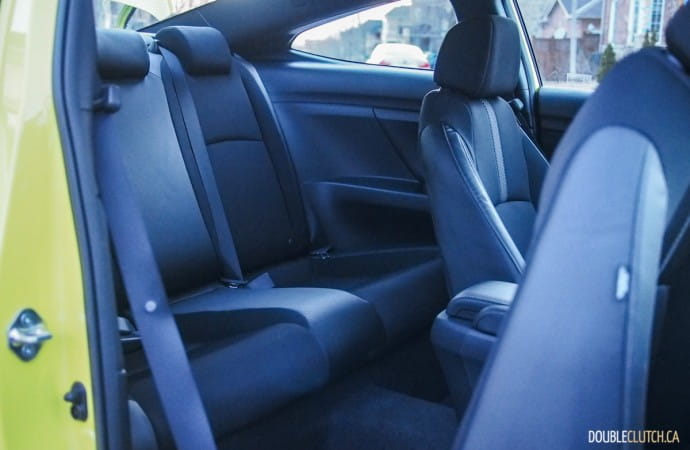 The Variable Ratio Electric Power-Assisted Rack-and-Pinion Steering (EPS) provides a great balance in ease of use and performance. The steering is light but very direct and responsive with good on center feel hence you never wander between lanes. Even if you do wander, Lane Keep Assist will keep you on track. The great suspension tuning and steering feel of the Civic makes this a surprisingly good long distance cruiser. The ride is supple and steering is relaxed, we are tempted to name this Civic the budget GT cruiser.
The Civic comes with a set of safety features that used to be reserved for high end flagship vehicles. Honda Sensing tech is standard bringing along the features including Collision Mitigation Braking System™ (CMBS®), Forward Collision Warning (FCW), Lane Departure Warning (LDW)and Road Departure Mitigation (RDM).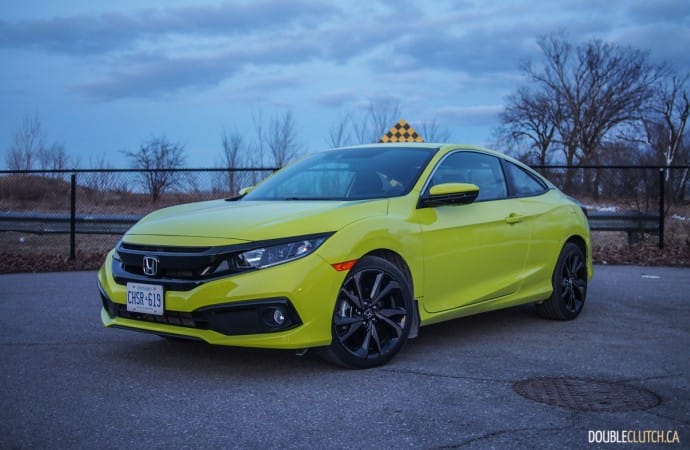 The Honda Civic Coupe starts at $21,290 before freight and taxes. Our tester in Sport trim with CVT came in at $25,990 as tested. In the market for compact sports coupes, customers will likely cross shop with Toyota 86 (reviewed here)starting at $29,990 or a Hyundai Veloster Turbo (reviewed here)at $25,899. The Toyota 86 is a much more enthusiast focused option delivering more driving thrills and performance but falls short of the Civic's livability and refinement. The Hyundai Veloster is a very strong value proposition, but the design is more polarizing with a three-door set up.
Honda's engineers have managed to mold the Civic into a balanced and complete package with very few faults. The tangibles and technologies are toe to toe with competitors. However, it is the intangibles where this Civic shines. The ride, handling, and quality all strike a balance at a high level that puts it above its competitors. The Civic is still a compact car built at an economical price point; but it definitely delivers a lot for what you pay at this price bracket. I truly believe the 2019 Honda Civic Coupe Sport is the best in its segment.
See Also: