Summer wouldn't quite be summer without a sporty little roadster in the stable. We've opted in for Mazda MX-5 long-term test, to attempt to chase the championship at our local autocross series. This time around we've gone with a more traditional 2019 Mazda MX-5 GS-P ragtop in beautiful Soul Red Crystal Metallic.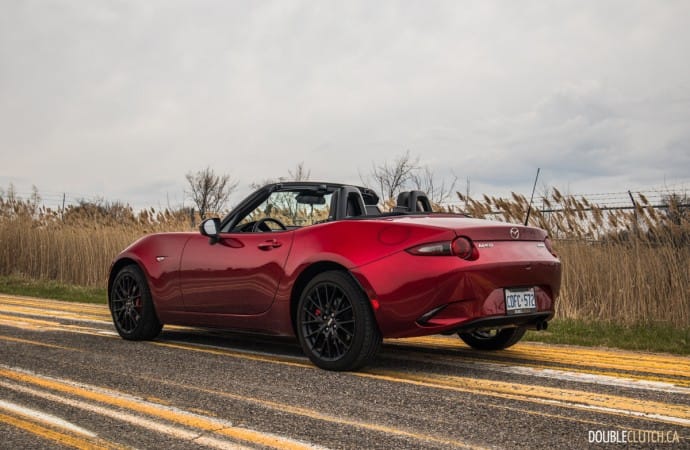 We spec'd this car for a purpose, choosing the $36,900 mid-tier GS-P trim with the optional $4,400 Sport Package. This adds Brembo front brakes complete with bright red branded calipers, 17" BBS forged wheels and Recaro® sport seats with black Nappa leather and Alcantara center sections. These upgrades are really the essentials to turn an everyday MX-5 into something that really looks and feels the part of a true track-ready sports car. The final MSRP for our test car came to $39,877 before freight and PDI, which will give us a good chance to see just how much roadster you can buy for under $40K.
Now, I mentioned that we had spec'd this car out for a purpose, and that means we do have some exciting plans for the MX-5 this year. We've entered ourselves in our local autocross competition and intend to put the MX-5 through its paces on a regular basis this year, and our main wheelman and managing editor Jerry Vo will get a chance to see how well he can do in the series with a relatively stock MX-5. I say relatively because we've already picked up a set of Konig Dekagram 10-spoke rims with some dedicated track-day rubber (Bridgestone Potenza RE-71R) while we save the factory fitted tires for street use.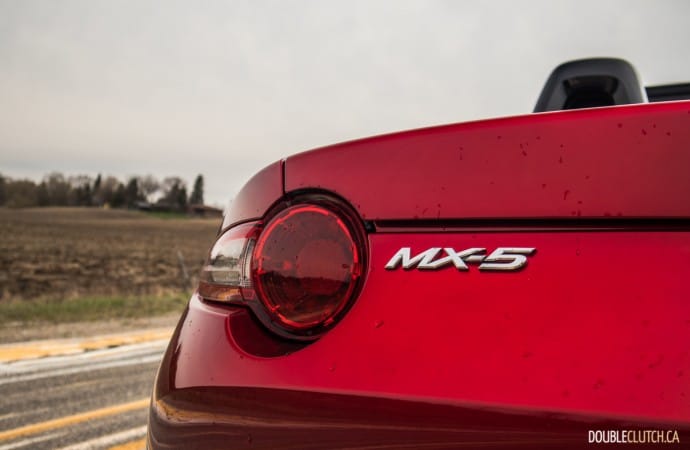 Speaking of street use, I did get a chance to log a week's worth of break-in miles on the MX-5 and was reminded just how much fun these little cars are – seriously, everyone needs to try one of these at least once. The naturally aspirated 2.0L four-cylinder makes a respectable 181 horsepower and 151 lb-ft. of torque at 4,000 RPM. Of course, ours is mated to a slick shifting short throw 6-speed manual gearbox.
Power is plenty adequate to get the light MX-5 moving along very quickly, but that's not the point here. The point of this car is to enjoy the drive, and just about every aspect of piloting the MX-5 is just joyous. The clutch is perfectly weighted and grabs just right, the gearbox is easy yet tactile and while the steering is a touch light for my tastes, feedback is positive and the MX-5 points exactly where you put it, giving you a confident sense of control.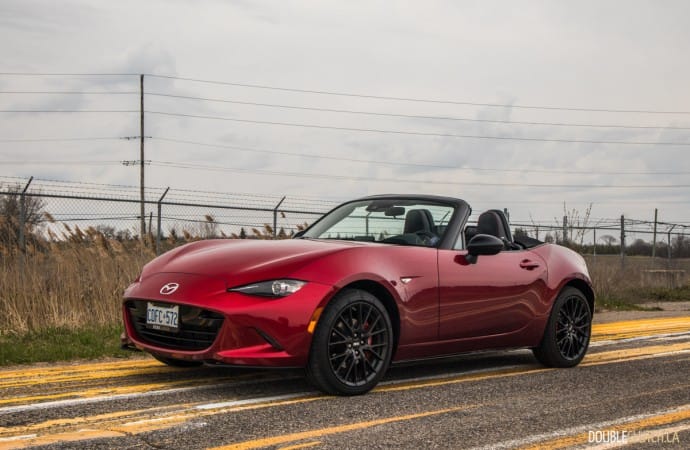 As expected, the suspension is geared towards handling and responsiveness rather than comfort, but after a week of highway and city commuting I really have nothing bad to say about the ride in the car, sure if you whack a giant pothole you're going to feel it, but overall it is surprisingly forgiving, and that may be at least partially due to the very comfortable and supportive heated Recaro seats.
There are a few aspects of commuting in the MX-5 that are less enjoyable; the most notable being the wind noise from the top when it's up. Back when we had the MX-5 RF I thought it was loud inside with the top up, but this soft-top is significantly louder inside at any speed over 60km/h with the majority of the noise coming from behind your head. No joke, my MGB is quieter on the highway with the top up than the MX-5.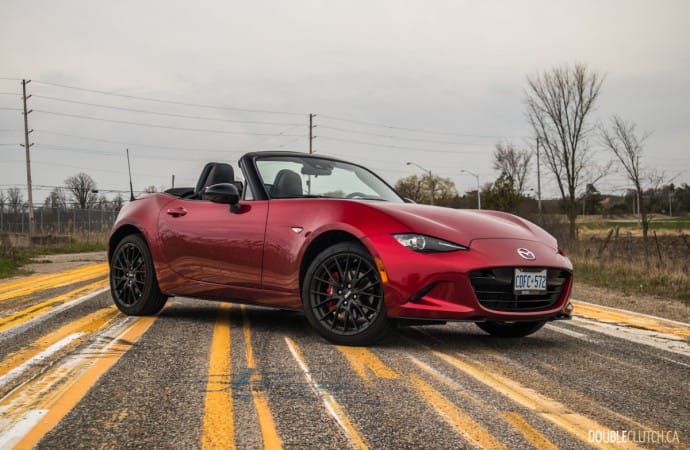 Now, opting for a top-trim GT does add some extra padding to the inside of the roof that hopefully minimizes the issue, but unfortunately the Sport Package is not available on the GT. If there's a silver lining here, it's that driving top down is much better as the little Mazda does a fantastic job at managing airflow around the cabin while topless – so you should really keep top down as much as possible.
The other minor irritation I had with commuting in the MX-5 is the gearing. While well suited for the type of motorsport we'll be participating in later this year, the short and tight gearing in the car means you're constantly changing gear as you run from stop light to stop light in the city, or if you're navigating a traffic jam. First and second are super short and if you're driving conservatively to save fuel you can be into third by the time you hit 35-40km/h.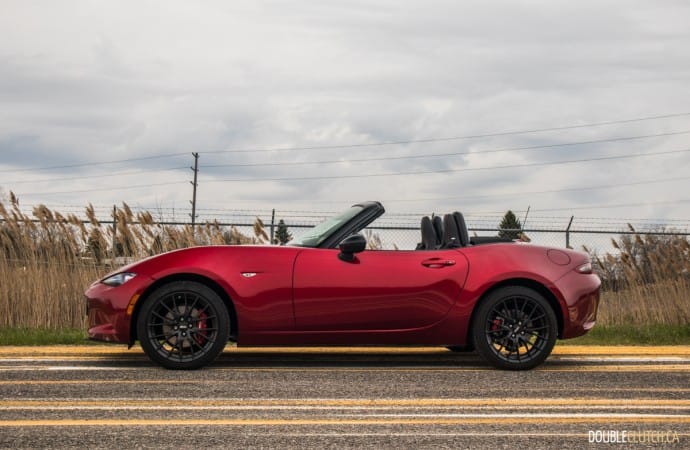 Fuel economy is another big factor that makes the MX-5 that perfect summer car. After a week of rush hour commuting I had an average consumption of 7.2L/100km using the recommended 91-octane. I honestly don't think there is any other car as fun, or capable on the track, on the market today that could do better in the same conditions; and that means that the MX-5 is a toy that you can enjoy without feeling guilty or breaking the bank.
Next up; the car will be getting its track rubber mounted and also the update to add Apple CarPlay and Android Auto connectivity. We are really looking forward to a long hot summer with this red hot roadster so check back in with us for regular updates on how that car is doing, where it's been, what we've noticed after living with it, and perhaps most importantly, how we're doing in the standings!
See Also: