The 2019 Toyota RAV4 is an all new fifth-generation model, introduced this year. As one of the more popular sellers in the compact crossover sport utility segment, it's of utmost importance that Toyota gets this new design right. Rolling on the Toyota New Global Architecture (TNGA) platform, it shares underpinnings with prior great products including the Corolla Hatch (winner of our Best Compact Award for 2018), Camry (reviewed here), and Avalon (reviewed here). To see if they were able to carry on the successes with the RAV4, Toyota Canada tossed us the keys to a Trail model with all-wheel drive and a neat Lunar Rock gray-green paint job (a $540 option).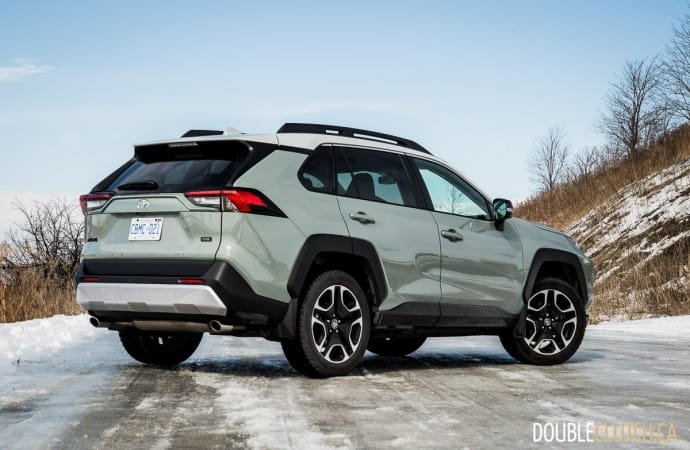 While the base front-wheel drive RAV4 LE starts at a reasonable $27,990, the less spartan 2019 Toyota RAV4 Trail with AWD tested here is $38,690. As the trim level that's second from the top, Trail gets an eight-inch touchscreen infotainment system, Qi wireless phone charging, SofTex synthetic leather seats, a 120-volt AC power outlet, dark body mouldings and mud guards, and unique 19″ wheels.
For off-road use, there's also Downhill Assist Control and a more advanced AWD system that can vector torque dynamically between each rear wheel to enhance driving dynamics and both on and off-road prowess. The rear driveline can be disconnected altogether when conditions permit as well, in order to save fuel. Beyond the Trail's features, there's dual zone automatic climate control, a power moonroof, power adjustable driver's seat, a power rear liftgate, and LED headlamps. Since it comes pretty well loaded, there are no additional options or packages.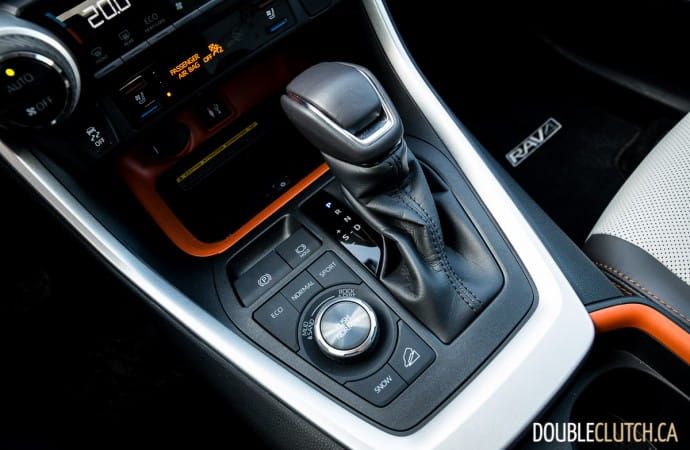 For most RAV4 buyers, great emphasis is often placed on interior utility and versatility. Despite being about three inches shorter in overall length, cargo capacity isn't sacrificed too greatly, with a small decrease to 1,062L (37.5 cubic feet) with the rear seats up, growing to 1,977L (69.8 cubic feet) with the rear seats folded down. By comparison, the RAV4 falls right in between its competitors: a Honda CR-V is good for 1,065/2,146L (37.6/75.8 cubic feet), a Mazda CX-5 swallows up 875/1,687L (30.9/59.6 cubic feet), a Volkswagen Tiguan does 1,065/2,081L (37.6/73.5 cubic feet), and a Subaru Forester is rated at 935/2,008L (33.0/70.9 cubic feet).
With seating for five with its two rows, the 2019 Toyota RAV4 is well suited for families with up to two young children. Both forward and rear facing child seats work admirably well, and the LATCH car seat anchors are easy to work with. Seat comfort for drivers is quite good, however front seat passengers will notice that the seat is mounted very high with no downward adjustability, which sacrifices headroom for even average-height people. There's also no passenger seat power adjustment in any trim level, which is a perk offered by most competitors.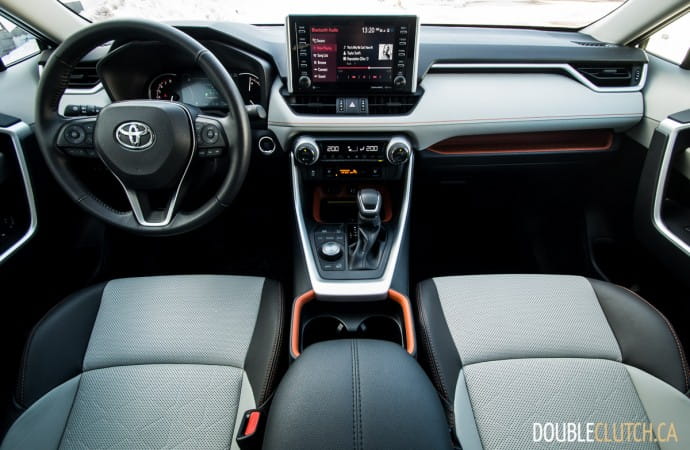 For the technologically inclined, the new RAV4 is more evolutionary over the model it replaces, coming with Toyota's latest version of their Entune touch screen infotainment system. Although Toyota were former holdouts and insisted on doing things in-house, they've caved to market demands, and Apple CarPlay smartphone connectivity is now standard. Android users are out of luck – at least, for now.
While the Entune apps leave a lot to be desired, the general menu interface is otherwise fairly intuitive with real buttons flanking the touchscreen. The dual zone automatic heating and air conditioning controls are easy to use as well, and there is a real volume and tuner knob for common adjustments, thankfully. Both the radio and climate control knobs are finished in a nice knurled rubber that accomplishes both function and form.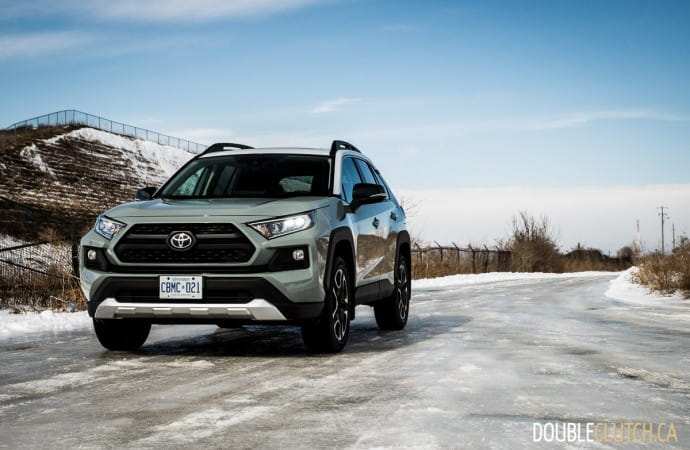 In the chase of ever-improving safety, Toyota's strategy of including today's modern safety suite on every new vehicle should be applauded. All trim levels of RAV4 get Toyota Safety Sense 2.0, which means forward collision warning with autonomous braking, lane keep assist with lane departure alert and road edge detection, adaptive cruise control, blind spot monitoring, rear cross-traffic alert, and automatic high beams. It's a long list that is either optional just about anywhere else, or not available at all until getting to the higher trim levels.
Powering all trim levels of the RAV4 is a more powerful 2.5-litre inline four engine, which puts out 203 horsepower at 6,600RPM and 184 lb-ft. of torque at 5,000RPM. With the addition of direct fuel injection on top of a sequential multi-port setup, combustion is more finely controlled, and is good for both power and economy. Unfortunately, while vibration is well controlled, the engine in the RAV is prone to being noisy throughout the rev range, including a particular drone near 2,000RPM – an area where motorists can spend a lot of time.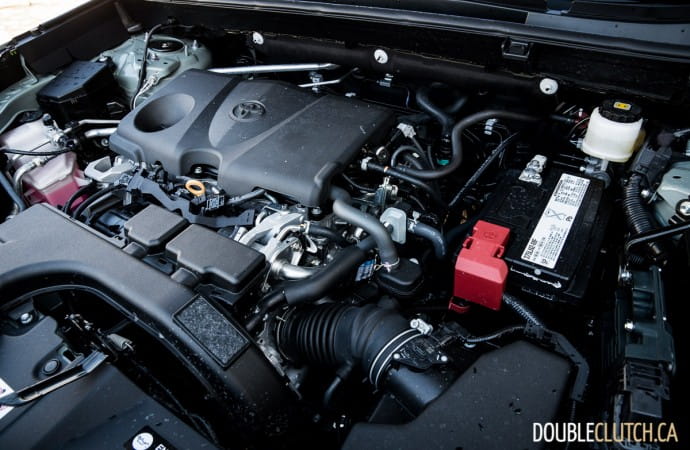 With two extra ratios, a new eight-speed automatic transmission further bolsters the RAV4's fuel economy. It's rated at 9.2L/100KM in the city and 7.1L/100KM on the highway, which is quite impressive considering the size and heft (1,642 kilograms or 3,620 pounds) of the little SUV. Observed economy over a week of testing netted 8.5L/100KM in mostly wintery highway driving. Tank capacity is 55 litres, and regular fuel is all that is required.
When behind the wheel of a 2019 RAV4, drivers will notice good ride quality and a quiet cabin for the most part, with only a bit of wind noise coming in around the giant side mirrors (which are great for visibility) at higher speeds. Where things fall a little short is the aforementioned engine coarseness, making things sound a little more laboured than they actually are – the engine actually pulls well and is responsive throughout the rev range. As a consolation prize, handling is excellent thanks to the TNGA architecture, making the RAV4 pretty fun to toss around in everyday driving scenarios.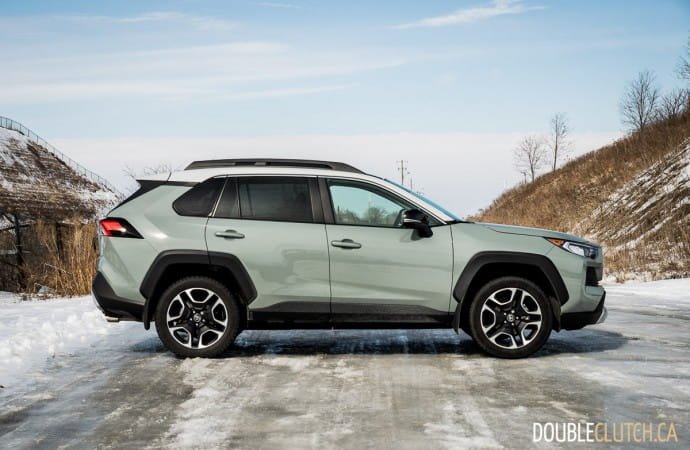 The eight-speed transmission is another source of unrefinement, with confused and jerky 2-1 downshifts during rolling stops, as well as a tendency to want to upshift at every opportunity. This is not a good thing considering that the first three to four gears are too tall for good performance, and hitting fourth gear too soon means drivers must live with some bogging, or add throttle and call for a downshift. While this approach generally good for fuel economy, the real world results mean plenty of gear hunting when driving around town.
As a competitor in one of the most hotly contested segments, the 2019 Toyota RAV4 Trail has big shoes to fill as a compact crossover sport utility. As a perennial best seller for Toyota, the new model plays upon many of the last model's strengths, and makes them even better. Having the full autonomous safety suite as standard equipment goes a long way, and the bang for the buck is as good as anyone else it does battle with. It's let down a good amount by poor powertrain refinement, which is one of the main gripes on an otherwise superb car. It doesn't drive as boring as the model it replaces, and combined with Toyota's stellar reputation for reliability and longevity, it's both a safe and fun choice at the same time.
See Also: