For more than half a century, it has enjoyed a cult following and great respect from car enthusiasts. True to the name, however, most MINIs don't really fit a whole lot of people and cargo while having fun. For the last decade or so, the Countryman marque was resurrected for a larger, more practical option. The 2019 MINI John Cooper Works Countryman ALL4 Midnight Black Edition is the top range of the gas-powered Countryman lineup (a plug-in hybrid is available) and brings with it a smorgasbord of extras.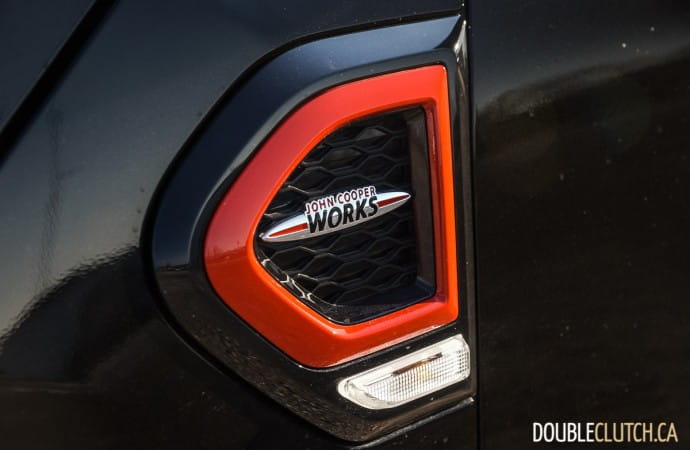 Starting at a base price of $39,790, all JCW Countryman models get all-wheel drive, a panoramic sunroof, heated front seats, and 18″ alloy wheels. The Midnight Black Edition is equipped similarly to the Premier+ trim, and is an extra $7,200 (Premier+ is $5,000). It adds – surprise, surprise – piano black interior trim, Carbon Black leather seating, SiriusXM satellite radio, Harman Kardon audio, 19-inch black alloy wheels, and navigation. Also completing the accessorizing is the inclusion of carbon fibre mirror caps, as well as replacing the chrome head and taillight trim with black. As such, the as-tested total came out to $46,990.
Unfortunately, as good as the Midnight Black Edition looks, it isn't available with a few performance-oriented goodies that the other trim levels can add. There's no option to get the $500 dynamic damper control, or the $1,000 Driving Assistant safety suite (collision warnings and pedestrian detection, among other things). Common to all JCW versions, however, are big fixed-piston brakes, an upgraded turbo intercooler, as well as upgraded radiator cooling. A sportier exhaust system gives just enough volume and pop to make things more interesting.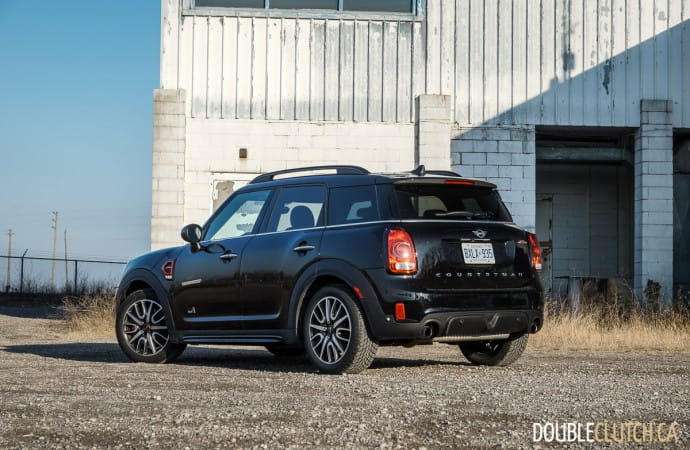 Without the dynamic damper control, the suspension rides softer than would be expected for a JCW package, but the good news here is that it maintains relatively good ride comfort. Make no mistake, it's still firmer than just about any other small crossovers, including its BMW X1 platform mate. Steering weighting is firm and inspires confidence as gentle understeer approaches at the 225/50R18 tires' limits. Braking from the upgraded fixed caliper setup stops strong and true, with good pedal feel and plenty of fade resistance. Overall, it's much softer and dulled down compared to a three or five-door Cooper (reviewed here), but the extra bulk and ground clearance should not make this too much of a surprise.
More than just a pretty face, the John Cooper Works equipped Countryman adds 39 horsepower over the regular Countryman S, for a total of 228 between 5,000 and 6,000RPM, coupled to 258 lb-ft of torque between 1,450 and 4,500RPM. This "B48" 2.0-litre four-cylinder is used in various places across the BMW and MINI lineup, and in every case, performance and response are just about the same as a naturally aspirated engine. There is practically no lag to speak of, and the twin scroll single turbo (yes, BMW calls this TwinPower) spools immediately to deliver instant fun. As the broad peak figures suggest, the torque curve is as flat as the Canadian Prairies, and there's not really any point in the RPM range in which the thrust is lacking.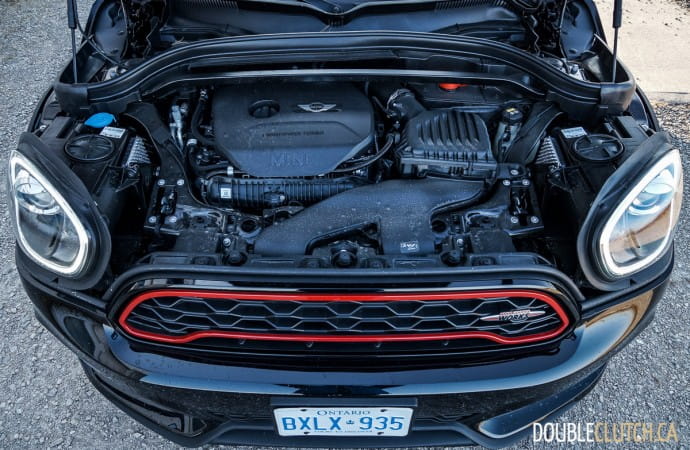 Paired to the tester JCW was an eight-speed automatic transmission with paddle shifters, although a six-speed manual is available as well. This particular gearbox has plenty of ratios and always selects the right cog to be at the optimum point for performance or economy, depending on what the driver is calling for. In the Countryman, though, it's not as sharp in its calibration compared to the regular and smaller JCW MINI Cooper, and is best left to its own devices in most driving scenarios. Shifts are setup to be more comfortable and family friendly to match the grown-up nature of the bigger, more utilitarian application.
Nominal fuel economy ratings for the automatic transmission JCW Countryman come in at 10.6L/100KM in the city, and 7.8L/100KM on the highway. Observed consumption over a week of testing netted 10.0L/100KM in mixed wintery weather driving. Tank capacity is 61 litres, and midgrade fuel (89 anti-knock index, or AKI, also known as (R+M/2)) is required at minimum. Premium fuel of at least 91 AKI is recommended.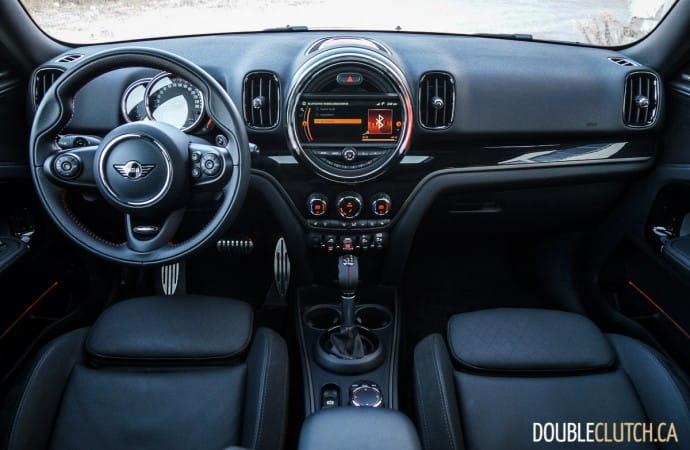 Inside, the Countryman has seating for five, including a fold down second row that aligns with most peoples' daily cargo needs. Cargo capacity is 450 litres (15.8 cubic feet) with the rear seats up, and 1,390 litres (49.1 cubic feet) with the seats folded. Accommodating one or two child seats or back seat passengers in these is the easiest amongst the MINI range, and from the rear, there generally should be complaints from taller people only. The front seat thigh cushion adjustment comes in handy, and it's easy to find and save a good driving position with seat memory function. Interior plastics are monotonously dark – this is the Midnight Black Edition, after all – but the quality of the switchgear and material fit and finish is top notch.
Technologically speaking, the MINI lineup makes use of a version of BMW's iDrive, complete with both a control dial and touch screen. There's a good mix of buttons and dials to maintain good ergonomics and minimize driver distraction while on the road. The engine start/stop and driving mode buttons are arranged in a row of cool looking retro toggle switches, and all other controls are within arm's reach. For those of you used to BMW's iDrive or just about any other car's control dial setup, for some reason, MINI had decided to flip the orientation for menu navigation with their control wheel. What is normally clockwise for downward scrolling, and counter-clockwise for upward scrolling, has been flipped. Expect to take some time to get used to this! For Apple smartphone users, CarPlay is available. Android users are out of luck.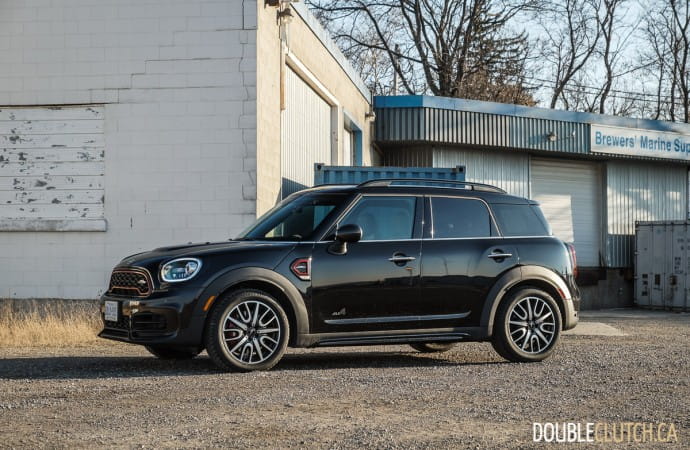 All things considered, the 2019 MINI JCW Countryman ALL4 Midnight Black Edition's price makes it a bit of a compelling argument against more mundane but fully loaded and larger choices such as a Toyota RAV4, Mazda CX-5, or Honda CR-V. The Midnight Black Edition does come at the expense of missing autonomous safety options such as adaptive cruise or forward collision braking, but you can get them as an option on the Premier+. Even with the John Cooper Works package, the Countryman is the least dynamic MINI to drive, but is still one of the best handling premium small crossovers that money can buy.
See Also: