The subcompact crossover segment is filled with entries from almost every major automaker, giving the end-consumer plenty of options to find their ideal match. Subaru has always been at the top of the want-list for those looking for a great year-rounder in snowier climates, thanks to their Symmetrical All-Wheel-Drive system as standard equipment on all crossovers. The 2019 Subaru Crosstrek Sport with EyeSight carries on using the Subaru Global Platform shared with the Impreza (reviewed here) but with its own charisma and style.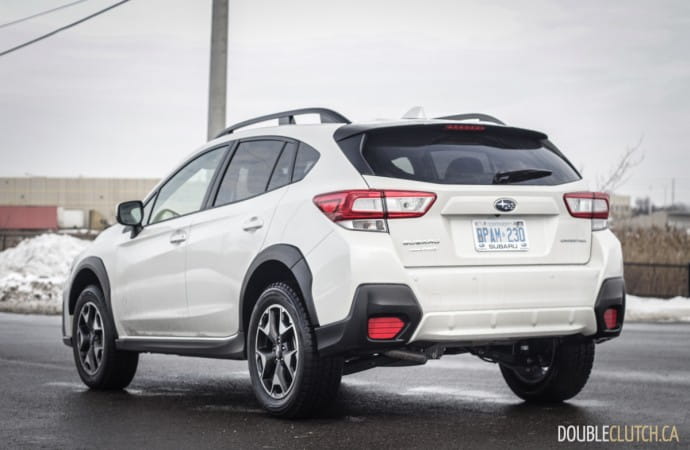 The Crosstrek holds its own with ease against the likes of the Honda HR-V, Toyota C-HR, Nissan Kicks and Mazda CX-3, among others. It uses a direct-injected 2.0L flat four-cylinder, a Subaru staple feature. This motor is naturally aspirated and has a 12.5:1 compression ratio. Output is 152 horsepower at 6,000RPM and 145 lb-ft. of torque at 4,000RPM. Symmetrical all-wheel-drive is standard, and power can be sent to all four wheels via either the equipped Lineartronic CVT or in certain trim models, a six-speed manual.
Power delivery on the Crosstrek is fairly linear for a naturally aspirated powertrain, but it doesn't seem to wake up at all below 4,000RPM. As such, this Subaru feels notably slower than its rivals. Using the steering wheel mounted paddle shifters through the simulated ratios of the CVT helps a little bit, but the Crosstrek's overall stance is still "slow and steady wins the race". We found it best to just let the transmission to its own accord for best results.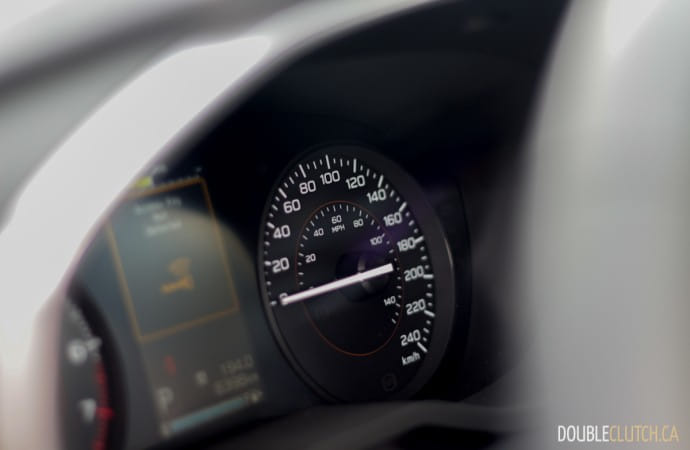 The all-wheel-drive system, however, is where the Crosstrek's personality comes alive. The Symmetrical system uses a multi-plate transfer clutch system that monitors the driver's acceleration and deceleration habits, and also keeping an eye on available traction in all conditions. It will evenly distribute power and torque to the wheels that have the most grip. The Active Torque Vectoring system is also a notable addition, and it applies braking force to the inside inside front wheel during cornering. This system can also send more power to the outside wheels and ultimately minimize understeer.
When comparing the Crosstrek to the rest of the players, its lack of power stands out, but this isn't as important to buyers as one may think. Where the Crosstrek begins to shine isn't restricted to the all-wheel-drive system – its ride quality is sublime for the segment. The taller sidewall tires help as well, but the suspension geometry is well calibrated and superior to almost everything else in its class. This Subaru punches above its weight class here, with decent steering feel and excellent road manners.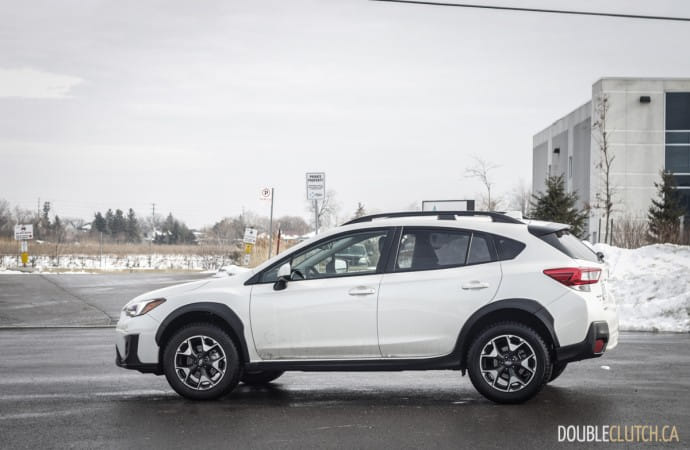 Our test took place in sub-zero conditions with plenty of snowfall typical for a Canadian winter. Subaru Canada claims fuel economy numbers of 8.8L/100km city, 7.2L/100km highway, and a combined rating of 8.2L/100km. The Crosstrek had no issues returning an average of 8.6L/100km operating on regular 87-octane fuel, and its 63L tank is a decent size. Quite a few competitors have too small a tank in order for added space efficiency at the expense of overall driving range – it's nice to see Subaru not taking this route.
Every manufacturer has their own active safety suite now, all of which work their magic to keep us safe on the roads. Subaru has perfected their EyeSight system over the years to remain a segment leader in this regard. EyeSight on this Crosstrek includes automatic emergency braking, adaptive cruise control, collision mitigating braking system, rear cross-traffic alert, and lane-keep assist. The latest Forester (reviewed here), new for 2019, also goes one step further to add a camera that keeps an eye on the driver to try and minimize distracted driving.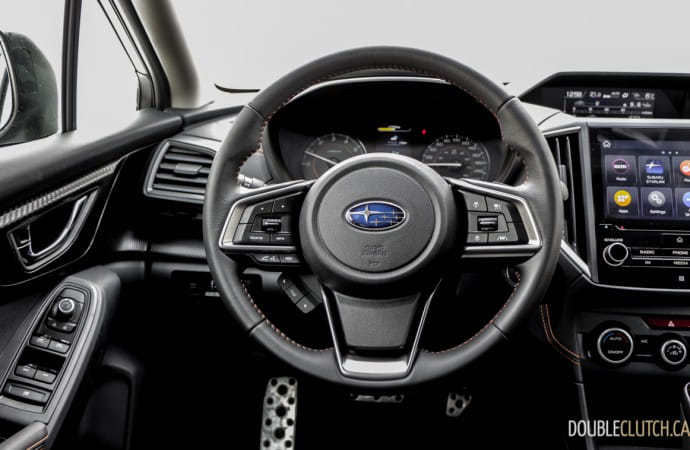 This second-generation Crosstrek has additional width in the cabin to add more space to all passengers as well as in the cargo area. A wider hatch opening makes loading up your gear a lot easier, and the low load-floor is much welcomed over the taller setup in the Mazda CX-3 (reviewed here), making child's play of any sort of loading. Out on the road, the Crosstrek feels a lot quieter than the model it replaces thanks to added insulation and sound deadening materials used throughout the vehicle.
Subaru's infotainment system has always left the market wondering when will it get better and now the 8" STARLINK Infotainment system, which sees smartphone connectivity and vastly improved response is now a lot easier to use, it flawlessly connects to bluetooth devices and stream both calls and music without effort, even now standard is the CarPlay and Android Auto integration. We have now gotten our first glimpse of the new 2020 Legacy, which includes a massive portrait-oriented screen – hopefully this will eventually trickle down into Subaru's smaller vehicles.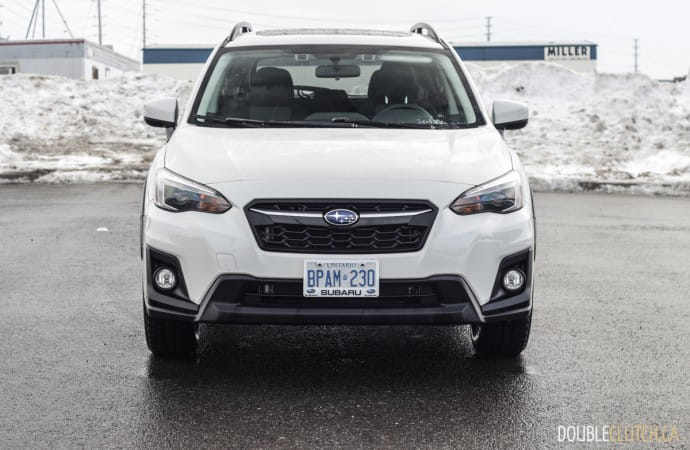 The Crosstrek is priced at $23,695 for the base Convenience model, and $25,395 for the volume-selling Touring. The Sport with EyeSight tested here at $30,695 includes a proximity key with push-button start, adaptive LED headlights, power driver's seat, eight-inch infotainment, a power sunroof, and EyeSight. Heated front seats are standard, but in order to get a heated steering wheel, buyers will have to step up to the $31,795 Limited ($33,295 with EyeSight). We would like to see this feature available at a lower price point considering the demand in colder climates.
The 2019 Subaru Crosstrek Sport with EyeSight is one of those crossovers that appeals to many types of buyers, whether it be the young outdoorsy couple or a small family with an active lifestyle. The added ground clearance over the Impreza proved to be impressive on pothole-ridden Ontario streets, and it exhibits confidence year-round regardless of the weather situation. This Subaru is more than just confident, it's downright impressive.
See Also:
2018 Hyundai Kona 1.6T Ultimate