In this day and age, where automakers and buyers shift their attention away to crossovers, there is one model that has seemingly defied this movement. The Mazda3 is the brand's top selling model in Canada in 2018. To continue its sales success and fend off the attack of the SUVs, Mazda has launched a brand-new redesign of the Mazda3 for 2019 model year.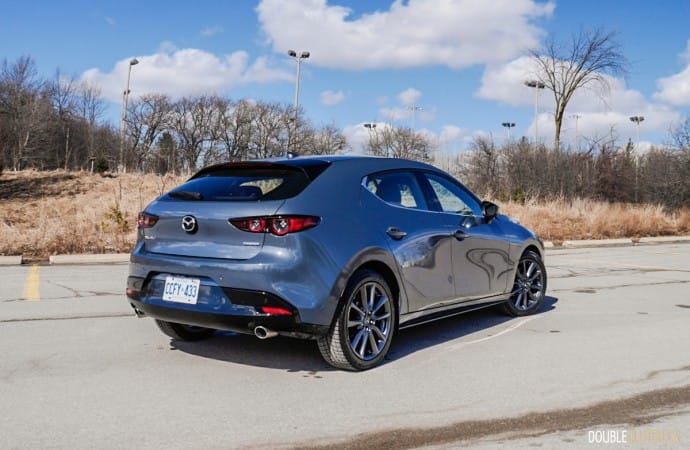 The 2019 Mazda3 Sport GT tested here is built on Mazda's new SKYACTIV vehicle architecture, which focuses on enhancing responsiveness and driving feel while delivering a comfortable ride to its occupants. The "Sport" trim signifies the five-door hatchback model, and it features a contemporary look that embodies the best of Mazda's KODO "Soul of Motion" design language. Its fluid styling is taken directly from the Mazda Kai concept car, with no sharp angles to any of its body panels, a long hood and stubby hatch design that all make it look more like a hot hatch than any of its competition.
A thick C-pillar takes some time getting used to, but at certain angles the new Mazda3 shares similarity with its sporty MX-5 RF (reviewed here) brother. The LED headlights and the oversized front grille give the car a menacing look up front, and the Mazda3 Sport has an athletic stance that is unlike any of its compact rivals. Mazda likens its exterior design to a cheetah pouncing on its prey and I personally think it is the best looking car in its class. This is especially true for the newly developed, hatchback exclusive, Polymetal Grey Metallic colour.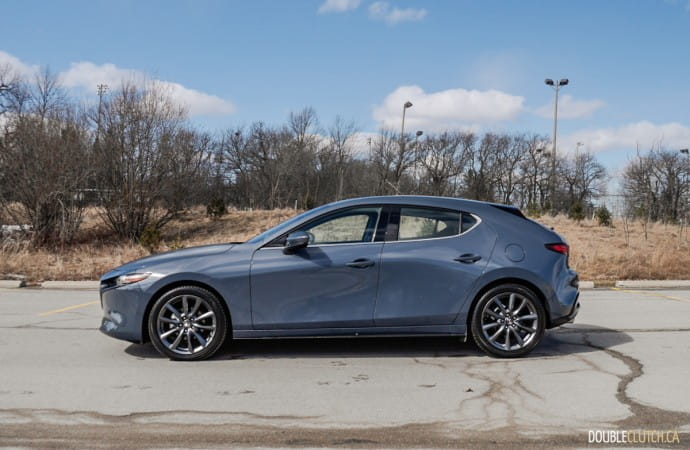 The 2019 Mazda3 comes with two naturally aspirated engine choices, the base engine in the GX trim is a 2.0L SKYACTIV-G four-cylinder engine that produces 155 horsepower and 150 lb.-ft. of torque. Stepping up to the GS and our as-tested GT models, and you'll receive a 2.5-litre four-cylinder engine with cylinder deactivation technology. It produces 186 horsepower at 6,000RPM and 186 lb-ft. of torque at 4,000RPM. Our tester came with an optional six-speed manual transmission (a standard feature on the GX and GS trims), sending power to the front wheels.
The Mazda3 Sport GT is fairly easy to drive; the shifter is precise and the clutch uptake is easy. Its gear ratios are well tuned as to not require much downshifting to keep up to speed both in the city and on the highway. There is minimal engine vibration transmitted into the cabin and the Mazda3 has done a good job isolating any engine and road noise despite lightweight materials used as part of its SKYACTIV philosophy.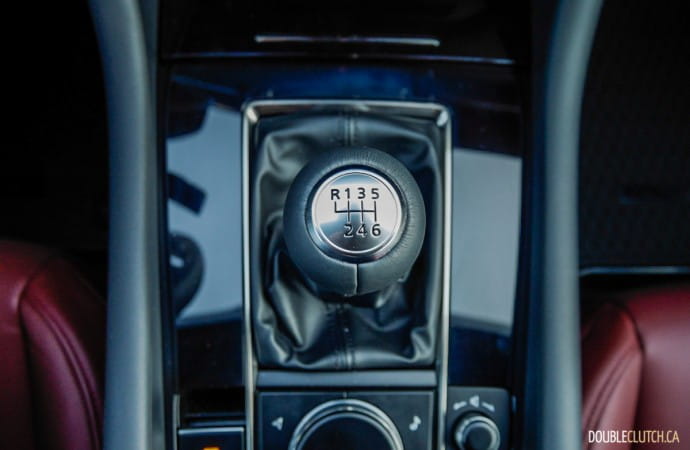 It is worth noting that the 2019 Mazda3 models equipped with the six-speed automatic gearbox in GS and GT trims, can be optioned with a i-ACTIV all-wheel-drive system, which we suspect will be a very popular option for the Canadian market.
Mazda has long prided themselves on being driver-oriented and delivering an engaging driving experience throughout its entire lineup, so it is not surprising to see the same focus applied to the latest generation of the Mazda3. Built based on Japanese principle called "Jinba Ittai", meaning horse and rider as one, the Mazda3 Sport GT is highly responsive and feels light on its feet. Steering is precise with excellent on-center feel, and minimal understeer in the corners. We don't expect many Mazda3s winning local autocross events, but it can more than hold its own over the spirited weekend morning drive.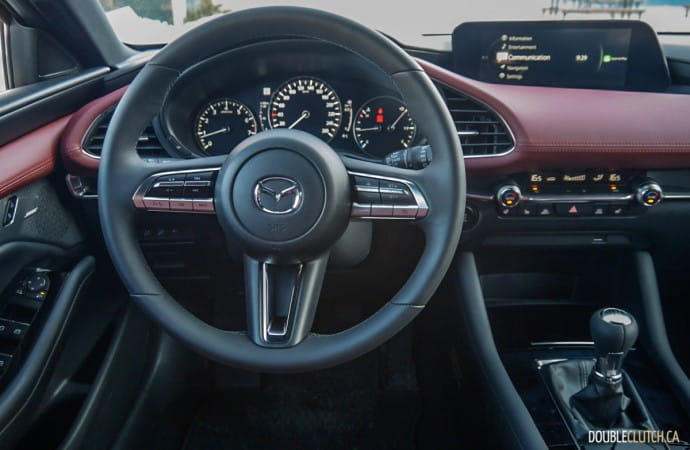 Fuel economy is rated at 9.2L/100km for the city, and 6.6L/100km on the highway for the 2.5L GT with the manual transmission and front-drive. During our week of mostly city driving, we observed a slightly disappointing 9.8L/100km fuel consumption figure. It's worth noting that our particular test vehicle only had 200km on it at the time of delivery, so mileage should change. The Mazda3 requires only regular fuel in its 50L fuel tank.
As a result of the Mazda3's highly sloped pillars, entering and exiting both front and back seats requires a bit of caution and flexibility, especially if you are 5'10 and over. It is worth the exercise though, as the interior is an absolute great place to be. The KODO design language carries on inside the Mazda3, with a minimalistic layout and rich materials that makes the GT look far more upscale than any of its compact sedan/hatchback rivals. The leather-trimmed upholstery included in the premium package is soft to the touch and feels luxurious, and the two-tone red and black colour scheme elevates the overall sportiness in the cabin.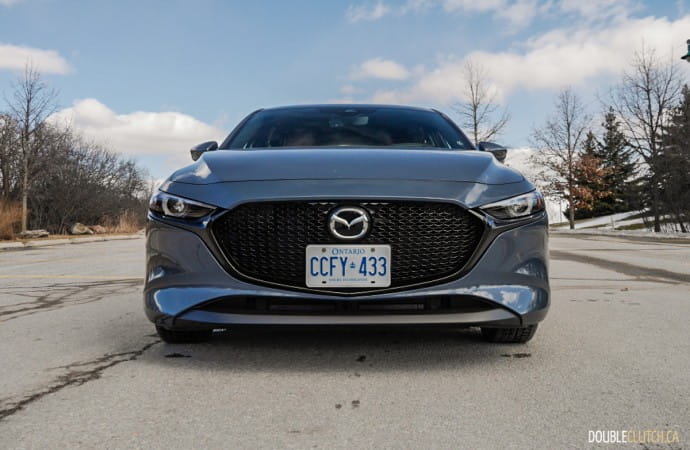 There are almost no hard plastics to be found in the cabin, and commonly used buttons are easy to find on either the steering wheel or the centre console. Mazda designers' efforts are evident everywhere you look in the cabin; nothing looks out of place inside, from the way the infotainment screen sits atop the two-tier dash to the shape and location of the air vents. This car has the best interior design in its class and can easily pass as an entry-level luxury vehicle.
The 8.8-inch widescreen infotainment screen is controlled by a rotary dial below the shifter. There are shortcut keys around the rotary dial to speed up access, and the infotainment layout follows the same simplistic theme. Unfortunately, Mazda might have overdone it with its minimalistic approach, so much so that simple commands such as switching radio modulation and frequency require extensive toggling inside the submenus. Good news is that there is a volume knob to the right of the rotary dial that can also skip tracks, and Apple CarPlay/Android Auto connectivity is finally included in all of Mazda's vehicles starting this year. Mazda3 models in the GT trim are equipped with a premium Bose sound system with 12 speakers and sound quality is excellent.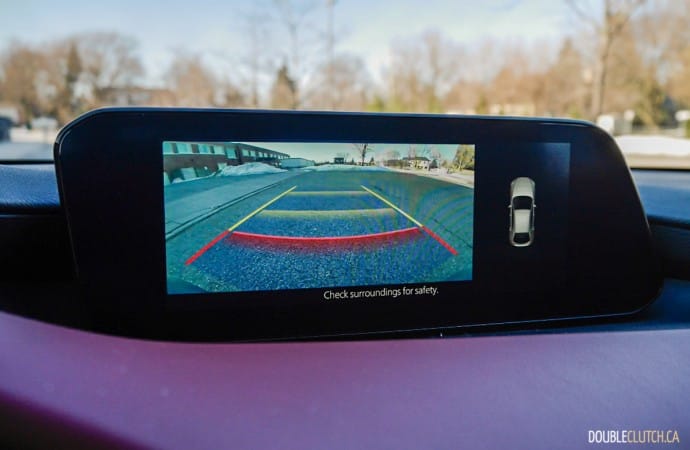 Mazda has put huge emphasis on equipping their lineup with proactive safety features, and the 2019 Mazda3 comes standard with a rearview camera, Advanced Blind Spot Monitoring, and Rear Cross Traffic Alert systems across all trim levels. Opt for the GS and GT trim levels and you will get Radar Cruise Control with Stop & Go function, forward sensing Pedestrian Detection, Distance Recognition Support, Lane Departure Warning and Lane-Keep Assist systems. Our tester's Premium Package further equips the Mazda3 Sport with a brilliant Traffic Sign Recognition System that displays upcoming speed limits and stop signs on the speedometer, and a windshield-projected colour Active Driving Display, a feature that is particularly useful in nighttime and wintry driving conditions.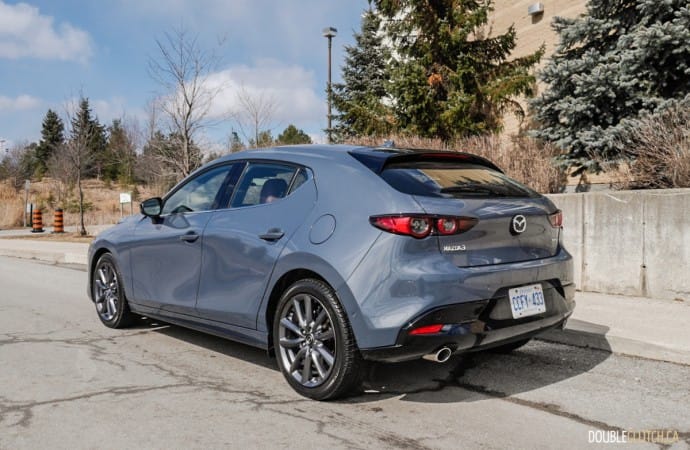 The 2019 Mazda3 Sport GT starts at $25,900, and our tester's Polymetal Grey Metallic paint adds $200. Add the $2,500 Premium Package, and the as-tested price comes to a very reasonable $28,600. Its chief rivals include the all-new Toyota Corolla Hatchback, Honda Civic Hatchback Sport Touring (reviewed here), and the Subaru Impreza Sport-Tech 5-door. The Mazda3 Sport GT features a handsome styling package inside and out, and sporty handling compare to its competition, but it has limited rear head and legroom and a relatively average cargo capacity (569L).
After spending a week with the 2019 Mazda3 Sport GT, we felt genuinely excited to see the amount of effort that Mazda designers and engineers have put into its compact car to bring us a vehicle that is attractive to look and engaging to drive. Mazda has a winner in its hand with the latest Mazda3 and we expect it to continue to be resilient in this SUVs and crossovers social movement.
See Also:
First Drive: 2019 Toyota Corolla Hatchback
2018 Chevrolet Cruze LT Diesel Hatchback