MONT-TREMBLANT, QUÉBEC – In the ever growing sea of crossover sport utility vehicles, consumers are in a good spot right now in terms of the eye watering amount of selection they have in the midsize class. Honda Canada brought us out to the Mont-Tremblant area of Quebec to check out their latest contender in the game, the 2019 Honda Passport. Slotted in between the compact CR-V and three-row Pilot, the Passport looks strikingly similar to its big brother, but in a shorter, smaller format (four inches lesser in length) with only two rows of seating. It also shares many styling cues with the Ridgeline pickup with which it shares its unibody platform.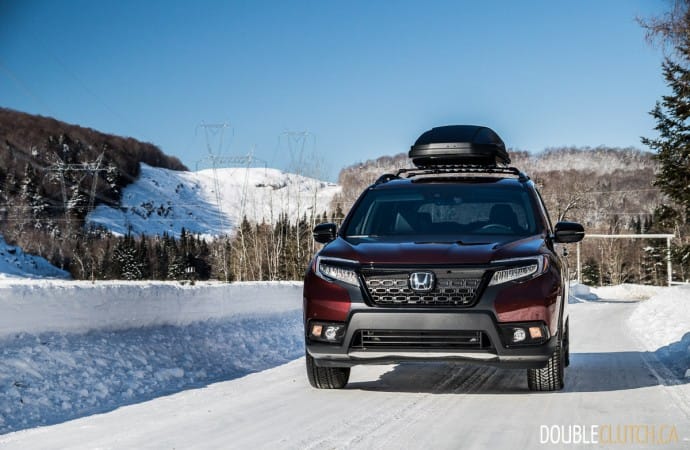 Three trim levels will be available, ranging from the base Sport to the mid-level EX-L, and the top-dog Touring. Pricing comes in at $41,990, $45,590, and $48,990 respectively, and all Passports come standard with all-wheel drive, 20-inch alloy wheels, power moonroof, heated front seats and steering wheel, remote engine start, automatic high beams, LED daytime running headlights and foglights, and a 10-way adjustable power driver's seat. Stepping up to an EX-L adds things like an acoustic windshield, leather seats, power rear liftgate, driver's seat position memory, heated rear seats (outboard positions), and a 4-way power passenger seat.
For the top of the line Touring, there's navigation, auto dimming and power folding side mirrors, LED headlights, a hands-free rear liftgate, rain sensing wipers, wireless phone charging, ventilated front seats, and the 152-watt audio and infotainment system is replaced with a premium 550-watt unit that includes navigation. A laundry list of accessories is available as well, allowing buyers to jazz up their Passports with optional extras such as running boards, cargo bins, all-weather floor mats, and ski attachments for the roof rack.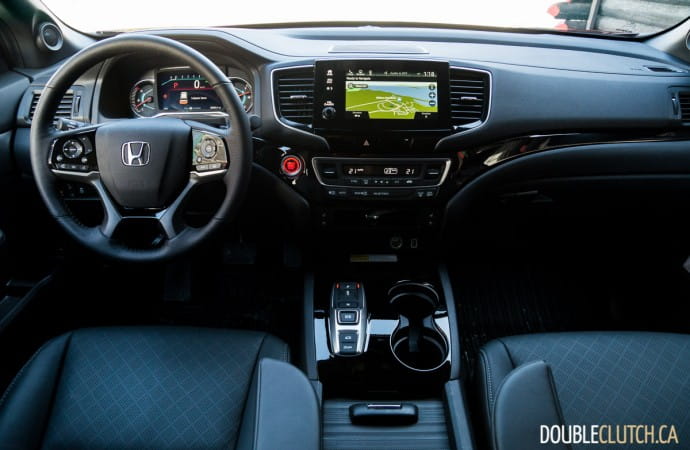 Although it's missing a third row of seating, the rear cargo area of the Honda Passport is quite generous. Cargo volume is 1,430 litres (50.5 cubic feet) with the rear seats up, and expands to 2,854 litres (100.8 cubic feet) with the seats folded down. By comparison, a Pilot is rated for 1,583/3,087 litres (55.9/109 cubic feet), and a CR-V can hold 1,110/2,146 litres (39.1/75.8 cubic feet). Passenger comfort and space is noticeably more generous than the compact CR-V, and five passengers in a Passport will be no worse off than if they were in the same seating position in a Pilot.
Powering all trim levels of the Passport is a familiar engine and transmission combination – a 3.5-litre V6 with a nine speed automatic. Power output is 280 horsepower at 6,000RPM and 262 lb-ft of torque at 4,700RPM. Old Honda die-hards will be happy to know that a more aggressive VTEC variable valve timing cutover happens at about 5,400RPM, which brings a red mist kind of pull to redline. As with other Honda sixes, it's buttery smooth and is paired to a great soundtrack all throughout the rev range. The nine-speed automatic transmission is more refined than when it was introduced a few years ago on the Pilot, shifting seamlessly without hunting between ratios too excessively.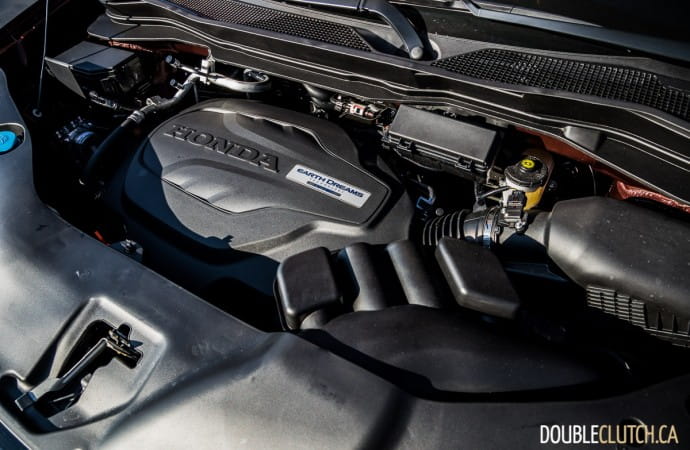 Fuel economy ratings for the 2019 Passport come in at 12.8L/100KM in the city, and 9.8L/100KM on the highway. Tank capacity is 73.8 litres, and regular fuel is acceptable. This is slightly worse than the 12.4L/100KM and 9.3L/100KM respective city and highway rating of the larger Pilot (when equipped with the nine-speed), due in part due to larger tires and decreased aerodynamics versus its three-row brethren.
On the road, the Passport brings great ride and handling to the table that is pretty reminiscent of the larger Pilot. With the same wheelbase, it drives a bit smaller and is a bit more maneuverable, although the turning radius is slightly worse, again because of the larger tires. The on-centre feel on the highway is nicely weighted and feels better than just about anything of its kind, and even beats out some dedicated sports cars in this regard. Cabin noise is kept to a minimum from both the wind and tires, and no squeaks and rattles were noticed even in -27 degrees Celsius weather. The all-wheel drive system constantly varies torque between the front and rear axles, and although it has a frontward bias most of the time, it can send power to the back when a loss of traction is detected.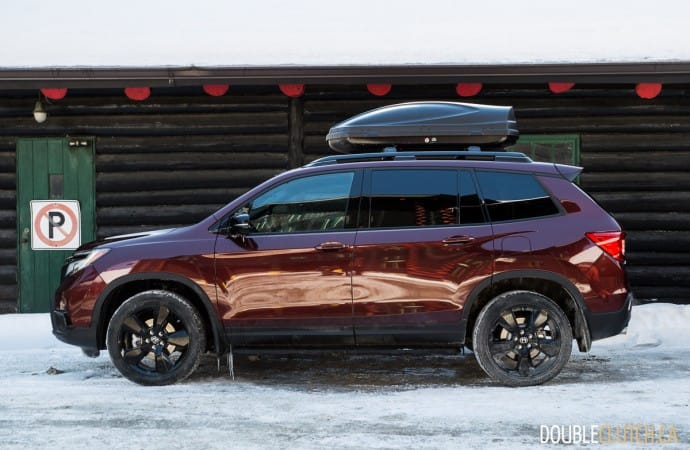 For those familiar with other Honda products, the infotainment system in the Passport is very much the same as can be found in the Pilot. While cars like the latest Accord have more ergonomic buttons flanking the touch screen interface, the Passport makes do with only a volume knob and touch-based buttons on either side of the screen. The menu system is a little bit complex and confusing at first, and will take some time to get used to, but the good news is that Apple CarPlay and Android Auto smartphone pairing solves most of these issues. Heating and air conditioning controls are within arm's reach and are all real, hard buttons thankfully, and there is a separate third zone for the rear on all trim levels.
Even though there are plenty of options in this segment, the 2019 Honda Passport is one of the top new entries, handily throwing down the gauntlet against other two-row crossovers such as the Ford Edge and Nissan Murano. General Motors is coming soon with an all-new Chevrolet Blazer, which will be an interesting comparison. The Passport is ideally suited for those who need more space and ruggedness than the CR-V Touring, but also don't quite need the full size and three rows of the Pilot. The combination of a sweet powertrain, great driving dynamics, and astoundingly good interior versatility all make for what should be a very strong seller for Honda Canada.
See Also:
First Drive: 2019 Ford Edge ST