If you go to a place like Los Angeles, California, you'll find the Toyota Prius (reviewed here) to be just about everywhere. It makes sense: the city with the most notorious traffic (not much different from Toronto's, incidentally), hybrid electric cars thrive, because they spend so much time stopped, or crawling along at a snail's pace. The other kind of car is the Tesla Model S, which is also everywhere in Los Angeles. Between a worry-free gas-electric hybrid like the Prius, and a full BEV (battery electric vehicle) like anything from Tesla, what choice does one have?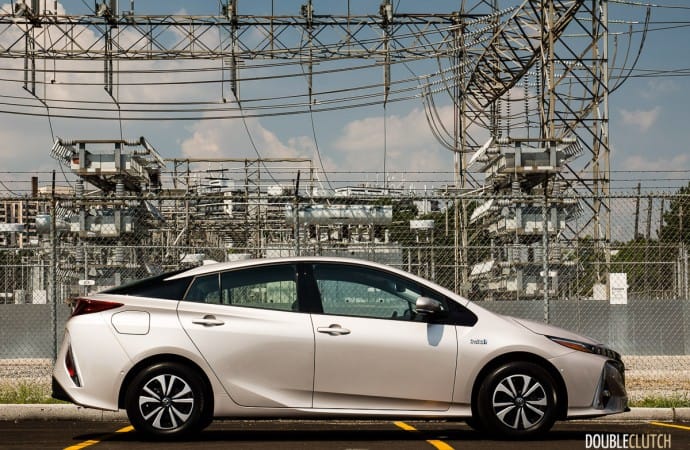 The PHEV (plug-in hybrid electric vehicle) seeks to be the best of both worlds, with more battery capacity than a gas-electric hybrid, but without the crippling range anxiety of a BEV. Toyota basically invented the hybrid electric market with its excellent Hybrid Synergy Drive system, and we've come to love the Prius for its singular focus on maximum fuel efficiency. Plug-in hybrid vehicles comprise of a much smaller piece of the pie for Toyota, but they're aiming to change that with the new 2018 Prius Prime. We were sent over a Titanium Glow 2018 Toyota Prius Prime with the Technology Package.
The Prius has always possessed an iconic look, if you will. It's not an enthusiast's vehicle in the traditional sense: it doesn't provide much in the way of fun, it doesn't sound all that great, and it tries its hardest to not consume gasoline, which is often the antithesis of anything considered remotely "exciting", these days. The Prius Prime's styling is deliberate, with the usual "Kammback" design seen on most mainstream Prius models. However, it differs from the Prius in quite a few ways, with a radically different front and rear end. Styling will always be a subjective item, but the Prius Prime is different enough that it should be viewed as a different model in the Toyota family.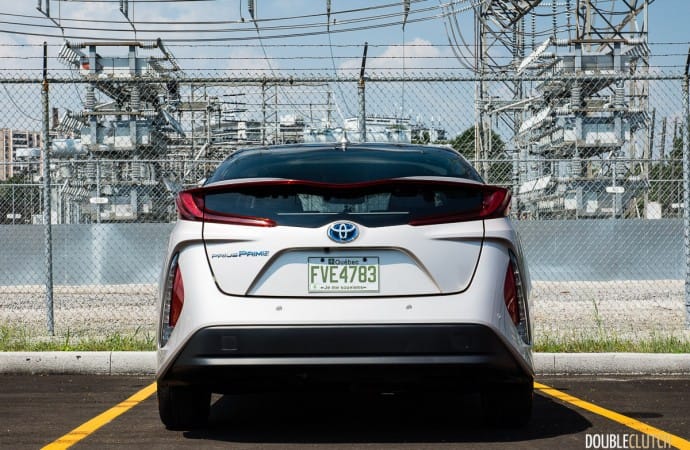 The full-LED headlights are a different but less radical shape, and incorporate four LED jewels per side. The rear end of the Prius Prime is dramatically changed, with a "dual-wave" rear glass design that further improves aerodynamics (and looks cool), and a carbon fibre-composite rear hatch which reduces overall weight. The takeaway remains subjective, but I feel the Prius Prime doesn't look anywhere as ungainly as the standard Toyota Prius does. It is still not something one would call attractive, but its focus on maximum aerodynamics gives it a more functional quality.
Inside, the Toyota Prius Prime continues to follow a different theme to the standard Toyota Prius. Front and centre, lives a huge 11.6-inch touchscreen which draws immediate parallels to the interface in Tesla products, as well as most new Volvo products. It is certainly a progressive UI, incorporating just about everything the driver or passenger will need to adjust, including satellite navigation, audio, real-time drive system status, and even climate control.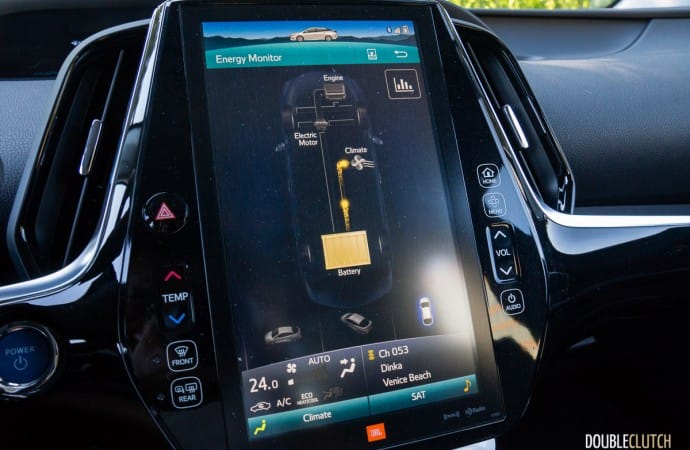 There a few direct-access, touch-sensitive buttons for defrost, temperature adjustment for the automatic climate control, but they're not physical buttons. Furthermore, the touch-only volume controls are on the right side of the screen, further away from the driver, which is less than optimal. The standard Toyota Prius retains a smaller, but more traditional infotainment interface, complete with physical volume and tuning knobs, as well as physical buttons for the climate control system. You have to give credit to Toyota for trying to be on the bleeding edge in this case, but the standard Prius shows that a simpler solution is usually the better choice.
Elsewhere, the Toyota Prius Prime continues to utilize the centre-mounted instrument cluster. There's no tachometer, but the large digital speedometer is what you'll probably be looking at the most. Hypermilers will also be looking at the CHG-EV-PWR gauge, which essentially follows accelerator pedal position. Seen on other Toyota hybrids, the Eco Score is a handy coach for getting the most out of your battery or gasoline range, and if you're gentle with your accelerator and brake inputs, you should be able to achieve 99/100. It's worth noting that the Prius Prime is a four occupant vehicle – a fixed armrest and cupholders live where the fifth person would sit, in the second row. The interior is relatively simple in the name of weight savings, but Toyota still opted to equip the Prius Prime with dual-pane side glass for the front two occupants to keep noise down.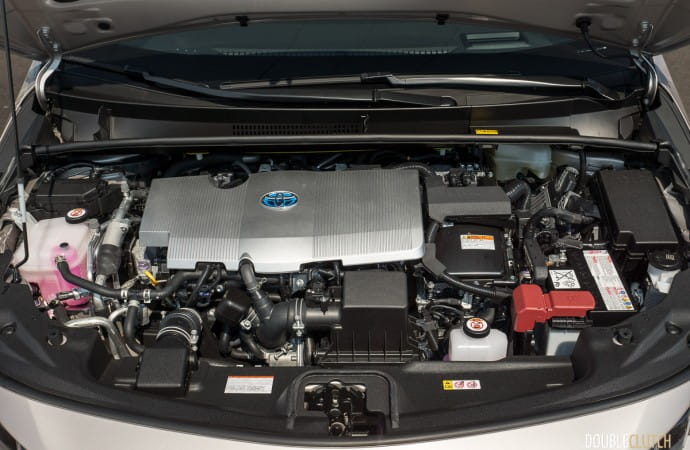 Being a plug-in hybrid electric vehicle, the Toyota Prius Prime has a 1.8L gasoline inline four-cylinder engine under the hood. It utilizes the Atkinson lean-burn combustion cycle as well as numerous tricks to squeeze out an impressive 40% thermal efficiency. The new dual motor-generator drive improves acceleration, though the Prius Prime remains slow-and-steady, rather than the astonishing acceleration seen with most Tesla products. When you put the electric and gasoline sides of the equation together, the Prius Prime is rated at 121hp of "hybrid system net power". Power is sent to the front wheels through Toyota's Hybrid Synergy Drive power-split "eCVT" system.
The more important figure is the quoted battery-only EV range: about 50km. This figure will depend on where you drive the Prius Prime: if you spend most of your commute confined to stop-and-go urban traffic, you'll regenerate quite a bit of energy back by braking. If you immediately hit the highway as soon as you unplug, that range will plummet quickly. Once you exhaust the battery range, the gasoline engine will fire up and provide assist. The Prius Prime essentially feels like the standard Prius once the battery is depleted. Range anxiety shouldn't be an issue, because unlike with a full BEV, you're still able to get home once you run out of battery.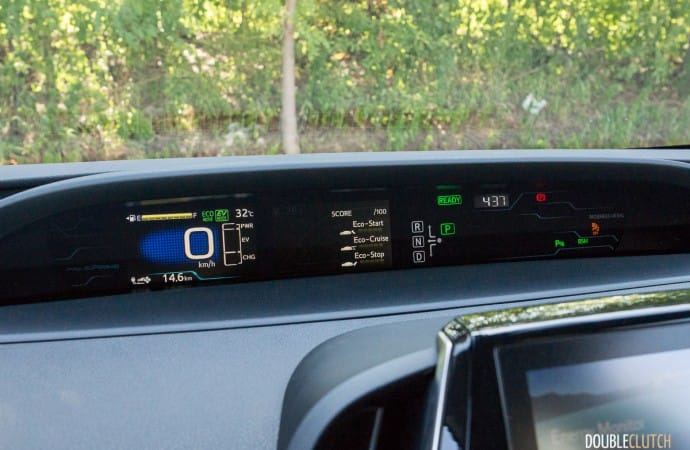 My commute is just about 22km each way, to and from downtown Toronto. The weather was favourable (minimal air-conditioning usage), so I tried to get through the entire week without using any gasoline – for science. I ended up succeeding, but it brought up the notion of a different kind of range anxiety; one that you don't need to subject yourself to. The Prius Prime's city range is genuinely useful, but you learn to keep an eye on the battery range that remains, all the time. Resorting to the gasoline engine almost feels like admitting defeat, even though it is there to get you home.
All that said, I ended my week with an indicated average fuel consumption of 0.0L/100km, over about 280km of total mixed driving. If you drive the Prius Prime like a hybrid vehicle (utilizing both battery power and the gasoline engine), Toyota says you should get about 4.3L/100km in the city, 4.4L/100km on the highway, and 4.3L/100km in a combined cycle. Toyota also quotes the electric-only consumption at 1.8Le/100km, or 133mpge. The Prius Prime will hold up to 43L of regular 87-octane fuel.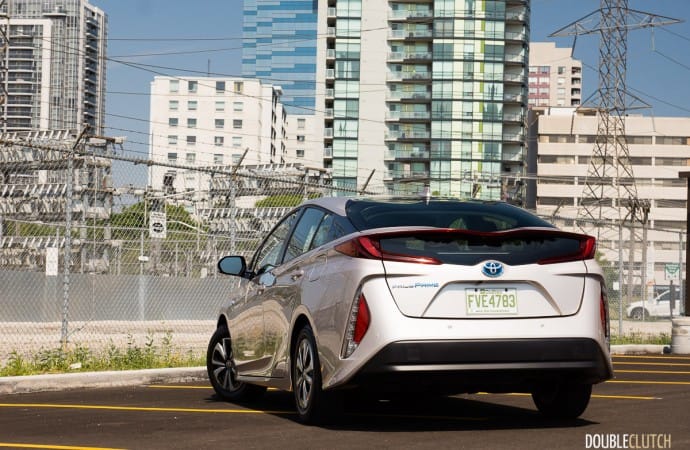 From a practical standpoint, I was able to charge the Prius Prime overnight utilizing standard 120V household electricity. It is impressive how quickly the battery will reach 100%, thanks to an upgraded internal 3.3 kW charger. The quoted recharge time is 5.5 hours using 120V, and half that if you've got access to a 240V outlet. The Prime doesn't have a "Level 3" power input, but the gas engine onboard largely takes care of the need to do any fast charging.
The Prius Prime starts at $32,990, before taxes and additional fees. It comes well equipped: you still get a heated steering wheel, satellite navigation, those full LED headlights. The Prius Prime Upgrade tested here gets the large 11.6″ Touch Panel Display Audio screen, Qi wireless phone charging, SofTex simulated leather seating, and power driver's seat, among others. The Technology Package can be added to the Prius Prime Upgrade, and it adds premium JBL audio (with ten speakers), the heads-up display, blind spot monitoring, rear cross traffic alert, intelligent parking assist, and LED fog lamps. All in, the Prius Prime Upgrade with the Technology Package, rings in at $38,570 as-tested.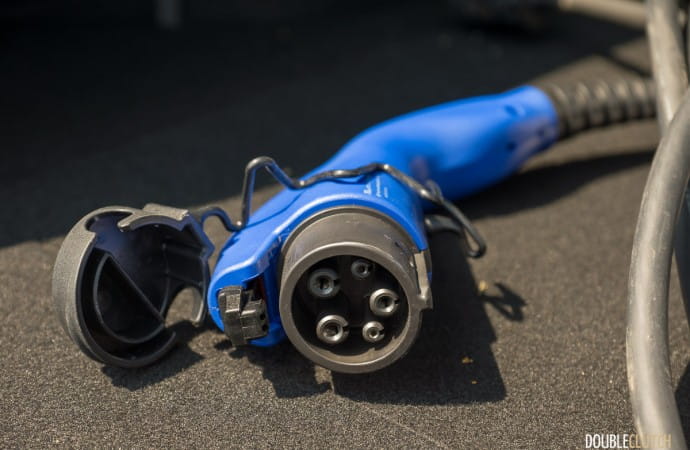 Time for some local baseball: the elephant in the room nowadays in Ontario is the electric vehicle incentive. For a while, cars with battery capacities large enough qualified for a whopping $14,000 rebate (with conditions, of course), which really incentivized and stimulated the electric vehicle market. The recent change in provincial government means that the rebate is all but going away, which means these vehicles suddenly have become considerably more expensive, almost overnight. The Toyota Prius Prime qualified for a $5,000 rebate from its 8.8 kWh battery, which isn't an insignificant amount.
The 2018 Toyota Prius Prime, even with its improved electric-only range, wouldn't work for me in a "single car" household. Battery technology continues to improve, but it's still not quite there yet in terms of truly alleviating range anxiety. You could plug the Prius Prime in every night, and drive it like a normal hybrid electric vehicle, and benefit from the almost-zero fuel consumption – if you have a reasonable daily commute. Or you could be like me and try to squeeze by using electricity only, which is definitely possible for many. The onboard gasoline engine is today's best solution, and Toyota continues to prove that they are the masters at blending the best of what the internal combustion engine has to offer, and the benefits of battery power. The PHEV and BEV market continues to evolve every day, and the Prius Prime is a good snapshot of how things should be.
See Also: