With the recent June 2018 election bringing in a Progressive Conservative provincial government, generous EV rebates of up to $14,000 per vehicle under $75,000 have found themselves in peril as their source of funding has dried up. Buyers were flocking to showrooms to put in orders for cars before the program's deadline, and the wait time for delivery may get a little longer as a result. As a new variant for this year, the 2018 BMW i3s REx (which stands for "with Range Extender") is a newer, sportier version of the premium automaker's electric line-up.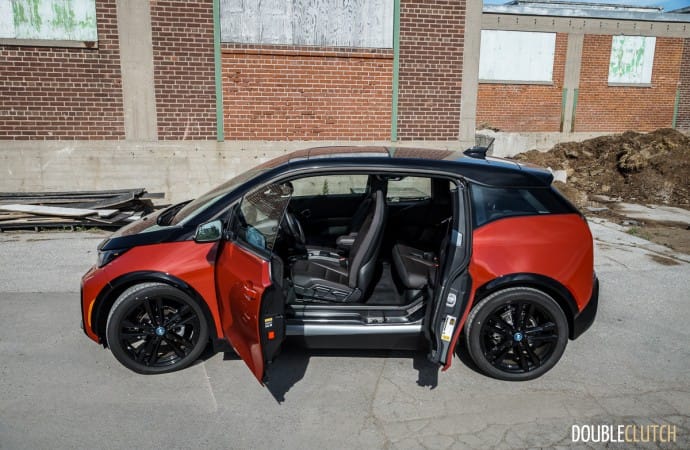 Over and above the regular i3, the i3s gets a new suspension with unique springs, damping, and sway bars, in addition to an extra 10 horsepower out of the electric motor for a total of 180. Peak torque increases from 184 to 199 lb-ft, and is available from 0RPM, as is the case for EVs. The result is a 0-100KM/H sprint happening in 7.7 seconds – expect to shave a few tenths off for models not equipped with the range extender.
Handling and steering response is surprisingly sharp for a vehicle with 175-section front and 195-section rear tires, which is an upgrade over the regular i3's 155/155 (155/175 with Range Extender). Despite having low rolling resistance all-season tires, road-holding is impressively good, and keeping up momentum in the turns can go a long way in preserving charge levels. Acceleration isn't blistering, but is reasonably brisk, and the waft of torque available from a stop further increases the fun factor.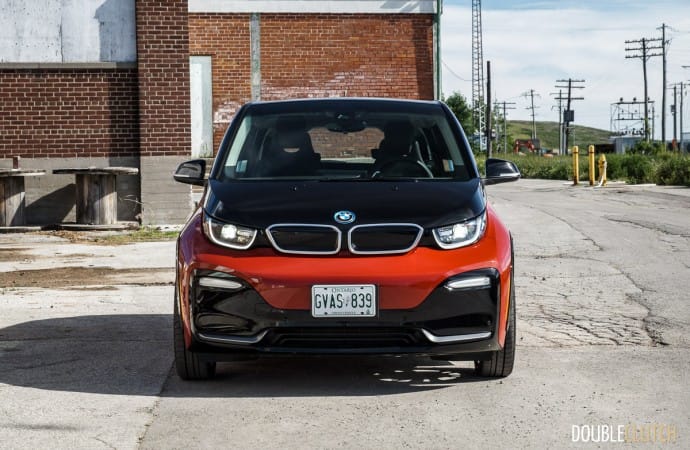 Like many other electric vehicles, with the BMW i3s, one-pedal driving is a possibility. Use of the brake pedal around town can be minimized or almost totally eliminated. Fully releasing the accelerator puts the car into a regenerative braking mode that's equivalent to a medium amount of braking. Coasting can be done with light accelerator pressure, and it does take some getting used to in order to time your braking in order to stop efficiently. Driving this way gets the driver to more consciously think about acceleration and deceleration, making them look further ahead and smoothen their inputs and increase energy efficiency. If harder or emergency braking is required, the brake pedal is there to be stomped on.
With an overall battery capacity of 33.2 kilowatt-hours (kWh), BMW says that nominal driving range on electric is about 220 kilometres. In the real world, that's a very achievable number, particularly when doing a lot of city driving. Deceleration turns the electric motor into a generator, recovering kinetic energy and charging the battery – this would normally be lost to heat when using conventional brakes that rely on friction.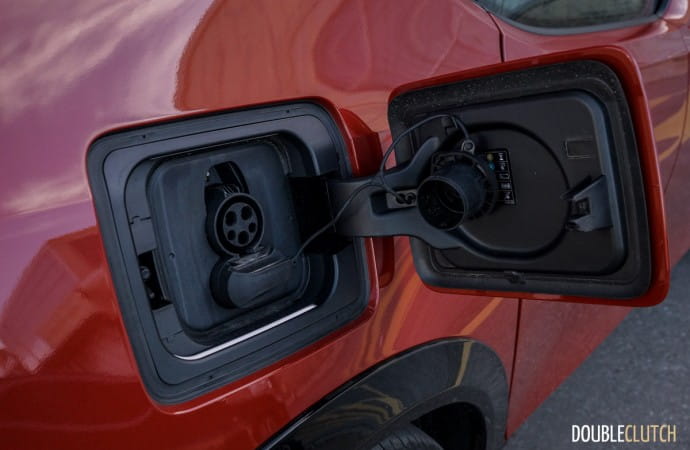 Using a Level 2 charging station (240 Volts and either 3.3 or 7.2 kW output), a full charge from zero can happen in as little as 4.5 hours and as much as 8 or 9, depending on the capacity of the charger. Most public charging stations will fall into this category, as well as any 240V station installed in the home of an i3 owner. Plugging into a conventional 120V wall outlet is also possible, but a full charge takes about 16 hours – good for small top-ups on the go, but not for daily use.
Fast charging is also a possibility on the i3s, and is done at 480 Volts DC. In addition to the SAE J1772 standard connector used in almost all North American EVs, additional prongs on a CCS-type connector are used for the high-speed charging, which can bring the battery up to 80% in as little as 20 to 30 minutes. These types of charging stations typically cannot be installed at home due to the large demand on the grid that can't be met with your average residential supply. In order to find these stations, there are plenty of phone apps that can help you map out where to get juice.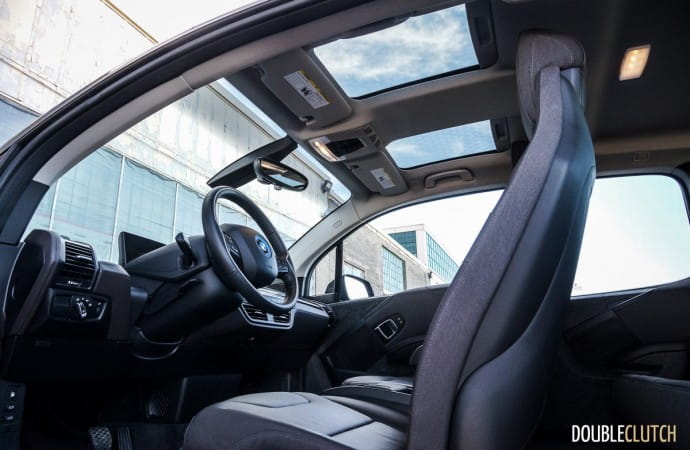 For when battery charge is fully depleted and no charging station is in sight, range anxiety can be helped by the Range Extender option on the i3s. It's a tiny 647cc, two-cylinder engine normally used in BMW scooters, acting as a generator to add another 100 kilometres of driving range per tank, bringing the overall rated total to 320 kilometres. For those who take longer trips, or have more infrequent access to charging stations, the Range Extender can make sense. Tank capacity is 8.7 litres, and premium fuel is recommended.
Inside, the BMW i3s has a bright, airy cabin thanks to its eccentric shape. Front and rear comfort, legroom and headroom are all par for the course for a BMW, and occupants will be no worse off than they would be in a 3-Series. The controls and screens are a bit more minimalistic, but it works. The pushbutton start and shifter are mounted high and sprout out from around the gauge cluster, but their operation is the same as any other BMW. The two rear seat passengers will find their quarters to be quite cramped, as is expected for a car of this size.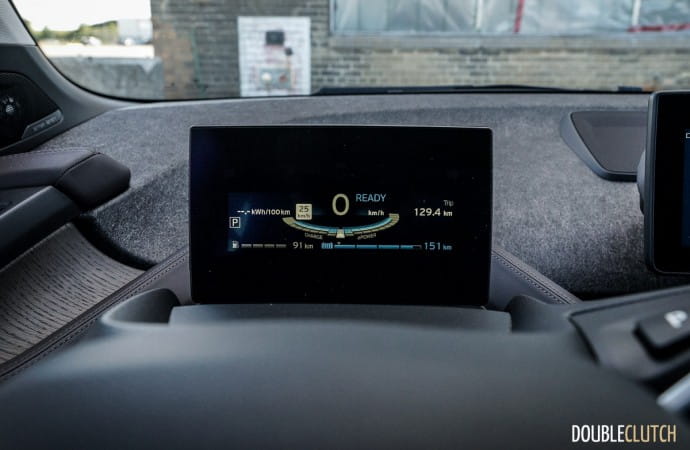 In terms of infotainment, BMW's latest iDrive 6 does duty in the i3s. With the usual much-welcomed control wheel providing input for all of the car's menu systems, drivers and front seat passengers can quickly access media, phone, and navigation functions, among other things, without the greater distraction of a full touch screen interface. Some of the menu items can be buried pretty deep, but thankfully, the main functions are all there within a button press here and a dial twist there. Relative to everyone else, it's one of the benchmark infotainment systems out there today.
Getting your hands on an i3s with the Range Extender starts at a base price of $56,950. As with other BMW products, there are a multitude of options to be had. The test car was equipped with a $3,500 Premium Package, which includes black 20-inch alloy wheels, Comfort Access, Harman/Kardon audio, navigation, parking sensors front and rear, and SiriusXM satellite radio. The Driver Assistance Package was an extra $2,350, and brought to the table Apple CarPlay (which really should be standard) and Driving Assistant Plus (adaptive cruise control with autonomous traffic mode). Additional standalone options included Dalbergia Brown Leather for $1,750, a glass sunroof for $1,200, and the Melbourne Red Metallic with Frozen Grey Accent exterior paint colour was $895 extra.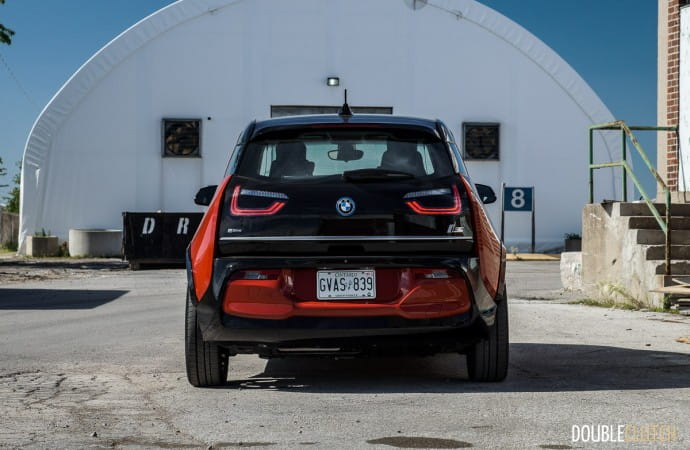 With an as-tested price of $66,645, it's quite a pretty penny for a luxury premium electric vehicle, and the 2018 BMW i3s REx is a good one. The elephant in the room here, however, is the newly released Tesla Model 3 (reviewed here), which can approach similar pricing levels depending on options. Its range also trumps the BMW with 499 kilometres before needing a charge. In Ontario, at least, the end of the $14,000 electric vehicle rebate makes the value proposition practically go out the window. If you want to be an early adopter, and don't particularly care that the payback period of gas savings may never happen over the life of the car, the fun-to-drive i3s REx is at least worth a look.
See Also: