ST JOHN'S, NEWFOUNDLAND – Trucks are serious business, and for some manufacturers, their flagship products that are the first to be introduced with new technology and design cues. For the GMC brand, the only brand dedicated exclusively to SUVs and trucks, this cannot be any truer. The Sierra has long since been the flagship, premiere product for the company, with sales volumes growing each year. We were invited to St. John's, Newfoundland to sample the redesigned 2019 GMC Sierra.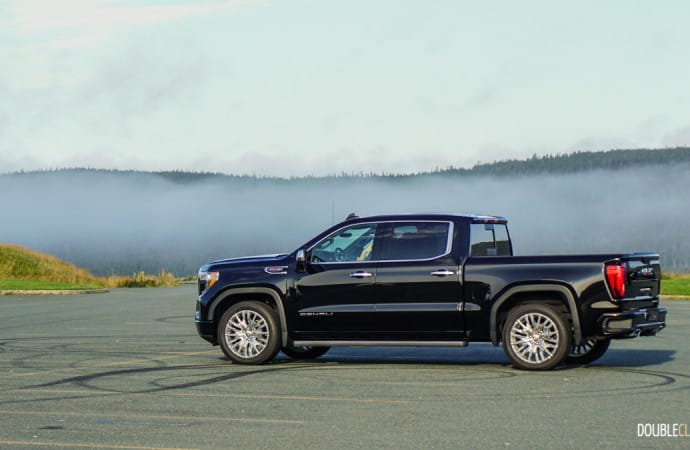 Banking on buyers' love for trucks and convenience, GMC invested heavily in making their next-generation Sierra, a vehicle that makes no compromises or excuses for being a truck. Across the GMC lineup, the top tier package for buyers who want top notch amenities is the Denali, currently making up 29% of all GMC sales. The 2019 Sierra Denali is where GMC placed their focus this week while showing off the all new platform. They also introduced the new AT4, a premium off-road package.
The 2019 Sierra has been redesigned from bumper to bumper on a brand new platform that uses a large variety of materials. The all-steel frame has been completely redesigned, while all of the parts of the truck that move (doors, hood, tailgate) are mostly aluminum, with steel reinforcements wherever needed. Overall weight is down a whopping 350 pounds from the previous truck, despite the fact that the truck is now 3" longer.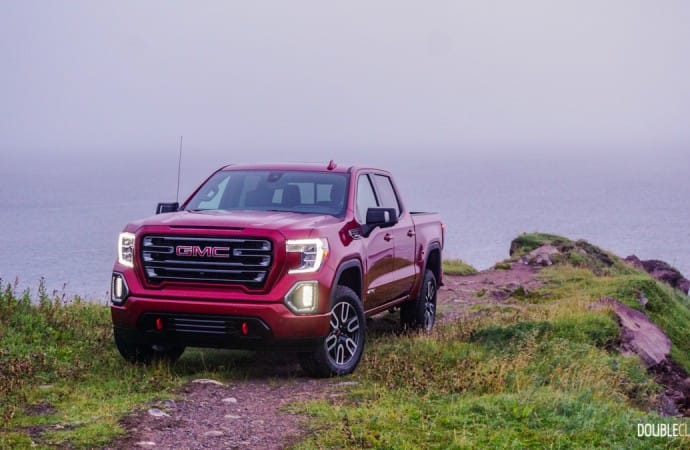 GMC has not only strengthened and widened the steel bed, but they have also managed to produce a carbon fibre (CF) bed option that has never been seen before. GMC touts the CarbonPro box as the largest carbon fibre vehicle part to ever be made for a production vehicle. The entire bed surface and inner sides are made of CF and ready for action without the need for paint, spray on liner or a plastic liner. Vehicles with the CarbonPro box option (a late-release option expected in early 2019) will have a rough surface similar to a plastic bed liner, along with a 62lb reduction in weight over the standard steel bed.
The CF box option is actually assembled into the truck in six pieces, meaning if one piece gets damaged it can be unbolted and replaced with a new one without needing to repair the entire truck bed, but GMC doesn't anticipate this ever being necessary. Sledgehammers and axes bounce off the surface of the CarbonPro, nothing leaves scratch marks on the surface, and after countless impact and wear tests the engineers are confident the body and frame components around the CarbonPro bed will fail long before the CF gets damaged.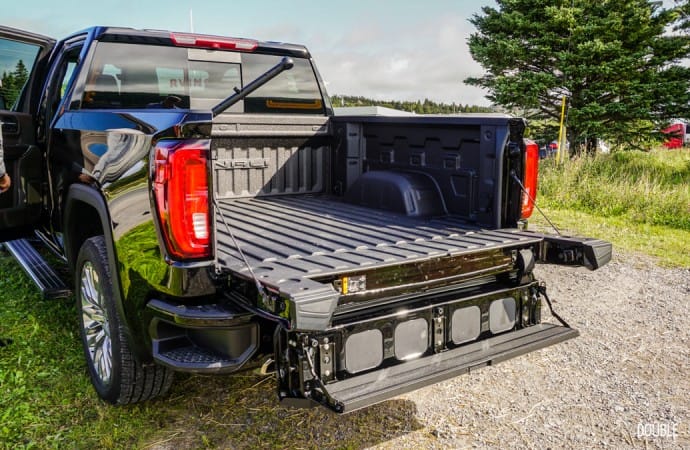 Another major innovation at the rear of the truck is the MultiPro tailgate, an innovation that has everyone asking why it took this long for someone to come up with it. For decades the tailgate has remained relatively unchanged; a boring slab of metal that is the defining feature of a pickup truck. When fully expanded, the tailgate unravels into a convenient staircase to walk in and out of the bed. Closing everything back up is pretty easy too, since it is almost all aluminum and lightweight.
For cargo loading, the MultiPro tailgate can be used in multiple configurations that will suit the majority of situations where extra tie downs would be needed. You might notice four square cutouts in a smaller tailgate piece, these are manufacturing cutouts for the welding robots to use, but GMC has taken advantage of their existence by offering either a waterproof Bluetooth Kicker sound system, or bright LED lights to be installed right into the tailgate to light up the party.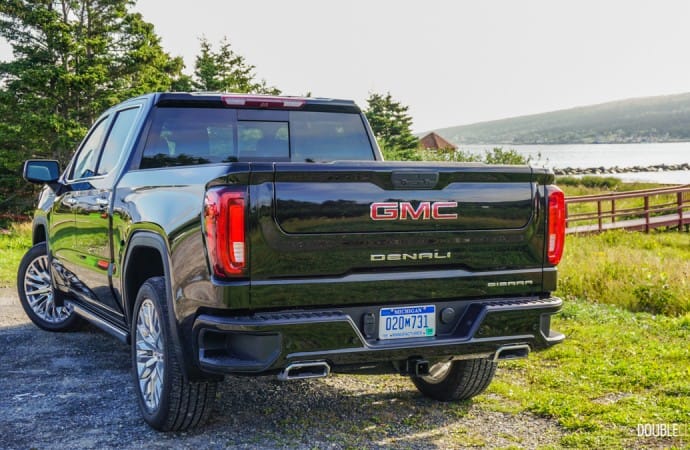 The interior has been redesigned, but is not a far stretch from the previous generation's already excellent layout. The rear seatback cushions have doors in them that reveal additional cubby storage that is perfect for ratchet straps, tie downs, or your candy stash. From the drivers' seat, a vivid multi-colour heads-up display is visible. Not far away is another hidden screen, hiding in behind the glass of the rear-view mirror that can be turned on to reveal an HD rear view. This video mirror might seem gimmicky at first, but any large object loaded in the bed of the truck would render a regular mirror useless, whereas the camera will have a clear view in most situations.
The big change in the cabin is the on-road experience that comes from powertrain and suspension improvements. Road and wind noise are both improved, but don't expect the cabin to be eerily quiet. If a quiet cabin and smooth ride aren't quite your style, a performance exhaust is an available option that adds a nice growl and a 13hp bump.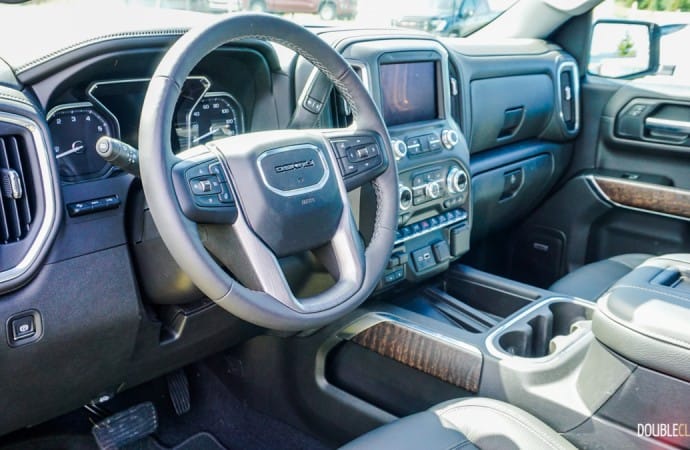 On the road, the Sierra Denali rides very well, soaking up endless small bumps, potholes and the jarring expansion joints found throughout the winding roads through the eastern coast of Newfoundland. Ride quality is significantly improved over the previous generation of Sierra Denali thanks to a brand-new Adaptive Ride Control (ARC) suspension system.
Previous models were equipped with GM's Magentic Ride (MR) shock system, which responded to inputs at the wheel from the road and changed the damping rate to smooth out the ride. This new system uses a traditional shock absorber with added electronic valves as well as a height sensor that measures body movement against the wheel position. The ARC system also uses steering wheel input and the height sensor to reduce body roll, and by engaging Sport or Tow/Haul mode, the suspension adapts to the driving situation.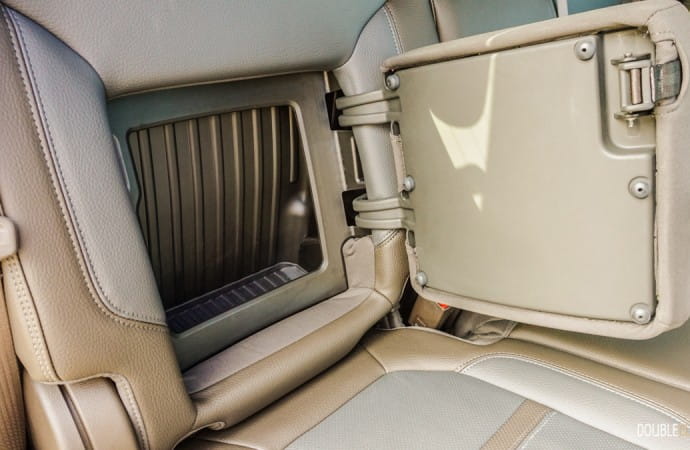 A major theme in the redesign of the Sierra was ease of use, and that doesn't stop at the MultiPro tailgate. GMC put a major focus on making towing accessible to everyone, and adding features that even a seasoned veteran can appreciate, so that buyers can 'Tow Like a Pro'. Cameras are present throughout the truck and can be presented on-screen in a multitude of ways to help line up to a trailer, check in while driving, or help navigate tight turns. The parking brake automatically engages when trying to line up to the hitch ball, and lines on the screen while reversing help.
An in-vehicle app (and available phone app) provides on screen instructions for novices to make sure they hitch up correctly. Trailer settings (such as brake gain and wiring configurations) can be saved and named in the app, as well as maintenance interval reminders and logging of how much distance the trailer has travelled. The electrical connector can detect if there are any wiring issues and will show on screen exactly which pins need to be looked at for issues. Towing capacity with the 5'8 box is 9,300 pounds, and the payload capacity with this box is 1,610 pounds.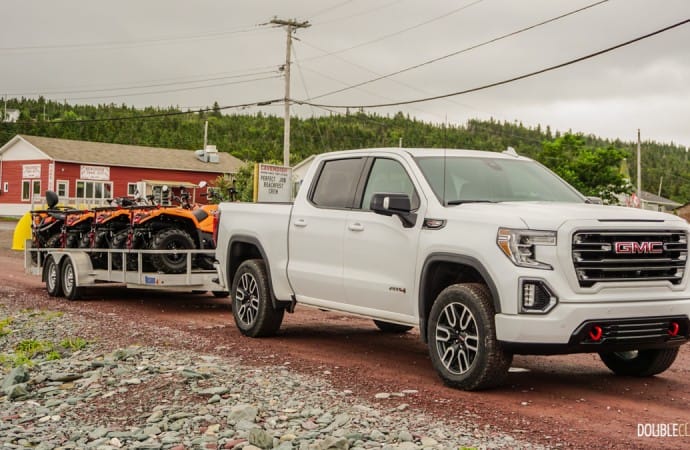 Under the hood of the Sierra Denali is a new 6.2L engine that produces 420hp at 5,600RPM and 460 lb-ft. of torque at 4,000RPM. It's mated to GM's fantastic 10-speed transmission. The new engine features a new Dynamic Fuel Management system that is an evolution of the previous generation's Active Fuel Management. A redesign of the engine internals allows for this system to detect load on the engine, and run on as few as two cylinders. GMC had a diagnostic tool available that showed how many cylinders were being fired while driving, and it was unbelievable how much time was spent in two-cylinder mode.
The 2019 Sierra will be offered with six different powertrain options. They are the 6.2L engine reviewed here in the Denali (available on SLT and AT4 trims as well), a 5.3L engine with DFM, a lower featured 5.3L with AFM only, a 4.3L V6, a 2.7L turbo four-cylinder engine, and the highly anticipated 3.0L diesel engine that will be a premium option. The diesel is expected to be available late in the 2019 model year.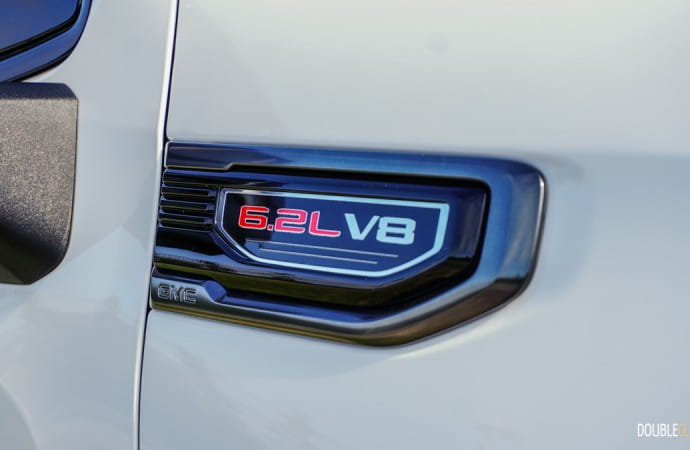 The 2019 GMC Sierra is an absolute joy to drive, packed with more features and capability than can be adequately covered in this article. Road manners (and off-road manners) are top notch, with great visibility and ride control all around. Pickup trucks typically have a few large drawbacks that make buyers decide to go the SUV route instead, but by making a truck that rides as well as an SUV and is this easy to use and drive, GMC is bound to crack open a few more wallets with this shiny new road trophy.
See Also:
First Drive: 2019 Ram 1500 Sport