Freshly released, the 2018 Honda Accord Touring 2.0T is Honda's latest effort in their traditionally dynamic family sedan. It's always enjoyed a reputation of being fun to drive, dependable, fuel efficient, and affordable. While no coupe version has been released (yet), the DoubleClutch.ca Magazine editorial team spend a week behind the wheel of a Platinum White Pearl Accord in the flagship Touring 2.0 trim. With a conservative but fairly handsome new look, the body lines manage to be elegant without being too overtly boring. It almost certainly is more handsome than the outgoing Accord Coupe, and is a plenty good stand-in until a new one shows up.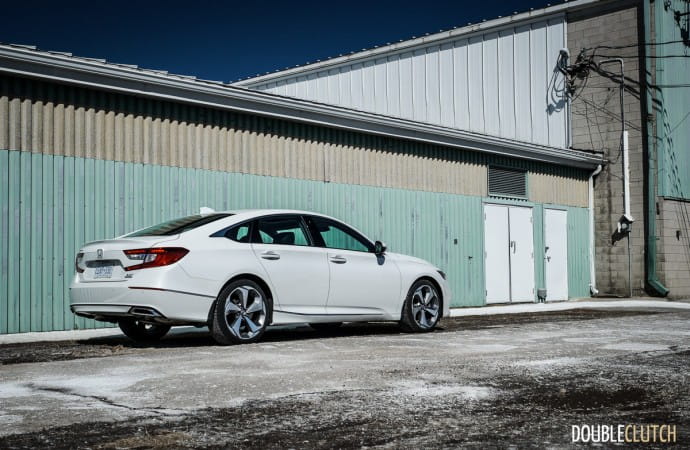 While a base Accord starts off just over $26,000, the Touring 2.0 is an as-tested $38,890 before freight, taxes, and fees. With this, buyers get a larger 2.0-litre turbocharged engine, a full glut of features including head-up display, heated leather seating with heated steering wheel, rain-sensing wipers, navigation, 452-watt premium audio, and an Adaptive Damper System added to the suspension. Compared to its fellow countryman and archrival Toyota Camry, this price undercuts the top-rate XSE and XLE V6 trims by $1,000 and $2,000, respectively. It also stays competitive against the likes of Mazda6, Ford Fusion, and Volkswagen Passat.
On the safety front, the Touring trim gets all of the Honda Sensing driver assist suite. This includes adaptive cruise control, a lane keeping assist system that provides steering assist, blind spot warning with cross-traffic alert, forward collision warning with autonomous braking, a road departure mitigation system, and automatic high beams, among other features. Kudos to Honda for offering most of this content across the entire Accord lineup, including the base LX (which loses the blind spot warning system and adds a LaneWatch passenger-size camera system instead).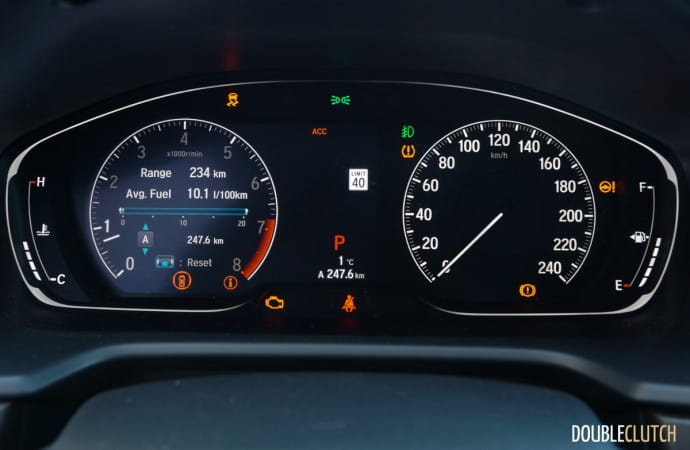 Underpinning the 2018 Accord is an all-new chassis using what Honda calls its Advanced Compatibility Engineering body structure. A slightly longer wheelbase, slightly more width, and slightly less length and height are accompanied by improved crash safety and rigidity. These lead to betterments in the areas of noise, vibration, and harshness, as well as reduced weight. With an all-aluminum front subframe, combined with gratuitous use of high-strength steel, curb weight has been slashed by 57 kilograms (126 pounds), weighing in at a curb weight of 1,562 kilograms (3,444 pounds).
While all these improvements look great on paper, the new Accord does even better when behind the wheel. Right away, it was obvious that the family sedan was something special, with a smartly designed airy interior that also kept wind noise at bay. Road noise is still a bit of a problem, as has been characteristic with Honda for years, but isn't too obtrusive (the Camry does better there). The chassis improvements translate to excellent road feel and confidence when on the road, with well-weighted steering and excellent ride quality.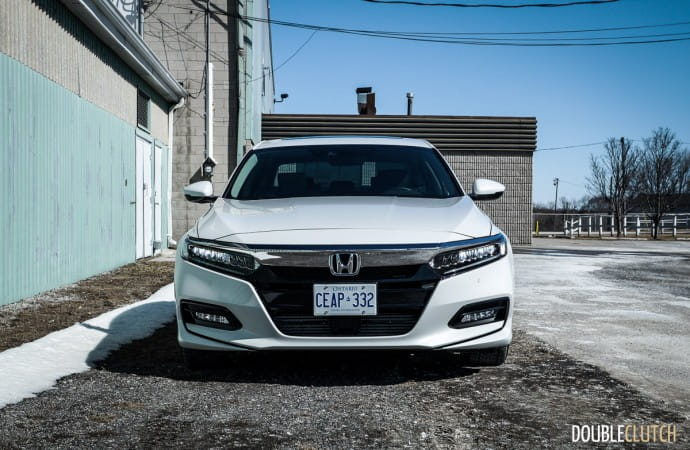 The Adaptive Damper System complements the medium-stiffness spring rates well, with good body control over big highway expansion joints, and no secondary motions on major undulations. Turn-in response is very sharp, and the relatively heavy steering gives the impression that the Accord likes to play. It's actually very similar in nature to the excellent Honda Civic Si (reviewed here), and dare we say, a distillation of many of the good bits in the 2017 DoubleClutch.ca Magazine Car of the Year, the Honda Civic Type R. While it would be a stretch to say that the Accord performs at anywhere near the level of the Type R, it would be safe to conclude that they both have similar DNA.
As previously alluded to, the more powerful and larger engine on the 2018 Honda Accord is no longer a smooth and silky V6. Now, the option with more oomph is a 2.0-litre turbocharged four cylinder powering the front wheels (no, you don't always need all-wheel drive), and is actually a detuned variant of the "K20" turbo unit in the Civic Type R. Peak power output is 252 horsepower at 6,500RPM, and peak torque is a healthy 273 lb-ft between 1,500 and 4,000RPM. The sweet soundtrack and instantaneous naturally aspirated response is sadly no longer, but that's not to say the K20 turbo isn't up to the task.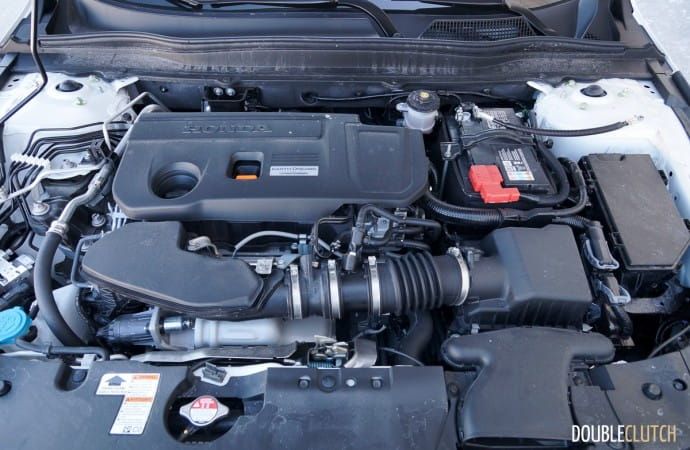 Almost coincidentally, the horsepower and peak torque numbers have essentially flipped with the old V6, which made 278 horsepower and 252 lb-ft (at 4,900RPM). During its week on test, it does need to be noted that a malfunction indicator lamp (also known as the MIL, or check engine light) did come on, but little to no drivability changes were noted. This can possibly be chalked up to the test car being a very early production model with a couple quirks – it was the 93rd 2018 Accord off the line, to be exact.
In fact, the turbocharged four is very responsive, with minimal lag and more torque available from a lower rpm. It's also not too buzzy, and doesn't feel laboured at all when moving through the rev range. It's paired to an all-new ten-speed automatic transmission, which keeps the engine in its sweet spot thanks to having so many gear ratios to choose from. Shifts are smooth, and gear hunting isn't particularly an issue. The transmission is happy to let the turbocharger spin up and build tons of torque before really needing to downshift at all. If you have a particularly strong sense of urgency, the turbo 2.0 and ten-speed combo is the one to have over the 1.5-litre turbo and continuously variable transmission (CVT).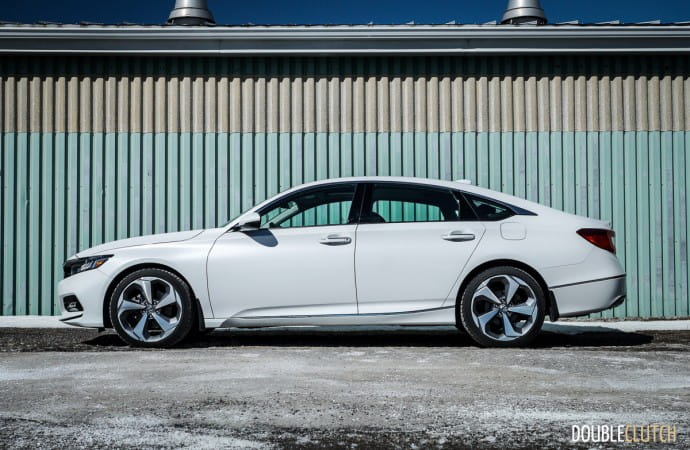 With ten speeds and a smaller displacement engine, fuel economy for the Touring 2.0 trim is rated at 10.4L/100KM in the city, and 7.4L/100KM on the highway. Observed economy over a wintery week on test came back at 10.3L/100KM with a slant toward city driving. Though the highway figure matches the old V6, the previous city rating of 11.4L/100KM is handily trumped. Interestingly enough, fuel tank capacity has diminished to from 65 litres in the 2017, to 56 litres today. This is nearly a ten percent reduction in range if assuming the combined economy numbers, and nearly fourteen percent less when considering highway alone. Fortunately, the turbo four is perfectly happy with regular octane fuel.
Inside, the Accord is another exercise of smart design without going too far out of the box. Every feature is laid out well within the driver's reach, and build quality is top notch. Buttons and knobs have made a return, after universal complaints about the need to blindly touch to control functions such as volume or tuning. The heating and air conditioning controls are easy to use, but the fan did tend to blow a little faster and louder in the 'Auto' setting than would be ideal.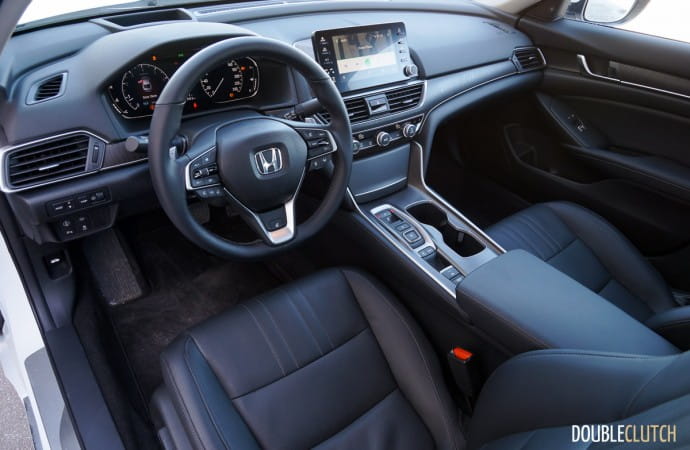 Seat comfort is good in the front and rear heated leather seats (cooled up front as well), but could stand for a little more thigh support. The shifter controls are similar to what has already been seen in the Acura luxury lineup. With Park, Neutral, and Drive spaced flat and well apart, and Reverse engaged only by pulling back, confusion is kept to a minimum and drivers are not likely to select the wrong gear. Out back, a trunk volume of 473 litres is improved over the previous 379. The test car was equipped with a slide-out cargo drawer, which was neat, but the bolted-in mounting brackets did eat into valuable space.
Technology and connectivity wise, the 7″ touchscreen display has more of a matte finish to it, reducing glare in bright sunlight. The Honda menu interface is actually built on Android (you can find a version number saying so when digging deep), and is a more intuitive version of what we've seen in the past. Android Auto and Apple CarPlay, the two gold standards for in-car smartphone connectivity, are included, and simplify many functions such as phone calls, messaging, navigation (including either Google Maps or Waze for Android users), and music streaming. This system needs no introduction, and is much better than the dual-layer screen system of old.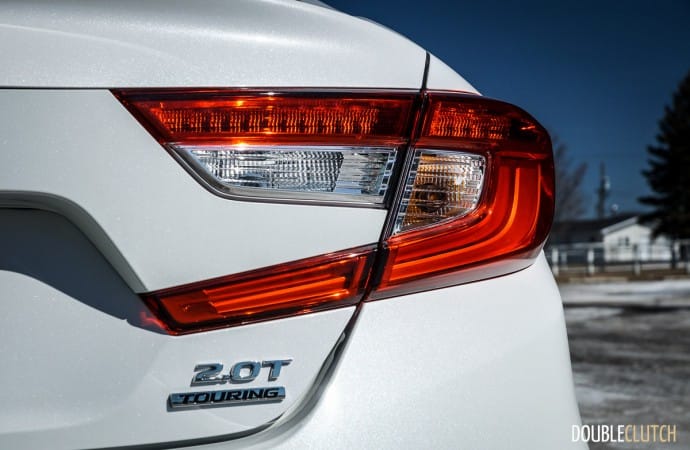 As a complete package, the 2018 Honda Accord Touring 2.0T fairly handily leads its class of midsize sedan brethren. The also new-for-2018 Toyota Camry (reviewed here) is a formidable effort, and is just as good of an exercise on paper. To say it falls short on execution is pretty unfair to it, as it's a very good car, but the Honda has set the bar even higher. The Accord wins on driving dynamics, interior connectivity (no Android Auto or Apple CarPlay on the Toyota), and general cohesiveness of design. The Camry's V6 and eight-speed automatic is definitely a winner amongst powertrains, however, and for the average consumer, it's really going to boil down to what wins during the test drive, which styling is preferred, and what's more attractive during the pricing and purchase process at the dealer. It's a great time to be sedan shopping.
See Also:
2018 Honda Accord Touring 1.5T