When it comes to the realm of vehicle pricing at or above the $60,000 mark, it's not very often people think about a seven-seater minivan in the same breath as a European luxury car. Yet here we are with the 2018 Chrysler Pacifica Limited – the creme de la creme of the minivan lineup – at an MSRP of $62,395. With the ever-eroding approach of the crossover utility vehicle into the realm of the family car, does the classic minivan still stand a chance at carrying the torch as the ubiquitous choice for growing families?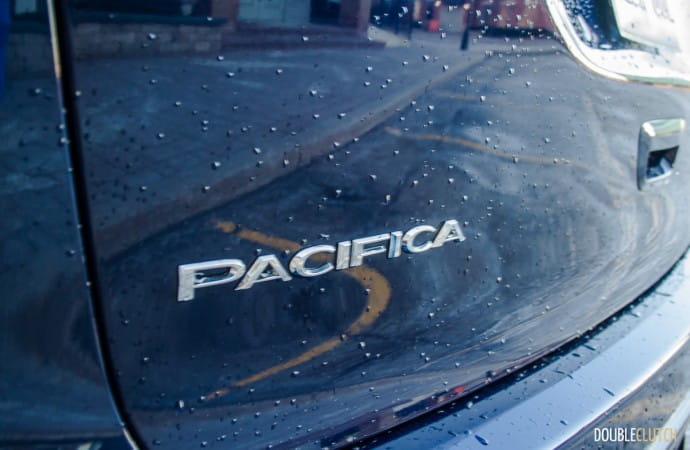 The Pacifica, like all other minivans, is effectively a box on wheels. Massive wheels I might add – our tester came equipped with the optional 20" wheel package. Strong overkill for this vehicle but one cannot argue how well it fills out the wheel arches on this Jazz Blue Pearl painted minivan. As mentioned before, being a box design, there's not much to say about in the looks department as every inch of the vehicle has been carved out for sheer utilitarian interior space. Chrysler's designers have attempted a front cowl that has a very flowing theme from the front all the way through to the rear tail lights.
Interior wise though, that's where the Pacifica truly shines. Equipped with Nappa leather trim from the front all the way through to the rear, the milk coffee brown leather on both seats and trim was a welcome change from your typical black or beige. In fact, in sunset light, this brown leather and black trim contrast looked absolutely stunning. All my passengers during the course of the test commented on how well the interior looked, felt, and how comfortable it was.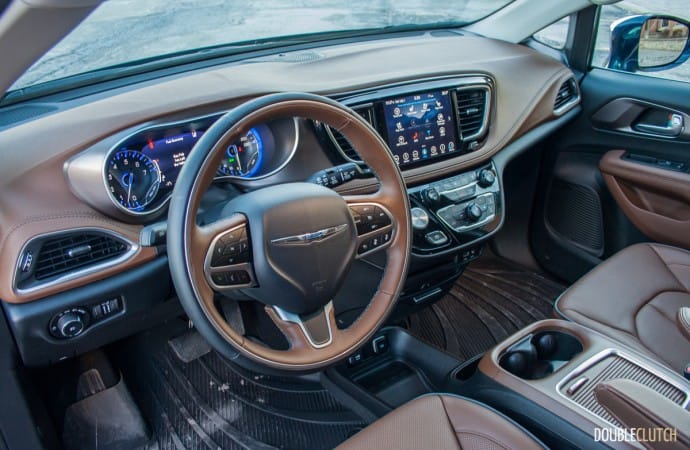 Getting into the driver's seat requires a slight climb-into, but nothing too exaggerated. The front power adjustable, ventilated and heated seats look flat and firm, deceptively hiding their otherwise comfortable support and ride quality. A thick leather wrapped steering wheel welcomes your commands and like typical FCA (Fiat Chrysler Automobile) wheel controls, offers you near full controls of audio, visual, phone and cruise controls.
The dash is very spacious and while the tach and the speedometer seem very spread apart and seemingly on the edge of too-small, I am happy to report that this is by design to allow for as much visibility as possible. In most vehicles today, as you move the wheel, you will almost always wind up obscuring these important read-outs and this unlikely to be the case in this minivan. Nestled between the two gauges is a screen which you can adjust and flip for various infotainment screens such as speed, next-turn guidance instructions, radio information, and more.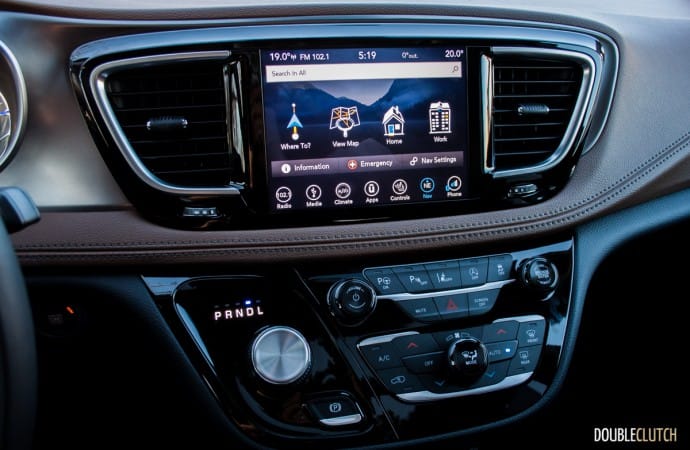 Off to the right and titled towards the driver (ergonomics!) is a delightfully bright and fairly responsive 8.4" touchscreen armed with Chrysler's UConnect software, now with full Apple CarPlay and Android Auto support. Everything from radio, climate, seat comfort and navigation controls are laid out in an easy to find fashion. Below the screen is the rather (continued) questionable choice of FCA to use a knob for transmission control and within two inches of it, the volume knob. Thankfully both are at different elevations on the center console but it did give me pause when I reached over and made sure I wasn't about to do anything silly inadvertently.
In a rather puzzling decision, the designers laid out a variety of buttons (a good thing) for functions such as enabling or disabling the parking assist, various safety features like auto engine stop (for those long red lights), traction control and HVAC variables but no buttons for heated seats. To do so, one must go through the touchscreen. Thankfully, the designers for the screen have allowed you to program auto-enable comfort settings to automatically turn on the heated steering wheels and seats.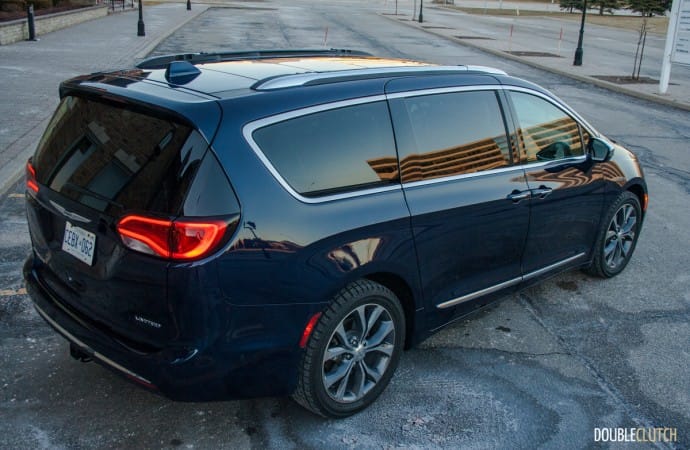 Forward visibility very good and the location of front corners of the vehicle are fairly easy to interpolate. Blind spot checks, on the other hand, can be rather difficult due to the C-pillar being somewhat thick coupled with the fact that the side sliding door seams also add to this., A blind spot monitoring system is standard and adds for additional peace of mind whenever making lane changes. Rearward visibility is limited because of a somewhat small rear windshield.
The pride and joy of Chrysler's recent minivans have always been the 'Stow 'n Go' capability and this tester was no exception. This feature allows the user to quickly fold the rear seats flat into the floor bed of the vehicle thus expanding the 914L of cargo space (with third row intact) to 2,477L by simply pressing a button near the tailgate and letting the powered third row fold flat. During the course of testing, we found that this powered option can get confused if anything is left in its path. Be sure to clear all items in the front and rear of the seats before letting the seats do their magic.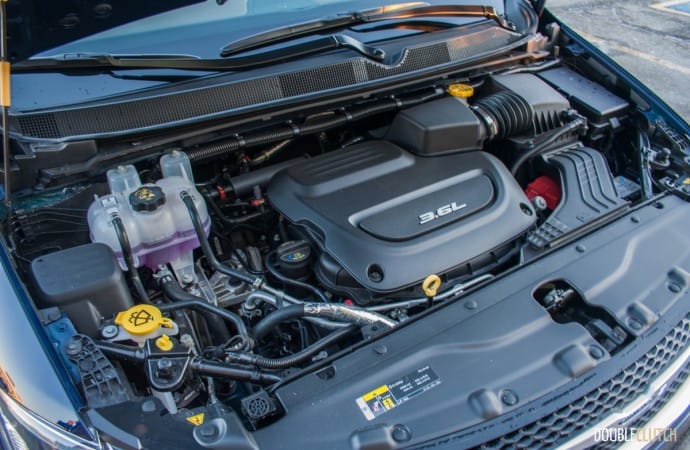 Equipped with a juicy 3.6L Pentastar V6 with variable valve timing and coupled to a nine-speed automatic transmission, this Pacifica hurries along with a determined hustle, making highway traffic a breeze. Should you choose to employ all 287 horsepower and 262 lb-ft. of torque, you'll be surprised to find that you will need to rev it out just past 3,000RPM before the engine truly wakes up and pulls quite deftly but linearly. It also has a nice throaty aural quality to it. Rated for 12.4 and 8.4L/100km (city/highway), we observred as low as 11.3L/100km with a majority of my commute being city driving.
Throw the van into the curves and the well-balanced suspension strains slightly to contain the vehicle's mass admirably. There's no beating the laws of physics however and the van, while competent in turning and low speed maneuvers, will heave and roll slightly on higher speed maneuvers. It doesn't feel unsafe but it certainly doesn't feel at home either. The mass also strains the brakes and while it will bring the vehicle to a stop, you will be reminded that this is after all, a 4,330lb. vehicle.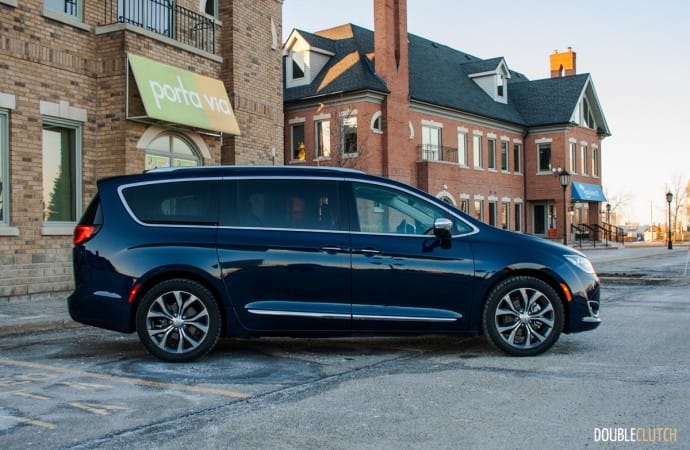 With a base price of $53,095, our tester was stacked further with Chrysler's UConnect Theatre package ($3,495) which meant second row passengers had their own private 10″ touchscreens along with an integrated Blu-Ray/DVD/USB player for entertainment. Should that fail to amuse, there are also en-suite games on the aforementioned screens such as Hangman or Tic-Tac-Toe. Adding further to the total is the massive 245/50R20 tire and aluminum wheel package ($795) with locking lug nuts.
Throw in the additional Mopar Interior Protection Package ($895) for the rear cargo 'Stow 'n Go' storage bin, all weather floor mats and cargo liner and the Trailer Tow Group option ($700) good for 3,600lb., and you can start to see how this is no longer your minivan from your youth. But wait! There's more! Chrysler also offers the Advanced Safety Group ($1,995) which throws in all the active and passive safety features. Throw in the KeySense programmable key fob ($175) and the Jazz Blue Pearl paint ($50) and now you've got yourself a fully decked out minivan.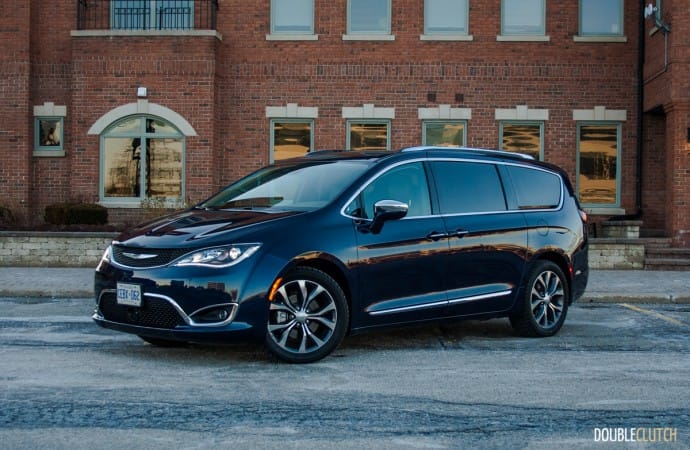 Compared to the rest of the class like the Sienna Limited (reviewed here), the Honda Odyssey and the Kia Sedona, the 2018 Chrysler Pacifica Limited with dealer discounts is quite likely to fall within line with the pack. With a great interior, smooth engine and likely best-in-class transmission, it should be on anyone's radar looking for a posh family hauler that would crush any CUV hopes and aspirations.
See Also:
Comparo: 2017 Minivan Shootout