What's in a name? It's a difference that can mean everything, apparently. Part of the luxury car formula is the brand's supposed prestige, how it carries itself, and most importantly, how it is viewed by the general public. In terms of upstart luxury car brands, the example set by Lexus is one of the most textbook appropriate. The Genesis nameplate itself isn't terribly new – Hyundai created the model lineup when they were ready to dip their toes into those complicated (and sometimes murky) waters. The Genesis Sedan and Genesis Coupe were both very different products with very different target audiences, but allowed Hyundai to get a feel for how people accepted the idea of a more upscale car that still had a Hyundai badge on it.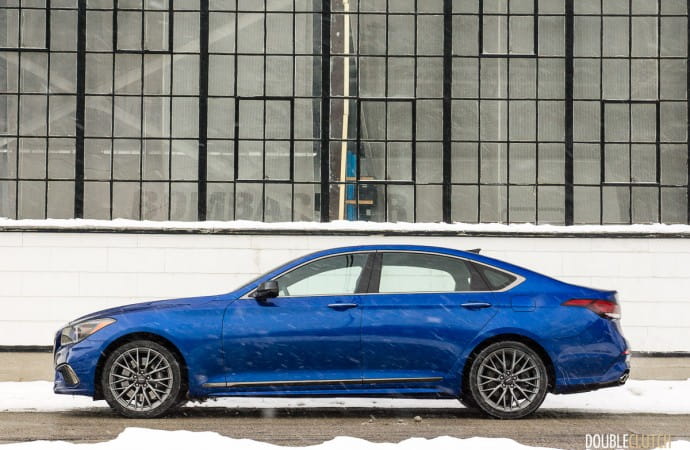 The Genesis G80 is spawned from an existing Hyundai design, and if you're not paying close enough attention, you may mistake it for a 2015 Hyundai Genesis Sedan. In the transition towards creating the Genesis brand, the overlords decided to adopt an alphanumeric naming scheme, in-line with trends elsewhere in the luxury car industry. We've tested the flagship G90 (reviewed here) and found it to be a fantastic luxury-focused comfortable cruiser that confidently flies under the radar. The G80 since it carries on as an existing design, shifts the balance towards being a sporty luxury sedan. We picked up a 2018 Genesis G80 Sport 3.3T for the extended Christmas break.
Being based on that existing Genesis Sedan means that, at first glance, the G80 amounts to little more than a mid-cycle refresh. The basic bones and platform of the G80 remain the same, and the changes you can see are limited to the badges, front and rear bumpers, and wheels. It's still a sharp looking car, with a big front grille, strongly defined headlights, and an almost coupe-like sweeping roofline. Genesis has a knack for recognizing current design cues, picking the best ones, and blending it all together. The Mallorca Blue paint is especially gorgeous, but it was literally impossible to keep clean with the salty slush we're now blessed with.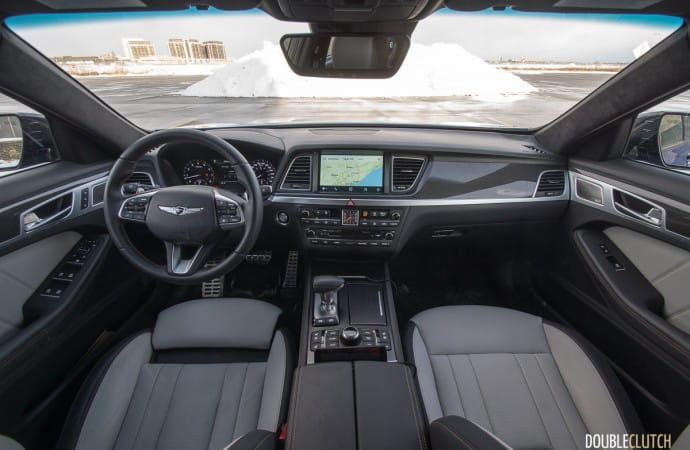 Inside, the Genesis G80 features a modern and button-heavy user interface. To me, this is a good thing. The 9.2-inch infotainment touchscreen is backed up by redundant controls on the centre console, for those times where you're not looking to blindly stab a screen with your fingers, at speed. The G80 Sport adds a huge piece of genuine carbon fibre trim on the dashboard, in place of the open-pore wood that is installed into the more luxurious versions of the G80. It's impressive to see such a large single-piece of carbon fibre; whether it does anything to reduce overall weight or not is another story.
Overall ergonomics and attention to detail are strong points: the mono-stable spring-loaded gear selector provides a perfect hand rest, and there's a great place for your phone to sit, rather than taking up a valuable space in a cupholder. Rear seat riders will appreciate the legroom afforded by the long 3010mm wheelbase, and all occupants will appreciate the generous noise insulation, including dual-paned glass. One by-product of all that noise insulation is the overall curb weight of the G80 Sport is no less than 2120kg (or 4673 lb.), which is very heavy, considering the medium-to-large footprint of the car. Android Auto and Apple CarPlay are standard equipment, and the G80 Sport gets an improved driver's seat with more bolstering and adjustment (including a power adjustable thigh extension).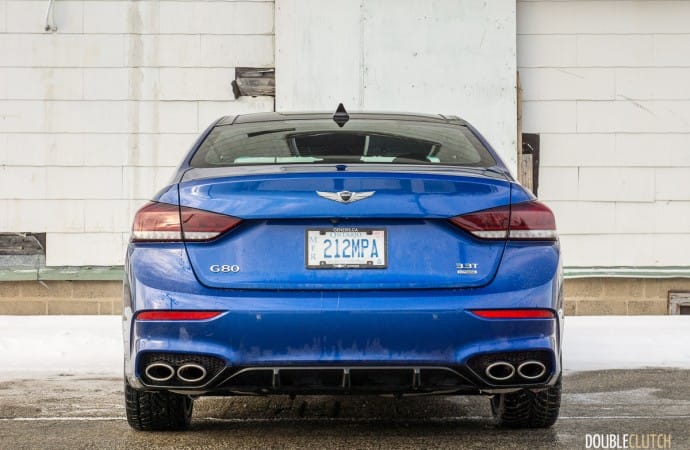 What allows the G80 Sport different from its standard 3.8L V6 and 5.0L V8 brothers is the new 3.3L twin-turbo V6 gasoline engine under the hood. While still part of the "Lambda II" engine family, it is a thoroughly modern unit, with direct gasoline injection, twin single-scroll, low-inertia turbochargers, intercooling, and variable valve timing. It produces 365 horsepower at 6,000 RPM, and 376 lb-ft. of torque at a useful 1300rpm, all the way up to 4500rpm. This engine is a torque monster – turbo lag simply isn't an issue, and its buttery smooth power delivery offers up an impression of a much larger naturally-aspirated engine, rather than something that relies on so much turbo boost. The big torque just off idle also makes for strong acceleration, considering the generous curb weight. Right away, this engine sets a new benchmark in refinement and torque delivery.
Power is routed through an eight-speed automatic transmission (built and designed in-house), to all four wheels, as part of the HTRAC all-wheel drive system unique to Canadian Genesis vehicles. Rear-wheel drive is available, south of the border. Interesting item: enabling Sport Mode tells the all-wheel drive system to keep most of the power delivery sent to the rear axle. This particular transmission is a good one – gear changes are lightning quick, smooth, and for the most part imperceptible, other than the visual cue of the tachometer needle dancing around. Paired up with the delicious 3.3T engine of the G80 Sport, you end up with one of the better powertrain combinations we've sampled in some time. The transmission is more than willing to allow the big turbocharged torque get the car moving, rather than skipping through numerous gears.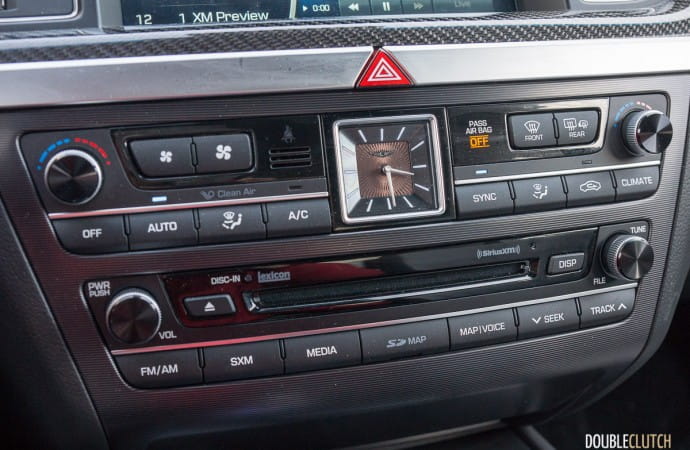 From the driver's seat, the Genesis G80 Sport does a great job delivering big power, supreme comfort, and an overall premium experience. However, let's not get ahead of ourselves: the Sport in the G80 Sport nameplate may imply that this is a genuine sports sedan. It is not – mostly because of the portly curb weight. Competitors in the same class, such as the Lexus GS 350 (reviewed here), Cadillac CTS, Acura RLX, Volvo S90, and BMW 540i (just to name a few) – are all lighter than the G80 Sport, sometimes by over 300kg! Weight may be good for sound insulation and additional padding in seats and interior surfaces, but it is the enemy of driving dynamics and fuel efficiency. The staggered 245 and 275-section tires allow for sure-footed traction in most driving conditions, but the chassis is more at home cruising on the highway, rather than hitting up the race track.
Thanks in part to the aforementioned curb weight of the Genesis G80 Sport, quoted fuel consumption numbers end up being higher, as a result. The estimate for city driving is 13.8L/100km, 9.7L/100km on the highway, and 11.9L/100km in a combined cycle. During our extended two week test, Toronto has been in the midst of a record-breaking cold snap, with wind chill factors as low as -37C, at times. Because of the brutal cold, warm-up times end up being longer, with increased heater and defroster use also contributing to additional fuel consumption. At the end of my two weeks of mixed driving (approximately 1000km) with the G80 Sport, I ended up with an indicated average of 13.8L/100km. The G80 Sport asks for premium 91 octane fuel, and the fuel tank will hold 77L of it.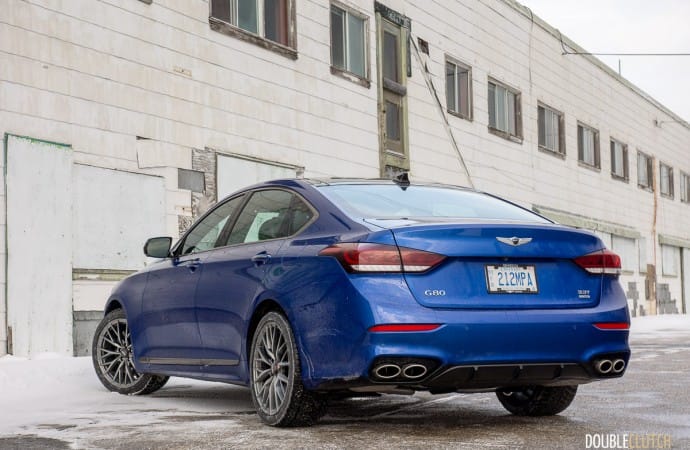 One of the perks of the Genesis buying experience is the all-in pricing. There's no haggling, or additional option packages you have to worry about. This Genesis G80 Sport comes with an as-tested price of $62,000. It's a supremely competitive value when you look around at some of the aforementioned competition. BMW's four-cylinder 530i xDrive starts at over $62,000, as do the Lexus GS 350 and Acura RLX. Volvo's fully-loaded S90 Inscription stickers at $65,000 before you start adding any options. It's impressive considering the kit the Genesis G80 Sport provides you for the price.
I went into the two-week test knowing a little bit about what the previous Hyundai Genesis Sedan was, and what it represented. It would be incorrect to just conclude that the Genesis G80 Sport was just a rebadged Hyundai. The new engine and transmission are the biggest indicators, both of which punch well above their weight. In a discussion we had amongst our team, Genesis and the G80 Sport allows the prospective buyer to actually attain a luxurious premium car, whereas an example such as the BMW 530i allows buyers to think they've attained a luxury car, but end up with a large car powered by a four-cylinder engine and a lot of missing options. It is for reasons like these that the 2018 Genesis G80 Sport 3.3T is one of the better cars I've driven this year.
See Also:
2017 Mercedes-Benz E 300 4MATIC