Honda, one of the masters of the normally aspirated engine, does not have a single non-forced induction engine in their new Accord lineup. Let that sink in for a moment. For some, this is a watershed moment where the joys of a high-revving and responsive engine are being eroded by the requirements of fuel efficiency and emissions laws. For others, it's finally the beginning of an era where we can finally have a good balance between power and ecological footprint. I found myself quite torn as I stood in front of my Radiant Red Metallic 2018 Honda Accord Touring tester.
Compared to the outgoing car, the fully redesigned tenth-generation model is minutely shorter by 7mm but wider by 12.7mm, thus allowing passenger volume to expand ever so slightly. Looking quite beefy and rather European with its stubby hood and stretched out cabin, the Accord has a worthy road presence. The front grill is noticeably flat nosed and seems slightly out of place given the gentle bulges and flowing curves that this car is endowed with. Engineering and aesthetics harmoniously work to sculpt a car that looks good and yet manages to achieve approximately three percent lower drag coefficient.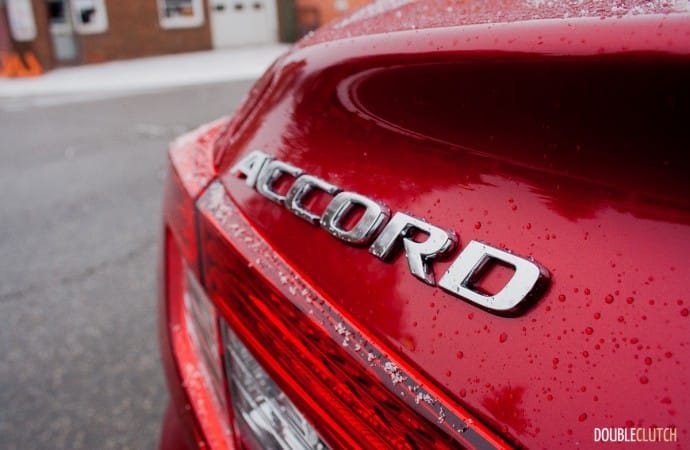 As you crack open the door and plant yourself into the powered, heated and ventilated front seats, the tilt and telescoping wheel beckons for your grasp. Being one of the coldest weeks of winter so far, the heat function on this meaty wheel was definitely a welcome amenity. Through the use of a trinity of sound deadening materials: acoustic spray foam insulation, acoustic glass and sealant on the unibody (all three a first for the Accord), the outside world noticeably vanishes once you are inside.
The instrument cluster behind the wheel requires a double take; in a good way. An analog needle-style speedometer sits on the far right but nestled within the circular border of where a tachometer should be on the left is a 7" TFT screen. This screen even goes as far as to pretend it is an analog unit by performing a synchronized full dial sweep with the speedometer when you fire up the car. As you flip through the wheelmounted controls, you'll quickly realize that Honda has chosen to use this large real estate to display various car computer information like fuel economy, odometer information, and more.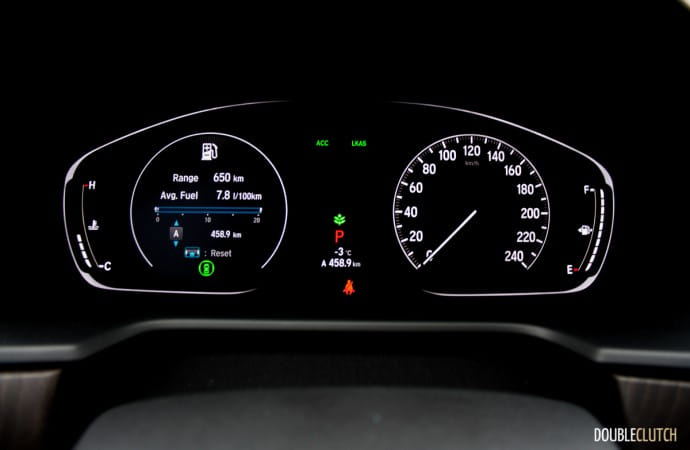 Between the two dials is yet another LCD screen which can display other information such as the gear selection, next-turn navigation prompts, and cruise control settings. This is a brilliant and efficient use of the available-but-limited real estate without becoming too cluttered. Reducing driver distractions is the availability of a 6" heads-up display, projected to the lower part of the windshield. This height-configurable unit offers the choice to display key pieces of information such as speed, tachometer and compass to name a few. From a driver's standpoint, this vehicle gives you every chance to take the information you need with minimal effort and distraction.
Running along the length of the dashboard is a mahogany wood trim which is a subtle shade brighter than the all-black leather accented dash. Placed dead center is a slick 8" touchscreen infotainment system which houses the navigation and media with Apple CarPlay and Android Auto support. Previous fears of Honda's less-than stellar infotainment system can be put to rest! This system is buttery smooth and extremely responsive with a high resolution display and physical volume and tune knobs. Fun fact: this unit runs on the Android Marshmallow which explains its superb functionality.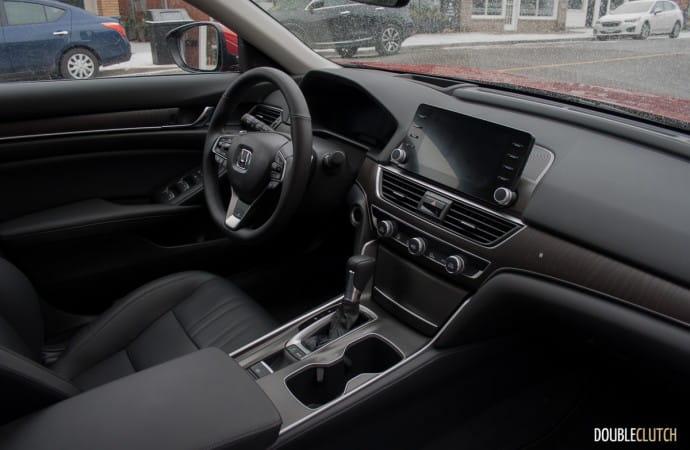 Equipped with Honda's L15B7 VTC Turbo engine, this 1.5L powermill generates a healthy 192 horsepower at 5,500RPM and 192 lb-ft. of torque from 1,600 to 5,000RPM. Our test vehicle plants power down via a continuously variable transmission (CVT) but Honda also offers a six-speed manual transmission for those who prefer to row their own gears. My test vehicle proved to be extremely competent in hauling around a car full of adults through city traffic in a quiet and efficient manner.
Thanks to the CVT's adept programming and the consistent torque from the turbo, the Accord rarely has to strain itself in any situation unless you force it to. If pushed, the engine does seem to run out of breath at the high end, but this is highly unnecessary and Honda's engineers are betting you won't be doing this often. While it's no Civic Type R (reviewed here), the optional Sport 2.0L trim does share that hot engine.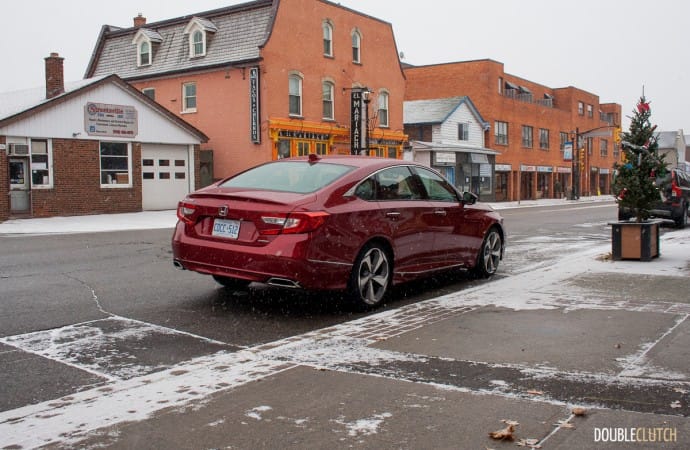 Having spent most of my seat time within the city but most mileage on the highway, the Accord returned a decent 7.9L/100km combined. Honda lists the car at 8.2L/100km city, 6.3L/100km highway, and 7.2L/100km average. Bear in mind that I was driving this car on winter tires and correspondingly, in the onset of winter. It would be quite reasonable to achieve (if not downright beat) the posted numbers easily in better weather conditions.
Parking the Accord is fairly simple thanks to a combination of large heated side mirrors (which compensate for the rather large B-pillar), backup camera and front and rear parking sensors. The turning circle of the Accord falls in line with vehicles of its class such as the Mazda6 (reviewed here), and size and the electric power assisted rack-and-pinion steering is intuitive. Those new to the car will find its initial turning rate a little slow but the rack ratio speeds up nicely as more turning is fed and becomes natural after a few tries.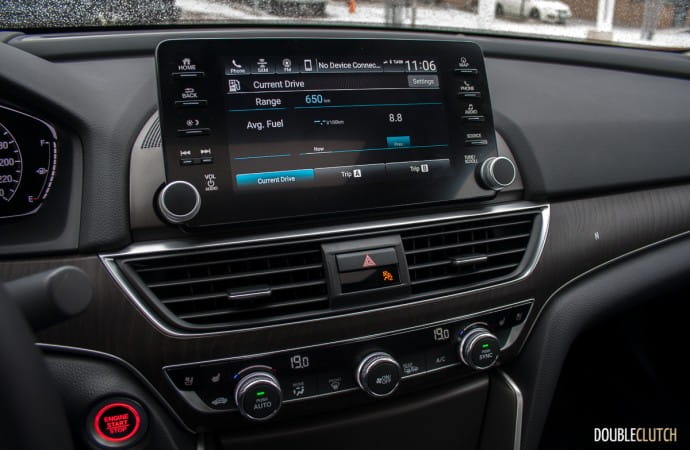 Honda's array of driver assist technology and active safety systems such as the Lance Keep Assist System (LKAS), Auto Cruise Control (ACC), Collision Mitigation Braking System (CMBS) and Forward Collision Warning (FCW) to name a few, are on full display throughout all trims of the Accord. Whilst it is no autonomous driving vehicle, the LKAS and ACC combination make the car an extremely capable road trip vehicle by smoothly adjusting itself to stay within the lane as opposed to more primitive systems which jerk the car around at the last minute. This is one of the best systems on the road within reasonable costs and a gem in Honda's lineup.
Through the additional use of super high-strength steel and structural adhesives (another first for the Accord), Honda claims a hefty 24% increase in global bending rigidity, 32% increase in torsional rigidity and 12% improvement in floor bending rigidity. In combination with new MacPherson struts up front and revised space saving multi-link units in the rear, this Accord soaks up all but the biggest potholes with ease and yet gracefully handles itself on corners and on-ramps.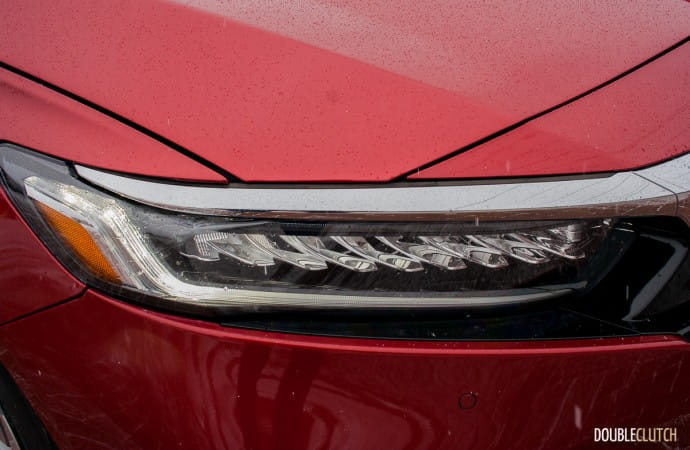 The ride quality is luxurious and quite comfortable too. In my time with the car, as many as four adult passengers have sat in with me and everyone remarked at how much room is available. Headspace is far from cramped and the rear windshield is smartly located such that rear occupants don't have to worry about concussions with the acoustic glass.
With all this space inside the cabin, this doesn't mean that the Accord lacks any trunk space. Far from it. From the outside, the stubby rear end is highly deceptive. Pop open the lid and a healthy 473L of space stares back at you. In looking around said space though, you can see how the engineers were forced to redesign the aforementioned rear suspension as the deep recesses of the space have the suspension wells protruding into it. Keep in mind, this is at the very back of the trunk and I'm grasping for a negative at this point.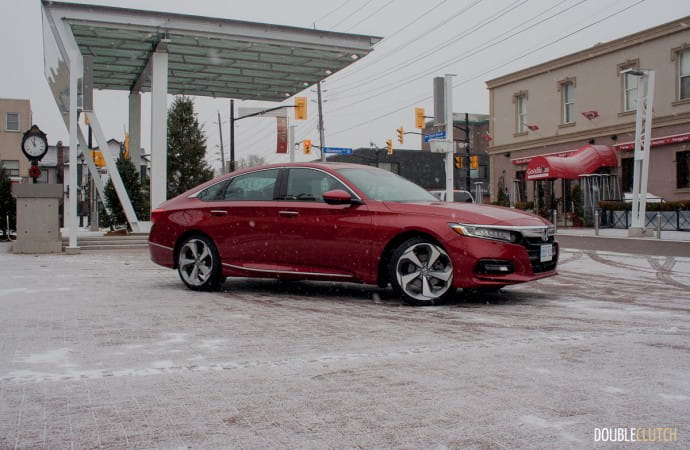 Being the incumbent champion of the mid-size sedan class, the 2018 Accord Touring demands a price tag of $35,790. While most people would be more than happy to pay this price, Toyota's drastic revamping of the 2018 Camry XSE (reviewed here), which comes in at a shade under at $34,890, gives some food for thought. The Accord has matured like fine wine and places emphasis on all the right things. From family vehicle to potential executive car, this new Accord has the chops to fight would-be claims to the throne it sits upon. The war between the two Japanese giants in this class rages on and as buyers, we all stand to benefit.
See Also: