With most of my friends married and now having kids, more and more of them are considering jumping from a compact car to some sort of crossover. The reason? To be able to accomodate baby seats and strollers while still humanely hosting other passengers in the back (in-laws I presume). This space requirement is what continues to stoke the red hot compact SUV market as the defacto choice for growing families as no one ever wants to project the 'soccer mom' vibe in a utilitarian minivan. Enter the 2018 Acura RDX Elite, which I had the keys to for the week and was more than happy to put on my 'dad hat' and see what the fuss is all about.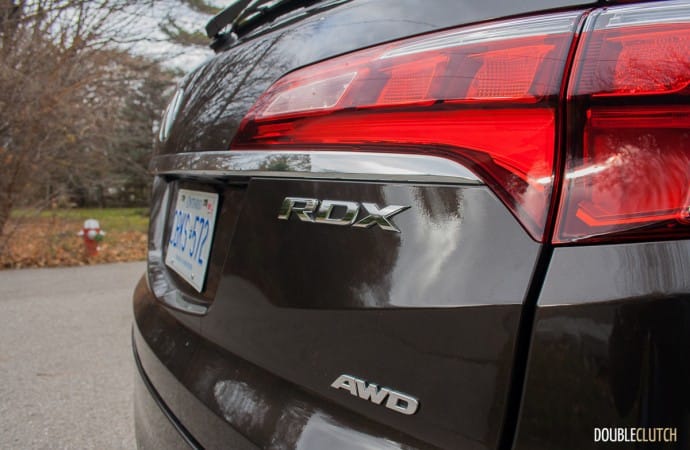 The Kona Coffee Metallic paint job the car came in didn't give me the java jolt I was expecting from the Hawaiian namesake. From certain angles and partial sunlight, the intended dark brown color does come through but for most part, looks grey or black. With its somewhat rounded, bulbous shape, the RDX isn't going to be on anyone's list of stunning SUVs but it is inoffensive. Acura has toned down the front 'beak' and it's now laid back and looks more like a blade edge or an arrowhead. Amongst the sea of SUVs on the market today, the RDX might easily get lost in the rest of the pack – perfect for those who just want to blend in.
Contrasting the dark exterior is the very polite and pleasant (how Japanese) Parchment Leather interior. For most part, everything needed is well within reach of the eight-way power driver's seat which is also both heated and cooled (ditto on the passenger side). The odd exceptions are the rear window controls which, whilst placed logically on the armrest, are towards the rear of where you hand would fall and require a slight wrist contortion or a movement of the entire arm to reach. The other is the volume knob which is placed high up the center console stack. Last but not least is the start/stop button is which located peculiarly low and almost tacked onto the left side of the centre console trim. Most folks used to this feature will undoubtedly hit the dash trim a few times before finding the actual button.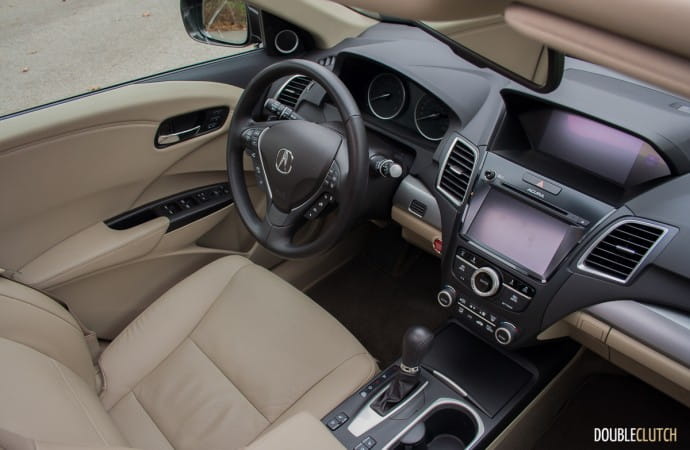 Equipped with a stacked, dual-screen infotainment system, Acura has taken the approach of having a lower resolution but larger display up top coupled with a slightly higher resolution and smaller touch screen within driver's reach. Neither one will wow you and my time with it was somewhat frustrating for anything other than radio and Bluetooth streaming music options from my phone. Apple CarPlay and Android Auto enthusiasts should look elsewhere as this iteration of Acura's system lacks such support. This compounds the frustration as the on-board navigation system might seem quick as you initially navigate it but will slow down as it tries to predict your typed in address one letter at a time.
The RDX's strength (quite literally) lies in its choice of powerplant: a 3.5 liter, 24 valve i-VTEC V6 engine mated to an all-wheel-drive system. Eschewing the current trend of forced induction engines as seen in its competitors, the RDX's throttle response is immediate, deliciously throaty and will forcefully but smoothly pull the vehicle to speed. The all-wheel-drive system functions invisibly and wonderfully to help plant all 279 horsepower and 252 lb-ft. of torque, giving the car a great sense of heft despite its 3,962 lb. of mass to lug around.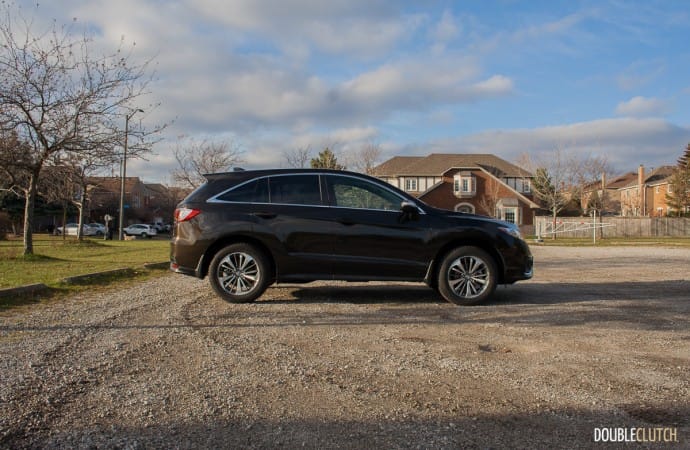 The suspension is taut but offers a comfortable and smooth ride; nothing that would surprise you. Throwing the vehicle into a corner proves the RDX is competent but not exciting. Delightfully, the brakes are even moreso adept at hauling this animal down as they have zero dead travel in the pedal and bite hard immediately. This doesn't mean the RDX can't stop smoothly but more than one journalist has commented on how well the brakes function and you will likely have to recalibrate your right foot to adjust. That good.
Equally as touchy (in a good and bad way) is the gas pedal and it took me a little longer than expected to feel out how much pedal travel is truly needed to maintain a constant highway speed to get some good fuel economy. My week's combined average wound up being 11.2L/100km with most of the seat time well within city limits but most of mileage being on the highway. Acura rates the RDX at 12.4L/100km city, 8.7L/100km highway and 10.7L/100km combined. With perhaps a little more highway driving and less of Toronto's bumper to bumper traffic, I can easily see most people hitting those rated numbers.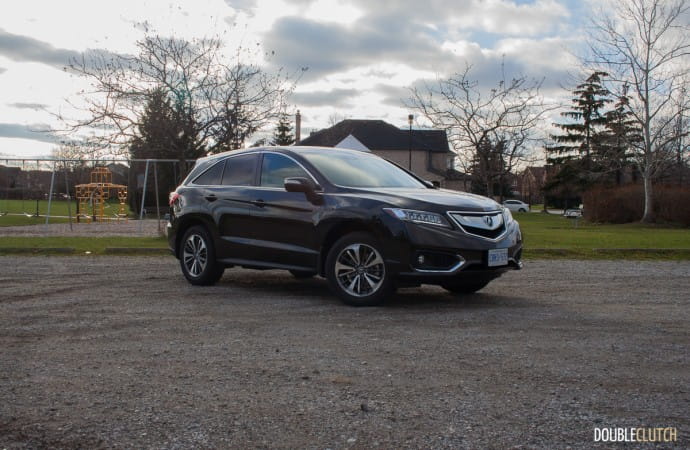 On the city or the highway, the RDX's sound insulated cabin shields most of the noise out very well but there were still some minor droning that crept through which I attribute to the Blizzak winter tires equipped here. Otherwise, it is quite easy to have a pleasant conversation with folks in the back without having to yell – a blessing for parents everywhere, I'm sure.
Rear passengers are treated to heated seats with individual air vents on either side. The seats look rather flat but deceptively so as they are quite well padded and will offer great support on long rides. Passengers as tall as 6'2 have sat in the vehicle with me and were happy to report that knee room and headroom were both aplenty. Behind the rear bench is the cavernous 739L of hatch storage space which triples to 2,178L when the bench is folded. This certainly does fit the bill if the kids' sports equipment, strollers or that awfully large Costco run demands for such room.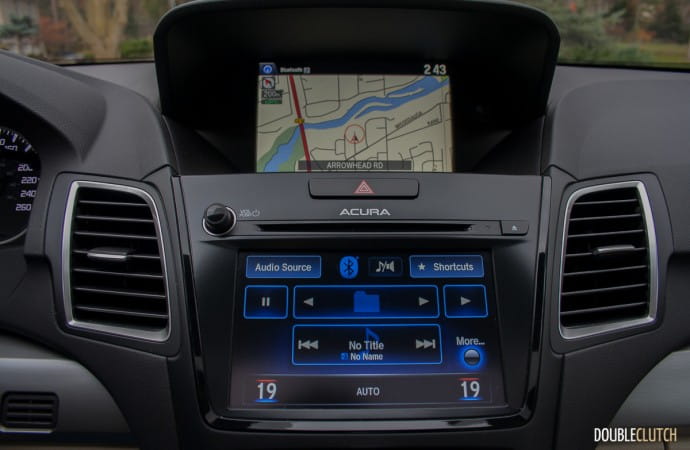 The RDX's secret weapon lies with is suite of active safety systems. The Lane Keep Assist System (LKAS) and Auto Cruise Control (ACC) system can both be individually turned on or combined together to form, in my opinion, one of the best bang for buck pro-active safety systems on the market. The reason why it works so well is that unlike some of its competition, its interference is extremely minute and gradual. It doesn't wait till the last minute but is constantly watching and making small adjustments. Visibility is fairly good, but the B pillar is rather thick and checking the blind spot can be difficult for shorter folks if your mirrors aren't adjusted properly.
Combined with the rear backup camera and the Cross Traffic Monitoring (CTM) system, the RDX proves to be a highly skilled co-pilot when navigating tight city roads and parking lots. The CTM system detects traffic crossing into your path as you back out and I had to resort to it more than a few times backing out of shopping mall lots and skating arenas. It will detect pedestrians and cars alike making the RDX's system extremely useful. Combine that with a fairly decent turning radius which enables the RDX to slot in and out of parking spots easily making it a fairly capable city slicker.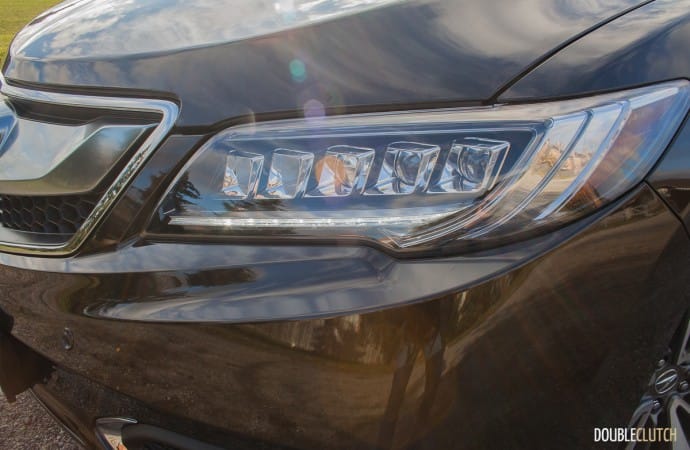 Considering the manufacturer suggested retail price of $42,062, the 2018 Acura RDX Elite undercuts the equivalently equipped competition by a hefty margin: the Lexus RX 350 at $63,500, the Audi Q5 at $58,000 and the BMW X3 at $65,400. Whilst the Acura badge may not have some of the brand recognition as the aforementioned, the value is immense. If the suite of technology and hauling capacity is truly what you are looking for, the RDX Elite offers a lot to think about. Some might consider it the plain vanilla choice thanks to its inoffensive nature but the economics make a lot of sense and from where I come from, bang for buck is always welcome.
See Also:
2016 Mercedes-Benz GLC 300 4MATIC