It's good to be the boss. The boss gets to set the schedule, order people around and probably makes more money than the regular folk. And if the job requires safety boots, it's likely the boss gets to drive the fancy truck – one that's named after a rare or precious metal like Tungsten or Rhodium. This Tundra (a Platinum Edition, of course) is a boss's truck. Want proof? Look at those flashy 20" wheels, fancy vertically-sliding power rear window and swanky leather seats, stitched in a diamond pattern. And with a starting price north of $60-grand, it needs the boss's budget to afford it.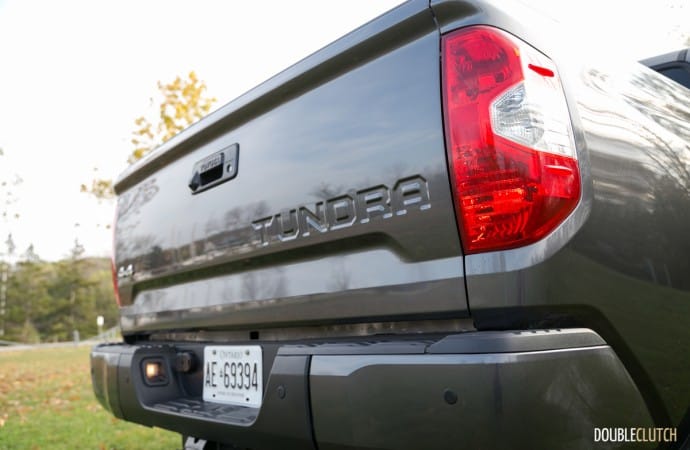 That last point isn't entirely true. We're in an age where heavy-duty pick-ups can creep perilously close to six-figures in cost, so really, this is a middle-management truck at best. Besides, the competition offers trucks that when spec'ed like this one, cost a few thousand more. But don't let that fool you into thinking this is some lightweight, sissy rig. Toyota's i-Force 5.7L V8 sounds far more macho than the wheezy, forced-induction six-cylinder engines found in some of the competitors' machines. And with 381 horsepower and more than 400 lb-ft of torque, a four-wheel-drive Tundra like our boss truck here, will haul up to 8,800 lbs.
A smaller 4.6L V8 is available on lower trim models, but buying a truck like this and ordering the little engine is like going into a steakhouse and asking to see the vegan menu. This particular engine is rated at 18L/100km city, 14.2L/100km highway, and 16.3L/100km combined. As it happened, the week we had the Tundra, there was some hauling to be done. We hitched a heavy, steel car-hauler trailer to the back and promptly loaded on a 2,000-lb, 4-passenger side-by-side ATV and headed north. The Tundra is equipped with a Tow/ Haul mode button that created a touchy throttle response, causing a gratuitous display of wheel spin crossing an intersection.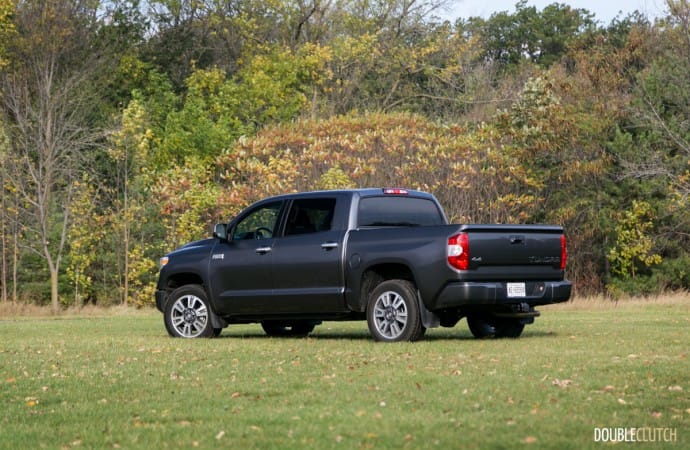 No matter. Even without Tow mode engaged, Toyota's big truck had no issue pulling around the loaded trailer. A second side-by-side ATV was hauled by my friend's Ford F-150 fitted with a first-generation EcoBoost V6. Buyers often opt for these smaller, turbocharged engines based on the belief that they'll realize significant fuel savings. We had a different result.
After filling both loaded trucks to the brim, we set out for the trip north, logging a few hundred kilometers before returning to Toronto and refilling the trucks. The Ford had travelled a few extra kilometers, but was also pulling a lighter aluminum trailer and slightly smaller ATV, yet we spent a grand total of $4 (less than 2%) more to fuel the bigger Toyota. While far from a scientific test, it does give us pause to consider just how much more efficient the turbo trucks really are.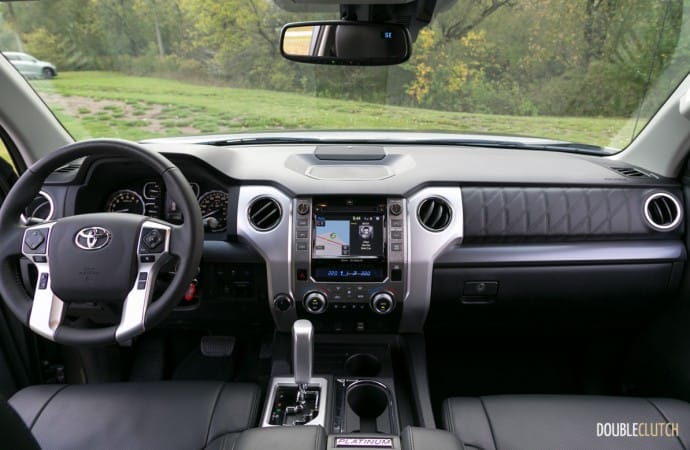 Unladen, the Tundra feels like a truck. While this may sound like a redundancy, consider that other half-ton trucks have started to drive much more car-like with their impressive sound deadening and a smooth ride. The Tundra feels big and heavy as if Toyota utilized refurbished bridge girders to construct its frame. Bosses that need the extra coddling might want to look elsewhere, but a truck that feels (and sounds) like a truck seems okay to us especially if it delivers when it counts on the job as the Tundra does. The six-speed automatic shifts cleanly and smoothly, and the brakes deliver strong, linear stopping power.
With a decade of experience behind it since its last redesign, this generation Tundra is one of the most ancient machines currently for sale. Every one of Toyota's competitors have updated their half-ton trucks at least once, and yet the Texas-built Tundra still looks pretty good, thanks to evolutionary styling tweaks over the years. What's more, it means Toyota has had plenty of time to fine-tune the details, earning the Tundra an unparalleled reputation for reliability.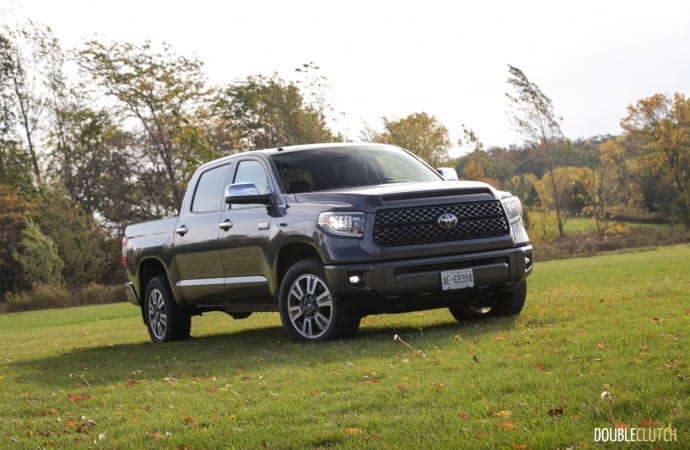 Inside, the Tundra's age is more apparent with materials and design that, while well-assembled, speak to earlier days. The infotainment system feels dated, too, with a small screen, dull graphics and – as is typical of Toyota – an absence of Apple CarPlay and Android Auto. The 12-speaker JBL Sound System delivers a surprisingly weak-kneed performance too. Still, it's hard to fault Toyota for the ergonomics with large buttons and knobs all easily accessed and plenty of cubbies and cavities in which to store stuff.
The front seats are of course heated, but also cooled, because as the boss, you never want them to see you sweat. The back seats are cavernous enough to contain Paul Bunyan and two of his like-sized mates, but we flipped the seat bottom up to make a sizeable, in-cabin cargo area to store loads of camera gear and luggage for our ATV getaway.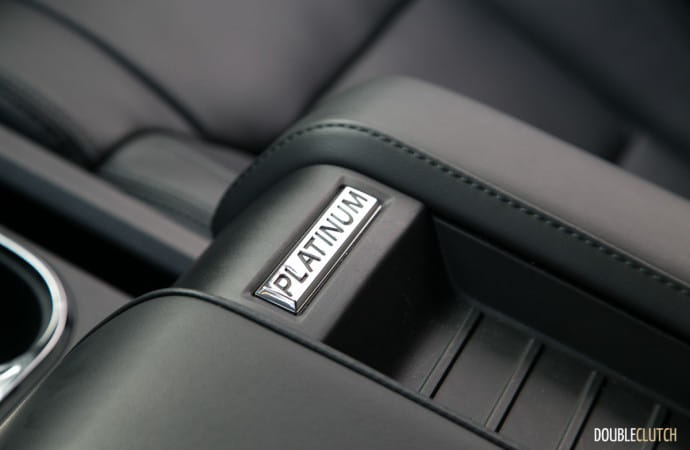 For 2018 Toyota has made its Safety Sense suite of active safety features widespread throughout the model lineup. The Tundra is no exception and includes niceties like automatic high-beam control and adaptive cruise control, plus helpful safety functions like lane departure warning and Pre-Collision System with Pedestrian Detection on this $60,390 test vehicle.
There are flashier and cushier trucks available. There are also costlier trucks, too. But Toyota's Tundra remains a stalwart of rugged quality promising to show up for work reliably for years to come. Isn't that what every boss is looking for?
See Also: