What further compounds the value is Toyota's insistence to include the Safety Sense suite.
Subcompact hatchbacks have a long lineage in my family, particularly those from Toyota. I still daily drive my 2005 Echo hatchback, and my father drives the second generation of that car, now known as the Yaris in North America. So when I saw the 2018 Toyota Yaris SE with a manual transmission on the editorial schedule, I was excited to be assigned it. Compact and subcompact hatchbacks are the epitome of the efficient use of volume per car's square footage of footprint.
With the current crop of subcompact hatchbacks now in relative abundance compared to the turn of millennia, this Yaris finds itself in stiff competition against the likes of the the Hyundai Accent, Ford Fiesta, Chevrolet Spark and the Honda Fit. In the past, they've evolved from a cuboid on wheels to a sharper rounded design thanks to modern day aerodynamics.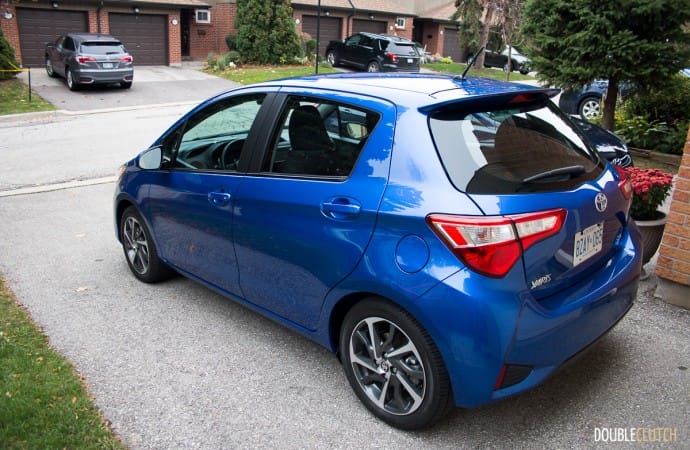 Looking at my 2018 Toyota Yaris SE side by side with my 2005 Echo Hatchback, you can definitely see the evolution in design. The new car is bigger and has more a gentle rake on the hood to windshield transition. The hatch also has a very noticeable slant over the old car's near-vertical back end. This lends for a more aggressive look when coupled with the taut looking, sharp-edged headlights. The Yaris is also noticeably longer and a smidge wider.
The extra length adds considerably more room to the rear hatch storage, providing 442 liters of space with the rear seats up. The best part is that this space is fairly deep, as wide as the hatch and doesn't have any odd protrusions. Toyota doesn't publish any official numbers for storage space with the rear seats down, but I'd hazard a conservative guess that it at least triples if not more.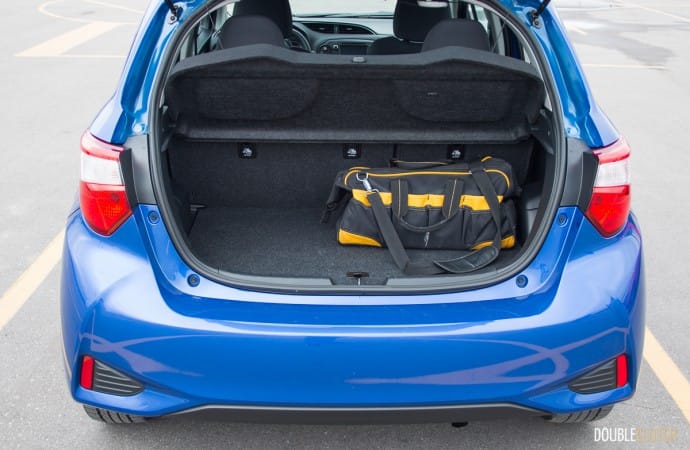 Ingress and egress with the Yaris is a breeze thanks to the relatively high seating position compared to other cars. This is an improvement over the previous generation which required a little more 'falling into'. Once in the vehicle, the ergonomics are very good with everything within reach from a driving position. Window and sideview mirror controls to your left and a 6.1" touchscreen infotainment system to your right, complete with volume knob. The touchscreen also acts a reverse camera (standard equipment) display and while the resolution isn't the greatest, it is more than adequate. The SE trim tested also has heated seats which get up to temperature delightfully quickly.
The factory audio system is surprisingly good with deep bass and a decent high end. Disappointingly, Toyota continues the trend of stubbornly rejecting to provide Apple CarPlay or Android Auto support. Given that this car doesn't come with built in GPS navigation (nor is it an option), Google Maps via Android Auto would have been a blessing. The infotainment system also offers live graphical readouts of your trip fuel economy and while that might be boring for some, I found it quite fun to see where I could try to beat the numbers.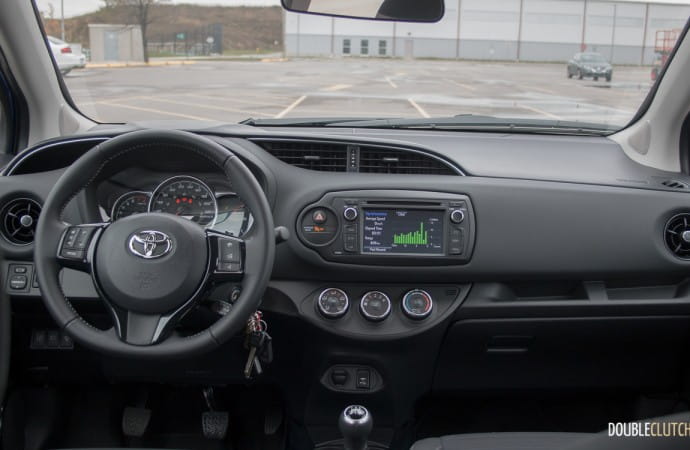 Toyota rates the Yaris at 7.8 and 6.5L/100km (city/highway) and I wound up getting 6.7L/100km for the week with roughly sixty percent of my 550 kilometers on the highway. This wasn't achieved with any ridiculous hypermiling but there was an active attempt to see what I could do especially when I was on the highway. Naturally, the Yaris only requires regular 87-octane fuel to run efficiently.
Powering this vehicle is Toyota's venerable normally aspirated 1.5 liter 1NZ-FE engine which had its debut with the aforementioned defunct Echo brand. This continues to be a mainstay in the big T's lineup for small cars around the globe. While some may cry foul for one of the biggest auto manufacturers in the world for recycling an old motor, I must point out that this is a very good engine. On paper, this powerplant is rated for 106 horsepower at a peaky 6000RPM whilst delivering 103 lb-ft. at 4,200RPM.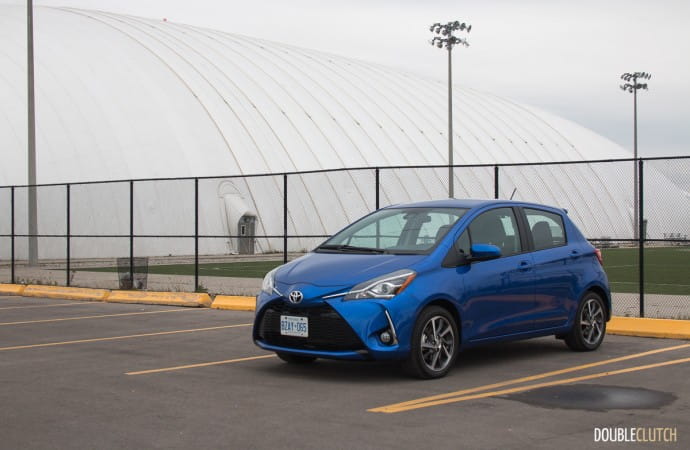 For the practical amongst us, this might seem worrying to have to rev the engine that high to get it moving at any respectable rate amongst traffic but in my week with the car, even with up to two passengers on board, I found myself never having to rev beyond 3,500RPM to hustle this Yaris within traffic in the city or the highway. This is largely thanks to its 2,335 lb. curb weight (which by today's standards is light) and a gearbox that is armed with the proper ratios to spool up the engine fairly quickly.
On the topic of shifting, the shifter falls easily within reach and boasts a reassuring notchiness as you engage each gear. The clutch is a little overboosted but the engagement point feel is obvious and linear. This makes the Yaris a perfect teaching candidate for anyone these days still wanting to learn the ways of the H-pattern. A minor gripe however: there is no dead pedal but instead carpet where one would normally place one to the left of the clutch.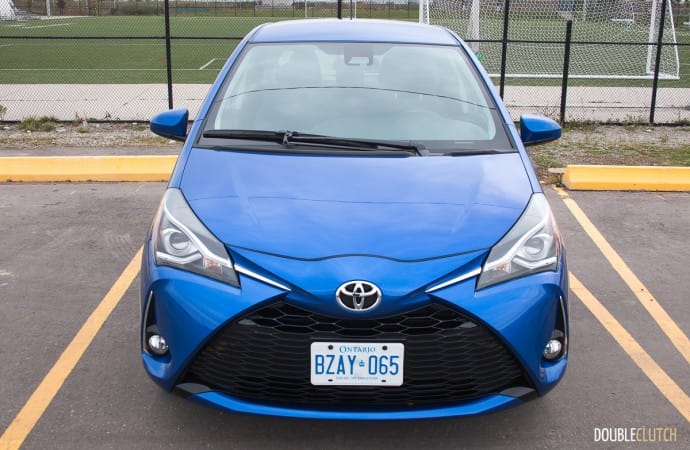 Like all modern manual cars these days, I must mention the rather large elephant in the room: rev hang. For those of us whom this phenomena hasn't plagued yet, rev hang is when you decide to lift off the gas pedal and press in the clutch pedal but find the engine revs still climb (slightly). This is largely due to the gas pedal being connected to a computer which then controls the throttle body as opposed to the pedal directly connected to the throttle body via a cable. 
When it comes to road manners, the Yaris' suspension is quite comfortable amongst the city soaking up bumps and cracks but given the small wheels and wheelbase at play, you'll still feel them but never bone rattling. Throw it into a corner and it will happily slurp up highway on-ramps and tight switchbacks but still err on the side of understeer as you approach the limits. It's no Hachi Roku (Toyota 86) but it will pleasantly surprise you especially given that this Toyota's entry level vehicle. Noise insulation is one of the biggest upgrades seen to this Yaris compared to previous iterations. Road noise is pleasantly muted and borderline competes against some of the better offerings in Toyota's lineup. Conversations can be had quite nicely even on the highway amongst traffic.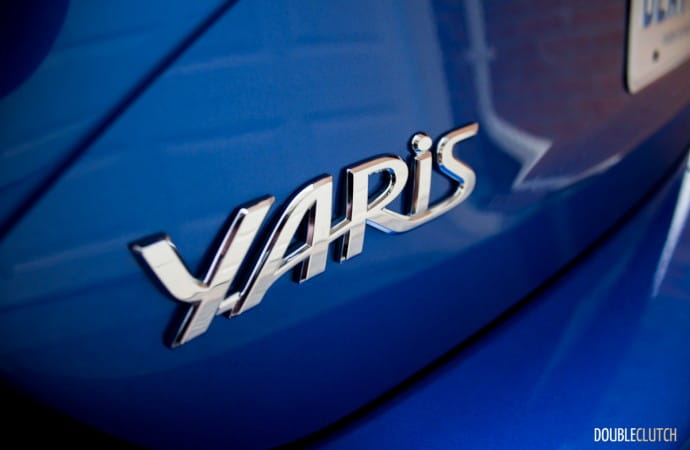 What further compounds the value to had in this vehicle is Toyota's insistence to include the Toyota Safety Sense suite (TSS). Specifically, the TSS-C package which includes lane departure warning, pre-collision system and automatic high beam controls. While the lane departure system is literally just a warning system – it will just beep at you if you veer off your lane as opposed to actively steering the car back onto the lane – keep in mind, that this is Toyota's entry level vehicle. The pre-collision system is adjustable but needs to be manually enabled each time you start the vehicle. Even with these quirks, it's pretty amazing that our $18,510 as-tested Yaris SE comes with this kind of safety technology baked right in.
With a great one-two punch of versatility, fuel economy, ride maturity, excellent standard features coupled with a highly accessible price tag, the 2018 Toyota Yaris SE remains an excellent city run-about that also proves to be great for road trips. For those looking for an economical, fun and solidly reliable vehicle that can sneak in and out of city crevices easily whilst fending for itself on the highway, the Yaris SE is stalwart contender for your hard-earned dollars. It is the epitome of honing something that was good to begin with into something even greater – the art of kaizen (continuous improvement) embodied into a car design.
See Also:
2017 Toyota 86 Special Edition