I feel like an outsider in Canada. I don't "get" pickup trucks. Yes, I know they can be immensely handy, and can haul, and tow, and give you the best place to listen to the latest Keith Urban album, but I simply don't understand them as a car to use everyday. Generally, pickup truck owners in Canada are guys that look forward to the weekend, so they can put on their best Bass Pro t-shirt and take an afternoon trip to Home Depot. Admittedly, I'm not one of those guys.
Obviously pickups are very necessary if you own a roofing business, but for the average person they aren't very practical. Owning a pickup truck because on rare occasions you pick-up IKEA furniture, is like insisting on eating your cereal with a shovel every day because once a year you will need to use it to plant a tree in the backyard.  I'm all for pickups as off-road, utility, and towing vehicles but do they really cut it as practical daily transport? I was assigned the 2017 Ram 1500 Sport 4×4 in a polarizing shade of Sublime Green to test, so I was eager to find out.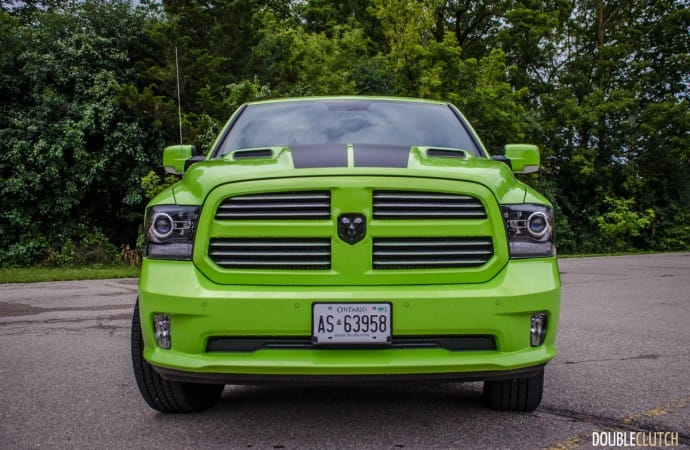 First of all, I was surprised it didn't already come with a Monster energy drink decal for the rear window, because the Sublime Green package, let's just say it stands out. I had a sudden urge to get a tribal armband tattoo after climbing in for the first time. When I picked it up, the air ride suspension was at maximum height, so immediately as a driver you feel like the king of the road. Thankfully, for a guy like me who usually drives low-slung sporty cars, the air ride can lower you down to a reasonable height, and will even adjust hunker down on the highway for maximum aerodynamic efficiency; pretty cool.
The cabin in the Ram 1500 (reviewed here) looks quite good, with green stitching to match the bodywork, and half cloth, half-leatherette seats, but sadly the ergonomics left a lot to be desired, as did the quality of some of the materials. If you are over six-feet, you will have a very difficult time driving the Ram comfortably. For such a large truck, there is a surprisingly little amount of headroom, and even though the pedals are adjustable ($200), as is the steering wheel, I found it impossible to find a comfortable driving position.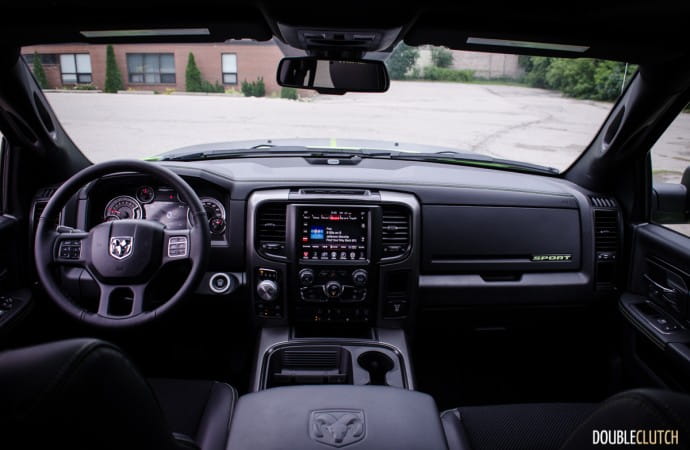 The actual materials in the cabin were less than stellar as well. The rotary shift knob (what's wrong with a gear lever?) felt a bit clumsy to operate, and the plastic on the door cards left a lot to be desired. However, the UConnect infotainment is quite good, and the instrument gauges, which were easy to read, had a nice clear digital readout in the centre of the cluster. There is also a cell phone holder in the centre console that has enough space to hold two phones and a spot for the charging cords to come through. Why don't all modern cars have that? The passenger will mostly be comfortable in long journeys, save for a very large bulge in the footwell, most likely there to make space underneath for the driveshaft.
The ride in the Ram is good, quite soft with body movement typical for a truck, and the air suspension makes it adjustable. It really gives the impression that it would eat up off-road trails. I found it fairly easy to operate in the city; the Ram turns around corners well and hides its size. The Sport comes with the 5.7L Hemi V8, and this particular truck had the gigantic Sport Performance Hood up front to house it, which all but kills forward visibility.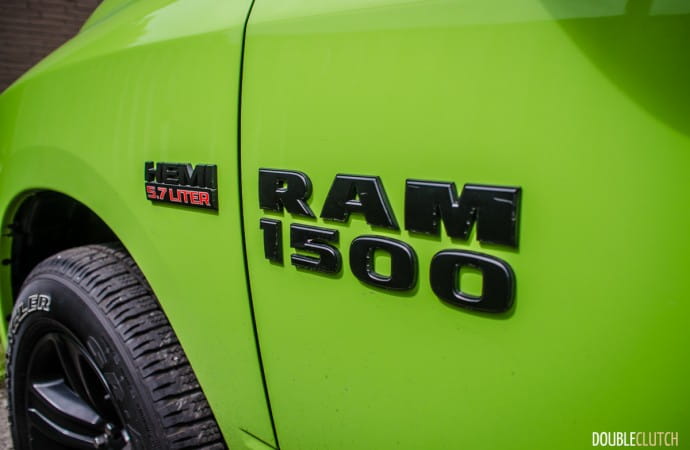 What this truck does do very well though, is utility. The 5.7-Liter V8 HEMI® MDS VVT engine puts out 390 horsepower and 410 lb-ft. of torque, which, even though it doesn't make the truck feel that fast, is more than enough for your towing or hauling needs. I would have liked it to make a bit more noise, believe it or not. The Sublime Green is all about showing off, with its flat black wheels and badging, and insanely green paint, but I found that with the air conditioning turned on, and some light music on the radio, I could barely hear the engine or exhaust. That can be fixed easily with an aftermarket exhaust though, which I imagine many owners will do.
Without a doubt, the Ram 1500 Sport Sublime will be there for you if you need to move the heavy stuff, on or off road. With several drive modes and 4X4 settings, and excellent ground clearance, you simply won't be disappointed. A 4,826 kg (10,640lb) towing capacity will surely do more than haul the weekend Costco run, and the air suspension will allow proper load distribution for and aft. Our test averaged 14.2L/100km over the week in a combination of highway and city, so if you are looking for a more fuel efficient Ram, check out the Pentastar V6 or EcoDiesel (reviewed here) powertrain, which makes some very impressive numbers.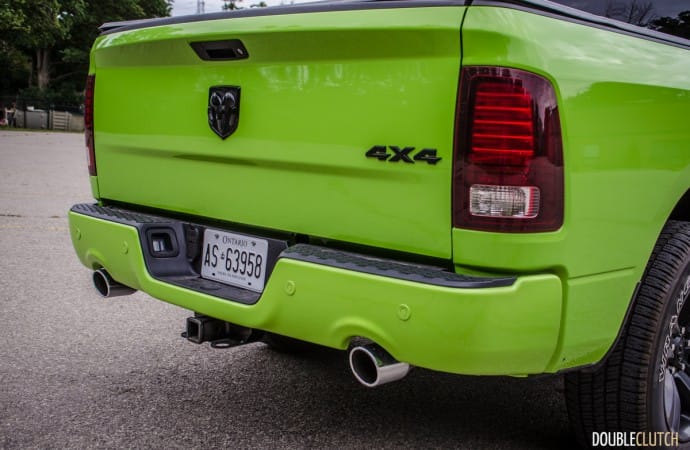 The Sublime Green package, at $2,495; let's just say it stands out. The air ride suspension will set drivers back $1,695. After tacking on some other goodies, including a sunroof for $1,425 this Ram came in at $67,485. That's a lot, in case you were confused, but it's worth mentioning that the 5.7L HEMI motor is extra over the 3.6L V6, and it's fairly easy to get a significant manufacturer rebate on Ram 1500 models in Canada at the time of this writing.
All things considered, the 2017 Ram 1500 Sport 4×4 is a solid performer in the light truck segment. Here's the thing – many Canadians choose to drive something like this everyday. If you own a business that requires hauling and towing, you will probably find a friend in the Ram, and personally I think it's one of the best looking trucks out there. If you are looking for a daily or family vehicle, make sure you spend some time driving this one, to assure that the ergonomics jive with you and your specific needs.
See Also: