SAN FRANCISCO, CALIFORNIA – The three-row crossover is ever increasing in popularity. Somehow, new parents feel it necessary to purchase a seven-seat vehicle roughly ten minutes after the birth of their first (and often only) child. Regardless, the endless amount of practicality of such large vehicles with all-wheel-drive cannot be denied. During a quick weekend escape to California, we grabbed the keys to a 2018 Mazda CX-9 Grand Touring in front-drive guise, a spec Canadians actually don't receive.
With the rarity of snow in the southern states, California is one state in which front-drive Audis, rear-drive BMWs and Mercedes-Benz models are plentiful. Less obvious are the front-drive examples of crossovers like this CX-9, and this particular Soul Red tester was no exception. It is a very handsome truck (if it can be called that), and garnered nothing but compliments on the premium-looking fascia, stunning LED lighting and attractive wheel design. When compared to blander designs like the Honda Pilot (reviewed here) and Toyota Highlander, the CX-9 is certainly the prettiest three-row crossover in its segment.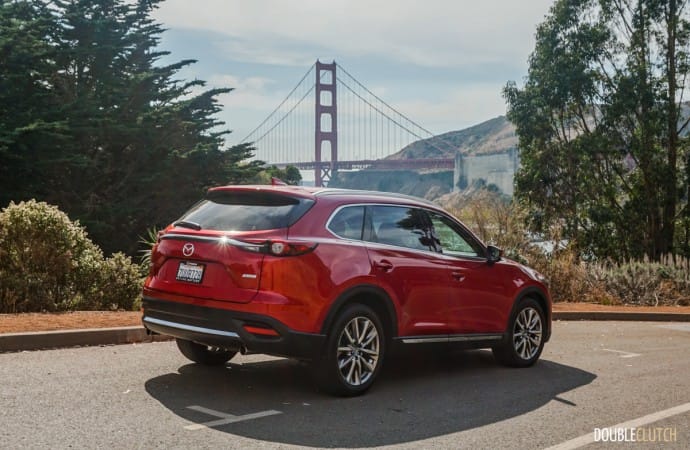 This beauty carries onto the interior, where Mazda's flowing lines and use of upscale materials is in play. The dashboard layout is nothing short of stunning, with easy-to-read analog gauges, a crystal clear display on the main Mazda Connect 7" infotainment screen, and a nice two-tone off-white and black colour scheme throughout. Curiously, the screen only functions as a touchscreen when the vehicle is stopped – when in motion the HMI Commander must be used. There is also no connectivity for Apple CarPlay and Android Auto. It's an okay system, but lagging behind the Honda system in overall technology.
A few tech bits on board the largest Mazda are remarkably impressive though, and this includes the navigation system. When inputting destinations, response is blazing fast, and it offers features such as speed limit information and a cool animation when in a tunnel that lets you know the distance before the tunnel will end. The sound system itself is exceptional, as our Grand Touring tester was equipped with the 12-speaker Bose Centerpoint 2 system.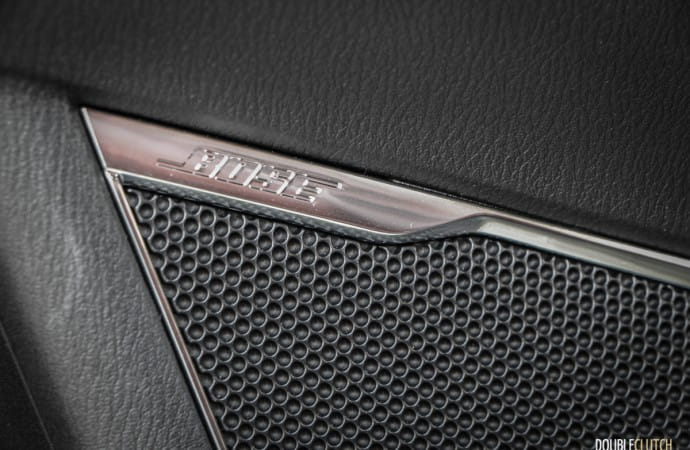 Safety is a huge priority for any family vehicle, and Mazda has ensured the CX-9 is available with the full suite of i-ACTIVSENSE reactive safety suite. This includes radar cruise control with stop/go function, Smart City Brake Support, advanced blind spot monitoring, rear cross traffic alert, lane departure warning, traffic sign recognition, active lane keep assist, and an adaptive headlight system. Speaking of the headlights, the stunning LED headlights do a brilliant job of lighting up the road ahead, and the auto high beam feature works flawlessly.
The seats are very comfortable and kept all occupants adequately comfortable over an extended road trip into the stunning mountains of Lake Tahoe. Ergonomics overall are quite good, though the driving position is a bit awkward, with the steering wheel angle similar to that of a bus. Headroom and legroom are plentiful for front passengers, though we would have liked to see a little bit more adjustability, as back support didn't have much give. These seats would be great in a quasi-sport sedan, but in a crossover, there are challenges.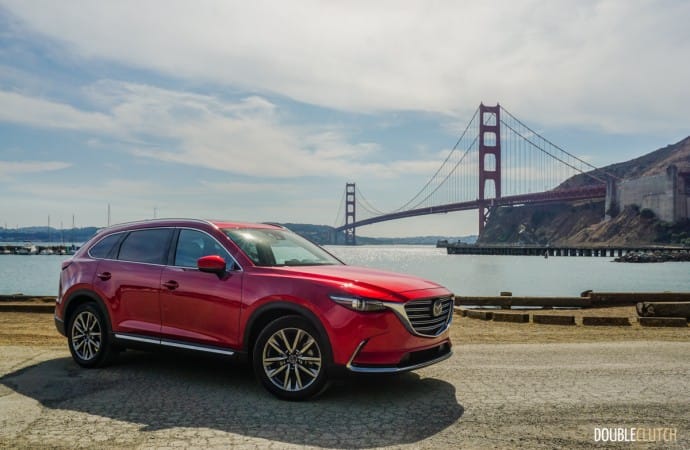 What's unique about the CX-9 when contrasted with its rivals is the powertrain. Rather than a naturally aspirated V6, the Mazda makes do with a SKYACTIV-G 2.5L inline four-cylinder. It's turbocharged, and when operating on 91-octane fuel, is good for 250 horsepower at 5,000RPM and 310 lb-ft. of torque at just 2,000RPM. If running on regular fuel, power drops to 227 horsepower. Our test took place on 91-octane, to make the most of the car's potential as well as efficiency.
Power is more than adequate in most applications, and the availability of torque as low as 2,000RPM is great for darting around the city. Out on the highway though, the CX-9 feels almost wheezy when trying to make passes in the mountains at highway speeds. It runs out of breath, and the six-speed automatic needs to be updated – the top-trim Pilot now gets nine gears and the Highlander has eight. The transmission itself is quite good, with an available Sport mode to hold gears longer and keep more power available. When in boost, the CX-9 does well. Turbo lag is also at an acceptable level, but by no means is it absent.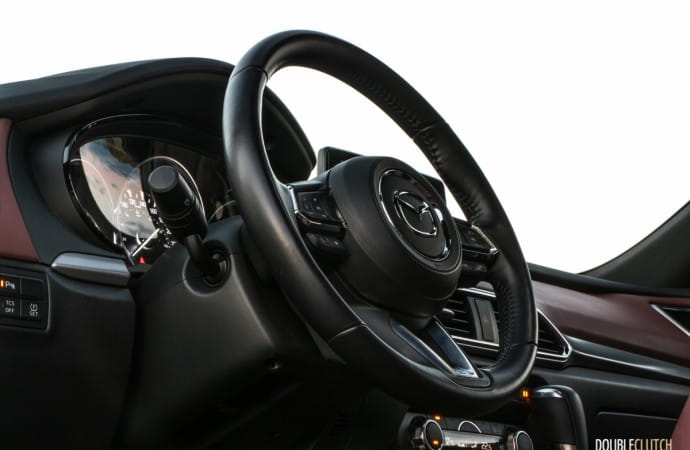 Let's talk about fuel economy for a second, because this was the single biggest disappointment of the CX-9 over our test. The all-wheel-drive model is rated at 11.2L/100km city and 8.8L/100km on the highway. Our real world average in a Canadian CX-9 Signature (reviewed here) was 9.5L/100km on the highway, which is perfectly fine. Doing very similar highway speeds, we could only muster 10.8L/100km no matter how hard we tried with this front-drive example, which should, in theory, be slightly more efficient.
The only factor that we can think of is that perhaps the full tank in the car when we received it may have been 87-octane regular. Our average over the second half of the road trip was slightly better. For comparison, last fall we did a 2,000km road trip in a loaded Pilot Touring, stuffed to capacity with auto writers, luggage and camera gear, and the vehicle delivered 8.8L/100km. Better gearing would help the CX-9 significantly, and Mazda is sure to have something in the works to fix this in a forthcoming mid-cycle update.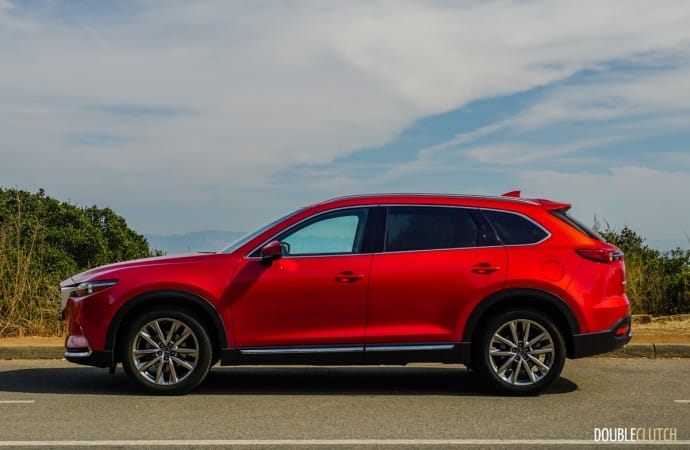 It may not be all that efficient, but the CX-9 redeems itself in the fun factor, just like everything else in Mazda's lineup. The SKYACTIV philosophy does a lot more than just describe the engine series, and also translates to lightweight construction. Subsequently, the CX-9 is quite a bit of fun to toss around in the long sweepers of the California mountainside. The steering is light, but doesn't feel over-boosted by standards. The chassis is responsive and tight in all environments (though this roughens the ride a bit in the city), and the suspension minimizes roll. Seriously, there is no reason a mainstream crossover should be this much of a hoot.
The 2018 CX-9 is priced aggressively at $38,221 CAD all-in for the GS front-drive model. The US-spec Grand Touring we tested is equivalent to the GT in Canada, which sits at $49,121 (AWD only). Features included on this trim include leather seating, i-ACTIVSENSE safety suite, heated front seats, navigation, satellite radio, three-zone automatic climate control, and much more. This is the trim that sits directly below the luxurious Signature, and is great to have. In US dollars, the front-drive Grand Touring sits at just below $41,000, and is hovering right around the pricing of the Pilot EX-L and Highlander XLE (reviewed here).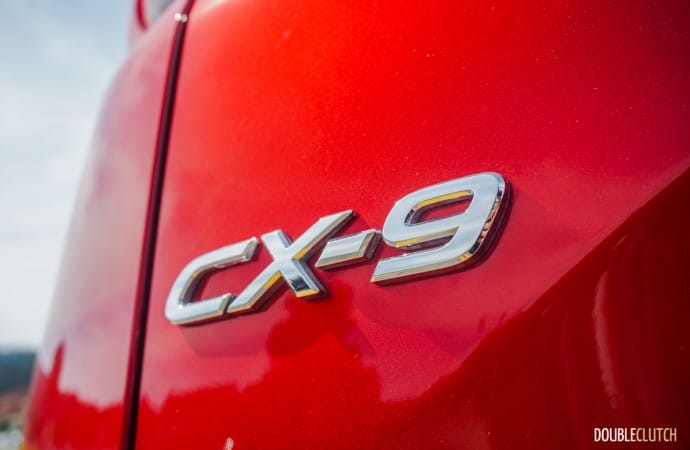 When it comes to buying a family crossover, there are a ton of variables that come into play. The 2018 Mazda CX-9 Grand Touring has quite a few things going for it, including a genuinely fun powertrain, great handling characteristics, a stunning interior and universally liked styling. The problem is, none of these things are on the top "must-have" list for families, trumped by versatility, efficiency, and interior space. The CX-9 is the de-facto choice for dads who want a driving experience from the same engineers who developed the legendary MX-5. It isn't the most practical choice out there, but this is a crossover with real soul.
See Also: