LOS ANGELES, CALIFORNIA – This is the car that officially redefines the Kia brand, and puts the Korean automaker on the map. Enough has been said in the last couple of years about "how far they've come", and that statement is now more played out than plaid button-down shirts. Since its unveil earlier this year, we've been stoked about Kia's new performance luxury sedan, which is more engaging than the brand's very comfortable yet somewhat forgettable Cadenza (reviewed here). Enter the 2018 Kia Stinger; their first official gander into a segment where the Germans have ruled.
We had the chance to put the Stinger GT through some of North America's finest driving roads; the canyons outside of Los Angeles, California. This is where the car's 3.3L twin-turbocharged and direct-injected V6 comes alive. Essentially the same powertrain that powers the Genesis G80 Sport (reviewed here), the V6 pushes 365 horsepower at 6,000RPM and 376 lb-ft. of torque, peaking at just 1,300RPM. This motor is coupled to an in-house eight-speed automatic that Kia makes, and it does a fantastic job of putting power to the ground. Kia claims a 0-100km/h time of just 4.9 seconds, and a top speed of 270km/h. Oh yes, it also has launch control…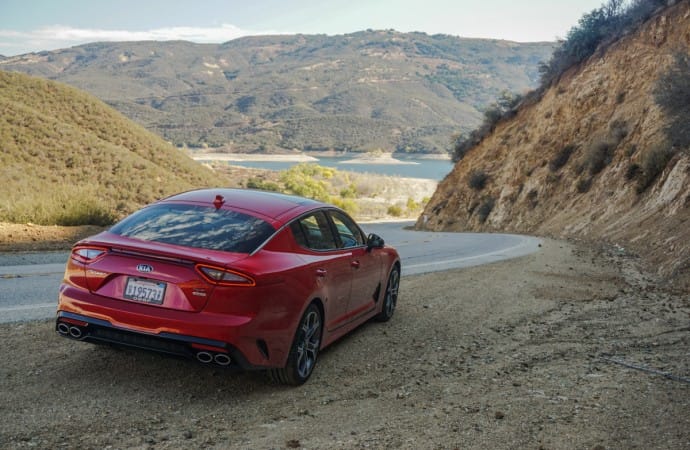 The Stinger GT is wonderfully responsive and delivers every bit of exhilaration that the BMW 340i (reviewed here) does, and is right up there with the best of them. I found it to be a little bit sharper in the corners than the Genesis G80, which is a bit too heavy for its own good. The chassis is tuned pretty well (55% high-strength steel structure), but the steering feel is just as lifeless as it is responsive. Turn-in is sharp and the Stinger GT exhibits impressive agility, but in typical fashion for electrically assisted power steering systems, analog feel is minimal.
The test vehicle we were assigned came fully jammed with goodies including adaptive damping, Brembo brakes (13.8" quad-piston calipers in front, 13.4" dual-piston in rear), and of course, a drive mode selector which allows you to set characteristics between Comfort, Smart, Sport, Eco, and Custom. Set in its most athletic setting, the Stinger's suspension, transmission programming, steering effort, engine sound, and throttle calibration are all extremely crisp. The adaptive damping from the Dynamic Stability Damping Control setup makes a real difference between the various settings, and will be the most obvious change between driving modes.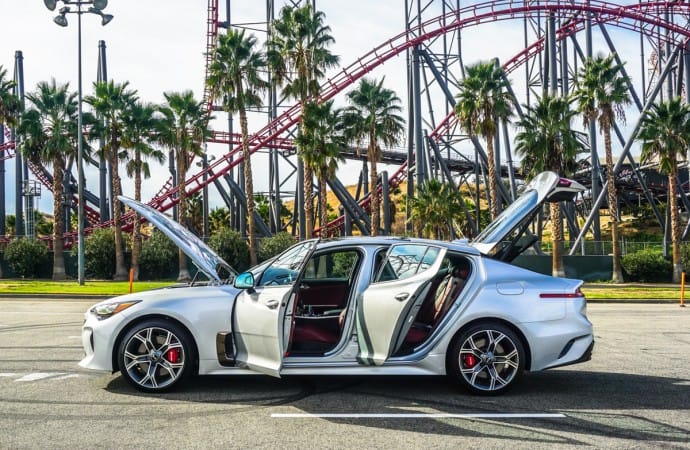 Kia only sells the Stinger in all-wheel-drive guise in Canada, implementing a system that is rear-biased, which is a godsend for those that are anti-FWD in their beliefs. This setup can force up to 50% of torque to the front wheels, and up to 80% at the rear. The result is a car that will not understeer unless it's really pushed into a corner (quite literally), but oversteer is far more likely. Defeating the traction and stability control systems will indeed kick the rear end out on demand, but the staggered setup of Michelin Pilot Sport 4 performance tires will do an excellent job keeping it planted. The tire size for the top-trim car is 225/40ZR19 at the front and a meaty 255/35ZR19 on the back.
Taking a look at the exterior of the new Stinger, it's immediately obvious that this isn't your average sporty sedan. Kia has stepped it up a notch, making it a five-door hatch with contemporary fastback design cues. The 19" wheels only finish off what is a gorgeous design with aggressive lines, stylish vents on the front fenders just ahead of the front doors, and a gaping grille out front. It shares many of its cues with Kia's latest offerings, but is not hiding the fact that this is the brand's halo car. Designer Peter Schreyer's history with German brands means some hints of the Audi A7 Sportback are evident.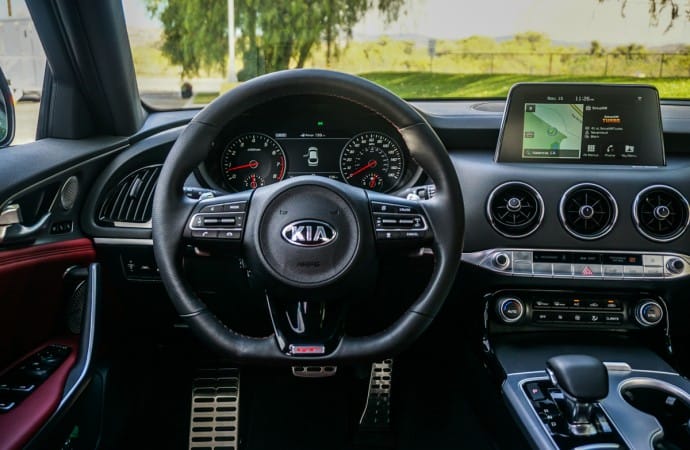 Liberal use of LED lighting front and rear, and quad exhaust tips make this an unmistakably sporty car, the closest to "muscle" that can be had from Korea right now. Polarizing colour choices in the Kia palette include California Red, Atomic Blue, and a very stylish Ghost Grey that isn't far off from Audi's "Nardo Grey". The forthcoming Genesis G70 is going to be a game-changer too, and that car combined with the Stinger means Korea has a genuine attack plan for 2018 that's very likely to decimate the competition.
One of the most notable pieces of this new Kia is the interior design. It's simplistic and very upscale, exhibiting similarities to the best of the Germans. Use of high-quality materials is generous, with meticulous attention to detail. The fit and finish is also top-notch, with no visible panel gaps or quality control flaws. We found the driving position to be quite good, with comfortable and well-bolstered seats that provided the perfect amount of support when hustling the car through the canyons. All of the adjustments are easy to find, and most major controls are well placed.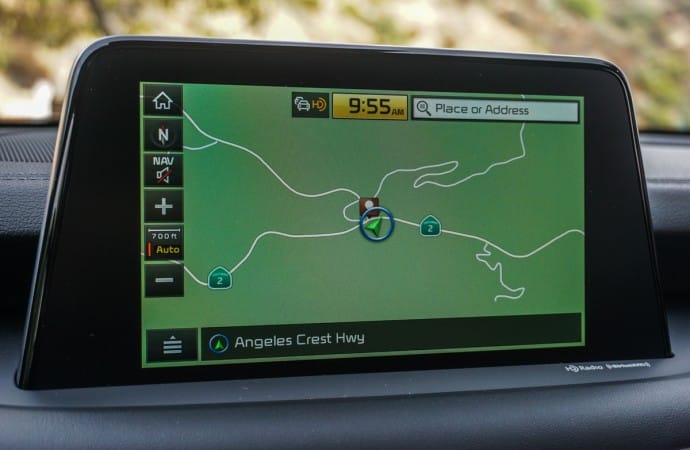 The Stinger is full of technology, and that begins with the new 7" touchscreen infotainment system (8" on GT Limited) that, like other Kia models, features Android Auto and Apple CarPlay as standard equipment. An optional Harman Kardon 15-speaker sound system with 720W of power also offers subwoofers located beneath the seats and is capable of delivering crystal clear audio. Active safety includes Kia's Advanced Smart Cruise Control, Driver Attention Alert, and Autonomous Emergency Braking, among other features.
Only available with one powertrain setup in Canada, the Stinger is available in two trims –GT and GT Limited. The Limited adds tons of kit including rain-sensing wipers, heads-up display, 7" SuperVision cluster, wireless charging, Nappa leather, heated rear seats and cooled fronts, 360-degree camera, and much more. Pricing in Canada starts at $44,195 for the standard GT and steps up to $49,995 for the GT Limited. This sticker pricing firmly plants the Stinger between the 3-series and 5-series (reviewed here) lineups from BMW.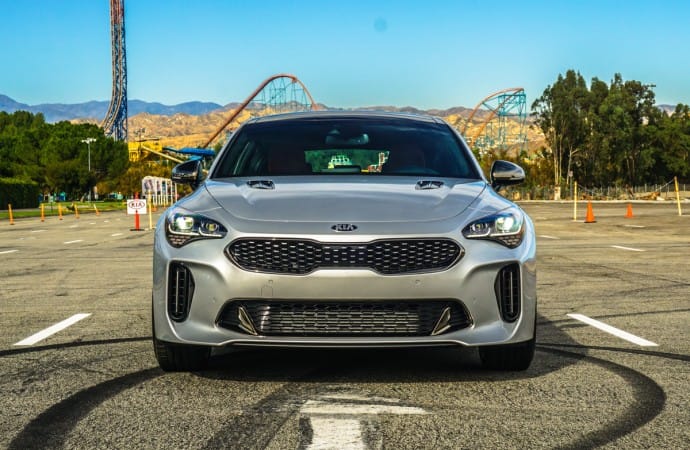 During the product briefing, Kia reiterated multiple times that benchmarks for this car include the BMW 440i (reviewed here), 640i, Audi A5 and A7 Sportback models, as well as the Porsche Panamera. The power numbers are there, and the space numbers are there. How does it feel? Well – it doesn't feel like anything from Kia we have ever sampled before; certainly exhibiting more athletic feel and upscale materials used inside and out. Fuel economy numbers have yet to be released at the time of this writing, but we expect it to be around the 10-11L/100km mark combined. Various aerodynamic traits as well as an idle start/stop system help maintain overall efficiency.
It's great to see Kia aiming for the big guns with this latest entry, and they haven't fallen short of any expectations. In fact, after extensively testing the latest 540i (reviewed here) from BMW, also offering a boosted six-cylinder engine, I genuinely find the 2018 Kia Stinger GT a more engaging car to drive. This isn't just a foray into a new segment for Kia; it's the car many have been waiting for and is the car that will redefine the way the mainstream public sees the brand.
See Also: