The ever-growing Hyundai Motor Company, ever eager to break into and redefine automotive segments, now has something to legitimately bring and fight the Toyota Prius family: the Hyundai IONIQ. Announced last summer in both Europe and North America, the IONIQ would make up a multi-pronged approach to electric motoring, and three variants would be available. The most popular will be the standard IONIQ Hybrid, which combines a gasoline engine with a battery and electric motors, similar to how the standard Toyota Prius (reviewed here) works. Next is the IONIQ Plug-In, which allows for more electric-only range, and the ability to be plugged in for charging. Lastly, this 2017 Hyundai IONIQ Electric is the full battery electric vehicle (BEV) that ditches the gasoline engine entirely. Hyundai Canada sent over a fully-charged IONIQ Electric SE, with the "Cold Climate Package", painted in a shade of Marina Blue for a week-long evaluation. We've already spent time with the high-volume IONIQ Hybrid (reviewed here), but the EV is a different beast in many ways.
When it comes to chasing the best fuel economy numbers, styling and aesthetics often takes a back seat to aerodynamics. With the Hyundai IONIQ Electric, this trend continues, but there's a reason why it looks the way it does. If the Toyota Prius comes to mind, you'd be pretty much correct. The Kammback design so prominently featured on the Prius makes another appearance, this time to the tune of an impressive 0.24 drag coefficient. In other words: the IONIQ family is very slippery, aerodynamically. There are a few differences between the standard IONIQ Hybrid and the Electric: look at its front grille – without an inefficient gasoline engine to remove heat from, Hyundai's engineers completely closed off the front grille to further improve aerodynamics. LED daytime running lights are standard across the board, and this particular Ionic Electric rides on 205-section Michelin Energy Saver A/S tires on 16-inch wheels.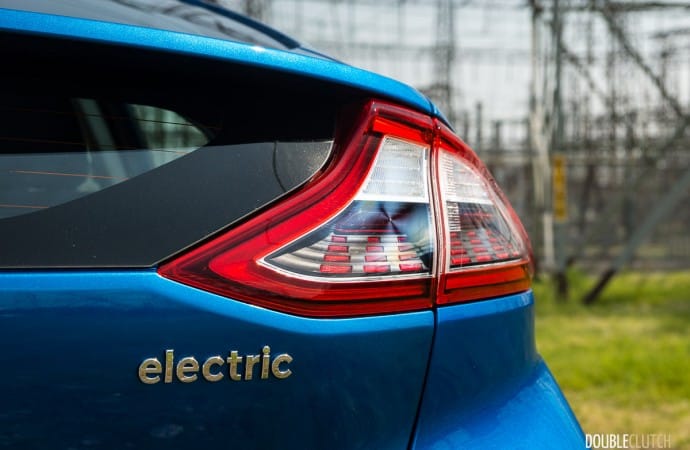 For the 2016 model year, the Toyota Prius took a bold step in styling the car that seemed to prioritize outright aerodynamics, rather than aesthetics. As a result, it is a car that elicits a lot of reactions, both good and bad. I happen to like the way it looks, because it appears to be an engineering-first design, though it also happens to share a similar 0.24 coefficient of drag as the IONIQ. I can see some prospective customers being turned-off at the looks of the Prius, and Hyundai is poised to chase after the type of customer who wishes to be a little more low-key with their efficient vehicles.
The interior is another place where people can really see the differences in design ideology. The IONIQ is much more traditional than the Prius, with a standard instrument cluster in front of the driver, complete with an analog speedometer. Electric models get copper-coloured plastic accents in a few places around the cabin – the IONIQ Hybrid gets blue plastic instead. Why copper? Hyundai says it's because of copper's excellent electrical conductivity. The only real thing that can really be described as unique to the IONIQ Electric is the gear selector – it ditches the traditional lever and goes with an all-button setup that takes a bit of getting used to.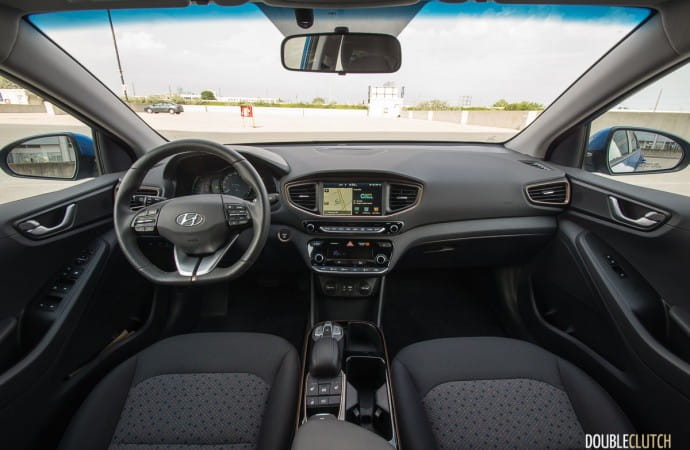 As seen on a few other Hyundai and Kia vehicles that feature electrification, the single-zone climate control features a "Driver Only" mode that focuses airflow and cooling at – you guessed it – the driver, for when there's only one occupant sitting inside. At the top of the centre stack, lives an 8″ touchscreen which integrates satellite navigation, entertainment, as well as Android Auto and Apple CarPlay capabilities. Overall, the interior is a likable place to be, mostly because of the minimal learning curve that doesn't try too hard to be something it isn't.
The details under the hood are what makes the IONIQ Electric special. As of this writing, The Toyota Prius only comes in a standard gasoline-electric hybrid format – a full plug-in Electric-only variant does not exist. Currently, Hyundai is the only automaker that offers three variants of electrification in one model family. This particular IONIQ Electric is powered by a 28kWh lithium-ion polymer battery, which feeds the electric motors that sends an approximate equivalent of 118hp to the front wheels, through a single-speed reduction gear. Thanks to the instant torque that electric motors are so good at delivering, torque is rated at 218 lb-ft., right from a zero-RPM standstill. What this means in practice is the ability to easily light up the low-grip tires if you're too aggressive with the accelerator pedal.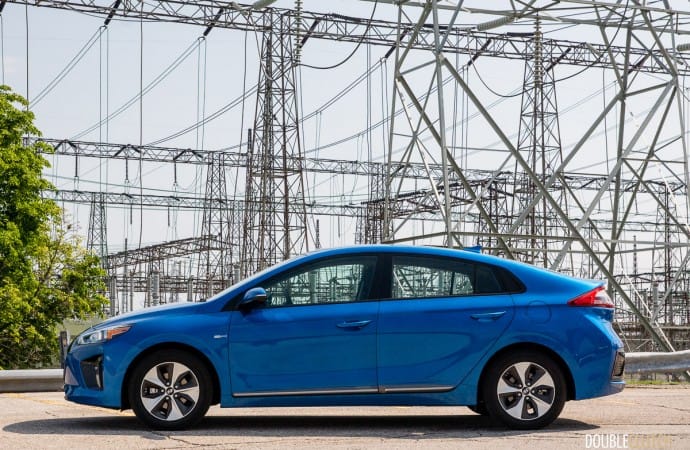 Behind the wheel, there's one item that makes the Ioniq Electric special, when compared to competitors such as the Toyota Prius: the steering-wheel mounted paddles. Being an electric vehicle with a single-speed reduction gear transmission, one might think, "why are there paddle shifters on an electric vehicle?" The answer is that they're not for manual stepped-gear selection, but rather a quick and intuitive way to adjust the regenerative braking from the all-electric powertrain, in three steps. Some dedicated electric vehicles allow the driver to accelerate and reduce speed with one pedal: the accelerator pedal. The paddles offer much more flexibility, with adjustability on the fly, though the paddles alone cannot be used to fully stop the car – you'll still need the brake pedal for the last bit of deceleration. The IONIQ Electric isn't the first electric (or hybrid) to offer such a feature (that honour goes to the Cadillac ELR), though it's a good way to increase involvement behind the wheel of what is otherwise a drama-free experience.
The big 28kWh lithium ion battery that lives under the cargo floor (which requires the use of a more compact torsion beam rear suspension configuration, instead of a more advanced multi-link set up) is good for about 225km of overall range. The number may seem low compared to the range a conventional gasoline-powered vehicle can offer, but it's important to remember that regenerative braking plays a significant role in determining how much range you'll really have, in the real world. It really depends on where you drive, and your driving habits.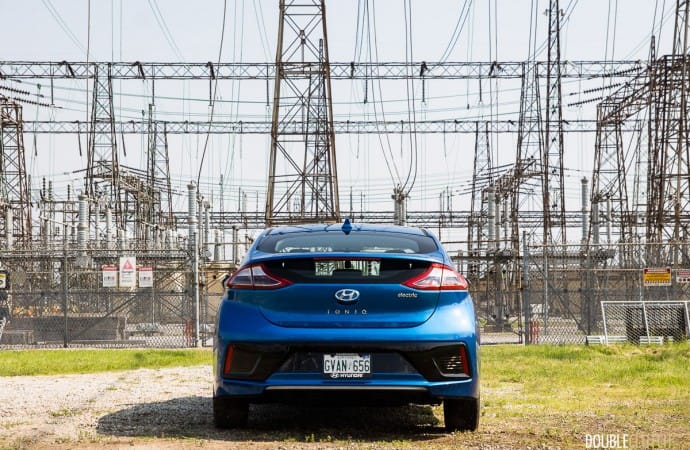 The Hyundai IONIQ Electric is at home in low-speed stop-and-go traffic, where acceleration demands are typically low, and you're able to regenerate energy regularly from braking. It'll happy live on the highway, but you'll need to keep an eye on the range indicator. If you need to use air conditioning or heat, expect more of a hit to your power reserve. This particular IONIQ Electric SE was equipped with the "Cold Climate Package" which includes heated rear seats, a battery temperature management system, and most importantly, a heat pump. This device pulls heat from external air and transfers the captured thermal energy into the cabin of the Ioniq Electric. It's a much more efficient way of heating the cabin than using waste heat generated by the powertrain, which is the traditional way of doing things.
During our week of gasoline-free driving, not once did the 225km range get in the way. One important note was to be mindful of electric vehicle charging stations, which are now fairly common in larger urban centres. A good example is IKEA, who have really embraced the electric vehicle market by installing Level 2 (240V) and even Level 3 (480V) chargers, which can get you from 0% all the way up to 80% in just 24 minutes. For the majority of my week, I charged the IONIQ Electric at home, from a standard household 120V outlet. At this rate, charging an empty battery to full will take a full 24 hours. My typical two-way commute saw the battery percentage drop to about 70% (or about 160km remaining), which means an overnight charge at 120V was able to bring the car back to 100%.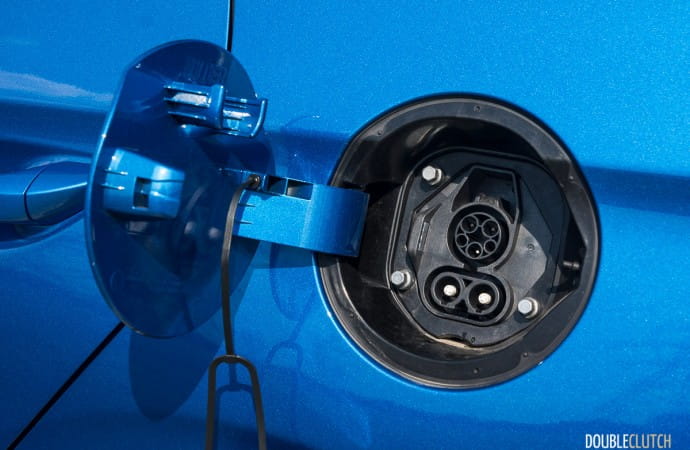 Well-researched consumers may be quick to point out that the new Chevrolet Bolt EV (reviewed here) is rated up to a generous 383km of range. While this certainly helps alleviate some of the range anxiety we all still have. Hyundai points out that most urban and suburban commutes rarely exceed 100km (and that's being generous), which the IONIQ Electric easily accommodates for. The upside to Chevy's methodology is that they are able to improve acceleration, to the tune of 6.5 seconds from 0-100km/h, which is more than competitive, and is even in hot hatchback territory. The downside to all that additional reserve that the Bolt EV carries around is the additional weight of larger batteries, and increased cost of manufacturing, which is always passed on to consumers.
Electric vehicle pricing can be extremely variable, and it all depends on where in Canada you reside. Hyundai Canada prices the base IONIQ Electric SE at $35,649. Adding the Cold Climate Package (as equipped here) bumps the price to $36,849, with the Limited trim (which adds leather seating surfaces, power sunroof, and more active safety features), sees the price jump to $41,849. If you live in Ontario, the Electric Vehicle Incentive Program will knock off a whopping $14,000 off the purchase price (as of this writing). You'll also be eligible for a Green Vehicle license plate that allows for the use of high-occupancy vehicle lanes when driving alone, which can be a significant time saver. Once you factor in the rebate, the as-tested price of the IONIQ Electric SE here drops to $22,849, before taxes, additional dealer fees, and the costs associated with installing a Level 2 charger at home.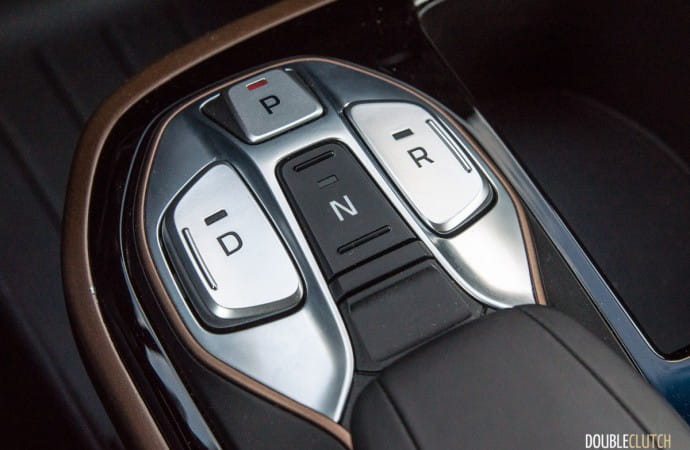 The price is a surprising figure to many – myself included. As a result, the IONIQ Electric is priced lower than even some Elantra models (reviewed here), thanks to the government incentives. It means cross-shopping between the Elantra and Ioniq is now totally plausible – you'll need to consider your driving habits and long-term ownership plans and do the math. By comparison, the Bolt EV starts at $43,195. Subtracting the same $14,000 that it is eligible for (in Ontario), its price drops down to $29,195. That price delta between this IONIQ Electric and the Bolt is over $6,000, which is not an insignificant number.
Electric vehicles, even with the big government incentives, still aren't for everybody. Battery and charging technology, as well as infrastructure, are still evolving and improving to where range anxiety becomes less of an issue. However, until the mainstream motoring public can fully embrace electric vehicles, cars like the 2017 Hyundai IONIQ Electric will continue to sell in much lower volumes than Hyundai's own Elantra. Cost of entry used to be a more significant barrier, but as of today, it's much easier to get into a full BEV, and Hyundai proves it. If you crunch the numbers, evaluate your actual driving habits, you may find the IONIQ Electric fits in with your lifestyle. Hyundai wasn't kidding around when they wanted to bring a good weapon to the Prius firefight.
See Also:
First Drive: 2017 Chevrolet Bolt EV
2017 Honda Accord Hybrid Touring