PASADENA, CALIFORNIA – 2018 is a pretty significant model year for Harley Davidson Motorcycles, introducing eight new Soft Tail models to their lineup, making it Harley Davidson's largest new product launch in history. "All For Freedom, Freedom For All", their latest slogan, is aimed at attracting new riders to the brand. Every bike in their lineup is still obviously a Harley-Davidson, and they're certainly not trying to reinvent the Harley brand overnight. With an ambitious plan of introducing 100 new "high impact" motorcycles over the next ten years, we will likely see Harley making some big moves.
Harley was kind enough to invite us out to Pasadena to try out their new 2018 line and see how they stack up. The eight bikes new to Harley's line up are as follows: Street Bob, Fat Boy, Low Rider, Breakout, Slim, Heritage Classic, Deluxe and last but definitely not least, the Fat Bob. All eight new 2018 Harley-Davidson Soft Tail models share the same frame and engine, which is 107 cubic inch. An optional 114 cubic inch engine is only available on the Fat Bob, Fat Boy, Breakout and Heritage Classic. Both engine variations are all new Milwaukee 8 dual balanced V-twins. The engine is mounted to the frame thanks to its dual counter balancers, and are precision oil-cooled.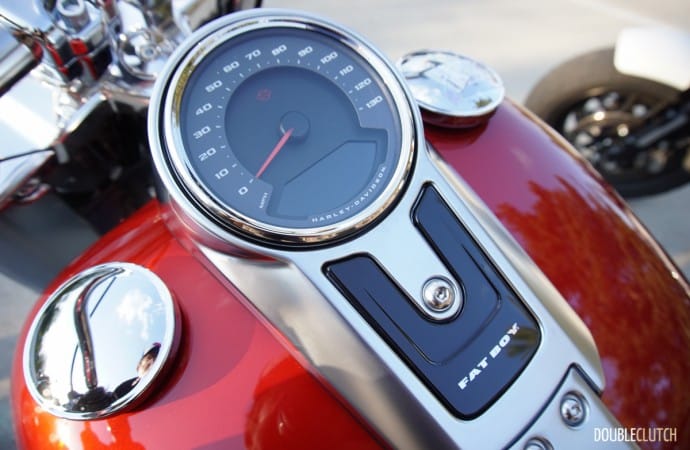 From 1984–2017, the Soft Tail frame has remained relatively the same, but this year Harley is introducing an all-new frame that is 15-20% lighter (13-18 pounds), and 34% stiffer which translates to a more responsive bike, with better performance and better fuel economy. All bikes also share the same transmission, all have smart key technology as well as a security system, I was relieved to see that the Soft Tails have a gear indicator as well as a fuel gauge.
The bikes also feature LED front lighting, with the Deluxe having all-around LED lighting. All bikes have rear suspension pre-load adjustability, but only the Fat Bob and Fat Boy have an external knob for easy pre-load adjustment. Oil is now located under the engine, which lowers the center of gravity thus improving handling.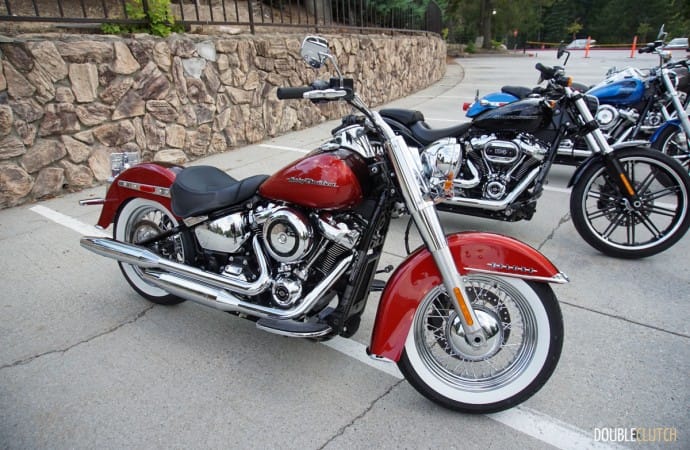 After the Deluxe, I was pleasantly surprised. Boasting a retro-modern design, Harley definitely achieved what they set out to accomplish. White wall tires and LED lights all around give it that unmistakable retro look. I especially like the rear brake light and turn indicator assembly; it reminds me of a retro 50s style diner. It has very comfortable suspension and feel, plenty of torque with the 107 cubic inch engine. The exhaust note is quiet like you'd expect, but still has that Harley V-Twin grunt when you crack the throttle. A great lean angle for tight cornering left me surprised as it outperformed some of the other bikes in the corners. The Soft Tail Deluxe starts at $22,499.
The Breakout was the 114 cubic inch version, and has a lot going for it. A 21" front wheel and a 240mm rear tire give it a certain presence. Cornering isn't one of the Breakouts strong suits; the pegs were scraping on pavement before I had the bike leaned over enough to really take a corner. It also features a digital rider gauge, which gives the Breakout a minimalist look that is attractive to some. The seat is comfortable with the right amount of lower back support so you're not sliding off the back of the seat when you hammer on the throttle. Bar and peg positioning is comfortable, and the narrow 3.5 gallon fuel tank allows you to keep your knees closer to the bike adding to its overall comfort.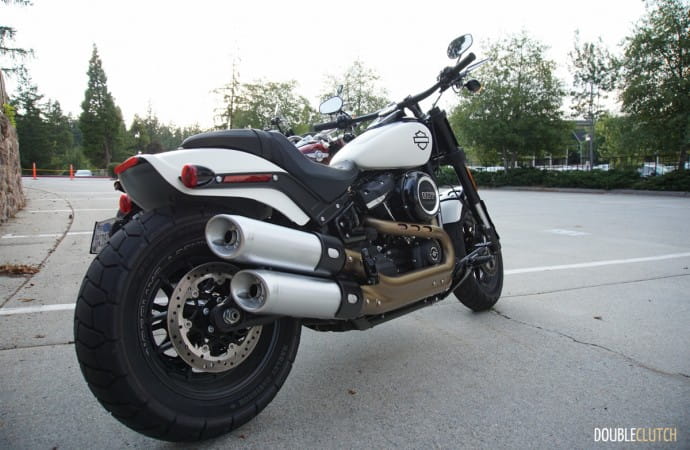 Harley's Low Rider is definitely catered to riders of smaller stature, and I feel bad for those people because it's really not that good. Peg positioning and bar placement feel as if you're riding a shopping cart, which isn't comfortable. It's an upright position, but not executed. I'm not a very big guy, so the argument of it being better suited for smaller riders doesn't justify the bike's uncomfortable ergonomics. The Low Rider's claim to fame is the historic design featuring dual tank-mounted gas caps and classic styling which does possess that unmistakable classic look. A large five gallon fuel tank will help keep you from frequent fuel ups. The Low Rider is an entry level bike with a base price of $18,999.
Street Bob is an all-around great bike and is one of my favourite bikes out of the new Soft Tail line; the mini ape bars and peg placement took but a minute to get used to. Once you grasp where your hands and feet should be, the bike just feels right. It's a minimalist style also featuring a riser gauge as seen on the Breakout, adding to its look. It comes standard with a Stage 1 Screaming Eagle intake and 19" laced wheels. The Street Bob took to corners very well; you're almost able to just throw the handlebars down into the corner and the bike happily follows suit. The seat could use better lower back support, as I found myself sliding back a bit. The Street Bob is actually really good, and for its $17,999 base price, it's hard to think of reasons why you shouldn't consider it.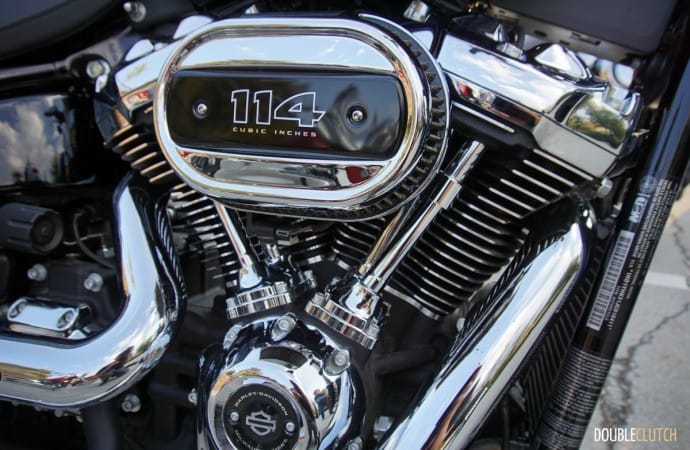 With a good amount of lean angle, the Soft Tail Slim was very nimble in a sense that it could smoothly weave through the sweeping corners with fairly little effort. Some key features on the Slim are is its "Hollywood" style bars, and its low slung seat which pays homage to the classic style. Its black laced wheels are unmistakable quickly identifying it. I should also mention that each bike in the new Soft Tail lineup all have unique wheels. The Soft Tail Slim was a fun bike with an almost Fat Boy style appearance without the 240 rear tire has its pro's and con's depending on your riding needs. The Soft Tail Slim starts at $19,499.
Having been really impressed with the 2017 Fat Boy S I rode earlier this year (reviewed here), I had a certain level of expectation. Having shed 31 pounds, the new Fat Boy doesn't meet expectations when it comes to cornering. The Fat Boy prefers to stand upright, leaving you having to work to get it to lean down in the corners. The long 32-degree rake angle, and the widest front tire on any Harley currently in production both contribute to this. These factors come together and render the Fat Boy rather timid in the corners. The Fat Boy is far more comfortable with sweeping corners rather than tighter switchbacks. The Fat Boy is still the comfortable bike as we know it, and starts at $22,999.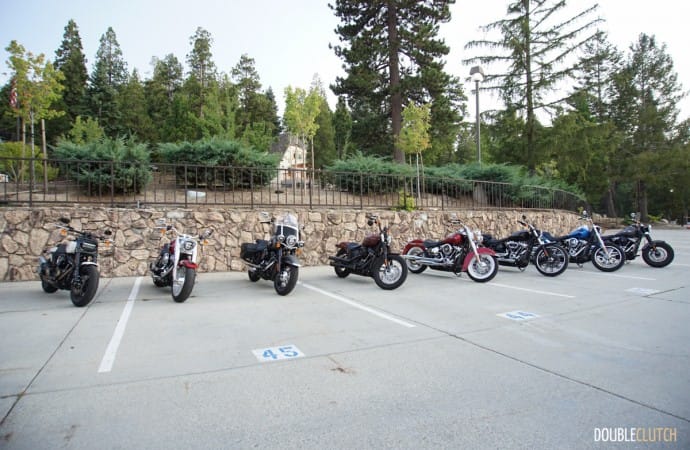 The Heritage Classic comes standard with hard lockable saddle bags, a tool-less removable windscreen and cruise control. It packs a confidence-inspiring ride that is just what you'd expect. It's well suited for longer rides thanks to its riding position and soft seat. The footboards are a must for the Heritage Classic, which add to the bike's comfort. It has a good amount of lean angle and it handles as well as the Deluxe. The windscreen seems to be just a bit too low, almost channeling the air right into the top of your helmet. The Heritage Classic is a great comfortable bike for those lengthy trips. It is 32 pounds lighter than its predecessor, and its base price is $22,299.
The Fat Bob is what I would call the favourite child out of the Soft Tail lineup. Harley took a gamble on the edgy styling, and I have to say it paid off. Single cartridge inverted forks give good feedback, and dual disc front brakes get you to a stop in a hurry. Features that are highlighted are the unique horizontal LED pillbox headlight, and its performance-inspired 2-1-2 exhaust. A point worth mentioning is the rake angle. At 28 degrees, it's the steepest angle on any of the Soft Tails, and translates to nimble dynamics. This is my favourite out of the new Soft Tail line; the geometry just feels right. A minor complaint would be the size of the front tire – I feel Harley focused more on appearance rather than performance with this. The Fat Bob starts at $21,299 with the base 107 cubic inch engine.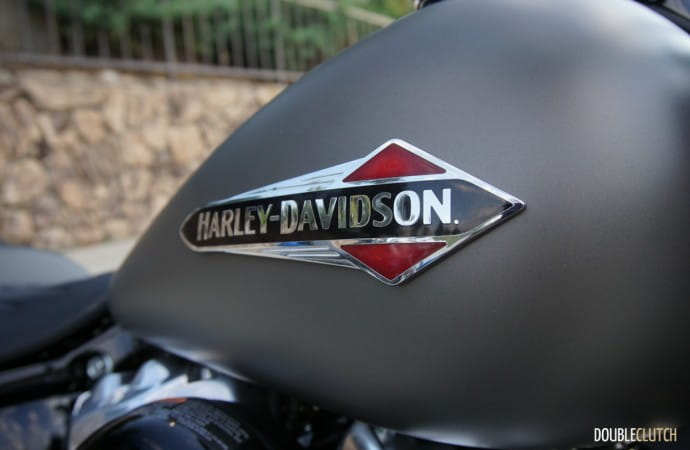 Harley did a great job with their new throttle by wire technology; it responds nicely and has almost zero lag time. Eight new bikes in one year is quite unheard of, and if Harley plans on executing their ambitious plan, this is just what they need to do to get the ball rolling. I was pleasantly surprised with what I saw, and it's nice to see that the new Soft Tails are better than before. Even though some of the bikes didn't handle as well as others, they were ridden through some pretty aggressive roads. I can safely say that I look forward to seeing what Harley-Davidson comes out with next.
See Also:
2017 Harley-Davidson Fat Boy S