CHARLOTTETOWN, PRINCE EDWARD ISLAND – Across the whole automotive industry, it's no secret that the midsize sedan market has been conceding sales to the crossover sport utility vehicle. At Toyota, they've been enjoying major successes with the RAV4 and Highlander (reviewed here) crossovers. Demand for these vehicles is higher than ever, and as a result the all-new 2018 Toyota Camry is trying to shed its rational and traditional image in order to stir up more emotion amongst consumers. Toyota Canada invited us out to Charlottetown, Prince Edward Island to have a closer look at the new Camry and take it for a drive amongst the rolling hills and scenic backdrops.
While the basic three-box sedan format remains, Toyota has decided to have some fun with the eighth generation model in order to attract younger buyers, all the while without scaring off existing ones. Going for a more aggressive design than in the past, the front and rear fascias appear to draw many of their cues from sportier and more premium Lexus products such as the RC-F coupe and GS-F sedan. There's a variant of the pincushion grille, and the rear bumper has grills at the corners.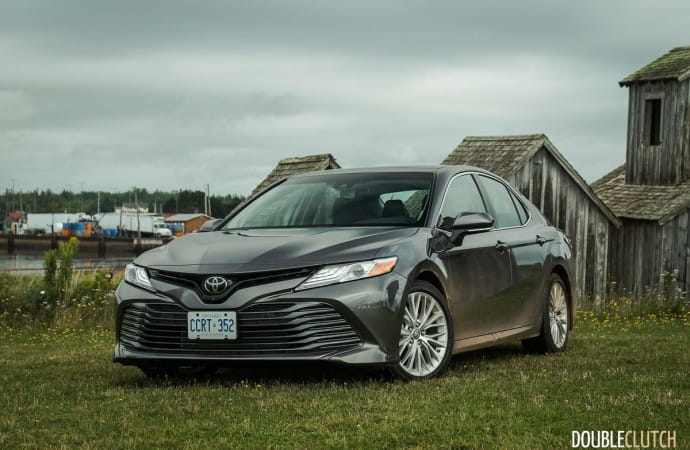 Dimensionally, the new Camry is 20 millimetres wider, 30 millimetres longer, yet is 25 millimetres lower in height. Built as the first full implementation of the modular Toyota New Global Architecture (TNGA), body rigidity has improved by thirty percent, and increased use of high-tensile steel has shaved some curb weight. New soundproofing technology has improved noise, vibration, and harshness, and a lower centre of gravity improves handling.
As with before, the 2018 Toyota Camry is available in a multitude of trim levels, going between L, LE, SE, XSE, and XLE, with four, six, and hybrid engine options interspersed between them. Base prices for L start at $26,390, and top out at $40,990 for an XLE hybrid. The basic engine displacements and cylinder counts remain the same as previous, but a series of updates have brought the engines and transmissions into today and beyond. The L, LE, and XLE trims focus more on luxury and comfort, whereas the SE and XSE models (reviewed here) have more aggressive external styling and feature a more sport-tuned suspension.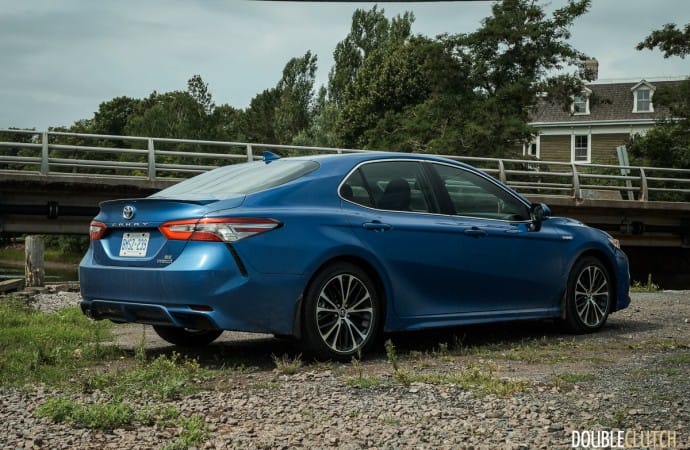 Most buyers will likely opt for a 2.5-litre four cylinder engine that makes 203 horsepower at 6,600RPM and 184 lb-ft at 5,000RPM (slight increases for SE models due to exhaust tweaks). XSE/XLE models have an available 3.5-litre V6 making 301 horsepower at 6,600RPM and 267 lb-ft at 4,700RPM. The Camry Hybrid uses a 2.5-litre four cylinder as well, and the battery pack has been moved under the rear seats in order to free up trunk space. Net system output is 208 horsepower.
All powertrains feature direct fuel injection in addition to traditional port injection, which improves fuel economy and drivability in all operating conditions, and these setups have historically had better long term durability, with no risk of internal carbon buildup when only direct injection is used. With the Camry Hybrid in particular, thermal efficiency is rated at 41%, a major feat with an internal combustion engine. Simply put, 41 percent of the energy available in fuel is used for useful mechanical power, with the rest being rejected as heat. Older engines will be lucky to be half to two-thirds as efficient.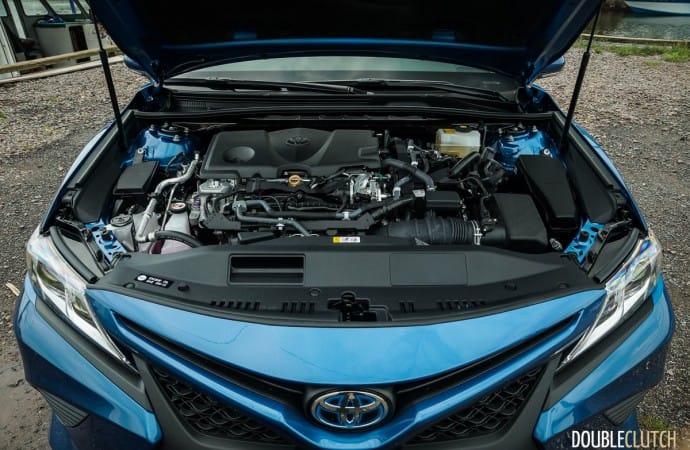 Aiding in drivability and fuel economy improvements is a Camry-first eight-speed automatic transmission in the regular gasoline powered cars, and a continuously variable transmission (CVT) in the hybrids. On the eight-speed, the torque converter is locked between second and eighth gears and results in very direct and snappy shifts when on the road, all the while without sacrificing refinement. Even with all the extra gears, hunting and indecision in gear selection isn't a problem, and the Camry is always ready to pick the right gear for the task. It does like to kick down out of the very tall eighth gear at highway speeds – 100KM/H happens at 1,400RPM – but the step in between lower gears is small enough to be imperceptible.
In terms of fuel economy, there's been improvements on all fronts. The entry-level 2.5-litre four boasts 8.1L/100KM city and 5.7L/100KM highway, and 3.5-litre V6 cars are good for 10.5L/100KM city and 7.1L/100KM highway. Most impressive, however, are the Camrys equipped with hybrid powertrains, which get 4.9L/100KM city and 4.8L/100km on the highway. During initial testing, observed economy on the hybrid actually slightly edged these figures, returning 4.7L/100KM. No hypermiling (extreme fuel conservation techniques) was employed, but some special care was paid to the status of the hybrid system, and whether or not the gasoline engine was running.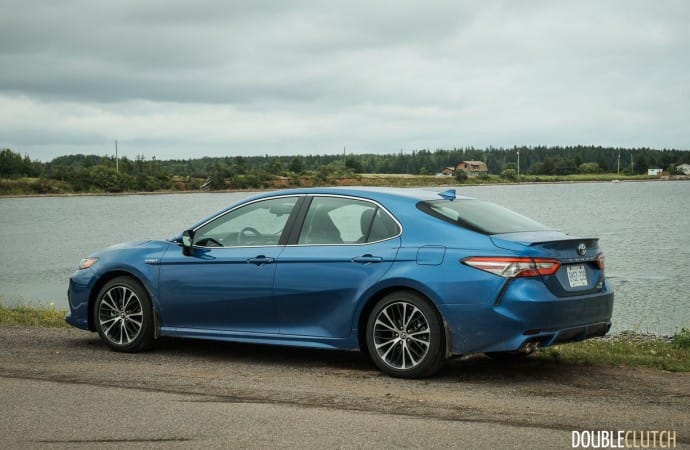 On the road, the 2018 Camry manages to provide a very quiet and quality-feeling ride. Bumps are very well isolated and transmit minimal shock into the interior, even on the stiffer SE and XSE cars. Throttle response from the non-turbocharged, naturally aspirated engines is excellent, and major kudos goes to Toyota for keeping it this way. Real world fuel economy of these engines is still excellent, as turbochargers are only efficient when revs are kept low and out of the turbo's boost range, which doesn't happen often enough for most people. The base 2.5-litre four pulls as strong as a volume seller should, and the V6 keeps its extremely punchy midrange. The hybrid is seamless in its transition between gasoline and electric motor, and unlike the old car, which required the engine to run full-time above 72KM/H, the 2018 model can do highway speeds and kick on the gas engine only when needed.
Contrary to Camrys of the past, the new car is able to tackle a corner surprisingly well. While steering and braking feel doesn't match sportier options like the Toyota 86 (reviewed here), turn-in is still relatively sharp and the car stays planted, even after tossing some sport-tuned SE and XSE test vehicles through a tight slalom course. The rear suspension is redesigned in a double wishbone configuration, which is often reserved for cars with sporting intentions. As a daily driver that is able to haul plenty of people and their stuff, it ends up being much closer to the fun side of the spectrum than the outgoing model.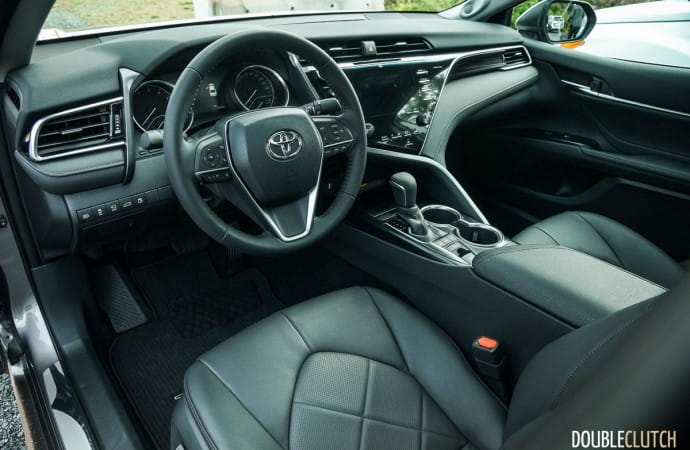 Inside, the Camry features a redesigned interior, which features much improved material selection. There's plenty of piano black shiny trim all around, and the touch points are all soft and premium-feeling. For taller drivers, front knee room is ample thanks to the unobtrusive dashboard design, but those with taller torsos may find issue in cars equipped with the panoramic sunroof. Leg room is plentiful for four or five adults, and trunk room doesn't appear to be impacted by the typically space-eating double wishbone suspension.
In terms of infotainment, seven and eight-inch touch screens are employed depending on the trim level. Toyota's Entune 3.0 system makes its debut in the 2018 Camry, and Toyota has been catching some flak for not going with the industry-standard Android Auto and Apple CarPlay smartphone integration. Instead, they've employed a Linux-based, open source SmartDeviceLink (SDL) that allows for built-in apps (sports, fuel, traffic, weather) and also for those created by third parties (Yelp, Slacker Radio). Entune 3.0 pairs to smartphones in a similar fashion as Android Auto and Apple CarPlay, and while the interface looks snazzy on the surface, more time will be needed to live with the system and assess its performance – look for this in a future comprehensive review.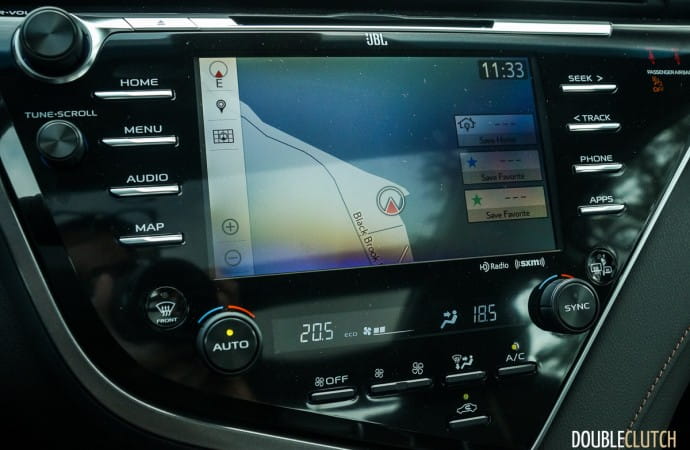 For safety, all Camry trim levels are equipped with Toyota Safety Sense P (TSS-P), which includes forward collision mitigation using autonomous braking for high and low speed conditions. There's also a lane departure alert with lane keep assist (giving steering inputs to keep a car within its lane), adaptive radar cruise control, and LED high and low beam headlamps. Optional features include a rear cross traffic alert system when backing up, blind spot monitoring, as well as an optional 360-degree bird's eye view camera system.
Bottom line – the 2018 Toyota Camry has very quickly become the new gold standard of midsize sedans. It's a bolder-looking, well-engineered car that puts a lot of fun back in the driver's hands. Roadholding and handling are now strong suits (in a Camry? Who knew?!), and comfort and refinement levels are still very high. Safety features have been made a priority, and fuel economy is impressive across the board, especially with the hybrid powertrain. The jury is out on the infotainment and multimedia, but first impressions haven't been too bad. The Camry's archrival, the Honda Accord, has also had a new model recently unveiled, and the Japanese rivalry is going to be as strong ever. The new Camry is a valiant effort by Toyota, and it's a good time in the automotive industry when a bread and butter midsize sedan manages to inject some flavour into everyday life.
See Also:
First Drive: 2018 Hyundai Sonata 2.0T