The 2017 Harley-Davidson Fat Boy S is a murdered out, more powerful version of the Fat Boy, making a great bike just that much greater. When I envision a modern Harley, this is exactly what comes to mind. From its blacked out appearance, to its powerful V-twin engine, this is just what the doctor ordered.
"A lot of fat" may not be the best way to describe your significant other, but that expression holds true to the Fat Boy S. With tons of "fat" in just the right places the Fat Boy S is the love affair you never knew you wanted. All levity aside, the Fat Boy S has many "fat" features that make it unique. Starting from the ground up, the Fat Boy S comes with 17" wheels with bullet hole style die-cast aluminum with silver rims with a 140mm wide front tire, and a modestly fat 200mm rear tire with wide front and rear fenders. A wide seat behind the fat fuel tank that has a retro look with the 2 fuel caps, one on either side, but the clutch side "fuel cap" is actually a fuel gauge in disguise. A large mono-headlight rests in front of the wide handlebars which have large stainless steel bare-knuckle chrome risers. A lot has gone into the Fat Boy S making it the recognizable bike that it is today.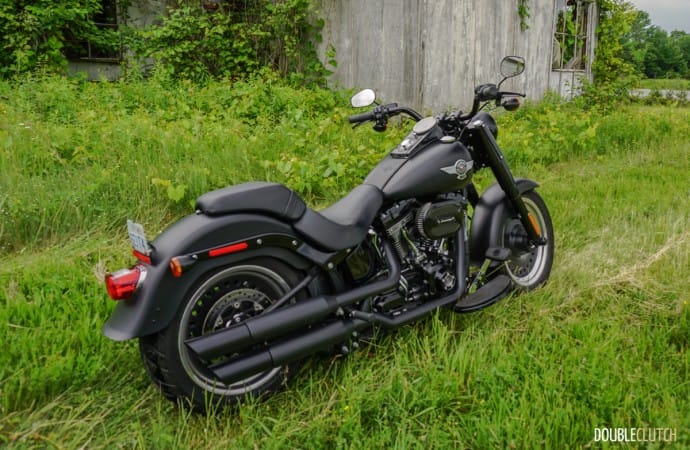 Both comfort and ergonomics get a checkmark on the Fat Boy S. Featuring the lowest seat height in the Harley-Davidson line up sitting at 616mm laden or 24.25 inches. If your feet can't comfortably touch the ground on the Fat Boy S, you may not have legs. Full-length rider footboards are an added comfort, along with a comfortable riding position, seat and handlebar placement. The Fat Boy S also comes with a heel-toe shifter, cruise control, abs, security system, leather tank pad and key fob all standard.
The highlight of the Fat Boy S has to be its engine. Its 110 cubic inch (1800cc's) Screaming Eagle V-twin engine sounds amazing at idle, and gets better the higher you rev it, finding myself hammering on the throttle when passing under every bridge. The engine is a counter balanced twin cam which makes for a powerful yet smooth ride. The counter balancers dampen the vibration that's oh so common with v-twins, especially helpful when it comes to Harley-Davidson's unique firing pattern, which gives a Harley its unique sound. Low RPM cruising doesn't "chug" like other V-twins thanks to the counterbalancing.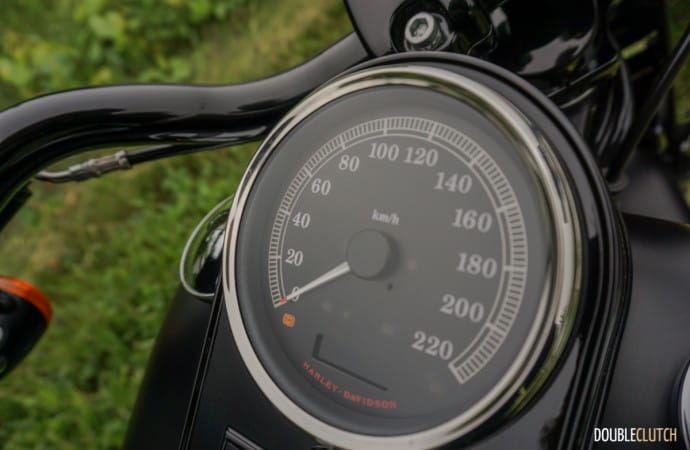 A Screaming Eagle Ventilator Performance intake is also fitted on the Fat Boy S, featuring a high-flow performance air filter that aids with air intake, creating a unique sound when you open the throttle. You can literally hear the air being sucked into the engine. An electronic throttle helps to achieve the Fat Boy S minimalist look by eliminating the need for a throttle cable. Featured on all "Softail" model Harleys, the Fat Boy S has a new four-piston single rotor front brake that's designed to reduce brake lever effort by 40% during peak braking. I can honestly say I noticed minimal effort required to brake, often finding myself using only 1 finger on the brake lever stopping quickly and comfortably.
One thing that stood out was the transmission. The six-speed Cruise Drive transmission has a very solid feel; it's extremely solid and tight, making it damn near impossible to miss a shift. The six-speed also helps to lower RPMs while cruising on highways, making for quiet and comfortable trips and with the torque of 110 cubic inches, over taking cars even at low RPMs is a breeze.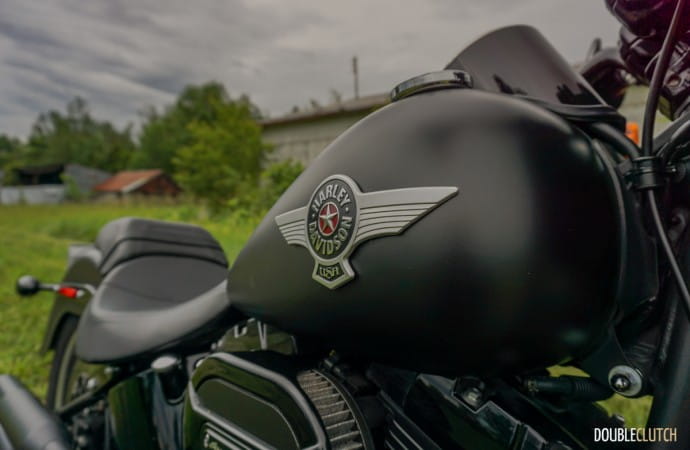 At first release of the clutch, the Fat Boy S wanted to have a torquey launch that made me have to pull in the clutch lever and try starting off again. That's what I love about this bike; it's raw muscle with tons of bottom-end and you're able to take off like a bat out of hell. This engine is also the most powerful engine you can get in any cruiser this year?
One design flaw is the mirrors, there's no way to tighten the mirror where it pivots, so once the ball joint wears itself loose, the mirror constantly needs repositioning as the wind tends to move the mirror out of position. The heel-toe shifter is a good idea, but due to the bikes low height, your foot is situated in a way where you need to be able to point your toes like a ballerina in order to be able to use the heel shifter.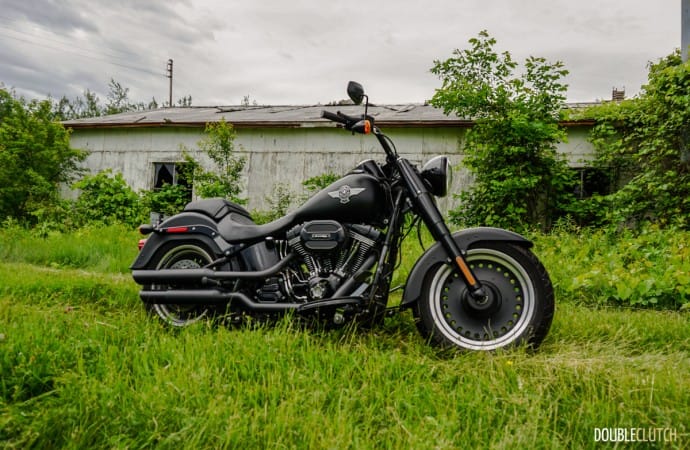 I was pleasantly surprised with my experience on the 2017 Harley-Davidson Fat Boy S. Nothing quite compares to a comfortable ride with a ton of torque between your legs. My only complaints are the unique Harley-Davidson turn indicator switches, and the difficulty in trying to find neutral which seems to be on Harleys in general; not just on this bike. The Fat Boy S retails for $23,999 in the Denim Black colour (as tested), and $24,449 for the Vivid Black version.