Many purists have been arguing that BMW has lost their way with regards to sporty driving feel, overall engagement, and whether or not they still stand true to the "Ultimate Driving Machine". Times have been changing, cars have been evolving and there is more and more technology on board vehicles that affects weight and overall dynamics. BMW is no exception to this, though the passion is still there, especially in the M division. We had the chance to sample something particularly special; the 2018 BMW M3 Competition Package painted in a BMW Individual "Java Green", an extremely rare vehicle in this spec.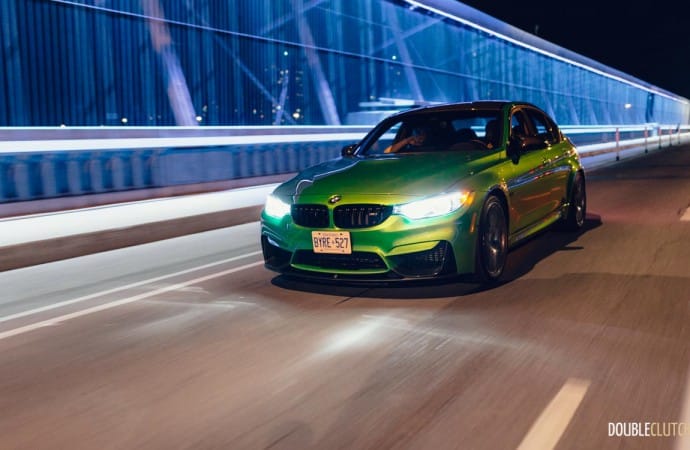 Throwing back the M3's lineage to the previous generation model (chassis code E90/E92), the current car's boosted powerplant may not make enthusiasts salivate like the old naturally aspirated V8 did. However, when the car is kept in "loud" mode through the M Performance Titanium Exhaust, there is a very noticeable and enjoyable soundtrack to it. It's not as deep and pronounced as the V8, but this six can sing a song that few will be disappointed with.
Hustling the current M3 around is a twin-turbocharged inline six-cylinder engine. It's good for 425 horsepower between 5,500 and 7,300RPM and 406 lb-ft. of torque between 1,850 and 5,500. The Competition Package increases the horsepower number to 444, and the improvement in response is surprisingly noticeable over the standard car. Where the six-cylinder benefits over the old V8 is that it no longer needs to be pushed into the higher RPMs to get peak power; it's available right down low and response at city speeds is improved significantly.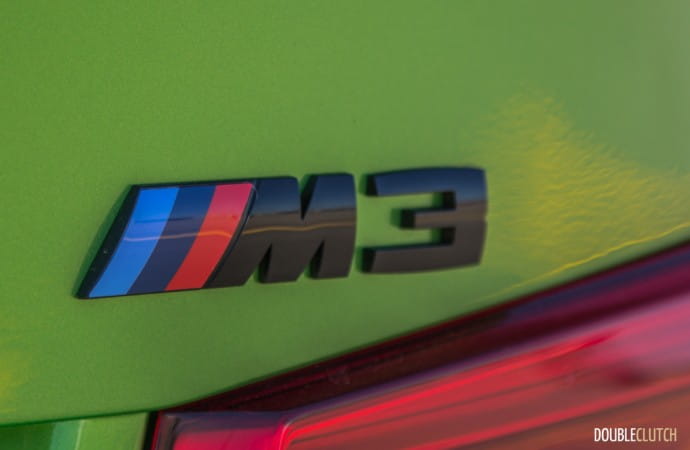 Despite decreasing demand and many manufacturers eliminating this option altogether, a six-speed manual is still available on the M3 (reviewed here), reflective of BMW's dedication to the overall driving experience. This vehicle was equipped with the $3,900 M Double Clutch Transmission (DCT) with seven gears. Like most full-blown M cars, the shift quality and mapping can be altered through the M modes as well as a dedicated button directly below the shifter. In its most aggressive setting, the M3 bangs off shifts with startling speed and firmness, though we did observe that there is some lag between the tap of the paddle shifter and the computers recognizing the input.
The vast majority of M3 buyers will opt for DCT-equipped models, and the truth is, it's a fine everyday pick. When left in "Comfort" mode with the engine and transmission in the "Efficient" setting, the car quiets right down and feels like an ordinary 3-series (reviewed here). That's not what the M3 is made for, but it's a car with multiple personalities. The M modes allow configuration of everything from suspension to steering and more, also allowing for full shutoff of the stability and traction control systems. When pushing it, the 444 horses make the car want to dance, and letting off the throttle in sportier settings will result in an extremely loud snap, crackle, and pop from the quad exhaust tips, not unlike the Jaguar F-Type SVR (reviewed here).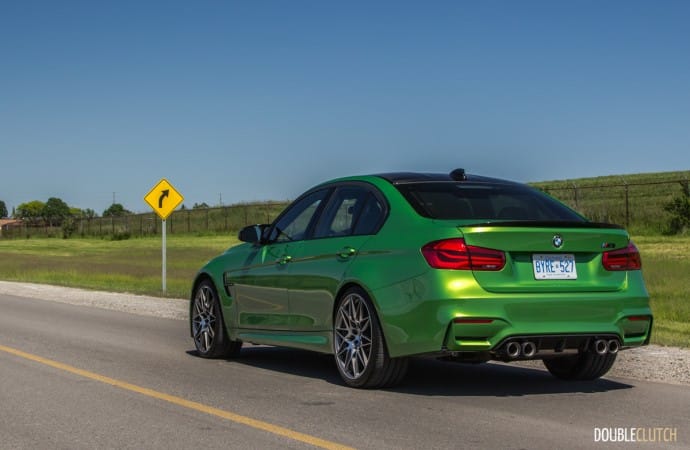 From a handling perspective, a new BMW is considerably different from older models, but that's not necessarily a bad thing. The unbeatably precise hydraulic steering of years gone by is now a thing of the past, but the new electric steering setups deliver point-and-go crispness. Unfortunately, it doesn't feel nearly as engaging as its predecessor, but the new M3 does boast superior handling characteristics and better on-center feel, not to mention excellent turn-in. When comparing to rivals like the Cadillac ATS-V (reviewed here), the M3 still feels every bit like a BMW should.
Ride quality is something that this test was able to evaluate more extensively than we otherwise would, thanks to an extended weekend getaway a few hours outside the city. The Adaptive M Suspension (part of the Ultimate Package on this car) does a stellar job at keeping the M3 fully composed regardless of road conditions. Cruising on both the 400-series highways as well as lesser-maintained roads up in cottage country, the M3 didn't break a sweat. Keeping the suspension in "Comfort" makes for a comfortable ride that remains firm, but not jarring in any way. Setting the dampers up in "Sport Plus" is naturally the firmest setting, and the results here are very good as well.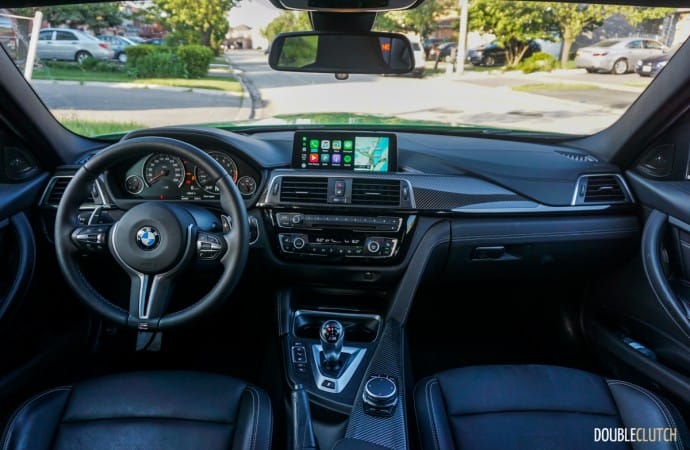 The BMW M3, especially in Competition form, is not a car that was designed with fuel economy in mind. That said, the current one is a massive improvement over all of its predecessors, as the six-cylinder motor does a fantastic job at maximizing efficiency. Optioned with the DCT, the M3 is rated at 14.0L/100km city, 9.7L/100km highway and an overall 12.1L/100km. On our longer highway run, we demolished these ratings with an observed 9.1L/100km over 600km. City driving with the car in the Sport Plus setting resulted in a more realistic 13.8L/100km. The 60L fuel tank should only be filled with 91 octane or higher premium fuel, and thankfully, the idle start/stop system can be fully disabled.
This particular test vehicle has a level of equipment that's almost overkill, but that in turn results in the interior being a spectacular place to spend time. The attention to detail is staggering, including M signature red and blue stitching on the seatbelts, steering wheel, and strategically throughout the cabin. Ergonomics are excellent, and the aggressive M Sport seats strike the perfect balance between bolstering and comfort. They are in no way as intrusive as the seats in the Ford Focus RS (reviewed here), but they are more than adequate for the weekend track day.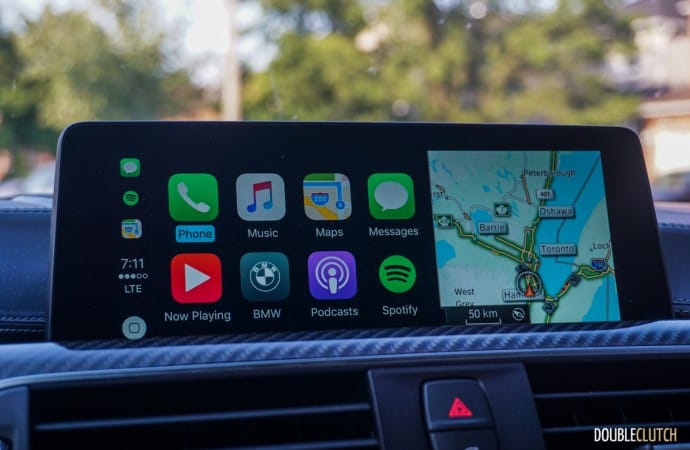 In-car electronics and connectivity has never been better, and while some of the newer BMW models like the 540i (reviewed here) offer tech like gesture controls and built-in scents, the latest iDrive system in this M3 is a good balance without being "too much". It offers compatibility with Apple CarPlay as well as Bluetooth, a WiFi hot spot, navigation, and everything else you'd require. BMW's CarPlay is still the only one that doesn't require a wired connection, but as a result isn't as seamless as other manufacturers' applications and does have some glitches.
Pricing for the M3 sedan starts at $76,000 in Canada. Our vehicle was equipped with a $24,000 "Ultimate Package", that offers quite literally everything available. Sticking to just the performance goodies, this includes 20" Competition wheels, adaptive M suspension, carbon fiber spoiler/mirrors/rear diffuser, the full Competition Package, M Performance exhaust, and carbon fiber front lip. Extra trinkets include heads-up display, heated rear seats, rear sunshade and side blinds, full ConnectedDrive with wireless charging, and LED headlights. Factor in the $3,900 for the transmission and you're at $104,900 before the cost for the ultra-rare BMW Individual paint.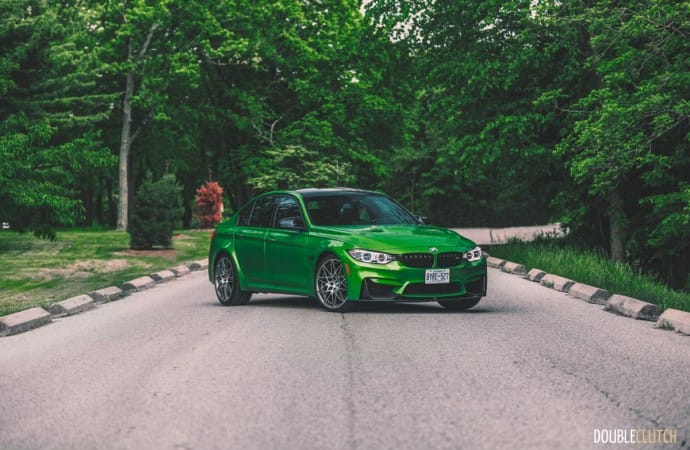 No matter how you look at it, the 2017 BMW M3 Competition Package is a seriously aggressive-looking car. With carbon fiber almost everywhere, BMW's signature angel eyes, a beastly exhaust, the car has an overall stance that intimidates any "lesser" automobiles on the road. The Java Green paint gleams like nothing else out there, and will attract the eyes of almost everybody it encounters. Automotive purity in its most analog form is slowly disappearing, but that doesn't mean performance cars are any less fun. Cars like this M3 deliver a blisteringly good driving experience in the most modern of ways, and that's not a bad thing by any means – this is one of the most fun four-doors available at its price point.
2018 BMW M3 Competition Package Gallery
See Also:
2017 BMW M3 Competition Package
*Certain photos contributed by Andrew Zhang*