With a new generation debuting for the 2017 model year, the 2018 BMW M550i is the latest variant of the "G30" generation of the 5-Series sedan. While not intended to be quite as fire-breathing as the legendary M5 ultimate sports sedan, the M550i is positioned as a sporty in-between for those who don't need the legitimately bonkers nature of the M5, but are looking for more than the plain-Jane 530i or middle-of-the-road 540i. Earlier this month, BMW Canada gave us the opportunity to be the first Canadian media to try out this Carbon Black Metallic M550i, and it immediately made a huge impression with its bold styling inside and out.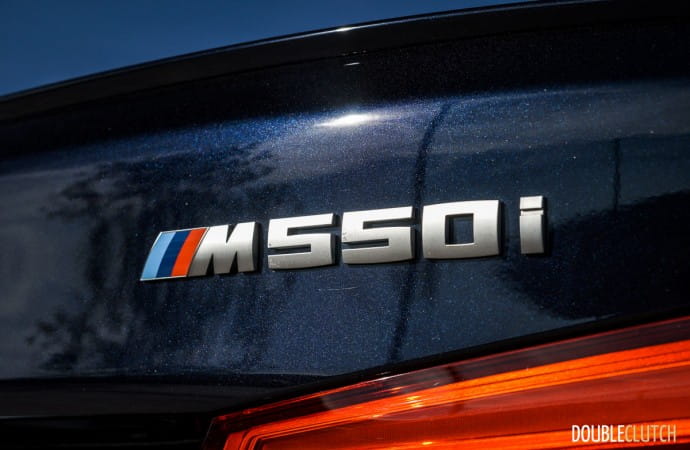 Aside from the striking pose, the M550i is more than just a pretty face. Its base pricing starts at $80,900, and the test car had only a few essentials checked off on the option sheet. The $6,500 Premium Package includes soft close doors, side and rear sunshades, cooled front seats with massage function, ceramic controls, and a 360-degree camera, among other things. For $1,500, the Advanced Driver Assistance Package brings to the table the full modern safety suite, including lane keep assist, cross traffic alert, and adaptive cruise control. Lastly, the $750 Smartphone Connectivity Package adds Apple CarPlay, wireless charging, extended Bluetooth, and WiFi Hotspot capability.
While buyers have the option to exclude these packages, it would still be completely acceptable if it all came standard with a higher base price. For $89,650 as-tested, the pricing is still well within the realm of competitiveness amongst the likes of the Mercedes-AMG E43 4MATIC, and is actually cheaper than the Lexus GS F (reviewed here). As a wildcard, for only a bit more money, there's also the considerably crazier 640 horsepower Cadillac CTS-V that's less sedate for daily driving. In the same vein, the smaller but similarly priced BMW M3 Competition Package would also fall in the same category as the Caddy, but it's available with a dedicated manual transmission, for those who insist on rowing their own gears.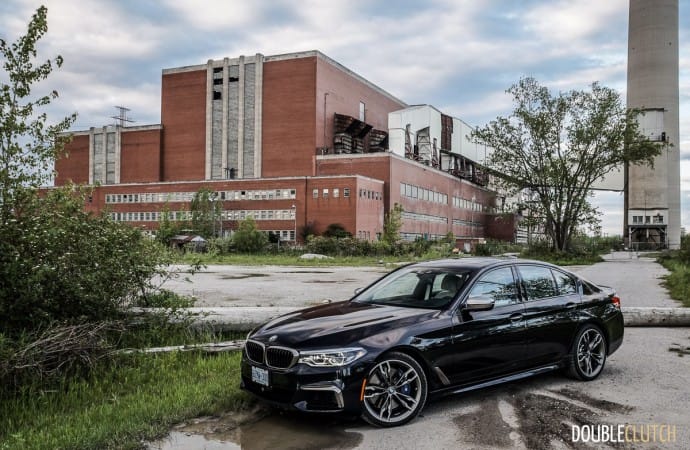 Right off the bat, BMW claims that the M550i is the fastest 5-Series to date. This is made possible by two twin-scroll turbochargers feeding a 4.4-litre V8 that pumps out 455 horsepower between 5,500 and 6,000RPM, as well as 480 lb-ft of torque between 1,800 and 4,750RPM. These are monstrous figures that are sure to please all manner of magazine racers, but in practice, the N63 V8, as it's known in internal BMW circles, is an absolute treat to wring out. With the bare minimum turbo lag that is just about imperceptible, the M550i urges the driver to push it at any and every opportunity. BMW says that the zero to 100km/h time is a butt-puckering 4.0 seconds, which is actually faster than the last M5's time.
The staggering performance numbers are helped along by a wonderfully tuned eight-speed automatic transmission. While it's the same 8HP model sourced from gearbox manufacturer ZF, it's been tweaked in such a way that its performance rivals that of any performance-oriented dual-clutch transmission. Even better, it retains daily drivability with excellent cruising manners. With a series of shift and driving modes available (Comfort, Sport, Sport+), transitions from gear to gear arelightning quick and seamless, ensuring an uninterrupted supply of acceleration. BMW's latest version of xDrive all-wheel drive also puts power to the ground under any and all driving and weather conditions. Simply put, it's one of the most delicious powertrains tested this year. Period.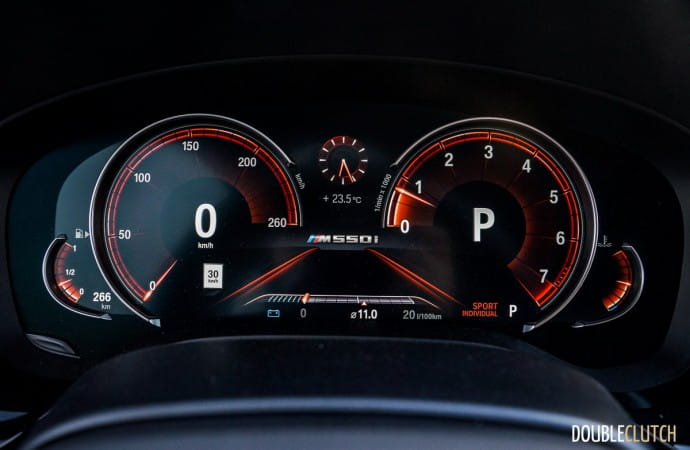 With all the fun and snarly noises of the N63 V8, fuel economy doesn't necessarily take a back seat. While official fuel economy figures weren't available at the time of this writing, observed fuel economy was a much better-than-expected 11.0L/100km with a heavy right foot and a slant toward highway driving. With 4.4-litres of displacement and turbo boost pressure turned up to eleven, yesterday's cars would have struggled to achieve even 13.0 to 14.0L/100km on average. As further testament to today's engine control and fuel injection technology, only midgrade fuel (89 octane) or better is needed to do business in the M550i, but premium (91 octane) is still recommended.
When wearing an M badge on the rear decklid, the expectations are immediately set fairly high for the BMW M550i in terms of driving dynamics. The regular 5 Series, in 530i and 540i (reviewed here) forms, are relatively tame, more numb feeling cars that may have some enthusiasts and purists wondering about what BMW is doing with the "Ultimate Driving Machine" mantra. Thankfully, the M550i doesn't disappoint, and zigzags about as well as it accelerates. Even though there were a series of driving modes available, the entire week on test had the steering locked in the firmer Sport setting. Engine, Transmission, and Suspension felt best when set to Comfort.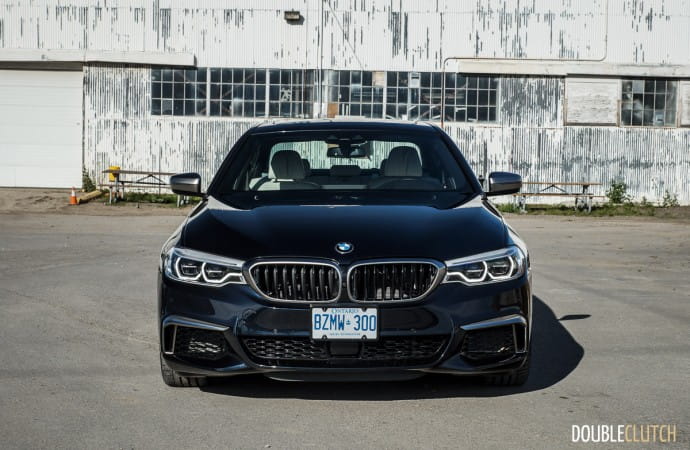 In Sport, the steering is well-weighted and provides good feedback, especially considering that it's an electric power assist unit. The engine, transmission, and suspension in Comfort setting are perfectly suited to street driving – throttle tip-in isn't too aggressive, gears aren't held for too long, and the suspension isn't crazily harsh. Even so, the M550i still remains responsive to requests to play. In either suspension setting, turn-in response is better than expected for a 2,058 kilogram (4,537 pound) sedan. The difference in ride and handling between the two suspension settings isn't night and day, and both will be able to put a smile on your face in the twisties without breaking your back. To further enhance the handling experience (not equipped on the test vehicle), an Adaptive M Suspension with active roll stabilization and rear steering is available for an additional $3,500.
In order to get the suspension and steering tuning down to the pavement, all M550i models come equipped with staggered 20-inch alloy wheels that are 8-inches wide up front and 9-inches in the rear, wrapped in 245/40R19 and 275/35R19 Michelin Pilot Sport 4 S, respectively. As the new successor to the much-loved Michelin Pilot Super Sport, the Pilot Sport 4 S even further enhances the handling feel and traction of the M550i in both wet and dry conditions, while still maintaining a whisper-quiet interior and full road manners. To help you stop, the M550i is equipped with massive M Sport brakes that do a great job of hauling it down without any inklings of fade.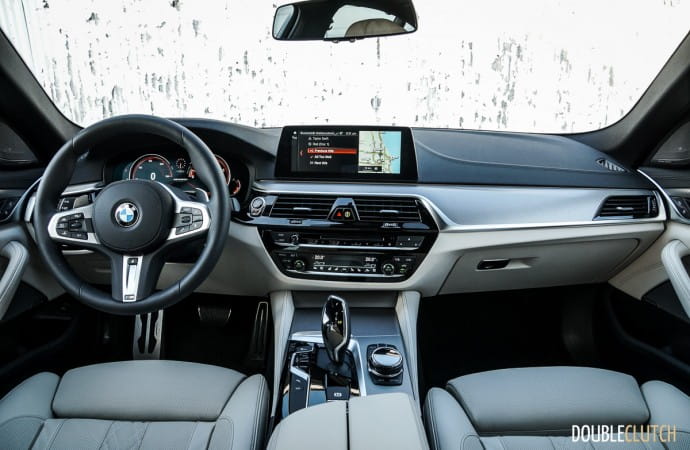 Inside, the M550i tested featured an ivory and black Nappa Leather colour scheme that is available with the Premium Package, and was complete with contrast stitching and piping. While the light shade of leather will be a pain to keep clean in the long term, it makes the M550i's interior a beautiful cockpit to spend time in. Seat comfort was excellent, and long highway drives are made better with massage seat functions for front seat passengers. With an almost-minimalist approach and careful selection of colours and tones, BMW once again has shown that they are at the forefront of interior design.
On top of the impeccable design in the cabin, the current version of BMW's iDrive multimedia system is also top notch. All functions are accessible by the control wheel adjacent to the shifter, and while some functions are nested deeply in somewhat obscure menus, the look and feel of the interface is second to none. The aesthetics of the navigation system are among the best in the business, and the Harman-Kardon audio is also wonderfully executed, with great balance and sound quality. The electronic gauge cluster changes as different driving modes are selected, and when combined with a head-up display, serves to keep the driver abreast on all of the goings on in the M550i.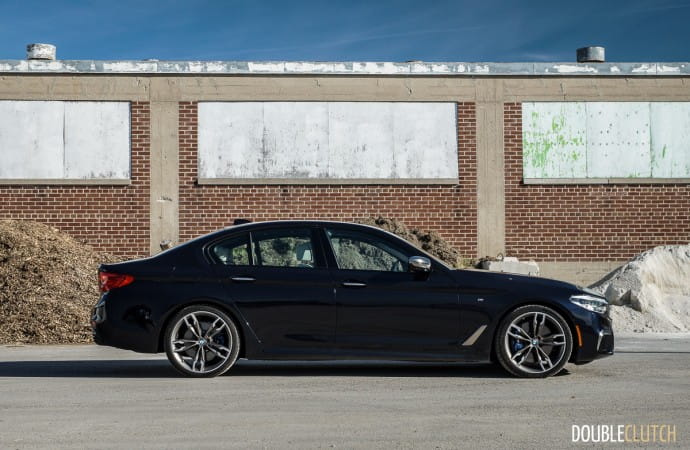 While the upcoming M5 is going to be a no-compromises performance machine, the 2017 BMW M550i manages to turn things down a notch in order to provide daily comfort and refinement without killing too much of the performance. It is also a significant step up from the tamer 530i and 540i, with great handling and an absolutely amazing powertrain. The 4.4-litre twin turbocharged V8 and eight-speed automatic alone can propel the M550i into greatness, and it should be on everybody's shopping list of near six-figure sports sedans. As a package, it begs the question: If the M550i is this good, just how crazy awesome is the M5 going to be?!
2018 BMW M550i xDrive Gallery
See Also:
2017 Mercedes-Benz E 300 4MATIC