If you stand in any paddock at any weekend track day or autoslalom event and take a look around, you'll find one recurring nameplate: Mazda. The brand associated with the zoom-zoom and "Driving Matters" slogans is one of the most popular you'll find being enjoyed at speed. The MX-5 and Miata of all generations enjoys success, whether in stock form, or modified to the extreme. The reason for this is fairly simple, but it's a formula that isn't really followed anymore. Mazda's relentless focus on reducing weight and improving on the driving experience (as part of their SKYACTIV philosophy) has won hearts over all around the world. The MX-5 (reviewed here)  essentially takes over where classic British roadsters left off, and improved the formula, in typical meticulous Japanese fashion.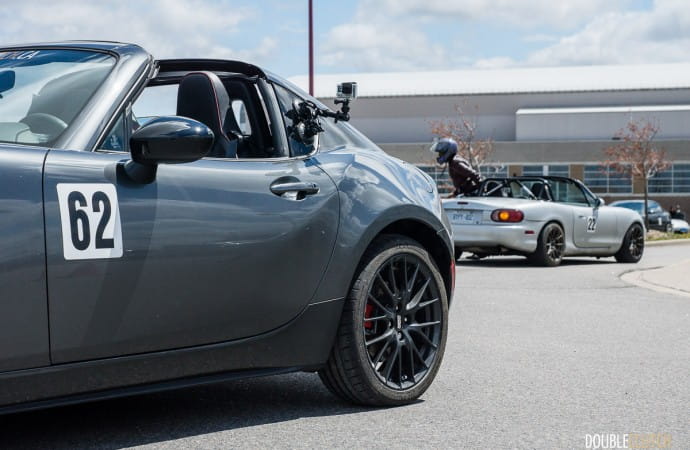 What is autoslalom, you ask? When it comes to the world of grassroots motorsports, it is arguably the best entry point for somebody who wants to feel out the world of competitive driving, and it's a fantastic way for somebody itching to feel some speed other than what they can experience (legally) on the street. The venue is almost always simple: a large paved parking lot, airport runway, or open space, peppered with orange pylons. A makeshift course – which changes with every event – is created based on where the pylons end up, and you race against the clock.
There are cones that you need to go around, and there will be cones set up like gates where you need to go through. If you mess up and hit a cone, you'll be assessed a time penalty. If you get lost and miss a gate, you may considered "off course". The low cost of entry is one of the biggest draws, but another big benefit is that autoslalom is generally considered to be "easy" on your car, in terms of stressing the hardware bits.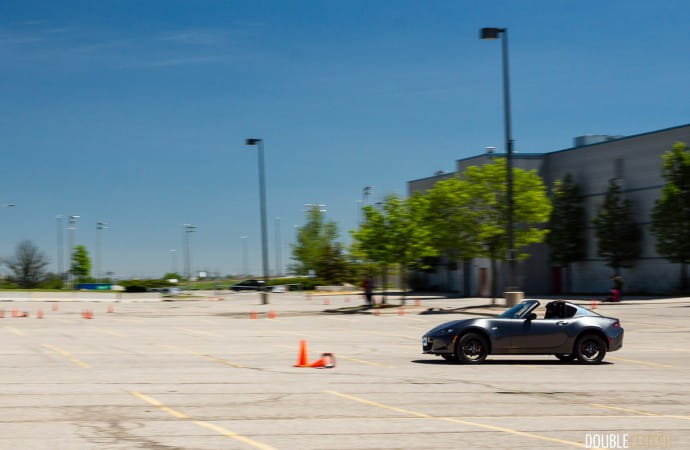 Mazda's hot new fourth-generation "ND" MX-5 roadster has quickly become one of our favourites (and my personal favourite for the 2015 model year), but the hot news for the 2017 model year is the Mazda MX-5 RF. Those two additional letters stand for "Retractable Fastback". It changes out the fabric soft-top of the standard MX-5 for a targa-like power retractable roof. What it also adds are additional curves and body lines that really enhance the MX-5's look. The hard section above the driver and passenger is what gets stowed away, and it's an operation that will take just twelve seconds.
There's no penalty to your trunk storage space, and you're even able to see it in action at speeds of up to 10km/h. The added weight is estimated to be in the neighbourhood of 175lbs, or about 80kg. The MX-5 RF is a sharp looking car, with just the right amount of curves in the right places. The attention it garners on the street is really positive, enough that even the local police wanted to get a closer look, on friendly terms.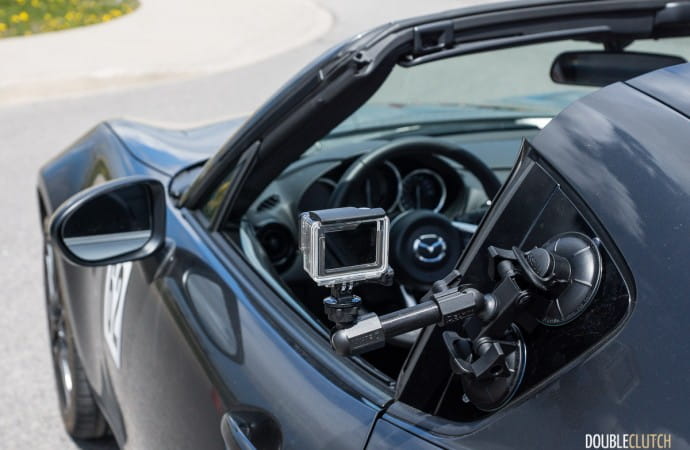 How do these two topics come together? Our Machine Grey Metallic 2017 Mazda MX-5 RF came with the base GS package, but also adds the all-important Sport Package, which includes a number of legitimate go-fast goodies: Brembo front brakes with fixed calipers, 17-inch BBS forged dark-finish wheels, and Recaro sport seats (heated with a mixture of leather and grippy Alcantara). This builds on the standard limited-slip differential, Bilstein dampers, and front double-wishbone suspension configuration, all of which are included with the stock MX-5 RF.
For the sake of this long-term test, courtesy of Michelin, we've fitted a set of their Pilot Super Sport summer tires, in the factory size: 205/40R17. Many enthusiasts will be popular with the "PSS", as it provides an unbeatable balance of road manners, wet-weather hardiness, and excellent grip under pretty much all conditions. The cherry on top is the claimed 300 treadwear rating, which easily surpasses many "Maximum Performance Summer" tire rivals from competitor brands. Tires are almost always the best upgrade you can make to your car, and we handily recommend the Pilot Super Sport, as well as its successor: the upcoming Pilot Sport 4 S.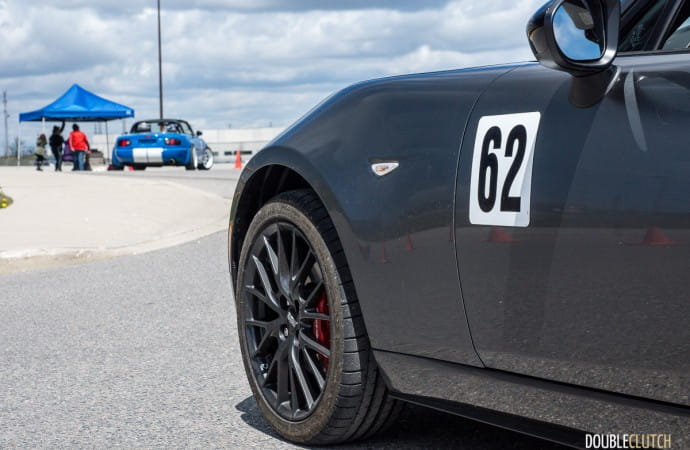 So, how does the MX-5 RF fare in such a competitive scenario? It has all the right credentials to do well, but autoslalom is more often about the driver, than the sheer horsepower one brings to the fight. All the cars are separated into different performance classes, and the MX-5 RF was put into the "A-Stock" class, which was where the low-powered, unmodified rear-drive cars played. The MX-5 is easy to drive fast, with light and fairly communicative steering, and good body control. The pedals are placed perfectly, and heel-toe downshifting operations are super easy to nail, every single time. The Bilstein dampers do a good job keeping spring travel in check, but the immediate takeaway is that there is a fair amount of body roll when under a lot of lateral load.
Body roll itself isn't a bad thing, because a little bit of it can enhance tire grip, and the MX-5 RF takes it in stride by managing transitions and weight transfer well, in a way that is easy to manage, under dynamic conditions. The Michelin Pilot Super Sport tires did very well, though we discovered it is important to keep an eye on tire pressures – we had to add more air to firm up the sidewalls. Too little air could see the sidewall folding under the wheel under excessive lateral loads, reducing overall grip.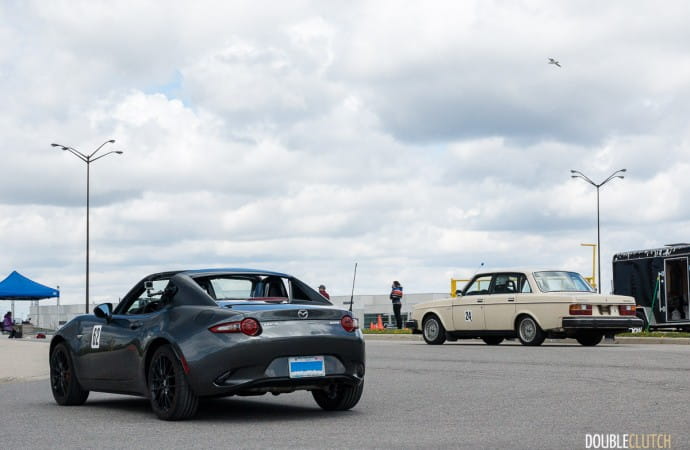 While driving impressions can be a somewhat subjective item, the results at the end of the day provide some insight to how everything is tied together. Within the A-Stock class, I finished third in a section of twenty-two, and thirteenth overall, out of over one hundred competitors. The cars and drivers ahead of myself were either more experienced, had better tires, more horsepower, or a combination of all the above.
The other important numbers: this particular Mazda MX-5 RF, in GS trim with the Sport package stickers at $43,500. This isn't an insignificant amount of money for a compact sports car, but Mazda is banking on the more premium "feel" afforded by the MX-5 RF to justify the pricing. It also seems that Mazda is chasing a somewhat different customer with the MX-5 RF – someone who is more affluent and possibly of a more advanced average age. The second important number: I averaged an indicated average fuel economy of 7.7L/100km throughout my week of commuting, highway runs, and the autoslalom action you're reading about now.
The diversity of the paddock is not to be underestimated; not simply from the cars that attended, but more so from the drivers who make up the grid. People of all ages can really get into this form of motorsports, and the diverse crowd makes for a fantastic community. Though it isn't quite as exotic as camping out at Circuit de la Sarthe, in Le Mans, France, life-long friendships are forged while standing in the sun, in a suburban parking lot. It's about the most fun you can have with your clothes on! If you are interested in improving your skills, getting the speed out of your system, and seeing what your car can do, check out the Push It To The Limit series, at www.pitl.ca. Events are typically held in Brampton, Ontario, on weekends throughout the summer. The best part is: you're usually home for dinner hour.
The results are impressive to say the least, and quite honestly, a little surprising. This event would have been the second event that I've driven the MX-5 RF at speed, and the expectation was a little more modest, as the day began. The conclusion after this autoslalom event would be that the fourth-generation MX-5 is a machine that enjoys dancing with you, and it is a machine that inspires confidence. It talks to the driver in a way that very few new machines can, these days. It's difficult to think of a better machine for this purpose, at any price, that can be picked up off a showroom floor.
Long-Term Test Update: 2017 Mazda MX-5 RF