Sometimes choosing the option in the "middle" is quite all right. For example, it's always sensible to get the medium popcorn and drink at the movies. The small is never enough, and the large is apparently meant to feed forty-seven people and costs about a thousand dollars; not to mention that no one needs to consume four litres of Coke in one sitting. In fact, Frankie Muniz made a career (albeit a short one) out of being in the middle.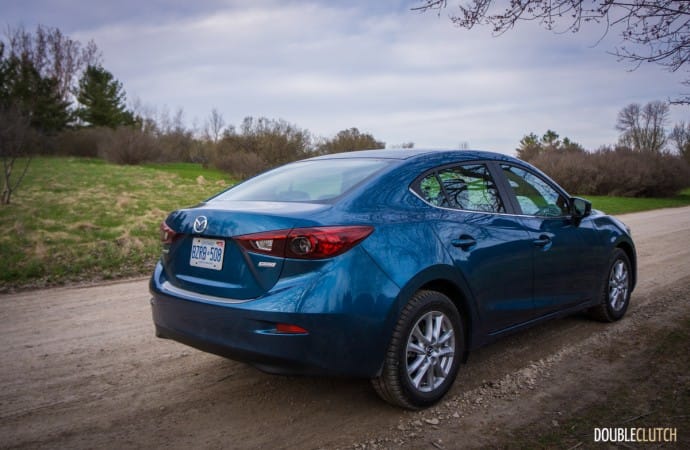 In the likes of compact car world, most manufacturers offer a range of vehicles, and thankfully in the last decade, the middle range models are coming with more and more standard features and equipment. The Mazda3 is a favourite of those looking for a small economical car that is fun to drive, and while the GT trim Mazdas of today are quite nice, many will opt for the mid-trim GS. And you know what? There isn't a single thing wrong with that.
The 2017 Mazda3 GS sedan on test came in at $22,500, with the optional six-speed automatic transmission ($1,300) and optional moonroof ($900).  While $900 seems like a hefty sum for Mazda to cut a hole in your roof, it completes this car to the point that we asked the question: Do you really need more kit? The GS trim level comes as standard with Mazda's 7" touchscreen display, a back-up camera, heated front seats and steering wheel, rain-sensing wipers, automatic on/off headlights, heated exterior mirrors with integrated turn signal indicators, 16″ alloy wheels, Smart City Brake Support, Advanced Blind Spot Monitoring system, and Rear Cross Traffic Alert.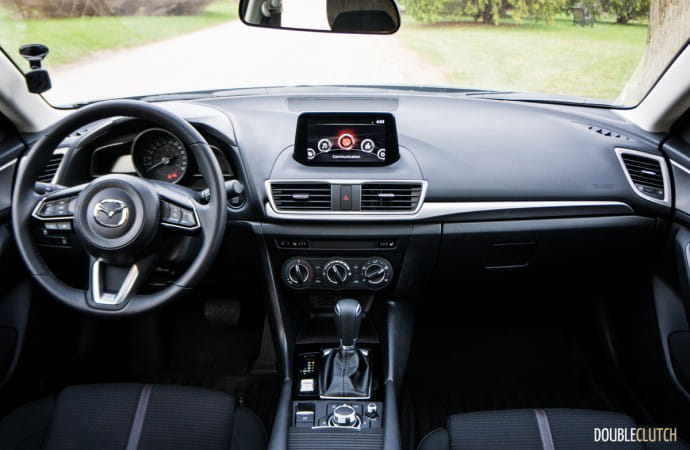 The reality is, today you are spoiled for choice with cars with these levels of goodies, if you are fine without leather seats. The Honda Civic (reviewed here) has similar features, as does the Hyundai Elantra GLS (reviewed here), but we found the Mazda3 GS to be a very tempting choice.
As is typical with Mazda, the driving dynamics were a highlight of this car. The steering is acceptably weighted, and some feedback makes it through to the driver. Brake pedal feel is good, and the car feels light on its toes.  Mazda's G-Vectoring Control continues to impress, and on a slippery or loose surface, will make the car feel as though it has been set up to rotate for competitive autocross. Turn in, and you can feel the rear rotate around. The systems will eventually intervene and prevent the car from rotating too far, but if you don't push the car too hard it feels very balanced.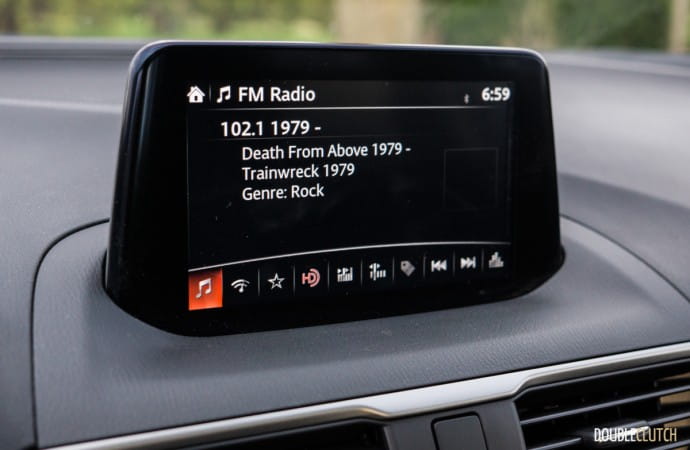 Generally we always recommend getting the manual for extra fun, but the SKYACTIV-drive six-speed automatic is still plenty engaging. The 'Sport' mode is very well mapped, and the Mazda3 will be eager to downshift to keep you in the powerband.  Brake hard, and it will downshift with a satisfying throttle blip to make sure you are in the right gear for the corner.  We found that this wasn't 100% consistent though, so thankfully the manual mode allows you a decent amount of control over gearing. Flick the gear selector over to the left and you are ready to rock; bumping it forward will downshift, and pulling it back will up-shift. That's the way it's supposed to be (are you listening Kia?).
This Mazda3 has a SKYACTIV 2.0L four cylinder that makes 155 horsepower at 6000RPM and 150 lb-ft of torque at 4000RPM on all natural air – no turbocharging here. Power delivery is quick, if not exhilarating, and it makes a respectably good noise. We found that leaving it in normal mode will work fine for just casual commuting, but if you are in need of quicker power delivery, you are best to leave the transmission in sport mode, as this will flatter the responsiveness of the engine.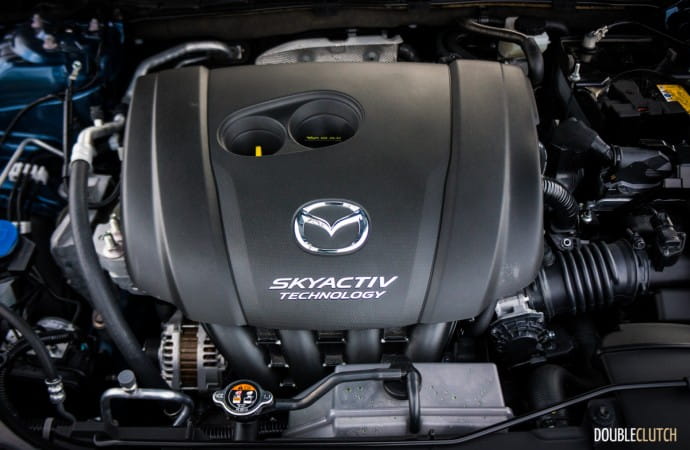 We found the Mazda to be a comfortable commuter throughout the week. The non-powered seats were supportive enough that longer commutes weren't a bother, and the ride was compliant enough that we have nothing to complain about. Noise levels were a bit high for this segment, but our tester was still on snow tires, so lower cabin noise levels are possible on the factory all-seasoned. We managed good fuel economy as well, averaging as low as 7.5L/100km in a mix of city and highway driving. We only needed to top up the 50L fuel tank once in a week of busy commuting.
Mazda Connect is a decent interface, and once you master the HMI Commander dial on the centre console, navigating through the menus can be done quickly and from a relaxed position. Our tester wasn't equipped with navigation, but who doesn't have a smartphone these days? We had manual climate control on this tester as well, which isn't a bother honestly, because it is very simple to use. The interior as a whole is a satisfying place to be, and the materials are good, as are the aesthetics. The rear seats fold 60/40 and the trunk is easily large enough for a weekend away.  The rear seats are not huge, but under 6' folk will fit.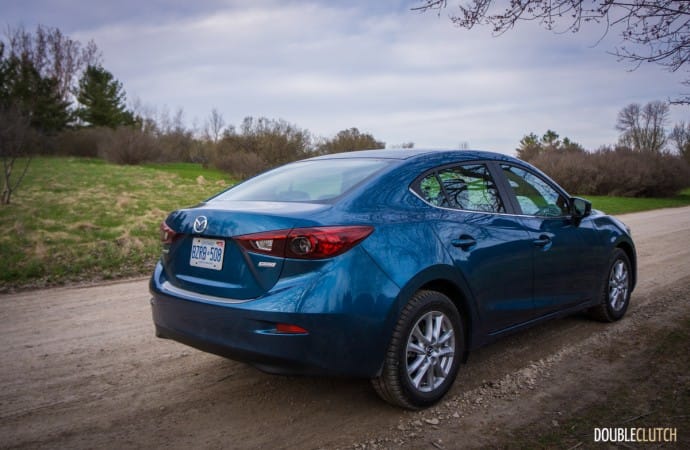 From the driver seat, you will find yourself in a simple atmosphere. The steering wheel is nicely shaped, has smooth Nappa-like leather, and nice finishing.  We did have one gripe about the gauge cluster: The speedometer is fine, and easy to read, but the two tiny screens on either side of it that display RPM, fuel level, fuel economy, and engine data, were too small and difficult to read. If the sun was out at all, the screens always seemed to have a bit of reflection on them, sometimes making them completely unreadable.
Unless you are set on leather seating, heads-up display, LED lights and the other goodies of the GT trim, you will likely be very satisfied with with the 2017 Mazda3 GS.  The five-door Sport GS is another fine option if you are interested in the extra space the hatchback provides. All things considered, this car is a very acceptable daily commuter. Those who don't feel that they need all the trims and trappings of the highest level will definitely find a friend in the Mazda3 GS.
2017 Mazda3 GS Gallery
See Also:
2017 Chevrolet Cruze LT Manual