There's a lot of buzz around diesels right now. Okay, maybe most of it has to do with the recent Volkswagen scandal that has rendered the otherwise-sublime TDI motors unsellable in North America. Even still, it's no secret that many automakers are choosing to do away with their diesel options in favour of more "green-friendly" hybrid and plug-in hybrid vehicles. The thing is, these are only favourable in urban commutes, where the hybrid systems provide optimal efficiency. So what options are left for those who have daily grinds that are mostly highway trips?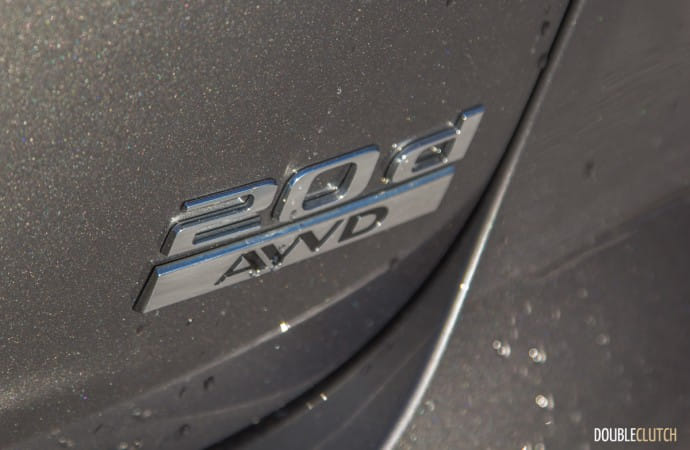 Jaguar doesn't currently have anything hybrid or electric in production. A concept was shown at this year's LA Auto Show that hints at this future, but nothing has been confirmed. This year marked the entry of two hot new models in their lineup, the F-Pace crossover (reviewed here) and the sporty XE sedan. Both of these cars pack a diesel motor as the entry-level powertrain, and this new engine has trickled into the mid-sized XF as well. The car tested here is a nearly loaded 2017 Jaguar XF 20d AWD R-Sport, with the diesel engine and tons of other goodies.
The first thing that needs to be said about the XF's diesel powertrain is that it deceives. With numbers of just 180 horsepower at 4,000RPM and 318 lb-ft of torque peaking between 1,750 and 2,500RPM, the supercharged V6 (reviewed here) seems more appealing at first glance. The diesel is part of Jaguar's Ingenium family, and it just has gobs of torque. The XF doesn't feel slow whether you're driving around the city or out on the highway. It's more than adequate, and we found the motor, with its 15.5:1 compression ratio, having a quiet grumble that's almost therapeutic. Power delivery is very linear with a smooth torque curve, and the XF doesn't run out of breath when trying to pull off quick passes at highway speeds.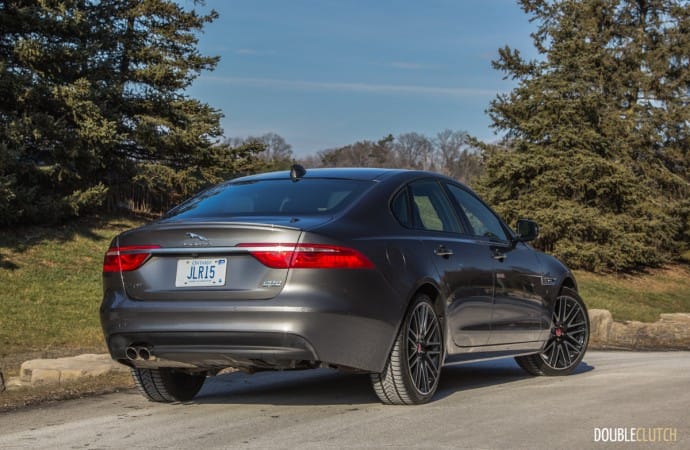 Power is sent to all four wheels on this model through a ZF-sourced eight-speed automatic. There are nine and ten-speed units starting to make their way into the market, but this eight-speed is still the silkiest in the business. Paddle shifters on the steering wheel allow for a manual shifting mode, and the car's personality can be altered between normal, "Eco", and "Dynamic". The XF 20d's character is best suited to regular highway driving rather than athletic corner carving, but it performs all tasks amicably. It still will hit 100km/h in 8.4 seconds without fail.
When potential buyers consider a diesel powertrain, the most important points are refinement and overall efficiency. This engine is very refined, relatively quiet, and is right up there with Mercedes-Benz's Bluetec (reviewed here). BMW still makes a diesel, but it's significantly louder and more crude than this unit. Audi's doesn't exist anymore, and Lexus and Acura are focusing on hybrids and performance hybrids. The Ingenium diesel does exhibit a little bit of that classic diesel clatter at idle, but the interior is so well insulated you won't notice when driving. In fact, we had to inform most of our passengers that this car is a diesel, it's that quiet inside.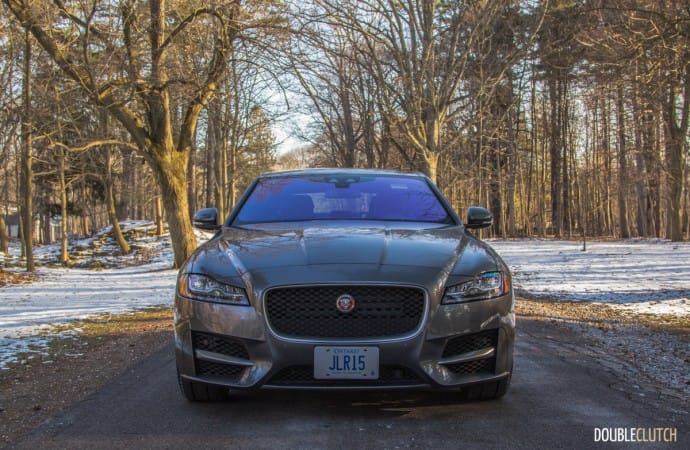 Natural Resources Canada estimates that the XF 20d with AWD will get 7.8L/100km in the city and sip as little as 5.8L/100km on the highway. Our car had the larger 20" R-Sport wheels on it, and this test took place in well-below-freezing temperatures that included an ice storm. With a split between city and highway that displayed an average speed of 57km/h, we were able to squeeze 6.5L/100km out of the XF without really trying. One longer highway trip of about 200km averaging 105 km/h rendered the XF in its sweet spot, displaying just 5.0L/100km at the end of it all. One thing to remember is that the cost of diesel is far less than the cost of premium fuel, so overall running costs will be much cheaper.
This XF is the second-generation car, introduced for 2016. We tested it extensively last year and came away liking the XF S for its crisp handling characteristics. The electric power steering is well weighted and the car corners with tons of confidence. All-wheel-drive is standard on Canadian XF models, which takes a slight toll on overall fuel economy, but adds peace of mind. Our tester was riding on Pirelli SottoZero performance winter tires, which didn't take away from the car's natural abilities.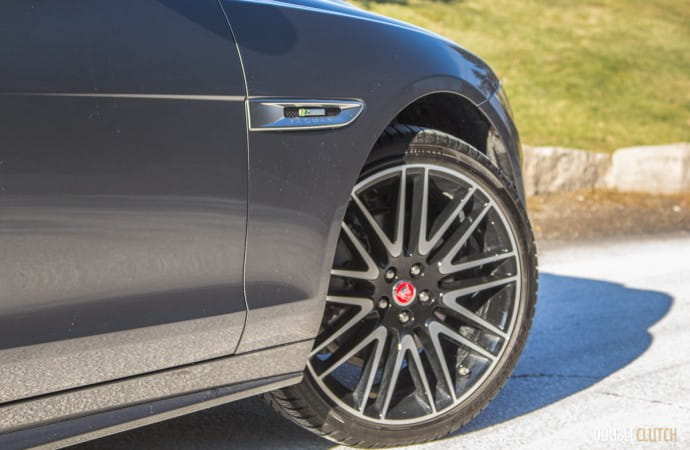 The exterior of the XF boasts a smart and elegant design, making it a real looker in the segment. The problem is, Jag's XE (reviewed here) looks almost identical. Keen as we are, unless the two cars are side by side, it's impossible to differentiate them. A sharp fascia gives an excellent first impression, with Jaguar's Active LED Technology badge integrated onto the LED headlights. The side profile is muscular and the 20" aluminum wheels fill in the wheel wells nicely, and the car is finished off with a neatly tucked-in rear end. A single chrome strip goes across the trunk lid connecting the taillights, and this R-Sport model also had a rear lick spoiler.
On the inside, Jaguar continues to impress. The seats are two-tone black and red leather, which is a bit out of character for the diesel, but they mesh nicely with the R-Sport goodies and big wheels. Red stitching and carbon fiber accents adorn the dashboard, and all panels fit together nicely. For a mid-size luxury sedan, the XF has good head and legroom, though the rear seats are a bit tight. The driving position is very good, with plenty of adjustability on the driver's seat and power tilt/telescopic steering wheel. The front seats are heated and ventilated, with heating on the outboard rear seats.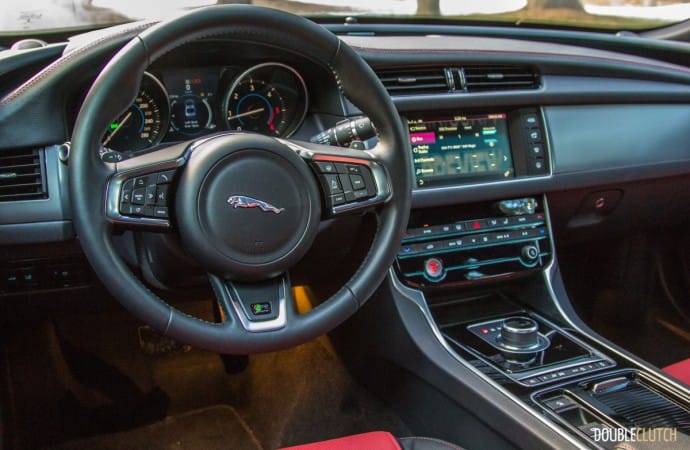 This particular tester didn't have the large touchscreen display with InControl Pro infotainment, but connectivity is adequate. Bluetooth pairing is fairly straightforward and the system can handle audio streaming with either Bluetooth or USB. Though fairly new to the JLR family, InControl still lacks compatibility with Apple CarPlay and Android Auto, something that Mercedes-Benz, Audi, and BMW all feature in their vehicles now. Additionally, the system is sluggish to respond and while the graphics are attractive enough, it's just not as good as BMW's iDrive and Audi's MMI with Virtual Cockpit (reviewed here).
Starting at $60,000 (right in line with the Mercedes-Benz E 300), the Jaguar XF 20d AWD Premium is already well equipped. To get the appearance goodies our test vehicle was optioned with, it becomes necessary to upgrade to the R-Sport at $68,500. This adds sport seats, LED headlights, and a few other trinkets. Our car built on this trim and added Ammonite Grey paint ($650), 20" Matrix wheels ($2,100), carbon-fiber interior trim ($800), heated windshield ($400), heads-up display ($1,300), and a Comfort & Convenience Package adding soft-close doors, powered trunk, and heated/ventilated seats ($2,050). The total sticker was $76,722, which, curiously, does not include the Tech or Driver Assist packages, two essentials in my eyes.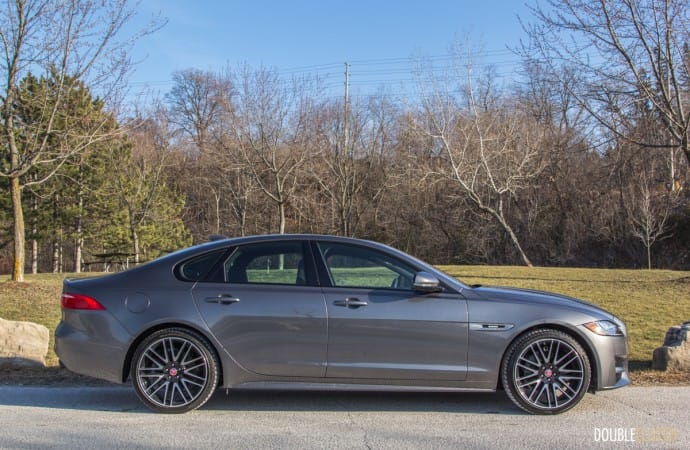 Serious rivals for the XF include the Audi A6, new BMW 5-series, and the Mercedes-Benz E-Class. The Jaguar's market positioning allows it to remain an underdog in the segment, like the spectacular Volvo S90 (reviewed here). Its only true weakness remains the infotainment system and, for those who decide a diesel just isn't for them, the lack of a gasoline-powered four-cylinder engine. What this also means is that there isn't really a boring model in the line; either you get the oil-burning 20d or the sensational supercharged V6 model.
Jaguar offers a great warranty along with no-charge maintenance for the first little bit, which, along with the XF's styling and price strategy, should be enough to get more Canadians into the dealership. The 2017 Jaguar XF 20d AWD R-Sport brings to the table timelessness in more ways than one. Under the ownership of Tata, we expect the long-term reliability of Jaguar Land Rover products to improve significantly, making this a car that will age gracefully, both inside and out.
2017 Jaguar XF 20d R-Sport AWD Gallery
See Also: