When hearing the name "Buick", the vast majority of today's millennials immediately think of the vehicle their grandparents own or once owned. This is understandable, as Buick has a decades-old reputation of building uneventful cars and crossovers with bulletproof reliability and platforms shared and badge-engineered with others in the General Motors family. While there's nothing particularly wrong with that, from a marketing standpoint the marque has lost a bit of its lustre and gone a bit dull.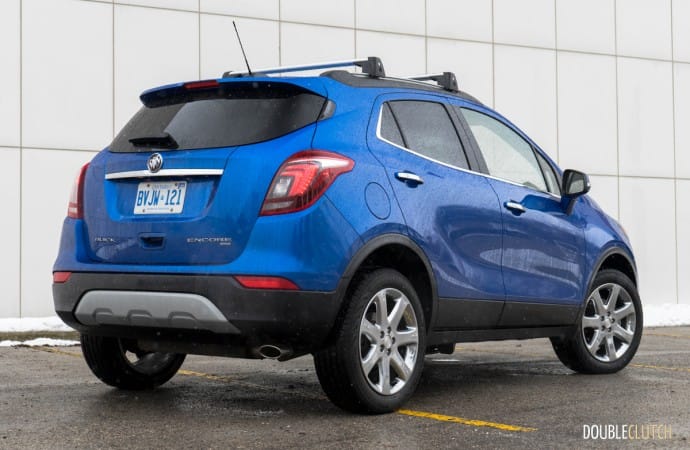 Fortunately, changes are blowing in the wind with recent models such as the all-new LaCrosse (reviewed here) adding more modern technology and a more youthful flair – all with hopes of attracting new buyers. Part of this movement includes a heavy refresh to their subcompact crossover, originally released in 2013 targeting both empty nesters and younger buyers with an urban lifestyle. This 2017 Buick Encore Essence AWD receives extensive updates both inside and out, as GM holds off another year or two on a complete redesign.
Available in four distinct flavours (Preferred, Sport Touring, Essence, and premium), this particular tester was relatively loaded in Essence trim. The exterior changes are fairly obvious upon first glance. New signature LED daytime running lights accentuate the new front fascia, where those same lights are paired with LED turning signals, low beams and high beams as an added touch of luxury. The overall style of the Encore seems to have been squared off in a bid to emote a more sophisticated demeanour, as opposed to the once-bubbly tailoring of the pre-facelift car.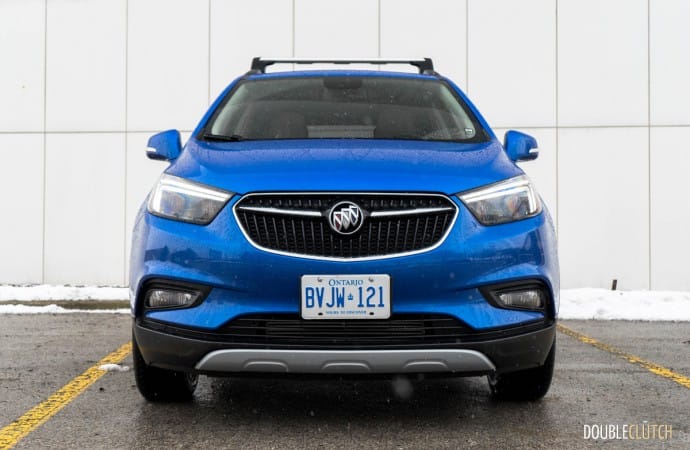 The grille has also been updated to keep up with the changing design language Buick is adopting, with a horizontal chrome bar connecting the logo from edge to edge, splitting the horizontal slats in two along the way. The Encore continues with a narrow and tall body, which quite honestly makes the proportions of the car seem a little silly, and while there is plenty of headroom, it's lacking in overall width. There is no centre console that doubles as an rest point for both passengers, the driver has an inboard armrest attached to the seat, though the passenger is left with only one outboard armrest situated on the door.
The cabin also receives several updates that follow suit with the exterior changes, including a much more sophisticated centre stack featuring a new eight-inch touchscreen display with the latest Buick IntelliLink software, as part of the Experience Buick Package ($2,890). The screen itself is no longer propped up forward on the dash; instead it sits flush between the air vents and leather trim, contoured by black piano finish. Tactile controls have been rearranged and re-organized to reduce clutter, improving ease of use for occupants. Otherwise, components like the steering wheel and gauge cluster receive minor improvements but nothing drastic.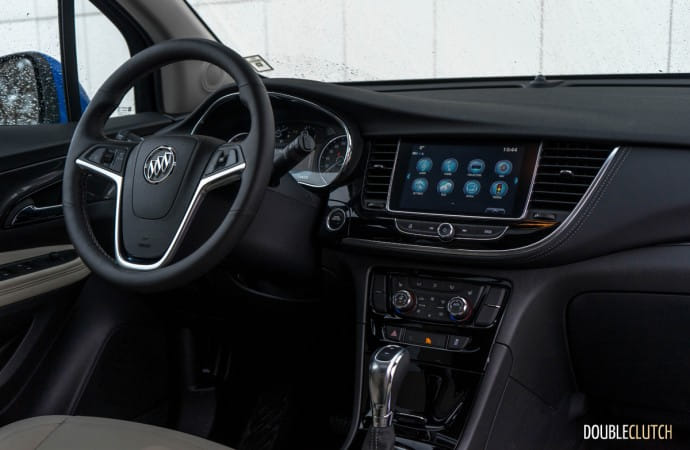 Buyers can expect standard equipment to include a rear vision camera system, push button start, heated seats, a heated steering wheel, and an auto-dimming rear view mirror. One thing that left us wanting more was the sound system. While it suffices, an upgraded Bose speaker ensemble as available in GM family vehicles such as the Cadillac ATS (reviewed here) would do the Encore some good.
While the Coastal Blue Metallic paint ($495) and optional 18" seven-spoke chrome-cladd aluminum wheels surely make the Encore stand out in traffic, that's about as exciting as the driving experience gets. This is to say that the Encore is by no means a thrill seekers dream. The 1.4-liter turbocharged four-cylinder engine produces a mere 138 horsepower at 4,900RPM and 148 lb-ft. of torque between 1,850 and 4,900 RPM.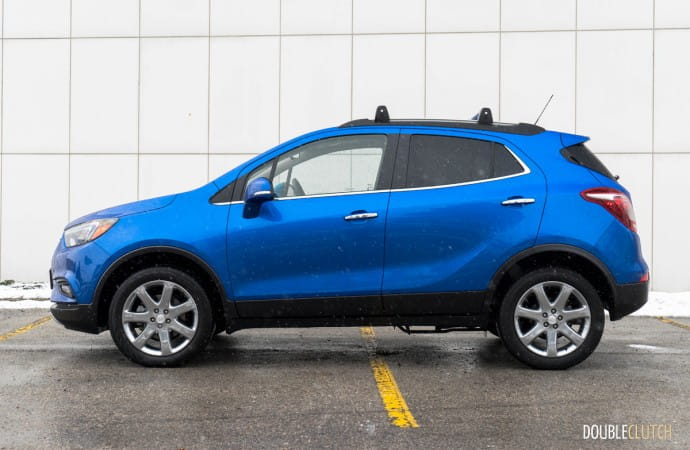 As a city goer, the Encore does an excellent job at driving around, though for what it gains in potential parking ability thanks to small size, it loses in overall passing power. This does however translate to a fuel-efficient little crossover, rated at 9.8L/100km city, 7.7L/100km highway, with a combined rating of 8.8L/100km. Our real-world test resulted in an average of 9.1L/100km using regular fuel.
The new trend of creating smaller vehicles alleviates the issue of space in densely populated areas. Parking situations are sometimes tricky, to the point where larger vehicles simply won't fit. Subcompact crossovers like the Encore are enabling consumers to enjoy the slightly higher ride height and cargo bonus when comparing to that of a sedan, all while still being able to sneak into tight spaces. The Encore brings some added premium flair to the table with sophisticated appointments on both the interior and exterior. Compared to some of the competition, it offers some crisper styling, aside from the tall, skinny shape that it is.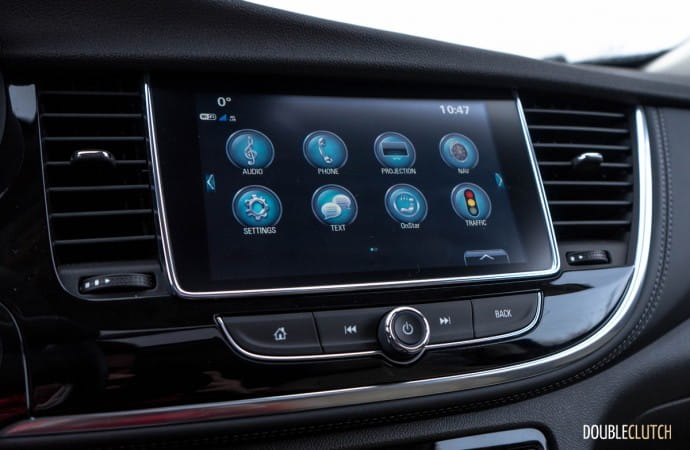 The entry level Encore all-wheel-drive starts at $27,695, while upgrade to the Essence will up the base price to $32,995. After the addition of some GM accessories, like the Roof Cross Rails ($355), and the previously mentioned Experience Buick Package, the total price reaches $36,185, before taxes and fees. While the price seems a little steep of a miniature crossover, the Encore does offer up some enmities that the competition doesn't.
The styling is a welcomed mid-cycle refresh as the outgoing styling needed some refinement, while technology received some proper updates as well. Apple CarPlay, along with Android Auto are now made available as a standard feature along with blind spot assist and a rear-view camera as some standard safety equipment. For those living in a space conscious environment, with the desire of rolling around in something with a bit of luxury, the 2017 Buick Encore Essence AWD deserves some consideration.
2017 Buick Encore Essence AWD Gallery
See Also: