For decades, Subaru has always been the automaker to turn to when car buyers were looking for an all-wheel drive vehicle. In the snowier climates of North America, they comprise just about one of every few cars you see on the road. While it's still important to denote that proper tires are still needed for adequate steering and braking performance in slippery conditions, having power sent to all four wheels is a great help for straight-line traction and acceleration – you're much less likely to ever get stuck from a stop. This year, there's a redesigned compact sedan and hatchback from the venerable Japanese automaker, and we recently had the chance to test out a 2017 Subaru Impreza Sport Hatchback with manual transmission.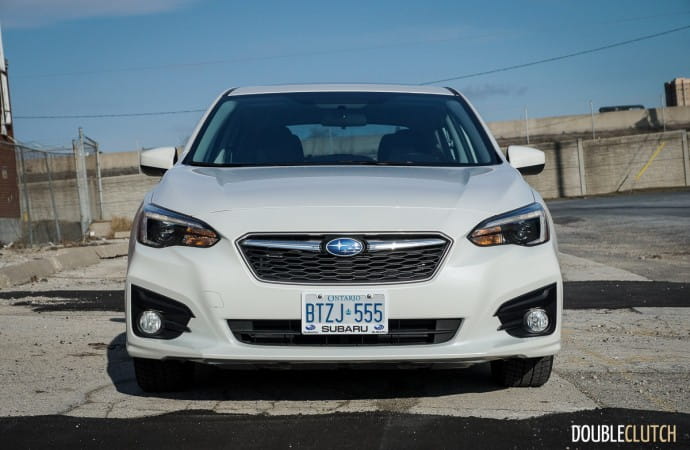 As part of the middle-trim level for the new Impreza, the 2.0i Sport 5-door manual came in at an as-tested price of $25,295. For this amount of money, the little Subaru came equipped with automatic projector-beam style LED headlights that swivel with steering, 17-inch alloy wheels, 8-inch touch screen infotainment with six speakers, retractable cargo cover, single-zone automatic climate control, aluminum sport-style pedals, six-way power driver's seat, and heated front seats. This price doesn't include Subaru's excellent EyeSight safety system, but for an extra $1,900, buyers can opt for added forward collision warning with autonomous braking, blind spot monitoring with lane keep assist, cross-traffic alerts, and adaptive cruise control.
Powering the test vehicle and all other trim levels of the 2017 Impreza is a 2.0-litre, horizontally opposed ("flat" or "boxer") four-cylinder engine. While mostly similar to the outgoing model, this latest iteration brings direct fuel injection to the table, which bumps horsepower by four, to a total of 152 horsepower at 6,000RPM. Peak torque remains unchanged at 145 lb-ft at 4,000RPM. Both figures come in 200RPM sooner than the older port-injected version, but realistically, this won't be noticeable on the street. With the new model, noise, vibration, and harshness is slightly improved, and there's still the same characteristic strong growl from the boxer four. Previous Subaru owners will be used to it and will probably enjoy it, but it can be a little gruff for everyone else.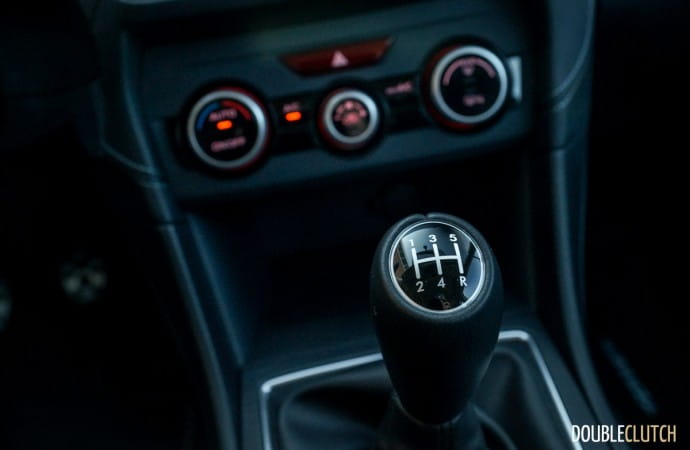 Paired to the engine was a five-speed manual transmission, which appears to be a carry-over from the 2016 model. Compared to the benchmark Japanese manuals in its class – the Mazda3 Sport (reviewed here) and Honda Civic Hatchback are both six-speeds – the Impreza's shifter tended to be more balky and sloppy. Especially on a fifth-to-fourth downshift, it was easy to get the shifter caught between the gates, leading to several seconds of coasting while the right gear was being sought after. Clutch engagement is an improvement over the last generation, with smoother engagement.
Drive-by-wire throttle calibration is also better, and tip-in from a stop was smoother, which helps when driving around town. Unfortunately, the typical Subaru rev hang was still present, and especially between the first three gears, with an extended delay before the engine revs droped closer to match the next gear. The only solution was to either wait, or dump the clutch to catch the next gear, throwing smoothness out the window and also likely promoting extra clutch wear.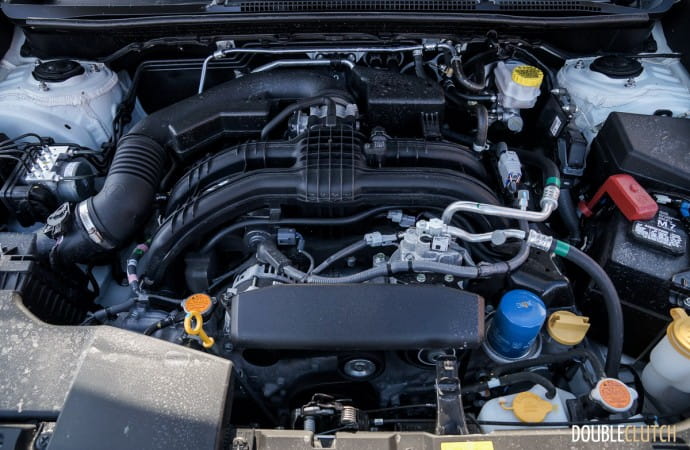 Gearing on the five-speed manual cars was also quite short, especially on the highway, which is unchanged from the previous car. 120 kilometres per hour had the tachometer getting past 3,000RPM in fifth gear, slightly higher than most modern compact cars. With higher speed and higher rev cruising, there was noticeable hum from the engine, and fuel economy took a bit of a hit as a result. The manual Imprezas are rated for 10.1L/100km in the city, and 7.7L/100km on the highway, and observed economy, even with a good amount of highway driving, couldn't do better than 8.9 L/100km. Part of this could have been due to the test vehicle not being broken in yet. CVT-equipped Imprezas are rated for significantly better, at 8.4L/100km in the city and 6.5 L/100km on the highway. Long story short, the automatic cars, while less engaging, will have better daily road manners and superior fuel economy.
Moving inside, the 2017 Subaru Impreza on test had a revamped interior that was much more competitive compared to other compact cars. The previous model's weak point was cheap material selection and lack of premium feel, which has been mostly addressed. Control layouts were more or less the same as with before, but it was a much more pleasant environment to be in. The premium cloth seats were comfortable up front, but as would be expected for a car of this size, three adults in the rear will be fighting for hip and shoulder room. With the seats folded up, 589 litres (20.8 cubic feet) of rear cargo space is available, which grows to 1,566 litres (55.3 cubic feet) with the rear seats folded. Compared to the Impreza sedan, this extra amount of utility is certainly welcome, and isn't very different from the rest of its class.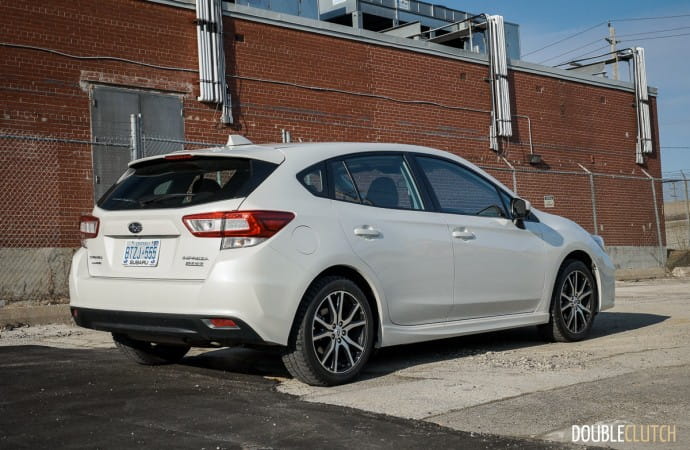 Subaru's STARLINK infotainment has long been a source of complaints for many years, with a slow interface quickly eclipsed by the rest of the industry. Thankfully, the 2017 Impreza brings with it a new iteration of STARLINK, which resolved all of the gripes of the past. Smart phone pairing was easier, navigating the menus was snappier, and the addition of Android Auto and Apple CarPlay meant that smartphone pairing was significantly easier. These interfaces mirror functions like navigation (Google or Apple Maps), voice command (Siri), messaging, and streaming audio (Spotify or similar) onto the screen for easy control with reduced (but not eliminated!) distraction. The rest of the STARLINK system's functionality remained more or less the same, but the button layouts and screen design were greatly improved.
For driving dynamics, the 2017 Subaru Impreza made use of a MacPherson strut front suspension, followed by double-wishbones in the rear. Even with all-wheel drive, curb weight stayed respectable, at about 1,400 kilograms (just shy of 3,100 pounds). On the road, the Impreza managed to be pretty light on its feet, with responsive steering that bordered on twitchy at highway speeds. It was able to take corners and off-ramps with a considerable amount of gusto, and with Canadian winter driving conditions, traction was never an issue. Manual-equipped cars get a viscous-coupling style full time all-wheel drive system, which is fully mechanical and reacts accordingly to losses of traction. Automatic cars get an electronically-controlled multi-plate transfer clutch. Where the mechanical system is purely reactive, the electronic system is able to automatically divert power to the rear wheels under hard acceleration or low-traction conditions.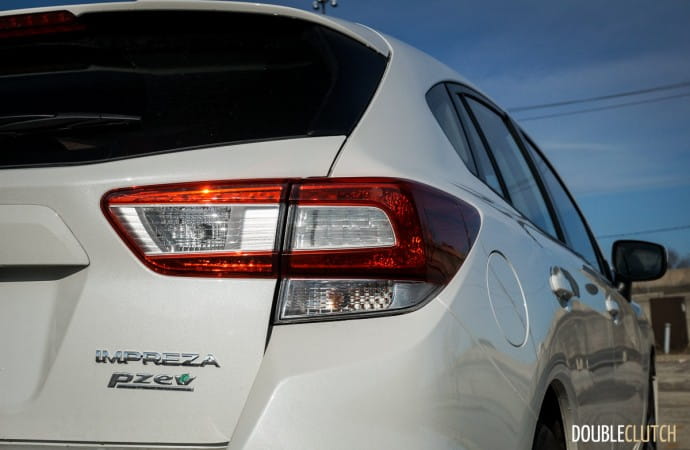 As a complete package, the 2017 Subaru Impreza Sport Hatchback is just about the only way to get all-wheel drive in a compact car. Thankfully, it doesn't break the bank, and it's a generally well-built car that performs well. There are some trade-offs, as many of its front-wheel drive competitors get the latest autonomous safety features at the same price point. Fuel economy also isn't as good, likely due to the losses required to turn the all-wheel drive system. The manual transmission remains a weak point – it's pretty immediately apparent that Subaru focused their development dollars on the volume seller CVT models. When equipped with the automatic, it's a solid choice that will get drivers through the worst of weather conditions as a jack of all trades.
2017 Subaru Impreza Sport Hatchback Gallery
See Also: