SCOTTSDALE, ARIZONA – In a world where the station wagon is going extinct, the Swedes are staying true to their roots. With Saab gone, Volvo remains the only Swedish automaker to have a presence in the automotive industry. Now under Chinese ownership, Volvo has been given the autonomy to invest their resources into what truly matters to them. With no true competitors currently on the market (this is a spiritual successor to the now-defunct XC70), the 2017 Volvo V90 Cross Country is in a class all on its own for now, and we flew to sunny Scottsdale to put it through the ringer.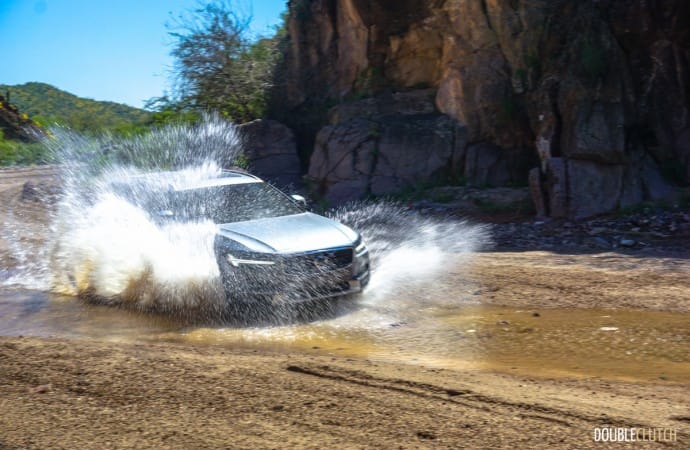 Built on what Volvo calls their "Scalable Product Architecture", the V90 Cross Country shares its advanced modular platform with the regular V90 launched simultaneously, the XC90 (reviewed here), and the spectacular S90, which won our Car of the Year for 2016. The V90 Cross Country is a slightly more adventure-oriented take on the regular station wagon, succeeding the XC70. Typical for modern Volvo, the proportions are bang-on, with quite possibly the most stylish take on the two-box wagon yet. The fascia is unmistakably similar to the rest of the 90 cluster, and those who like the traditional wagon will be hard-pressed to find fault with the V90 Cross Country's styling.
True differentiators on the Cross Country model that separate it from the V90 include the wheel arch extensions that pay homage to the XC70 this car succeeds. These pieces are charcoal grey on most models, though other contrasting colours are available. Lower bumper pieces as well as the side skirts match the wheel arches for that extra rugged look, along with a rear skid plate built to absorb impacts when venturing off the pavement. Lastly, the wheel designs are particularly sharp, and set off a nice balance between luxury and off-road muscle.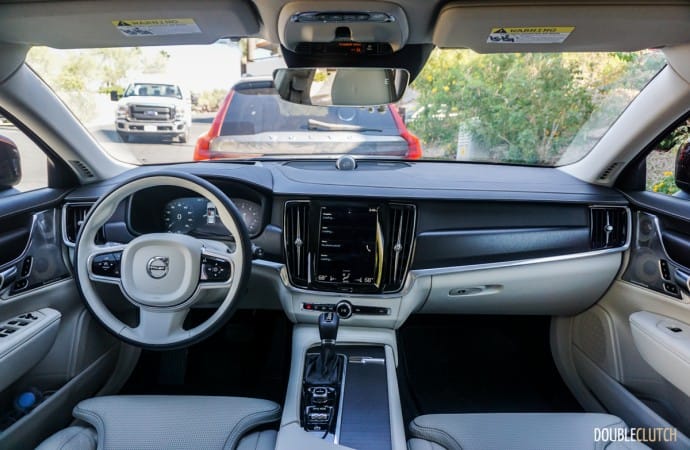 The interior is where all SPA platform Volvo vehicles excel – this is indisputably the best part of the car. Materials are all top-notch – nothing less can be expected from the Swedes. No poor panel gaps or cheap materials are to be found, and the leather seats are some of the most comfortable that can be had in the industry. Even cars like BMW's flagship 7-series (reviewed here) have difficulty producing seats that are as pleasant to spend hours in as the Volvo's. The leather itself is supple and looks like it can withstand a good degree of abuse. There is a new Black Walnut wood trim available, which is a lot darker than other models offer.
Infotainment, climate, and connectivity is all centered around the 9.3" Volvo Sensus touchscreen, which can best be described as a large tablet. This system now has Apple CarPlay (optional) and can also use gestures such as swiping and pinch-to-zoom. Navigation is standard, along with Volvo On Call with a WiFi hotspot. Premium audio by Bowers & Wilkins is an option, and is one of the industry leaders as far as in-car audio is concerned – this is a must-have if it's in the budget. The instrument cluster is a 12.3″ TFT unit on higher-spec models, which has a built-in map view that we particularly liked.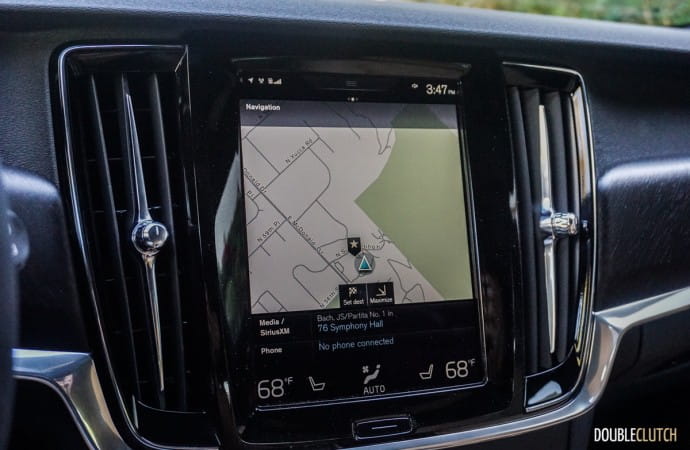 Currently, Volvo only offers one powertrain configuration on the V90 Cross Country. This is the Drive-E T6 motor, a twin-charged 2.0L inline four-cylinder. This motor has been tested extensively in a series of current Volvo products, and is the only one in North America that offers both supercharging and turbocharging simultaneously. Output is unchanged from the S90 (reviewed here), sitting at a healthy 316 horsepower at 5,700RPM and 295 lb-ft of torque, available between 2,200 and 5,400RPM. This punchy four is hooked up to an eight-speed automatic that Volvo calls "Geartronic".
Volvo claims an acceleration time of 6.3 seconds to 100 km/h, and overall power delivery is very smooth and linear. The supercharger helps at low RPMs and there's sufficient pull on both the low and high ends of the range. The eight-speed does a great job maintaining the right gear at all times, and the sport mode provides that extra degree of control when desired. The V90 Cross Country has impeccable road manners, with well-maintained body control and minimal body roll around corners. Ride quality is on the firmer side, especially with the 20" wheels, though the V90 isn't as jittery as the XC90 (reviewed here), and feels considerably more planted.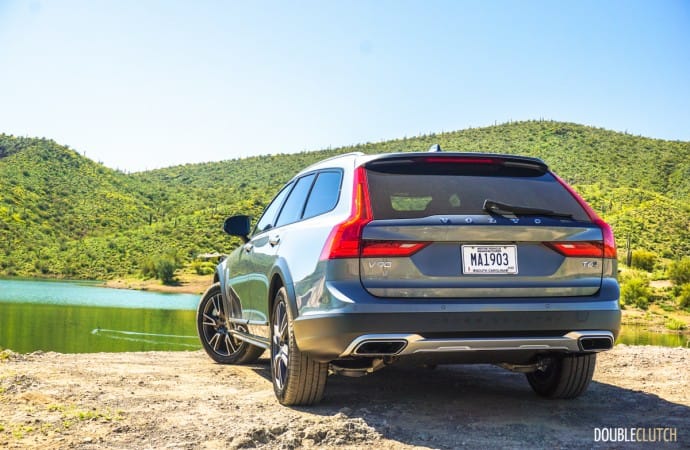 The V90 Cross Country comes standard with all-wheel-drive and 19" wheels wrapped in Pirelli all-season tires (a 20" setup is available). With plenty of advanced stability control systems and decent body cladding to protect the underside, the car has ample capability to boot down that dirt road to the cottage, or venture into ski country during the colder months. Volvo has incorporated an "Offroad" mode in the drive mode select that alters the stability control and enables Hill Descent Control. This V90 isn't a dedicated off-roader by any means, but provides an avenue for those who don't have any interest in stepping up to a crossover (many of which have equal or less ability than this Volvo).
The official fuel ratings for the V90 Cross Country are 10.7L/100km city, 7.9L/100km highway, and an average of 9.4L/100km. One of the greatest strengths of this twin-charged four-cylinder is fuel economy, and we have observed real world results very close to the suggested numbers. We'll wait till this car spends a week or more in our garage to determine exact numbers, as our drive route endured a considerable amount of rigorous testing. Long-term durability is still something only time will prove, but for now, it's an efficient powertrain that offers quite a bit. Premium fuel is required on this motor, and the fuel tank is capable of holding 60L.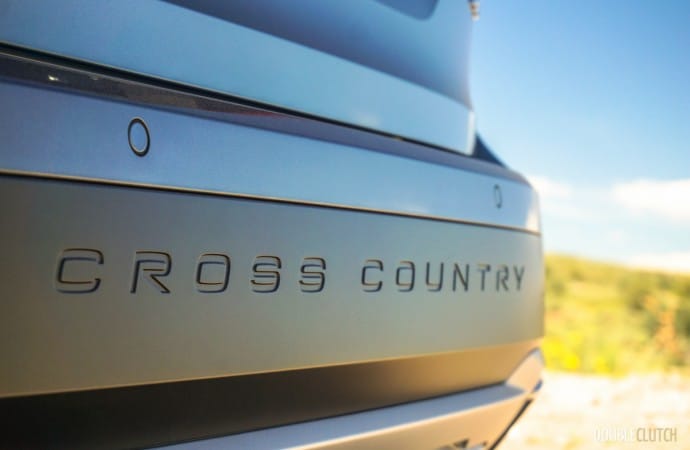 Safety is the utmost priority as with everything else offered by Volvo. The V90 Cross Country comes standard with pedestrian and cyclist detection, lane departure warning, a driver alert system, road sign information, and of course, one of the safest vehicle structures in the business. Volvo Pilot Assist is standard on all Canadian models, which brings semi-autonomous driving to the table. The system is millimeters behind the Mercedes-Benz E 300 (reviewed here), though when compared to what BMW, Audi, and Jaguar currently offer, it's far superior.
The V90 Cross Country starts at $61,900 in Canada, and comes reasonably well equipped at this price. A series of packages are available, and we've highlighted the important stuff. A Climate Package adds heated rear seats, steering wheel and washer nozzles, along with heating the windshield for $1,350. The Premium Plus package adds Nappa leather with front seat ventilation and sun shades in the rear windows, for $2,500. Apple CarPlay is a standalone option for $400, and rear air suspension with Active Chassis is $2,350 (we'd recommend opting out of this if long-term ownership is a consideration).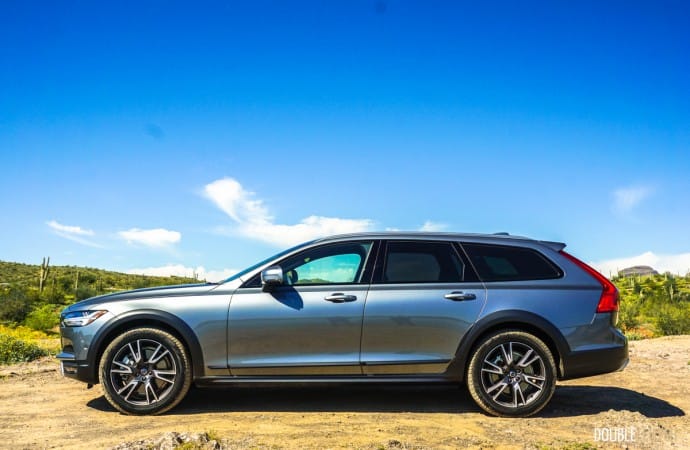 All in all, the 2017 Volvo V90 Cross Country is one of the most out-of-the-box automotive choices around. It's not cheap by any means, and with the plethora of crossovers available, will sell in low volume. This isn't a bad thing though, because it's marketed as a low volume vehicle, and all that means is exclusivity for buyers. Canadians love their Volvos, and in most cities, you can't go a day without seeing a classic Volvo booting around effortlessly. This is a car you buy for the long haul, and it's one that will keep your family safe, comfortable, and coddled on every single adventure.
First Drive: 2017 Volvo V90 Cross Country
See Also:
2016 Volvo XC90 T6 Inscription
First Look: 2017 Volvo V90 Cross Country