The 2017 GMC Acadia Denali is all-new for 2017, and General Motors' truck division has made some significant changes with the new model. Since its inception in 2007, the Acadia has been a strong player in the three-row crossover SUV segment, and although the original was approaching full-size status with seating capacity for seven or eight, the new variant loses 190 mm (7.5 inches) in length, and has seating for five, six or seven depending on configuration. Upon seeing the new Acadia in person, it's immediately apparent that it's now trimmer and more compact. In making this change, GMC is likely trying to go up against the likes of the Honda Pilot and Toyota Highlander, which are dimensionally very similar and priced competitively. As the flagship, the Acadia Denali will go up against the fully loaded Japanese competitors, but also starts to approach the likes of the Europeans when it comes to price.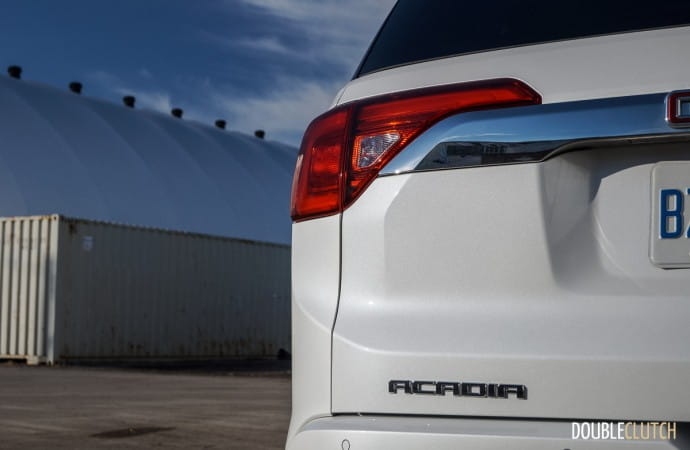 At a base price of $54,695, the test vehicle included a series of options, including a great-looking White Frost Tricoat paint job that added $1,195, as well as a Technology Package that includes adaptive cruise control, surround-view cameras, and forward collision mitigation that added $1,975. A performance ride and handling suspension was $1,395, which brought continuously variable damping. Interestingly enough, GMC doesn't specifically refer to it as magnetic ride control, a feature seen in other high-end GM products such as the Yukon Denali and Chevrolet Camaro. Standard features include all-wheel drive, 20-inch alloy wheels, high-intensity discharge (HID) headlamps, a power liftgate, Bose audio, and a blind spot monitoring system. All in all, the Acadia's as-tested price came out to $59,360. This puts it several thousand above a similarly equipped Honda Pilot Touring, and right next to the Acura MDX with Tech package. On the higher end, it also approaches the Lexus RX 350 (reviewed here), which is two-row and five-passenger only. Will the Acadia have what it takes to compete? It's a tight segment, and it'll have its work cut out for itself.
Under the hood of the 2017 GMC Acadia Denali is the latest iteration of GM's refined High Feature V6 engine, coupled to an all-wheel drive system. Displacing 3.6 litres and making 310 horsepower at 6,600 rpm and 271 lb-ft of torque at 5,000 rpm, the Acadia Denali tackles day to day driving with aplomb, rarely feeling out of breath or underpowered, for the most part. At lower rpm, the six-speed automatic transmission tries its best to optimize performance, but there's a slight deficit in low end torque that delays response momentarily. The same engine is paired with an eight-speed automatic transmission in the more premium Cadillac XT5 (reviewed here), which more effectively spaces the gear ratios for better pickup. Thankfully, the new Acadia's smaller size is met with a 320-kilogram (700-pound) loss in curb weight, which is certainly helpful for performance and fuel consumption. Base, non-Denali trim levels are available in front-wheel drive and a four-cylinder configuration making 193 horsepower, but that may not be enough for carrying people and cargo in addition to just the driver.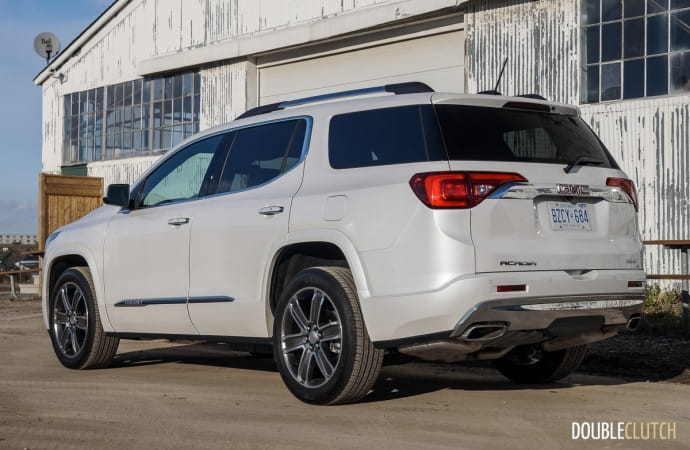 Fuel economy ratings for the 3.6-litre V6 equipped Acadia Denali are 13.3 L/100km in the city, and 9.5 L/100km on the highway. These numbers are bolstered by the V6's Active Fuel Management, which shuts off two cylinders under light load. Observed fuel economy was 11.1 L/100km in mixed driving, which could be even better if the eight-speed automatic transmission was available. The extra set of ratios would have been a good fit as a Denali-exclusive. Fuel capacity is 82 litres, which is sizable for a vehicle in this size and class, and should be able to return a range of over 800 kilometres on the highway.
With respect to driving dynamics, the ride and handling of the Acadia is about right for a vehicle of its size and mass. Ride quality with the performance suspension is European-firm with good body control, which helps when it comes to turn-in response when taking highway ramps a little bit zealously. Highway driving is comfortable, and even with the stiffer tuning, long trips won't be a problem for drivers and passengers alike. Active noise cancellation helps keep things quiet, and the full safety suite including lane keep assist will help to keep everyone on the road. All-wheel drive, standard on the Denali, helped to keep traction sure-footed, only allowing a chirp of the front wheels before re-routing engine power to the rear.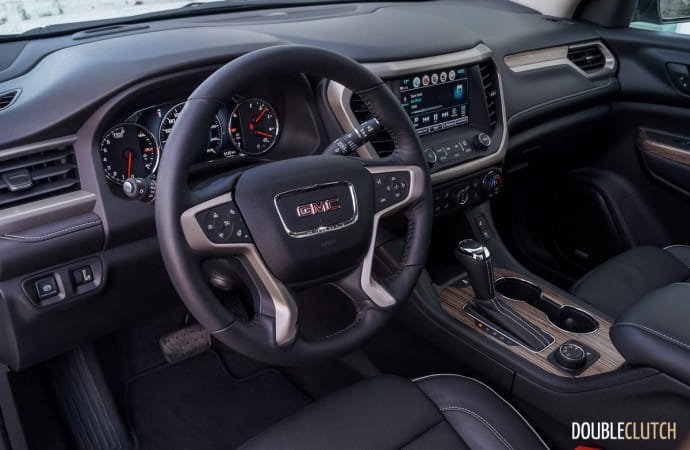 On the inside, the Acadia Denali carries over most of GM's interior design cues. The basic layout isn't far apart from the base models, but material selection is improved, with real wood accents and plenty of chrome bezels and trim. Even so, it still looks a little bit low-rent compared to the great designs seen in Japanese and European competitors. Front seats are both heated and ventilated, with rear outboard seats getting heat only. Second and third rows of seating fold flat, allowing larger cargo to be accommodated. In losing a bunch of length and overall size compared to the previous model, there's a bit of a penalty in terms of cargo capacity – the load floor is narrower in order to accommodate the rear wheel wells.
In terms of multimedia and technology, GMC's IntelliLink system features an eight-inch touch screen, which is relatively simple and intuitive to use, with most functions easily available to the driver. Both Android Auto and Apple CarPlay are supported, which seamlessly integrates most smartphones with the vehicle by mirroring the phone's interface onto the screen – voice command, navigation, messaging, and music controls are all available at your fingertips. 4GLTE in-car Wi-Fi hotspots are also a perk of today's General Motors vehicles, and data plans are available with an OnStar communication system subscription. This is especially advantageous for paring tablets in the car, for streaming audio services such as Spotify, or for when using more data-heavy navigation apps such as Waze.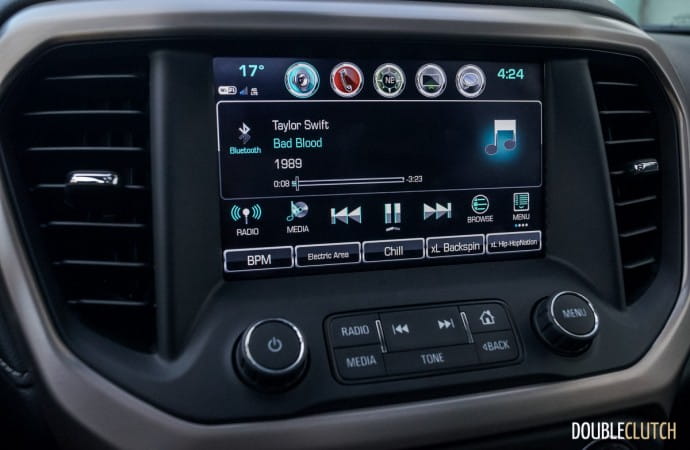 Overall, the 2017 GMC Acadia Denali has some big shoes to fill, especially relative to the first-generation model it replaces. A smaller footprint makes the now-midsize SUV less unwieldy in tighter spaces, but it still affords itself three-row capability and a reasonable amount of cargo capacity. Pricing may be an issue, as the $60,000 price tag may scare off some buyers into the cheaper Honda Pilot Touring or Toyota Highlander Limited. On the higher end, the Acura MDX Tech is also close in price, and offers a trick all-wheel drive system and a more premium feel. With a good chassis and handsome (albeit slightly bland in the name of being inoffensive) styling, buyers who are brand loyal to General Motors will probably find a decent performer in the Acadia. For those shopping around, better deals may be had elsewhere.
2017 GMC Acadia Denali Gallery
See Also:
2017 Hyundai Santa Fe XL Limited