If you are in the market for a crossover, I think Ford just gets it, especially when considering power versus projected fuel economy.
The Ford Escape has always been a front-runner in the compact SUV segment for nearly two decades now. Popular among government fleets, corporate employee vehicle fleets, and even rental duty, the Escape is seen in almost every neighborhood throughout North America. Badged the "Kuga" elsewhere in the world, the Escape is a global vehicle. We borrowed a 2017 Ford Escape Titanium for a week-long test. Although nothing significant has been changed with the Escape since its last platform change for model year 2013, the year 2017 has given it a well-deserved refresh. The new fascia has the Escape almost resembling its big brother, the Ford Edge (reviewed here).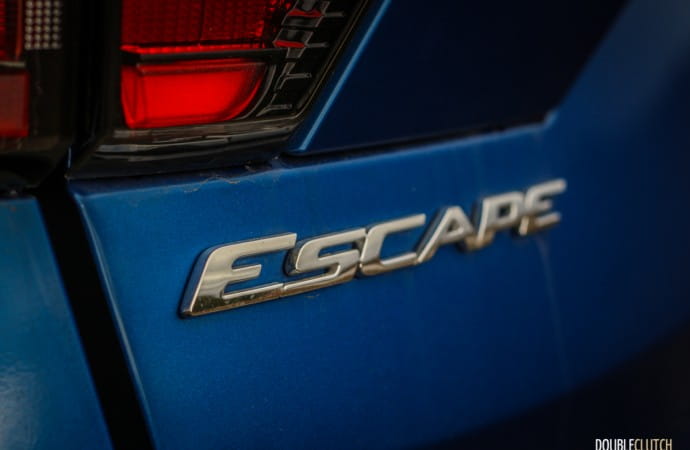 My Escape Titanium came equipped with the most powerful engine possible, a 2.0L twin-scroll Ecoboost turbocharged inline four-cylinder motor. This engine pushes out an peppy 245 horsepower at 5,500RPM running on premium fuel, and 275 lb-ft of torque @ 3,000RPM. It's paired to a six-speed automatic with sport mode, and it sends power to all four wheels smoothly. There is very little turbo lag and power delivery is exceptionally smooth. Throttle response is quick and the engine responds amicably, almost reminding the driver of the smaller Focus that it shares many corporate parts bin items with. Price aside, this is the motor enthusiasts will want.
The Escape feels great to pilot on the highway, with excellent refinement and good ride quality even on the large wheels equipped on the Titanium. The torque-vectoring system sends power to the required wheel, helping with cornering and doing a great job balancing torque delivery. When cornering though, the suspension feels a little bit too soft and body roll makes itself evident. For a crossover though, this is all acceptable. There's no adaptive suspension available, though we know if Ford chooses to create a hot example, the parts are all there in the Ford family.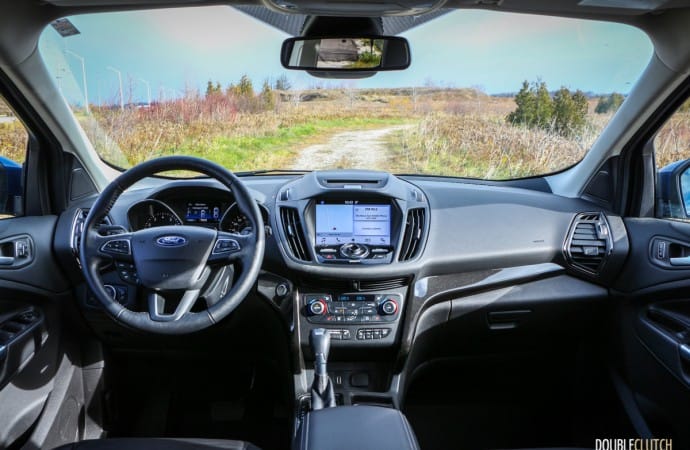 The interior didn't boast a full refresh over the previous facelift, but Ford has ensured that big steps have been made by remodelling the dash and center console to add some well-needed storage space. Additional cubbies mean there's more space for your mobile phone, toll transponders and other small items. The seats are actually quite comfortable and do not show any signs of corner cutting, with decent materials used. Interior headroom front and rear is good enough for one of our editors (at 6'4), and rear visibility is no issue. The panoramic sunroof equipped on our top-trim tester does a great job at bringing light into the dark interior.
The Sony stereo is more than adequate with 10 speakers, Bluetooth connectivity, audio streaming and satellite radio. SYNC3 (reviewed here) is one of the best infotainment systems in the mainstream segment, and is up there with Chevrolet's MyLink and GMC IntelliLink setups. It boasts ease of use, plenty of smart connectivity options and third-party apps, and operates smoothly with minimal fuss.
If you are in the market for a crossover, I think Ford just gets it, especially when considering power versus projected fuel economy. Ford claims that the peppy 2.0L four-cylinder turbo will achieve 11.5L/100km city and 8.7L/100km highway, making for 10.2L/100km overall. Premium fuel is recommended, and is what we used on our test. Through cold temperatures and winter-blend fuel, our test returned 10.8L/100km, right in the middle of Ford's estimates. My driving consisted of a 50/50 mix between city and highway, including plenty of bumper to bumper traffic.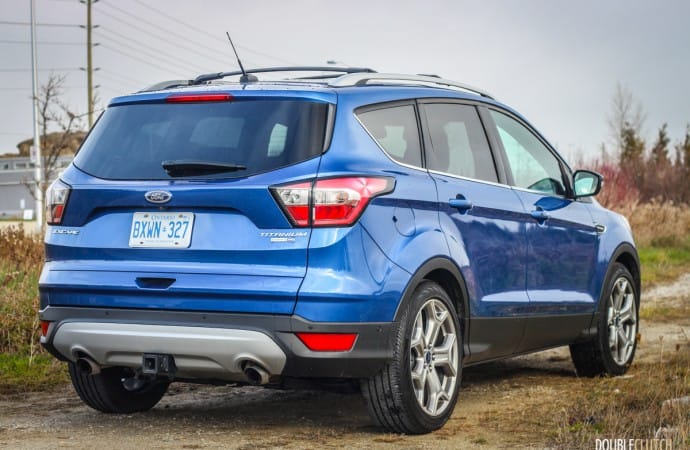 Some really handy features in the Escape Titanium include the Active Park Assist capable of automatically parking the car using sensors and cameras, a segment exclusive. Ford still offers the foot-operated hands-free tailgate opening feature. Other great tech to add is the BLIS (Blind Spot Information System) with Cross-Traffic Alert, and adaptive cruise control. These toys, which are also available on rivals like the 2017 Honda CR-V (reviewed here), bring the crossover segment that much closer to the age of autonomous driving. Night visibility is not a problem with the standard bi-xenon HID headlights. Since I live out in the outskirts of Toronto, the automatic high beam feature comes in handy.
The Escape is available in three configurations, starting with the base Escape S, still offering the naturally aspirated 2.5L four-cylinder. The one most Canadian consumers will buy is the SE, which brings in the EcoBoost 1.5L turbocharged inline-four. Sitting atop the top of the lineup is the 2.0L EcoBoost tested here, which will have a low take rate but offers a series of premium features, and power numbers that rival the Kia Sportage SX (reviewed here), also offering a turbocharged four. If efficiency is what you prioritize, the 1.5L SE is rated for as little as 7.8L/100km on the highway.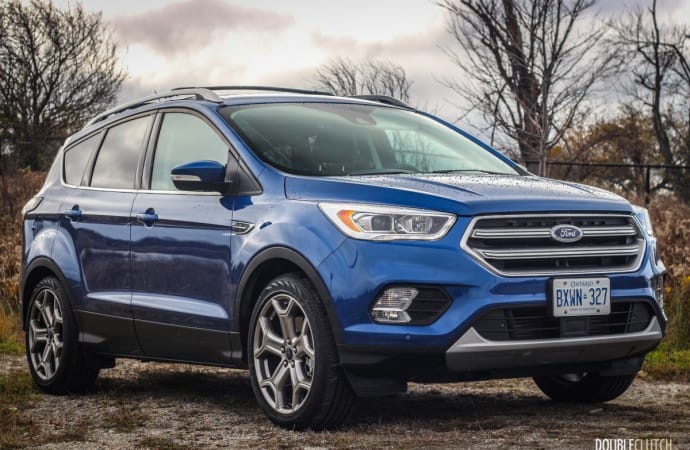 Starting at just $25,099 for the base S model, the volume-oriented SE starts at $29,799. The entry point for the fully loaded Titanium AWD tested here is $35,999, and offers a series of options. While rivals like Honda and Mazda offer cleverly-packaged trim levels eliminating the ability to select individual options, Ford still does things the old fashioned way. The benefit here is that you can actually have an Escape configured exactly the way you want it, should your local dealer inventory not offer such a vehicle. Ours was optioned to the tune of $41,399, which sits right around the loaded Hyundai Tucson (reviewed here) we sampled mid last-year.
With the Canadian compact crossover segment packed very tightly right now, it's pretty difficult for any specific model to differentiate itself from the masses. The new CR-V offers a turbo powerplant on the entry-level model, and the Hyundai Tucson offers a dual-clutch transmission. Perhaps the forthcoming 2017 Mazda CX-5 (previewed here) will change the game significantly with its diesel offering, but there isn't much in this segment for those who want performance. The 2017 Ford Escape Titanium AWD offers a good amount of style, clever interior packaging, and a fun turbocharged engine, which definitely attracts plenty of attention. Plus, Ford's dealer-level incentives will bring the price into truly aggressive territory.
2017 Ford Escape Titanium AWD Gallery
See Also: