What kind of vehicle is built for the young adult that enjoys the comfort and convenience of a small SUV without the stigma? Finding both of these traits in a vehicle may prove to be a little challenging, so let's take a quick look at what some buyers look for in both of these respective categories. With small SUVs, buyers want something that can carry multiple passengers comfortably, but not small to the point where fitting five people would be mean being somewhat cramped.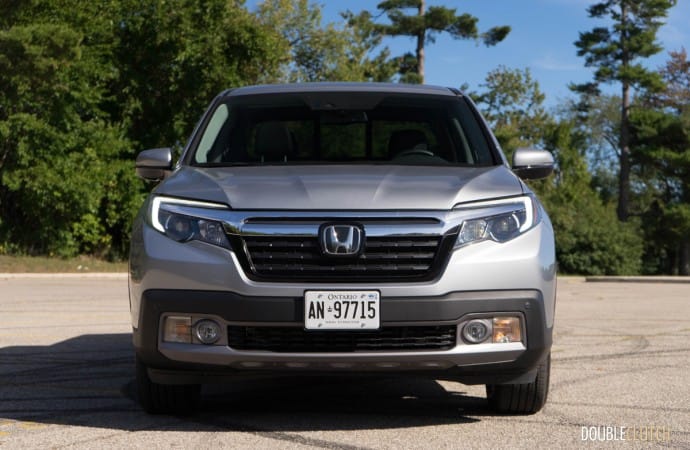 Truck buyers on the other hand, specifically buy into this segment for the obvious reasons of utilizing cargo space and towing capability. The problem with most trucks is that they are considerably larger than the average SUV. So is there a middle ground? Is there a point where buyers can get the best of both worlds? Honda seems to think so. The 2017 Honda Ridgeline Touring is a stellar example of what happens when you cross-breed between two vehicle segments. From the back doors to the front bumper, the Ridgeline is identical to the Honda Pilot (reviewed here). The rear end however, sports a quaint-sized truck bed fit for small to medium sized items; lawnmowers, cabinets, loveseats, you name it.
The overall look of the Ridgeline has changed significantly from the previous generation. It no longer looks as though it's taking pointers from the now-discontinued Chevy Avalanche. With its own distinct personality, the new exterior boasts sharper lines, LED lighting, and a cluster of angles that the boxlike previous generation simply didn't. Even though it shares many design elements with the Pilot, I think it works well for the new Ridgeline, which brings a familiar surface to potential buyers. The front fascia appears more aggressive, giving the entirety of the truck an athletic appeal.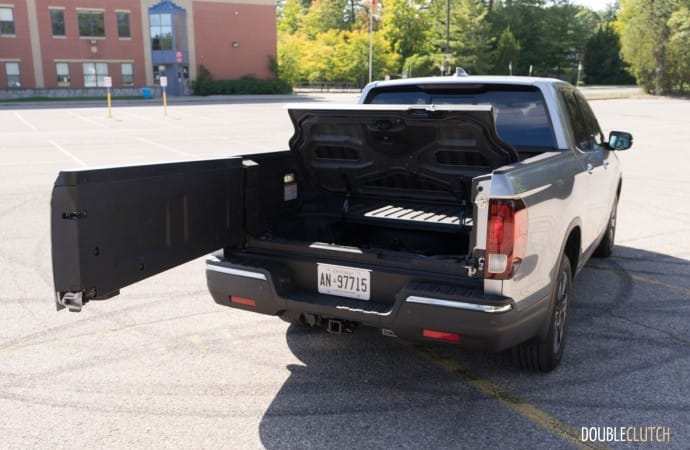 Around back, this new iteration of the Ridgeline has the same signature dual-opening tailgate. You can open the tailgate in the conventional manner, by folding it downwards, or, Honda has created a second option, by reaching for a hatch located underneath the right side of the tailgate, which then opens it up by swinging the door open to the left, allowing for easier loading and unloading of certain objects. The fun doesn't stop there – after all, the bed is what really makes this truck flourish. As if the dual-opening tailgate wasn't enough, extra storage space was made in an in-bed trunk. This space found underneath of the bed floor, is big enough to fit an entire person, for reference. This is a nice space for storing personal items as it is illuminated, waterproof, and most importantly, lockable. But wait, there's more!
While tinkering with a few of the options within the media unite inside, I noticed a setting on the main menu titled "Truck Bed Audio". After hitting this button, to my amazement my music started playing outside from an embedded sound system hidden within the bedliner. Honda does this by installing Audio Exciters on the inside of the sidewalls of the bed. Each panel has two Exciters (totaling six) that emit sound across the length of each panel. This system can only be activated while the truck is in Park, however it can also be used while the truck is in moving at a slow pace; no more than 15km/h. To top it off, there is also a common household power outlet running at 400-watts.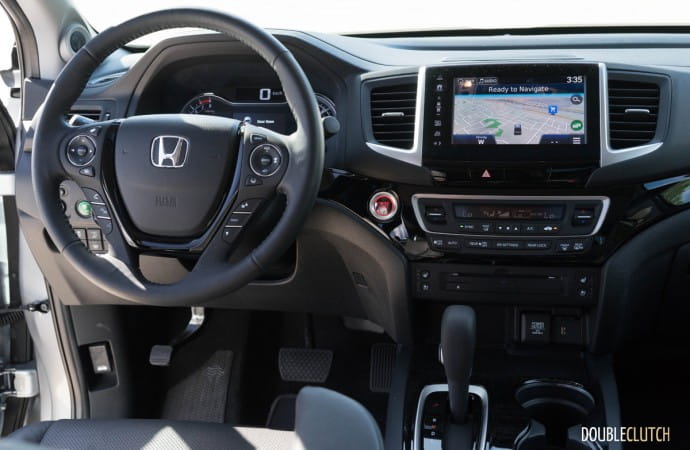 So it looks like a truck, but does it drive like a truck? The short answer is no, but not in a bad way. Driving the new Ridgeline feels like you're driving a competent sport utility vehicle, thanks to its unibody platform. Under the bonnet we find a 3.5-liter V6 combined with a six-speed automatic transmission, and of course, a 4WD system. All in you're looking at an engine that puts out 262 horsepower and 273 lb-ft of torque. The throttle is as responsive as one would except from a vehicle of this caliber, that being said it's optimal for the trucks purpose. Throughout my testing period I averaged roughly 12L/100km, and that's with a heavy mix of city driving whirled into the mix, so there definitely is room for consumption improvement with lighter driving habits.
Our top-of-the-line Touring tester came loaded with every little treat Honda has to offer. The interior is appointed with soft leathers and a nice piano black finish up on the dash. It goes without saying that the overall fit and quality of the cabin is a vast improvement from the outgoing model. Passengers can enjoy the luxury of both heated and cooled seats, a premium sound system, an automatic rear window, and Apple CarPlay/Android Auto.. In terms of interior storage, the Ridgeline surely does not disappoint. With an amplitude of space in a center compartment between the two front seats, boasting enough room to store a nice lunch for five, and multi-level door slots for smaller items.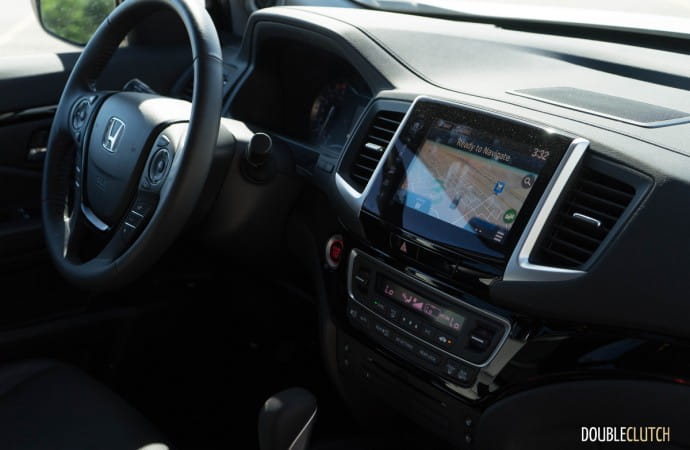 In a world where massive trucks dominate the market, the 2017 Honda Ridgeline Touring has a few barriers to overcome before it can even consider dominating the truck segment. Thankfully, it has no such intentions. Most people will buy a larger truck to perform one or two major tasks once or twice a year, and then use the same truck to get on with daily responsibilities that can easily be done with a smaller variant of vehicle, all while guzzling fuel. The high-end Ridgeline Touring comes in at a total of $48,943, and offers a plethora of options for everybody. This is the perfect little truck for those young professionals who live an active lifestyle, but don't need to haul big loads on a daily basis. Well done, Honda.
2017 Honda Ridgeline Touring 4WD Gallery
See Also: