BROOKLYN, NEW YORK – BMW was kind enough to invite me for the launch of the latest iteration of what is now a growing R nineT lineup, the 2017 BMW R nineT Scrambler. As such, I found myself in a couple of what I initially thought were unlikely places for motorcycling: New Jersey, and Brooklyn. I learned shortly after arriving how wrong I was to think that Jersey is just part of The Sopranos intro – the countryside is phenomenal to look at, and even better to ride. Brooklyn on the other hand isn't exactly a rider's paradise, but when you're cutting through rush hour traffic in a pack of 40 motorcycles, it's a whole other story.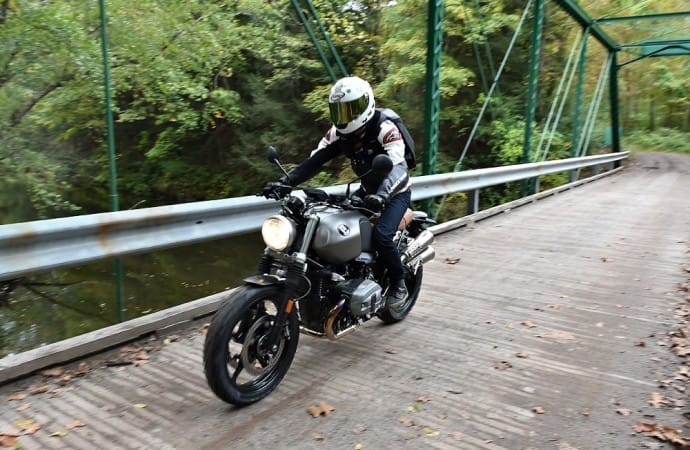 Sharing many core components with its slightly older R nineT brother (reviewed here), the base model Scrambler still manages to come in $2,250 cheaper, while looking decidedly more stylized and expensive to me. A high-slung exhaust, knobby tires, and a brown leather seat help complete the look directly out of the shipping container. Additional pieces like number plates, a retro windscreen, and engine guards give you a little more of that traditional scrambling facade. Spoked wheels are a must to me, and worth every penny as a $520 option.
While the two bikes share the same engine, tune, and badging, it pretty much ends at that. Much of the Scrambler components, like the gas tank, are made from less expensive materials such as steel, rather than aluminum. The forks are traditional telescopic style, rather than upside-down, and the handlebars have been raised as well. Further lifting to the front end is accomplished with a 19" front wheel, as opposed to the 17" used on the roadster.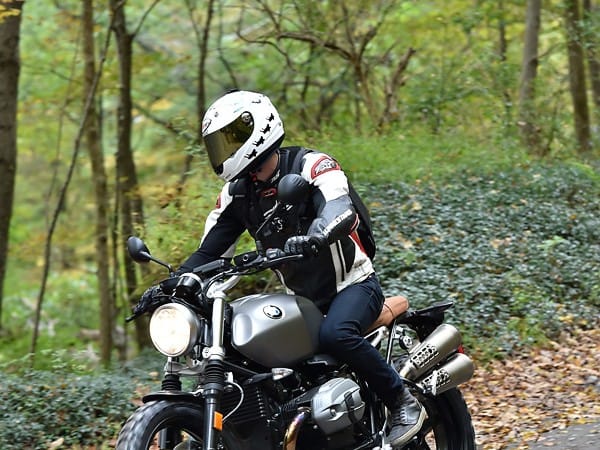 The Scrambler has a different frame altogether, and rear subframe has been redesigned slightly to make for easier modifications for anyone looking to remove the passenger portion of the seat without dusting off their Sawzall. But, before we even bother talking about the endless customization possibilities of a motorcycle made to be customized, let's talk about riding it (no offence to those crazy enough to have theirs torn apart and customized before even starting the engine for the first time).
On the road, the bike delivers plenty-a-grin. The engine is the same treat it has been for a long time, and there is a very long list of very good reasons BMW has it deployed across so much of their current lineup. To summarize that list in four words: it's an absolute gem. The oil and air-cooled boxer puts out 110hp at 7,750RPM, 116Nm of torque at 6,000RPM, and a delightfully raspy symphony at any RPM. Ample torque is available from low to high end, and in the mids it's enough to raise the front wheel on an aggressive upshift. It's not a bad thing by any means, you just need to pay attention and keep your wits about you, which is par for the course if you're on the back of any motorcycle and intend to stay there.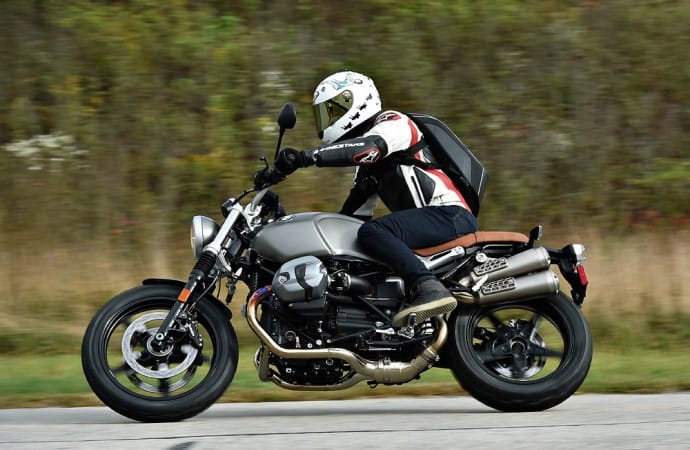 Off the road, the bike handles itself well. It's not a GS by any means, but it doesn't have to be. It's a hobbyist's bike when it comes to off-roading, so serious adventure riders needn't apply. The suspension is soft enough to soak up moderate bumps at speed, which I found out after careening head on into a pothole at about 60mph (mph because after all we were on U.S. spec bikes), but taught enough not to compromise cornering capabilities. The no-cost optional knobby tires made gravel a treat, providing plenty of traction even in mud puddles, and the high slung exhaust stops you from blowing too many bubbles while riding through them.
At low speeds, on road, the tires take some getting used to, and give the bike a bit of unexpected dive when cornering, but I'd recommend that option all the same. Not only does it complete the look, but it adds another dimension of versatility to the bike. With street tires the bike is a regular R nineT with a different coloured seat and a high-slung exhaust.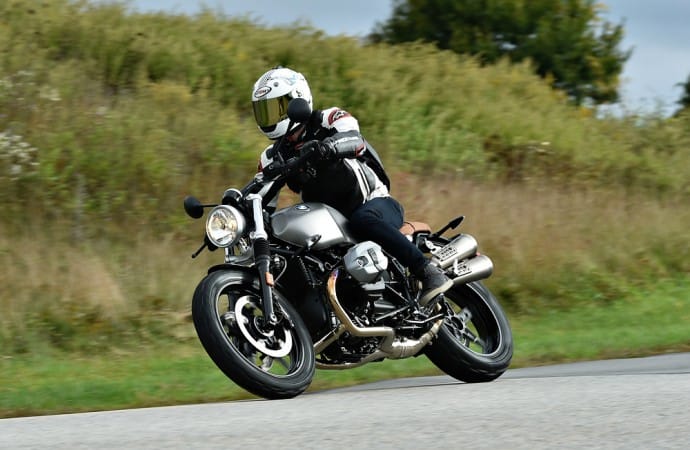 In spite of its many strengths, there are a few things I take issue with on the bike. First and foremost is the lack of a tachometer. I'm not sure that's a bit of a nod to dirt bikes, but it's annoying having to wonder where exactly you are in the RPM range. Sure, the engine isn't hard to hear, but considering that this may actually be a first time bike for some (BMW's sales data indicated 9% of the initial R nineT's sales were first time buyers) the rev limiter will be working hard.
When a speedometer can so easily be digitized (and then ignored) there isn't any reason not to dedicate the cluster predominantly to tachs. Thankfully the electronics are set up for customization, so replacing this cluster shouldn't prove too tricky for those know who what they're doing (read: not me) or are willing to pay someone who does.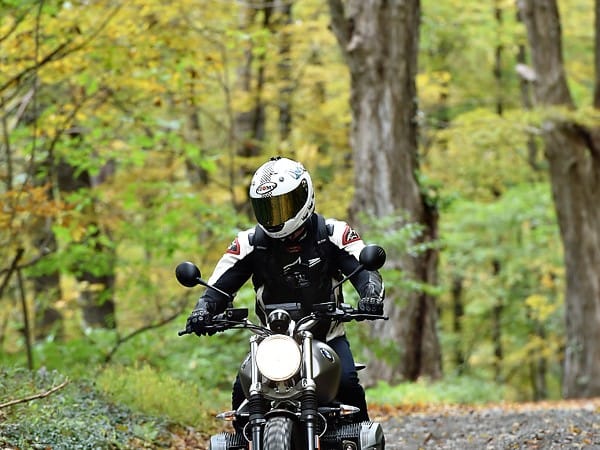 The other gripe to make has to do with the cooling. The bike is positioned as an "urban" bike, with off-road capabilities, but this shouldn't be confused with any sort of commuter. During our ride through lower Manhattan in rush hour, the bike was running extremely hot, to the point that it threw a check engine light. Granted, it was a hot day and we spent a lot of time sitting in traffic, but that's also every ride into or out of Toronto during rush hour. Short stints in traffic shouldn't reveal any real problems, but extended traffic jams may see the paranoid of us switching off the engine to give it a break.
All said and done, the Scrambler is still a lovely and relatively versatile platform. At $14,250 base, it isn't exactly cheap when you're looking at it next to some of it's competitors, but the quality is there and the premium is worth it. Like any bike it has a few drawbacks, but these shortcomings are easily outshined by it's strengths, and certainly it's style. Expect plenty of these to make appearances at The MotoSocial when it resumes next year.
First Ride: 2017 BMW R nineT Scrambler Gallery