For the last couple decades, the Toyota Corolla has been a ubiquitous recommendation by just about anybody when it comes to reliable transportation that's reliable, efficient, and affordable. In its current form, the Corolla has existed since the 2014 model year, where it received an all-new design from scratch. In the last two years, new contenders have come into the frame that will attempt to steal away more of Toyota's market share.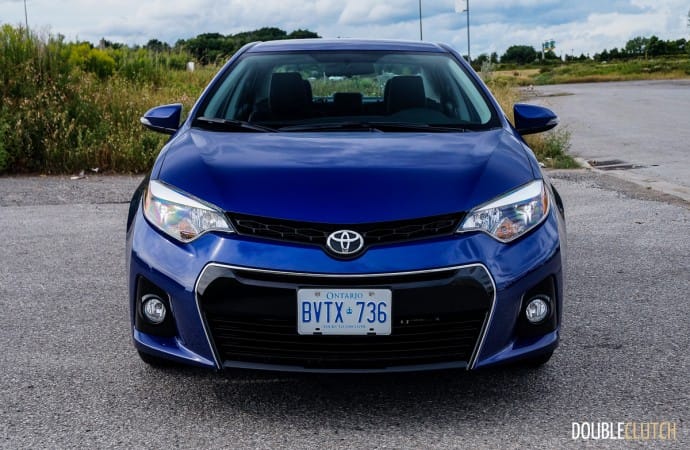 The Honda Civic and Hyundai Elantra (reviewed here) are both new for 2016 and 2017 model years, respectively, and are gaining plenty of positive attention from the DoubleClutch.ca editorial team, as well as most other automotive media. With the 2016 Toyota Corolla not receiving many changes since its inception, would it still be able to keep up with the competition?
Finished in a handsome shade of Blue Crush Metallic, Toyota Canada recently provided a 2016 Toyota Corolla S with the Standard Package for evaluation. At $20,765, it's competitively priced against similarly equipped Elantras and Civics. Curiously, all Corollas get LED headlights – something that's not seen on more upscale Prius (reviewed here) or Camry product lines. The Standard Package includes air conditioning, 6.1-inch touch screen multimedia system with Bluetooth and USB capability, a continuously variable automatic transmission (CVT) that includes paddle shifters, and sport seats with leatherette trim.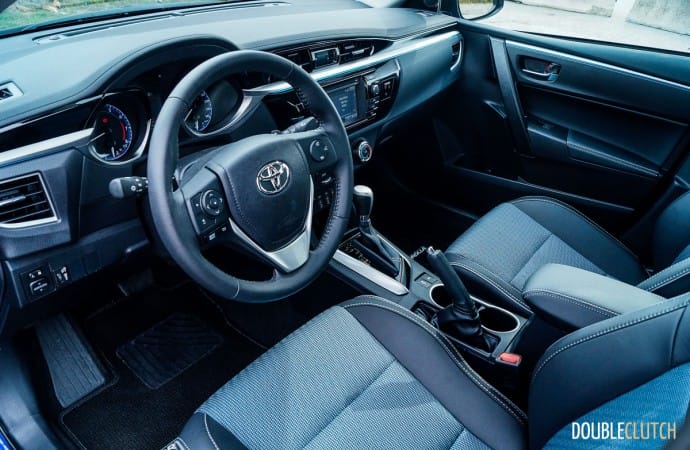 While these features are fairly typical across the segment, Hyundai and Honda have begun to offer advanced safety features such as blind spot monitoring, forward collision mitigation, and adaptive cruise control on their compact cars. Fear not, however, as Toyota will be including these features right across the board in all trim levels, starting with the upcoming 2017 refresh.
Powering the 2016 Toyota Corolla is the ubiquitous 1.8-litre, "1ZR-FE" inline four cylinder engine. Peak output is 132 horsepower at 6,000 rpm, as well as 128 lb-ft of torque at 4,000 rpm. As with previous iterations of the car that also used this engine, power is just about adequate. The Corolla isn't about to win any drag races, but it gets up to highway speeds and gets around town perfectly fine, and noise, vibration, and harshness (NVH) is well controlled. Combined with the CVT automatic transmission, acceleration is a little sprightlier compared to the old four-speed automatic in the base CE model. Thankfully, the continuously variable unit will be the only automatic transmission available for next year.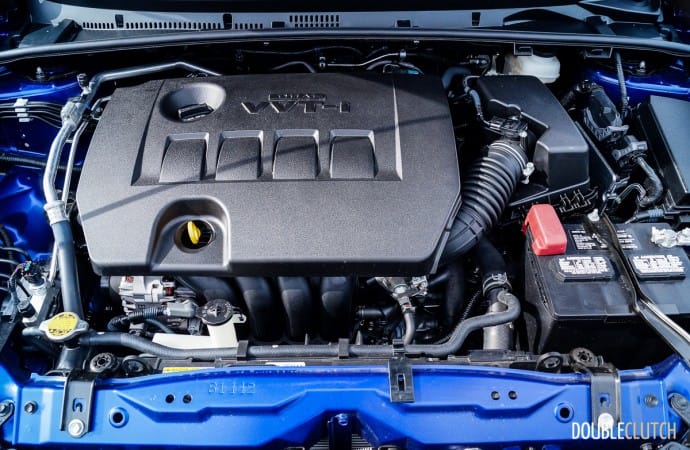 On the road, there's a little bit of the rubber band effect that's typical with a CVT, but drivers should understand that the engine is being kept at the optimal rpm for both acceleration and fuel economy. Interestingly enough, the paddle shifters work very well, and are actually more responsive than a conventional torque converter automatic when it comes to manual ratio override. Having infinite options for "gear" ratios mean that the Corolla is rated at 7.9 L/100km in the city, and 6.1 L/100km on the highway. Observed fuel economy over a week on test just about split the two numbers, with 6.9 L/100km in mixed driving.
Most people don't associate the Toyota Corolla with superior driving dynamics, but that's not exactly the point of this car. Around town, steering is light and driver control inputs are easily modulated, making maneuverability a strong point. With a plain jane MacPherson strut suspension up front and a torsion beam in the back, costs are kept low, but ride quality doesn't necessarily suffer. It's not as good as the likes of the new Civic and Elantra, but it's also not quite the same penalty box that would typically be expected for a car in this class. There's also more road and wind noise, as well. All things considered, the simplicity in the suspension, as well as the (rear drum in all but the S Upgrade Package) brakes allow for great durability and longevity, in addition to keeping replacement and maintenance costs lower for the end user.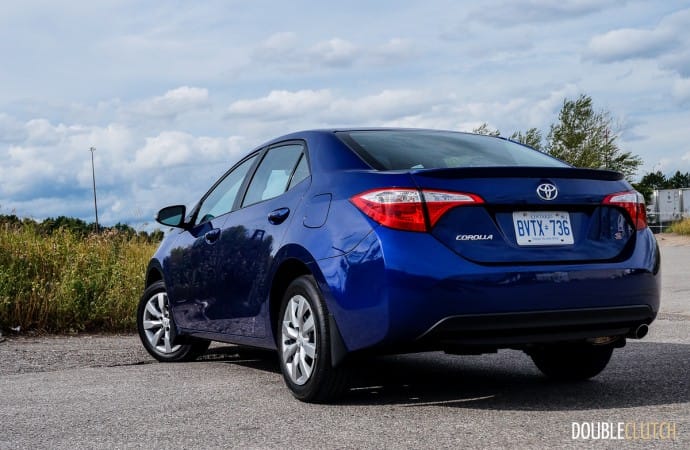 When it comes to the interior, the Corolla S continues its no-nonsense approach. There are certainly some design cues lifted from more upscale Lexus products, but the material quality has been adjusted to match the compact Toyota's price point. Fit and finish is still very good, with no squeaks or rattles under any circumstances. The 6.1-inch multimedia system worked adequately well and was intuitive enough, and Bluetooth phone pairing allowed for seamless audio streaming for the whole week on test. Expect this system to be further updated with Toyota's latest for 2017.
In the compact sedan segment, there are a multitude of choices from various automakers, and each choice reflects the unique preferences of the prospective buyer. People who like a little Zoom-Zoom and driving fun may elect to go with the Mazda3 or Honda Civic, and those looking for incredible value, great road manners, and long warranties might elect for the Hyundai Elantra. To further complicate things, a buyer looking for lower purchase (thanks to incentives) or financing costs may elect to go with one of the domestic offerings – the Ford Focus (reviewed here) is an example of this, and Chevrolet has also brought out a brand new Cruze for 2017.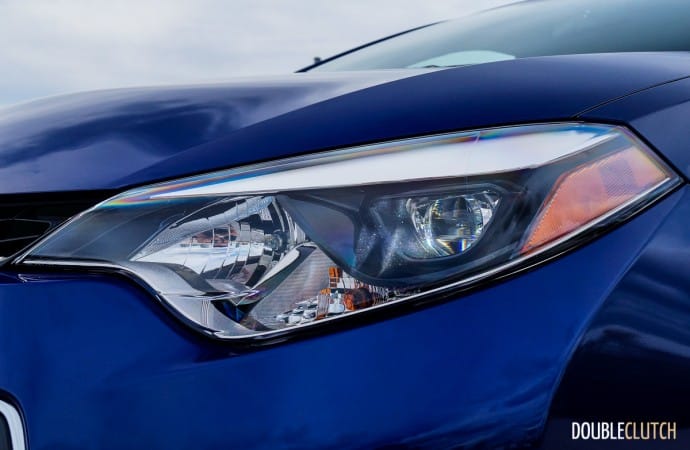 Where does that leave the Corolla? Long story short – it is not an enthusiast's setup, but for those who are watching the bottom line, it's a great example of cost effective design that has statistically been one of the most dependable and reliable over the years. It's easy to forget this when the 2016 Toyota Corolla is viewed strictly through a car enthusiast's microscope, and so for those who are only looking for affordable A-to-B transportation that won't let them (or their wallet) down, the Corolla is still a good choice. In keeping with the recurring theme of this review, expect the 2017 refresh to be significantly improved in just about every area.
2016 Toyota Corolla S Gallery
See Also: