I totally get the idea of a cheap Jeep – something with 4×4, rugged and bare bones, practical enough for the daily grind, but able to tackle the trails on the weekend. If you exclude the part about being cheap, I just described a Wrangler. An absolute base Wrangler starts at $25,000, you'd be lucky to get 13L/100kms out of it and it's definitely not well cut out for city commuting, especially without the optional hardtop. That's where the Renegade comes in; it's Jeep's affordable small SUV that's big on capability and Jeep heritage, while still being efficient enough for everyday use. In theory, it sounds like a great idea, so I was more than happy to spend a week with this brand new 2016 Jeep Renegade North to see if the theory would hold in a real-world setting.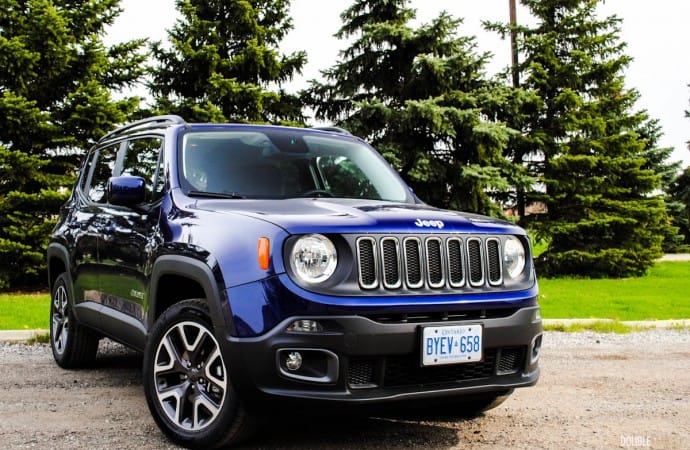 The Renegade that would serve as my tester for the week is what I'd call a "volume seller", it's the mid-range North trim package, with a good list of add-on options. This is not the pricier Trailhawk, or the fully loaded Limited. While the Renegade starts at a palatable $21,500, the base price of my North is $27,995. Once you add almost $10,000 worth of options, the as-tested price comes out to a staggering $36,325 – so much for a cheap Jeep.
The biggest costs are stepping up from the 1.4L turbocharged four-cylinder and manual transmission to the 2.4L TigerShark four-cylinder mated to a 9-speed automatic ($2300). Other major costs are navigation ($1100), a Beats audio system ($995), Cold Weather Package ($795) and the Popular Equipment Group ($850) which adds power seats, split folding rear seats and dual-zone automatic climate control. If you're willing to forego some modern creature comforts, you can get yourself into a Renegade fairly easily, but you would be making a sacrifice in favor of the Renegade's Jeep capability.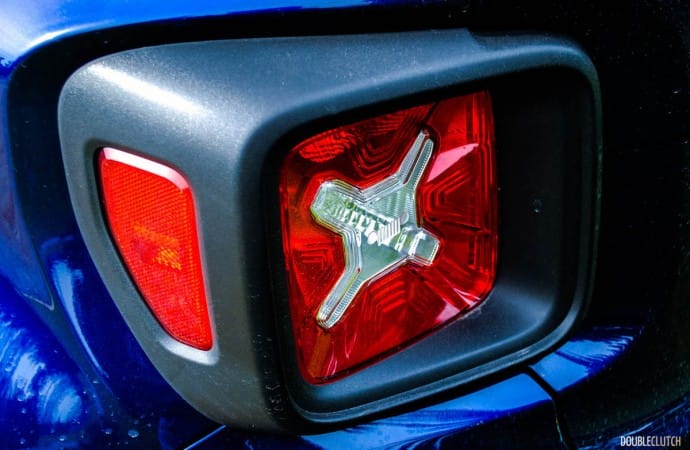 One thing the Renegade does very well regardless of options is constantly remind you of its Jeep-ness. Everywhere you look inside or out, you'll find some little detail linking back to the Jeep's heritage. Jeep grill logos are everywhere; on the speaker covers, the inside of the rear hatch, the word "Jeep" is written repeatedly on the premium cloth seats, and the redline area of the tachometer is made to look like a splash of mud. On the outside the rear taillights are shaped like off-road jerry-cans, and the Renegade proudly wears a version of the infamous Jeep horizontal slat grill. I applaud the folks at Jeep for keeping it compact and not losing the quintessential styling.
Since the Renegade has decent ground clearance and flat, tall sides, entry and exit is extremely easy, something that'll likely be appreciated by older buyers. Once inside, the Renegade is surprisingly spacious for its size. There is loads of headroom, good legroom in the rear seats, and the cargo area is impressively large given the Jeep's tiny exterior dimensions. Folding the rear seats nearly flat reveals an even larger cargo space, complete with handy tie down hooks.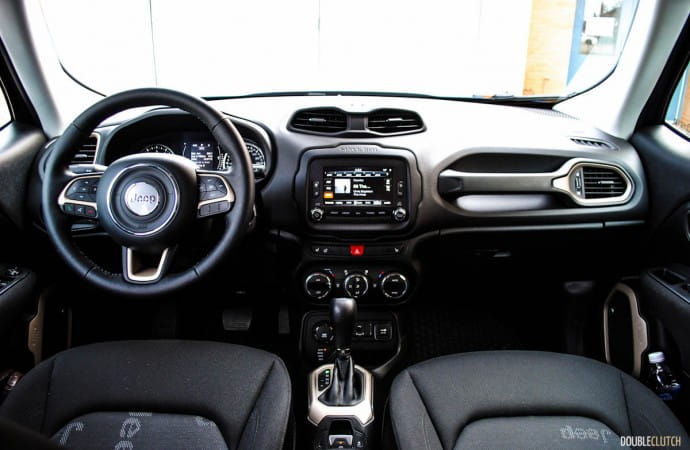 Despite the nice quality of cloth used, and the eight-way power adjustment, I just couldn't quite get comfortable in the driver's seat and it took a few days of driving before I got used to what I'd consider an awkward driving position. Storage space up front is also fairly limited; the door panel pockets are tiny and strangely shaped, and the centre console is also on the small side. The controls are easy to operate and clear for anyone to understand.
As always, the UConnect system is great, and the 6.5" touchscreen in my tester was a welcome addition. The gauge cluster is also nicely laid out and can be set to show just about any information you'd want to know about your drive. There's a prominent knob towards the front of the console which allows you to lock the 4×4 system, or select your terrain so the system can optimize it's adjustments to match the conditions. That 4×4 knob serves as a very strong hint that this Jeep isn't all just logos and gimmicks, but it's actually backed by a real Jeep 4×4 system that is prepared to take on whatever you can throw at it.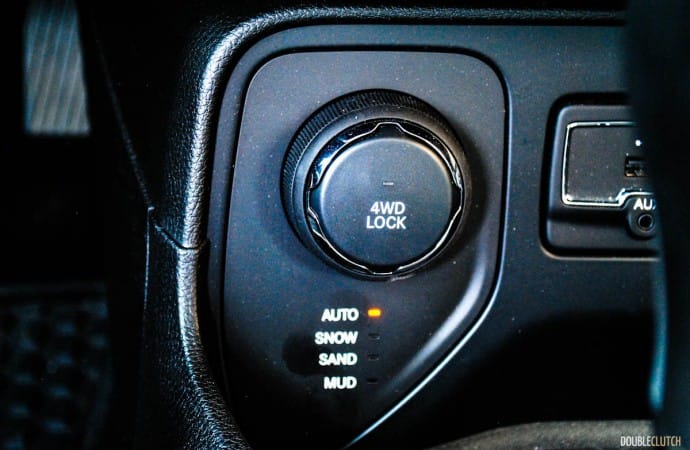 If you did intend to hit your local trail, you'd probably want to opt for the Trailhawk package as it adds some extra ground clearance, skid plates, a 20:1 crawl ratio and more. My more mundane North trim tester still benefits from great ground clearance and extremely favorable approach and departure angles, which will no doubt help stay out of trouble when the going gets tough. At the very least, you can be sure that a Renegade North 4×4 will make light work of anything you might encounter in your winter commuter, at the cottage or the next ski trip.
On the road the Renegade's clear weak point is the four-cylinder powertrain. Even with the bigger 180-horsepower 2.4L 4-cylinder and nine-speed automatic, my tester proved that acceleration was not its strong suit. Putting your foot down prompts the nine-speed to quickly downshift, met only with moaning from the 2.4L. If Jeep could figure out a way to fit the smaller 3.2L Pentastar V6 in the Renegade, they might have a really hot little SUV on their hands.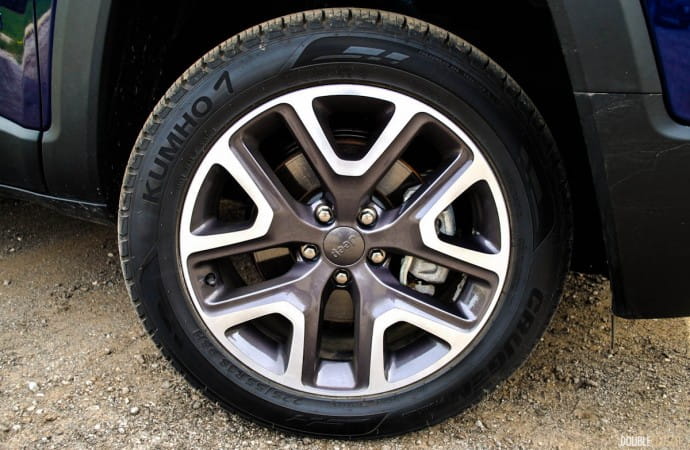 Engine aside, the rest of the Renegade's platform feels pretty good. It's rigid chassis helps it handle confidently, it takes corners better than I'd expect, and ride quality is nice and comfortable on the highway as well. In the city, the Renegade's tight turning circle, good field of vision and optional back-up camera all work together to make child's play of maneuvering and parking.
Back to that little four-cylinder, with the help of the nine-speed the best fuel economy I could squeeze was 10.6L/100km through my rush hour commute. For a boxy 4×4 it's respectable, though I was expecting a bit better given the Renegade's small size. It's noteworthy that the fuel tank in the Renegade is only 48L, meaning I only got about 400kms before I hit the low fuel light, not ideal if you're a frequent road tripper.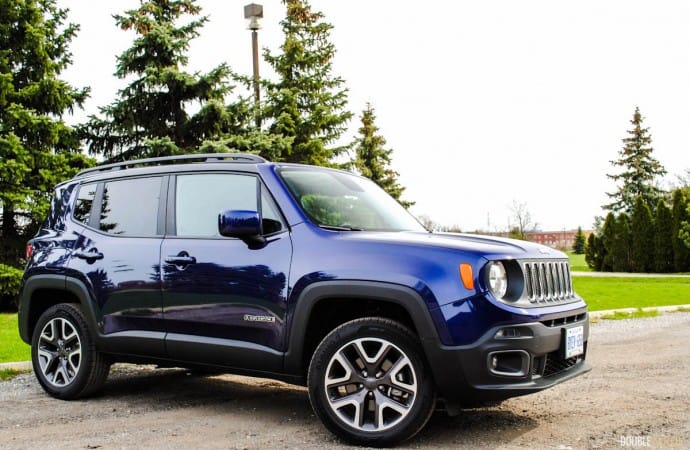 The 2016 Jeep Renegade North as a practical little 4×4 is a great idea, but in execution it has a few shortcomings. That said, this little number has character, loads of interior space, and a very practical cargo area. For those reasons I could see a Renegade like my tester making an adventurous urban couple very happy. The smallest Jeep can navigate the city just as well as any compact, yet offers the space and capability to take them anywhere outside the city, and that really doesn't sound so bad.
2016 Jeep Renegade North Gallery
See Also: