Sold in North America since the 1999 model year, the Lexus RX has found its way into countless households. As of April 2015, Lexus had sold over two million RXs around the world. Upscale, smooth, and reliable as it was, the first, second, and third-generations of RX were never particularly interesting. It represented an immensely comfortable, solid choice in the midsize sport-utility segment that would provide years of trouble-free motoring while delivering an image that your family was upper-middle-class. This year marks an all-new model, packed with new features never seen before on this line, and we were sent a 2016 Lexus RX 350 F-Sport to sample and evaluate.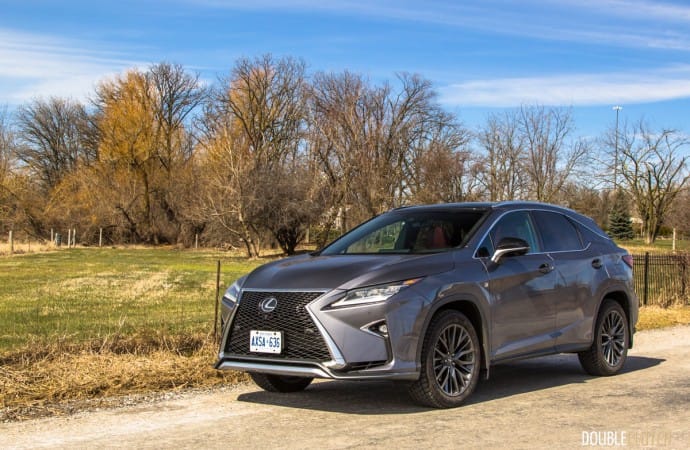 As with most other vehicles I test, a photo of the RX 350 I deemed flattering was posted on the DoubleClutch.ca social media feed to gauge reactions on its styling. Unsurprisingly, it received just as many compliments as it did criticisms. Some found the edgy styling to be a bit much, while others liked the signature Lexus spindle grille. Good as they were, RX models of the past were bland to look at, and this fourth-generation (code AL20) example is a huge departure from that. The new design language incorporates aggressive lines and subtle cues throughout.
The RX's front fascia is immediately reminiscent of other models such as the crazy RC-F (reviewed here) and instantly identifiable as a Lexus. The side profile is more interesting, thanks to a more raked roofline and an overall sportier stance, with a faux-window piece between the rear door and the tailgate, giving the impression of a floating roofline. If anything, the new RX 350's design is almost reminiscent of the recently redesigned Nissan Murano (reviewed here) – definitely a compliment as both crossovers represent fluidic styling and great proportions. Our F-Sport tester was equipped with unique 20" alloy wheels, F-Sport grille, and LED lighting all around,.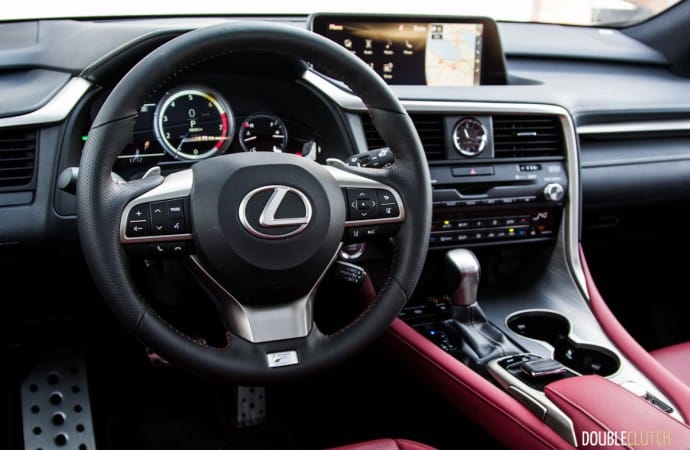 Moving into the five-passenger cabin is where the new RX blew this writer away. Our specific model's exterior was a conservative Nebula Grey Pearl, paired to a stunning Rioja Red leather interior. The vast majority of switchgear is similar to the rest of Lexus' lineup, namely the current IS family (reviewed here) and the RC 350. The driver faces a beautiful F-Sport instrument gauge cluster with a ton of features including a G-meter and fuel economy information. The tachometer and speedometer have a few different skins depending on drive mode, with "Sport+" highlighting the gauges in white and red.
Highlighting the RX 350 F-Sport's interior is my favourite conversation piece – the 12.3-inch multifunction display that Lexus calls Electro Multi Vision. It's a higher resolution, more responsive version of their existing infotainment system, with the largest screen ever. There is no touch functionality, which is fine by me as it eliminates fingerprints, and it's controlled via a mildly updated Remote Touch Interface. The "mouse" is responsive and easily toggles multimedia, navigation, Bluetooth, climate control, and other vehicle settings. I was surprised to see Lexus revert to the mouse after the new touchpad-based system we saw in the current NX 200t (reviewed here), but the mouse-based RTI's feedback is configurable and it's sufficiently simplistic.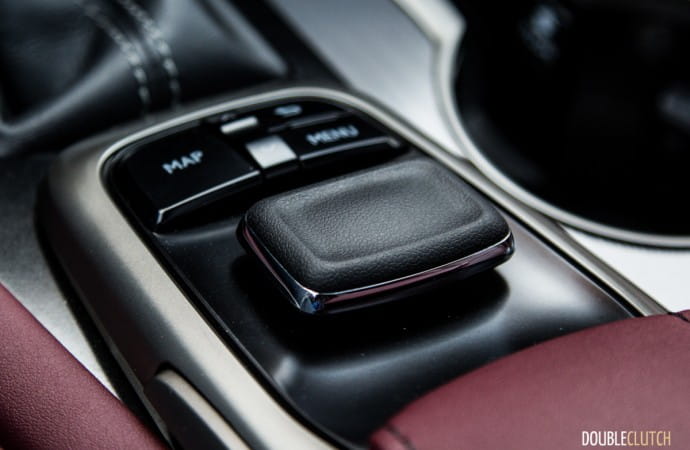 As we have come to expect from Toyota's luxury division, interior fit and finish is mind-blowing. There's nary a panel gap to be found, and everything looks, feels, and smells like it should in a premium vehicle. The sporty F-Sport seats, apart from being gorgeous, are very comfortable and provide ample bolstering and support. Thanks to the cabin's comprehensive features and overall layout though, legroom in the front seats leaves a lot to be desired. The center stack is wide and intrusive to the footwells, causing this 6'1 driver to have to move the seat back, thus impeding on rear passenger legroom too. On a positive note though, the RX has the first power folding rear seats within its segment.
Since the RAV4 from a decade ago, Toyota has been using a 3.5L V6 throughout their lineup with great success. This of course means that nobody will be shocked to learn that under the hood of the all-new RX 350 is also – you guessed it – a 3.5L V6. Nevertheless, this motor should not be confused with the old one; it's a brand new block featuring direct-injection and relocated engine mounts, which is something unique Lexus did, thus minimizing side-to-side movement maximizing rigidity. The output of the new engine is 295 horsepower and 268 lb-ft of torque at 4,700RPM.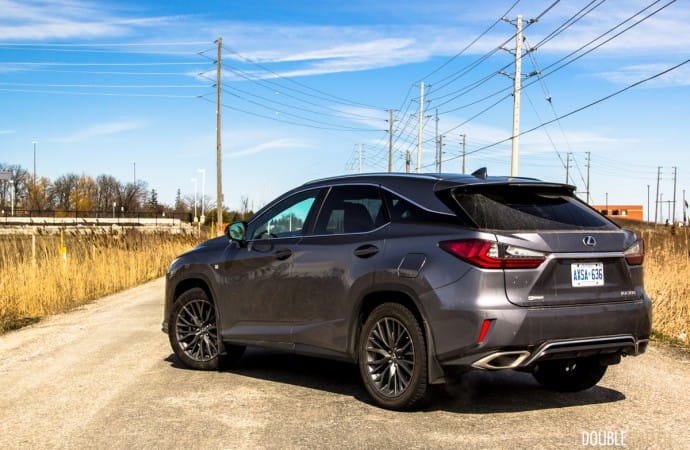 Power delivery is silky and the RX's engine response is just as seamless as in the IS 350 we have come to love so much. Using Lexus' drive mode selector, Sport+ livens everything up significantly, including piping some artificial sound into the cabin (I'm not completely on board with this, but it works), and sharpens up the big RX's reflexes overall. I did a good amount of testing in Eco mode, which doesn't dull things out as much as one would expect – the RX exceeds most expectations and surpasses its rivals just moseying around in the most frugal setting.
On the previous model, only certain trim grades got the eight-speed automatic. For 2016, every single RX 350 sold is equipped with this excellent gearbox, regardless of whether or not the F-Sport package is in play. This is an Aisin transmission that packs seamless shifts and excellent smoothness. The transmission works effortlessly with the engine to ensure that the new RX 350 feels lighter and more agile than its predecessor. In RX 350 F-Sport all-wheel-drive guise, this model is about 150 lbs. lighter than a comparable 2015 model, and feels like it in real-world testing.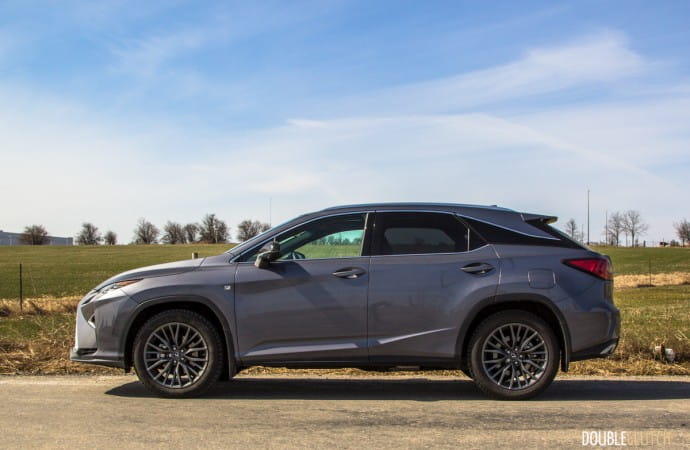 Ride quality thanks to the Adaptive Variable Air Suspension is also charming, as the variable system absorbs road imperfections with ease. There's no evidence of any jarring bumps or choppy moments even at highway speeds, and I can't wait for this system to trickle downstream into models like the IS and even the ES (reviewed here).The electric power steering is responsive enough, though not exactly confidence inspiring in high-speed corners. The F-Sport moniker is a bit superficial here – this model is sportier than the regular RX 350 but not any moreso than its competitors.
Lexus suggests 12.2L/100km highway and 8.9L/100km city for the RX 350, and my conservative driving style and heavy highway use typically lands me very close to manufacturer estimates. The RX 350 F-Sport on my watch delivered a week average of 12.9L/100km on 91-octane premium fuel (recommended), which was a bit worse than I expected. Additionally, the 72L tank went into reserve and displayed "15km to empty" after only consuming 53L, which was a bit annoying and definitely not typical for a Toyota product. Those whose crossover requirements prioritize fuel economy may want to look at the hybrid RX 450h model.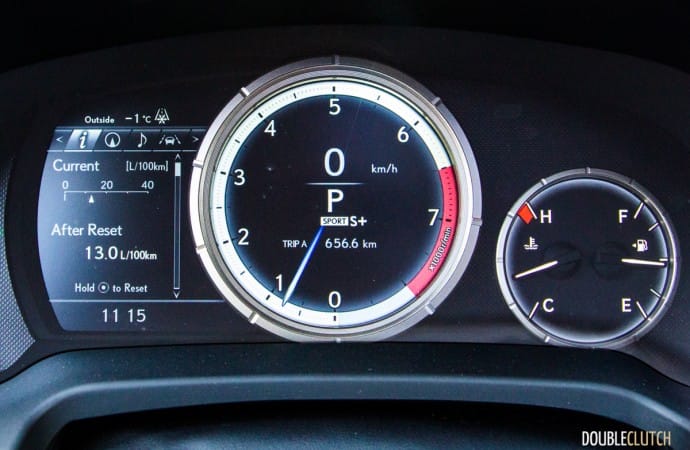 The base RX 350 comes with all-wheel-drive in the Canadian market, and is priced to sell at $53,950. Our tester was nearly loaded, with the $14,050 F-Sport Series 3 option box checked off. Less expensive packages are available, but this one included all of the F-Sport styling goodies, air suspension, power-folding rear seats, 15-speaker Mark Levinson sound system, dynamic radar cruise control, lane departure alert, LED lighting, touch-free power rear liftgate, heads-up display, panoramic sunroof, surround-view camera system, wireless charging, and a few other neat gizmos. The grand total crested the $70,000 mark.
It's unquestionably great to see Lexus implementing tricks and gadgets into their family SUV. The touch-free liftgate means that if you hold your hand in front of the Lexus logo on the rear liftgate, it will open. Lexus' challenge lies in the fact that Ford offers a similar setup on their Escape (reviewed here), which only requires you to wave your foot under the bumper. Lexus requires a free hand, bringing up the question, why not just use the key fob? Regardless, things like this and the power-reclining rear seats are indicative of the fact that Lexus has not forgotten about the toys and still has an aura of youth to the brand image.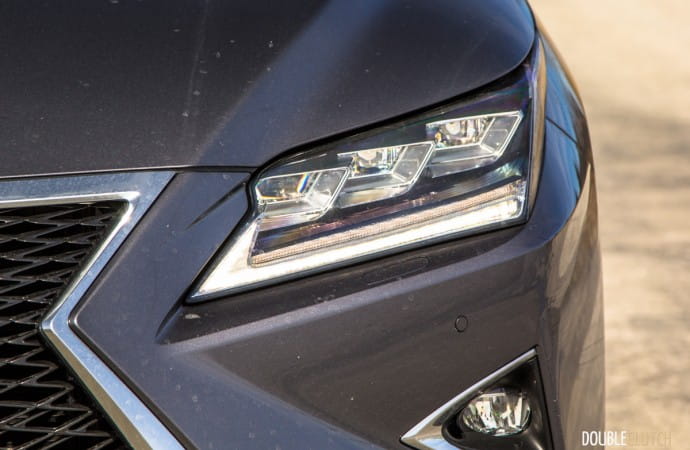 In past years, I have recommended competing SUVs such as the Acura MDX (reviewed here) and even the Volvo XC90 to friends and readers asking about this segment. It's not that the RX was a poor choice – there were just far more compelling choices out there with flair to them, as well as a three-row option that the RX still lacks. However, after spending a week and nearly 600km behind the wheel of the 2016 Lexus RX 350 F-Sport, the time has come for me to swallow my words – this is a seriously good vehicle. If you can get past the polarizing looks and get into the magnificent cabin, this is likely one of the best premium choices out there for an outdoorsy individual, a stylish couple, or even the whole family.
2016 Lexus RX 350 F-Sport Gallery
See Also:
2016 Volvo XC90 T6 Inscription