I am very slowly becoming a Jeep Wrangler convert. My past experiences with Wranglers have not been the most positive, but with Jeep adding 2 extra doors and refining the formula a little bit, the latest Wrangler Unlimited has definitely been growing on me. Last year I reviewed the Wrangler Sahara and really enjoyed my time with it. Sure, it's not the most polished commuter, but it got through the daily grind with character and a reasonable amount of comfort. While the Sahara was optioned out to be more of an all-rounder, this year our friends at Jeep sent me something slightly more aggressive. This special edition model is known as the 2016 Jeep Wrangler Unlimited Willys Wheeler.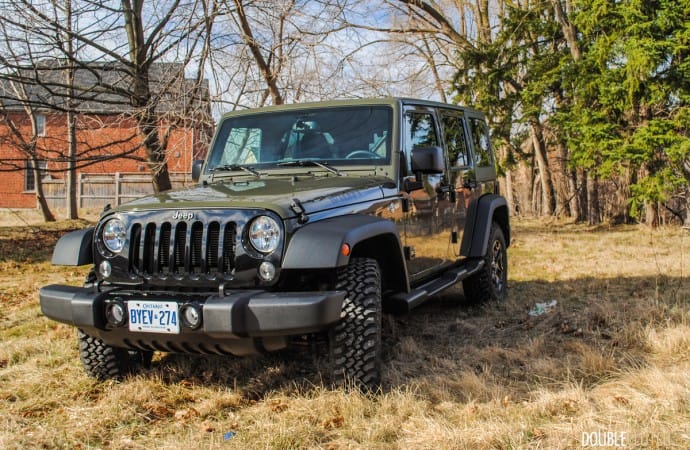 The Willys Wheeler edition represents what I would call an entry-level off-road package. It has all the goodies you'll want if you intend to take on some serious off-roading, but a lot less of the frills and little luxuries that come with the Sahara or Rubicon models. At $2900, the Willys Wheeler package adds a stout locking rear differential with a torquey 3.73 ratio, aggressive 255/75/R17 BF Goodrich off-road tires, performance suspension and rock rails for some added body protection. The body is worth protecting too, as the Willys kit adds some unique decals, a gloss black front fascia, tow hooks and special gloss black 17" wheels. My tester came painted in a military green appropriately called "Tank".
In addition to the Willys kitting, my tester also came with a tow package, five-speed automatic transmission, air conditioning, Freedom hardtop and Alpine stereo with a 6.5" touchscreen. The as-tested price came to just over $44,000. It's noticeable that the Wrangler is lacking in the way of conveniences. For instance, the seats are not the most comfortable for long rides, they're not heated and you'll have to adjust them manually. You'll also need to turn your lights on and off yourself, and actually look behind you when you reverse because there's no camera.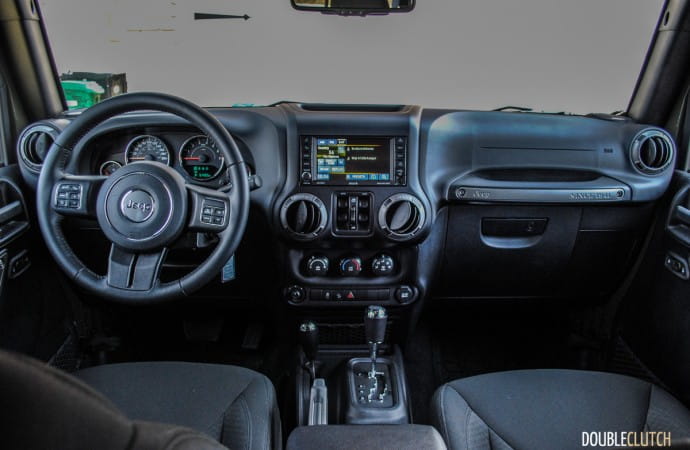 While the list of features on my tester is a lot smaller than what we normally test here, the Wrangler has most of what you might consider basic modern conveniences; keyless entry, power locks and windows, etcetera. The interior itself is strictly function, with hard plastic door panels, a basic plastic dashboard and minimalistic layout. That does mean that there's plenty of space for both front and rear passengers to spread out comfortably. The rear cargo area is also surprisingly large, and the swing gate gives unimpeded access for loading.
Driving a Wrangler is actually an experience worth having, and I'd encourage any enthusiast to at least give it a try. It's odd at first, but once you get used to managing its quick turn-in and torquey throttle you just might find yourself having fun. The Wrangler's only available engine is the 3.6L Pentastar, making 285 horsepower in this application. This motor can be mated to either a six-speed manual or a five-speed automatic. My experience with these has me strongly preferring the automatic, as the manual can be a more akin to driving a dump truck with its long throws and short gearing.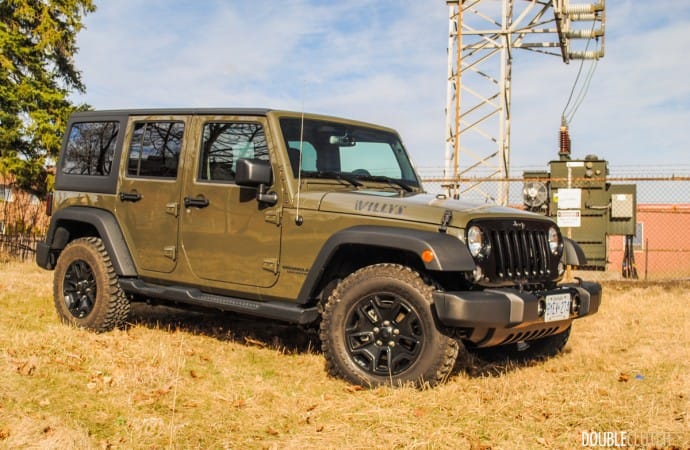 The automatic transmission tested here makes great use of the V6's low-end torque and the Wrangler actually moves around quite briskly in the city. It will also easily break the rear tires free with a quick romp on the gas. The steering has a strange feeling; it's direct and responsive, but slow at the same time. The sharp turn-in takes some getting used to, especially in something that feels so top heavy, and the Wrangler is prone to body roll if you push it through corners a little bit faster than it wants to go.
The Willys off-road tires and suspension do make the ride quality notably worse than I recall from my time with the Sahara. The fact is, no Wrangler is going to be a comfortable cruiser – that's just not what it's meant for. Aside from the off-road prowess it boasts, the Jeep demonstrates that it is surprisingly good in the heart of the city. The tall sightlines and tight turning radius make maneuvering easy, and its capabilities make short work of potholes, curbs and other annoyances. The intimidating looks of my tester also came in handy – not many people are willing to cut-off a military colored Jeep sporting mud tires and big black steel bumpers.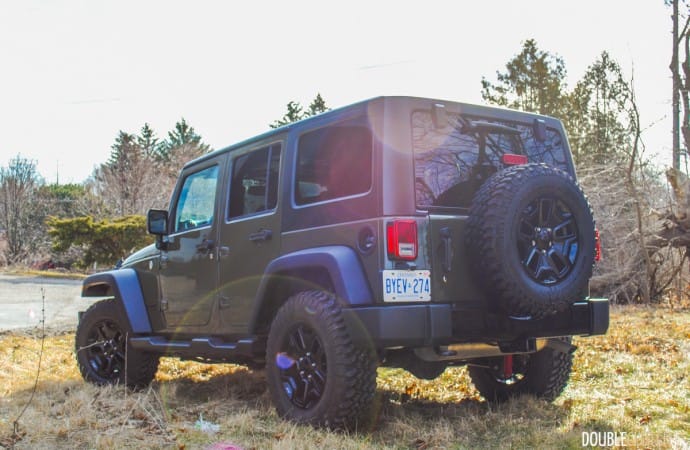 Fuel economy is another area where you've got to be willing to make some sacrifices to have the coolness factor of a Wrangler. I averaged 12.8L/100km in my week of rush hour commuting, but when you consider the fact that the Wrangler has the aerodynamics of a brick and has five gears in its automatic transmission, it's really pretty reasonable. Cruising along the highway at 110km/h in fifty gear will have the Wrangler's 3.6L buzzing at 2500rpm, far from efficient. I would like to see the next-generation model offer the brilliant eight-speed transmission available in other Fiat-Chrysler products.
Another piece of advice I'd give to a potential Wrangler buy is to strongly consider the optional Freedom hardtop. At $1150 for the black version (more for a color matched unit) it's not only a bargain compared to most convertible hardtops, but a very well designed and built unit. It's tight and rattle-free, didn't leak a drop even through a severe downpour, offers an extra level of security, and most of all, the glass windows, defroster and extra heat retention become greatly appreciated come winter. On the Unlimited models the front section of the hardtop can quickly be removed to take in some sun without going through the effort of removing the entire top. I don't think I'd own a Wrangler without a proper hardtop.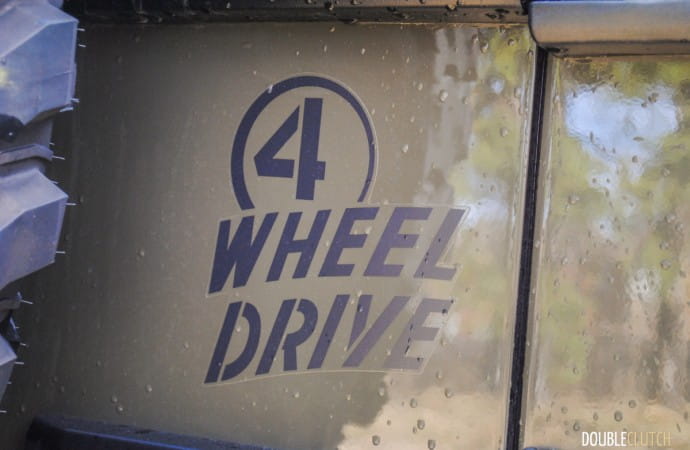 I think it's really great that Jeep is offering so many different configurations of the Wrangler to fit the dynamic audience that the Wrangler appeals to. Today you can find anyone from a high-school girl to a seasoned businessman behind the wheel of a Wrangler, and that speaks volumes to its character, adaptability, and versatility. The Willys Wheeler package is just one of those configurations, but I'll give Jeep credit for building something in the spirit of a bare-bones off-roader – what a great way to keep connected to the Wrangler's heritage. The Wrangler has managed to remain relevant and totally unique even after 75 years in the market – its character and charm is certainly greater than the sum of its parts.
2016 Jeep Wrangler Unlimited Willys Wheeler Gallery
See Also:
2015 Jeep Wrangler Unlimited Sahara
2015 Jeep Grand Cherokee EcoDiesel