Full-size sedans have always been exceptional cruisers and the Charger is one of the best.
The golden age of the full-size American sedan has long since faded away in favor of cheaper, more efficient and more practical family haulers. Crossovers and SUVs own the family vehicle market today, but to me they will never have the appeal of the charismatic domestic sedans of the 50s, 60s and 70s. Bright colors and big V8s were the order of the day, and today's non-descript crossovers don't even come close in terms of style or persona. Fortunately, there are still some very good options out there for buyers like me with more old-fashioned tastes. Fiat Chrysler Goup has probably been the most prominent player in the segment, and the Chrysler 300C has earned its place as a personal favorite of mine. I eagerly jumped into a 2016 Dodge Charger SXT AWD to see how it would fare in my daily grind.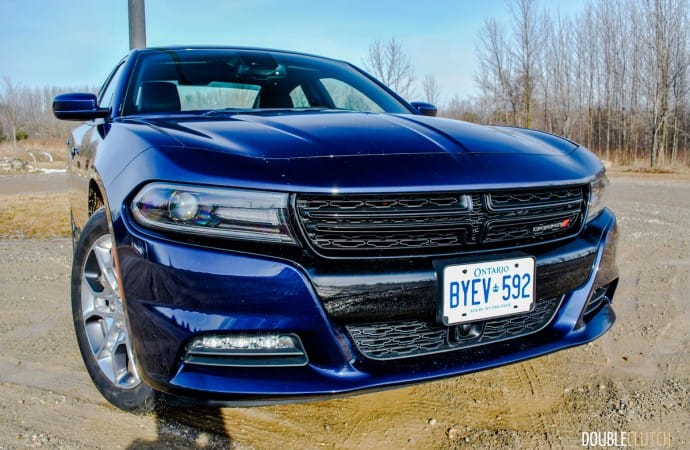 Sitting on the same platform as the Chrysler 300, the Charger definitely has a younger, edgier personality as opposed to the 300's more refined and elegant details. From a styling perspective, both cars are quite polarizing and most people either love them or hate them. I've had a long-term lust for the 300C, but the Charger's more playful and muscular looks never quite had the same effect on me. The Charger is certainly not a bad looking car though – the front fascia is downright sinister. The racetrack-design taillights give it an unmistakable look very reminiscent of its predecessors.
Personally, I think the high beltline and the fact that the car's lines just don't flow as well as they could give it an almost cartoon-like appearance. That sort of look might work well on a sports car, or even a smaller car, but with a big family sedan like this I like to have a more dignified and distinguished look. Happily, dignified and distinguished is exactly how I would describe the rest of the big Dodge. My tester represents a fully loaded V6 model – it's an all-wheel-drive SXT model in Rallye trim, with every option box ticked off. The as-tested price comes out to $48,500, which is just a little bit hard to swallow, but it is in line with competitors like the Nissan Maxima (see review here).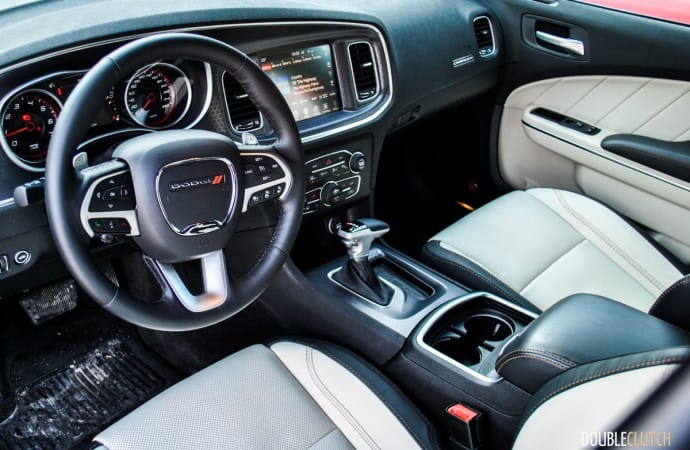 The interesting call-out here for our enthusiast readers is the Rallye package. For a mere $495, the package gives you the sinister R/T style front fascia, gloss black trim, a tasteful rear spoiler, and an "Active-Air" intake which bumps the 3.6L Pentastar V6's output from 292 horsepower to an even 300. The much pricier Premium Package, at $5,300, focuses mostly on the latest tech gear and interior comforts. It adds things like ventilated leather seats, adaptive cruise control, lane keep assist, navigation, a Beats audio system with a subwoofer in the trunk and 552-watts, and the list of features goes on. In fact, you'd be pretty hard-pressed to think of a modern feature that Dodge doesn't offer on the new Charger.
The as-tested price probably already gave it away, but this isn't a cheap car by any means. A lowly base model rear-wheel-drive version will still run just shy of $36,000. The silver lining here though is that the Charger isn't built to serve a rock bottom price point. This allows the folks at Chrysler to splurge a little bit on interior finishings. The two-tone cream and black leather in my tester has a soft, rich feel, and the seats themselves are exceptionally supportive.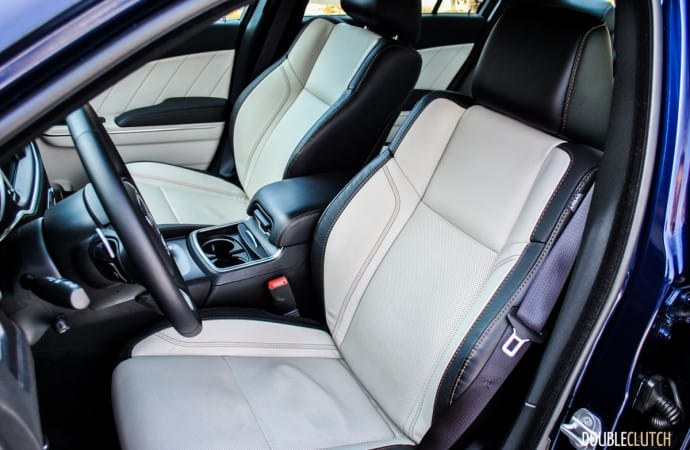 The Charger's dash, door panels and centre console use a soft-touch matte finish material that is quite nice, and the dash fascia itself uses a metallic mesh that looks and feels both interesting and high-tech. Whenever I see metallic dashboards I think back to the late 70s Pontiac Trans Am, a car that couldn't be any more iconic if it tried, so seeing this modern iteration of that feature in this Charger brought a smile to my face. The interior in the Charger isn't just stylish; it's also very practical, even for growing families. The rear seats offer plenty of headroom, even more than certain crossovers. The trunk is huge and the split-folding rear seats allow the Charger to handle awkward loads with relative ease.
The Charger absolutely shines on the open highway. Solid, quiet and confident are the first words that come to mind when describing how it feels on longer drives. These full-size sedans have always been exceptional highway cruisers and the Charger is one of the best of the lot. This is the type of sedan you could drive in for hours on end and step out feeling refreshed and ache free. The 3.6L V6's 300 horses do a great job hauling the Charger's mass around, and the all-wheel-drive system definitely adds a significant amount of confidence over the base model's rear-drive setup. I would wager that the majority of Canadians will opt for AWD models.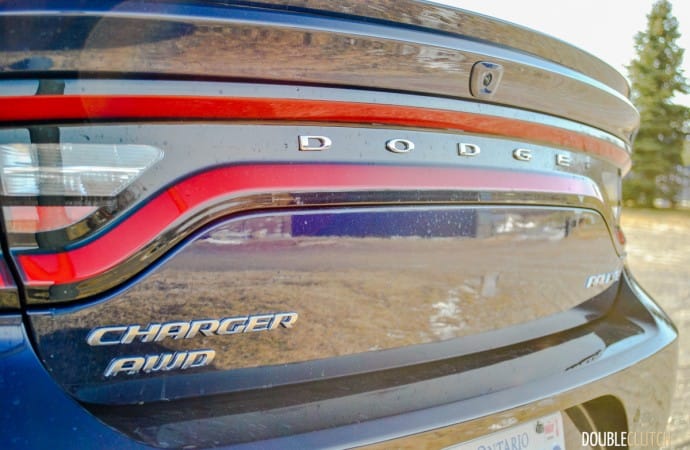 We did get some winter weather here in the city during my time with the Charger, and riding on quality winter tires, it confidently tackled ice-coated city streets. I've said this before about the Pentastar 3.6L-powered Chrysler products, but I honestly believe that the V6 is more than 90% of buyers will ever need from a car like this. It accelerates briskly, cruises in a relaxed manner, and is extremely smooth to boot. Mated to the eight-speed automatic transmission, this is also a very efficient powertrain and I averaged 10.7L/100km on regular 87-octane fuel during my week of wintery commuting. Yes, stepping up the 5.7L V8 would be a treat, but I'd have to do it knowing that I am doing it as an indulgence and not as a necessity, especially considering how good the V6 is.
Progress is a good thing; we all need it and crave it in our lives. Sometimes though, too much is just too much, and it's nice to step back a bit and indulge in something that helps take you back to a simpler time. These full-sized American sedans do that for me, and the great part about something like a Charger or a 300 is that you don't need to make any real sacrifice to have it. You still get more space, power and features than you'll likely ever really need, but with that you get the attitude and style that the majority of today's family haulers lack. If that appeals to you, then the 2016 Dodge Charger SXT AWD is something you owe it to yourself to consider.
2016 Dodge Charger SXT Rallye Gallery
See Also: