I've spent my fair share of time in Ram trucks over the last couple of years and despite my General Motors blue blood, I have come to love them. I've maintained that a well optioned Ram 1500 makes the best full-sized city truck, and my recent test drive of the stripped-down Ram Express had me rekindling old memories and re-learning to appreciate the charm of a good old fashioned basic pickup. The new 2016 Ram 1500 Rebel however, sits at the opposite end of the spectrum; it's definitely not a city truck, and it's far from basic. Currently there are eleven distinguishable Ram 1500 models, each uniquely packaged for a particular buyer and with distinctly different appearances. Normally I'd call this excessive, but the full-size pickup has become such a versatile vehicle and appeals to so many different buyers that Ram's model strategy actually makes perfect sense.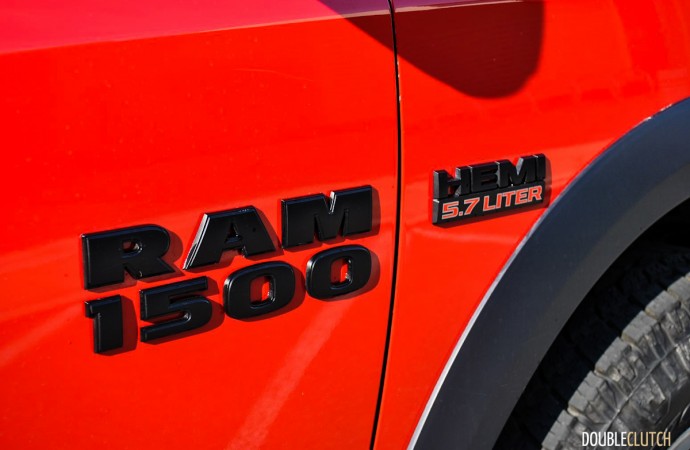 The Rebel is the young, fresh, rough and ready farm kid of the bunch. It's rugged, intimidating and loaded with a full set of toys to show you a boot-scootin'-boogie good time. The Rebel wears its role with pride, boasting a mean mug only its mother could love and a huge stamped "RAM" logo across the rear tailgate. In Flame Red with matte black trim and rolling on 33" Toyo Open Country All Terrain tires, this truck is the polar opposite of subtle. It garnered loads of looks and plenty of both positive and negative comments over my week with it. Clearly its in-your-face looks are not for everyone, but those who liked it really seemed to fall hard for the Rebel's old fashioned all-American charms, and after spending some time with it I definitely fell for it too.
The Ram 1500 Rebel's loud and proud theme is carried forward on the inside as well, where the familiar Ram interior has gained some very well detailed red and black vinyl seats with stitched "REBEL" script and tire tread imprints matching the truck's meaty Toyos. The seats are complimented by red anodized trim, but the rest of the interior is your standard Ram crew cab, which is not a bad thing at all. In fact, I've gone on the record in the past to say that the Ram currently has my favorite full-sized truck interior and I continue to stand by that. It's comfortable, functional and well finished, even if the seats and red trim are not exactly to my taste. My one issue with the Ram's crew cab is that the rear floor isn't flat; it has a built up false bottom for a storage bin and personally, I'd rather have a lower flatter floor to better handle cargo.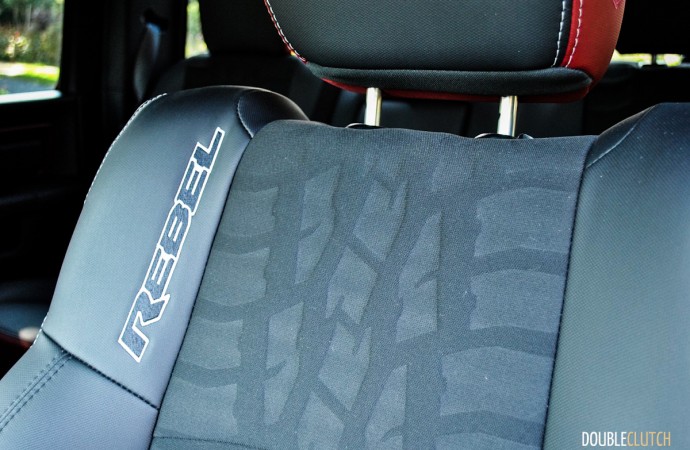 The Crew Cab Rebel starts at $51,895, and my tester came in at just under $60,000 after adding a slew of options including the eight-speed TorqueFlite transmission ($1000), 5.7L HEMI V8 ($300), limited slip rear axle ($525), skid plates ($175), air suspension ($425), RamBoxes ($1195), Uconnect 8.4" touch screen ($1300). While all this stuff is great, I feel the limited slip rear axle and skid plates should be included with the Rebel package; I mean, this is clearly a truck targeted towards the off-road market and those are both mandatory additions. I also found it strange that the Uconnect 8.4, which I am very familiar with, did not have automatic climate control, rather an awkward digital manual system. Lastly, the RamBox cargo system doesn't make sense to me; give me a wider bed instead, please.
Enough about that stuff – what really matters is how this bad-boy feels from behind the wheel. The first thing I noticed after picking up the Rebel and pulling out onto some main roads is that the big all-terrain Toyos offer a lot more sidewall flex than standard Ram 1500 tires, meaning cornering on asphalt feels less confident. Beyond that though, the Rebel handles itself almost exactly like its more refined brother. It's quiet on the highway despite the tires, and the 5.7L HEMI coupled with the highly regarded eight-speed makes its 395 horsepower and 410 lb-ft readily available.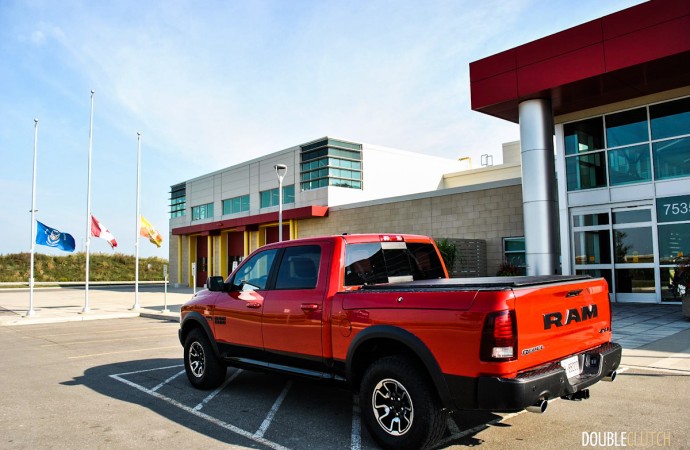 Overall, the Rebel is fairly competent in-town and on the open road, though I must admit I felt rather conspicuous wearing a suit and sitting in downtown Toronto traffic in a bright red trail-ready pickup. As with most big pickups, parking in the city can take some getting used to, but the optional rear view camera and park assist systems coupled with the Ram's tight turning circle can make light work of the task. Knowing that the Rebel's meaty tires wouldn't help its economy, I exercised a light foot for most of my mixed rush hour commuting and averaged 14.8L/100km. Although this is a far cry from the fuel economy I recently achieved in a GMC Sierra All-Terrain, it's still very acceptable for something as powerful and capable as the Rebel.
Out of fear of scratching the perfect red paint, I avoided any serious off-road adventures; I was, however, able to find a neglected old dirt road that had become a bit of a mud bog. With the push of two buttons, I had the 4×4 engaged and the Rebel raised up to "off-road" ride height. The Rebel growled from its twin chrome exhaust tip and blasted through the bog with the utmost of ease, and oh boy, was it fun! Obviously, the Rebel is at home out on the backroads where things can get a little messy, but aside from a set of Bilstein branded off-road shocks, bigger tires and the (optional) skid plates, there are no significant mechanical differences between the Rebel and a similarly-equipped standard Ram.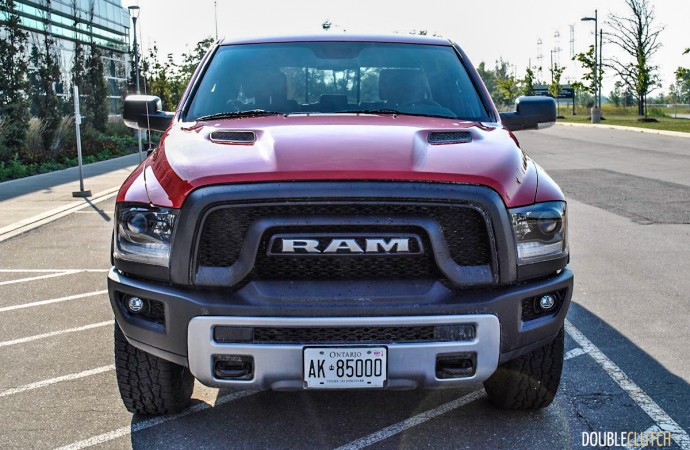 This truck is no rock crawler or Raptor slayer, but it offers a very charming and unique balance between rough and tough attitude and daily livability. It's like that one friend who drinks like a fish, spends the night in the drunk tank every once in a while; on the right night they can be a heck of a good time, and deep down you know they'll always be there for you. The Rebel makes no apologies for what it is – after you learn to love this truck, it will put a smile on your face for years to come, all while keeping you comfortable, secure and ready for whatever challenges may lie ahead.
2016 Ram 1500 Rebel Gallery
See Also: