Let's get real for a second: Using a racy little sport bike as a daily do-all commuter is a ridiculous idea. Sure there are countless hardcore riders out there rippin' through holes in traffic in heavily congested urban centres, riding their R6s, Ninjas and Gixxers, but the reality is, they're not ideally suited for the urban jungle.  They're high-winding, low-torque machines that aren't as maneuverable in low-speed traffic situations as a naked bike or motard machine, and quite honestly, they're pretty uncomfortable, putting a lot of pressure on the wrists and cramping up the legs in the interest of ground clearance.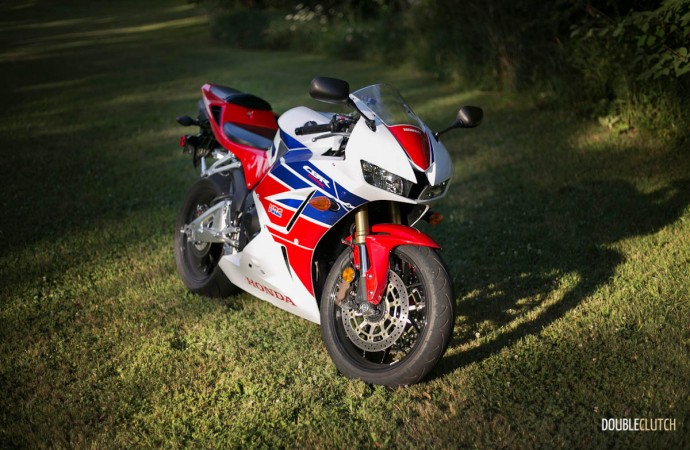 So when I had to pick up my weekly tester – a 2015 Honda CBR600RR – during a heat wave and ride home in Toronto's west-end traffic, I was somewhat relieved that it was Honda's 600 repli-racer I'd be straddling.  See, the CBR is a venerable player in the 600-class of sport bikes; one with a long-standing reputation of being the least masochistic option in an oftentimes hardcore group.  
The CBR's geometry is less extreme than, say a Yamaha R6 or Suzuki GSX-R600, suggesting that it might also be slightly less punishing to ride in stop-and-go traffic for an hour or so.  The reality is, "more comfortable" is a relative term, and while more tolerable than some of its peers, the CBR nevertheless forces the rider to straddle, contort and fold when compared to, oh, say Honda's CB300F naked bike.  Of course, if you're keen on one of the 600-class bikes, the 500 – or any other less raw bike — probably isn't even on your radar.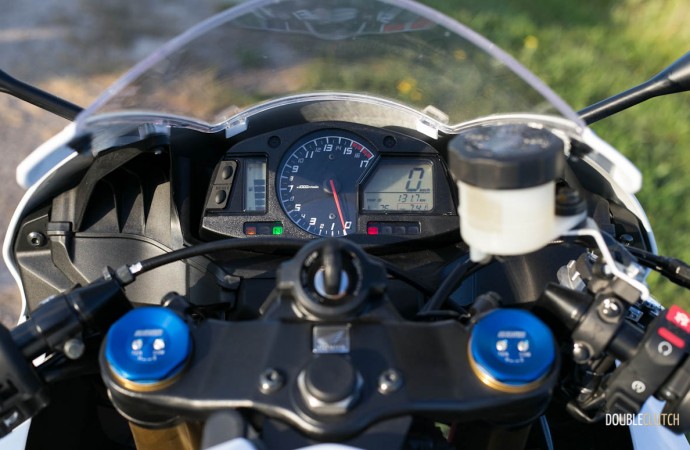 And there's likely good reason for that desire that hopefully goes beyond using it as a machine simply for posing and posturing in front of the local coffee shop.  Choosing the CBR600RR simply as an eye-candy trophy would be tempting – especially in its attractive HRC red, white and blue livery (even more desirable this year since it's not available State-side anymore), but would fail to take advantage of the exceptional engineering found between the beefy front fork and the swing arm.  
The heart of the CBR600RR is its 599cc DOHC inline-4 cylinder engine that wails maniacally all the way up to its 15,000 rpm redline.  Power peaks at just over 12,000 rpms delivering a reported 99 horsepower; with 44 lb-fts of torque arriving just over 10,000 rpms.  This all means that like other bikes in its class, it needs revs – lots of them – to really hustle; but hustle it will when your crank that right grip hard, though it never feels like it wants to be a wild hooligan wheelie machine.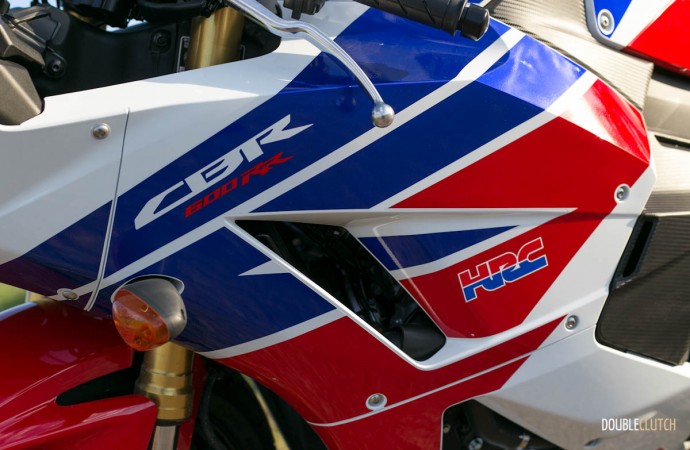 Around town, the CBR needs those revs up to feel lively, which means keeping it in a gear or two lower than one might normally do on a less sporting machine.  It can become tedious to ride with big revs all the time, making some of the wild and wooly nakeds like the FZ-09 or GSX-S750 easier and more fun around town. Unless, of course, the rider prefers the stunning fully-faired design of the CBR600RR.
That said, with the tach swinging into the big numbers, the misery of crosstown traffic is forgotten, and the steering – stiff around town thanks to the HESD steering damper – livens up completely when you hit the open country roads (or better yet, the track). We've actually sampled this bike on the track, and found that it's more than competent – emotionally captivating, even. Here is where the $13,599 (like our ABS-equipped model) truly earns its keep.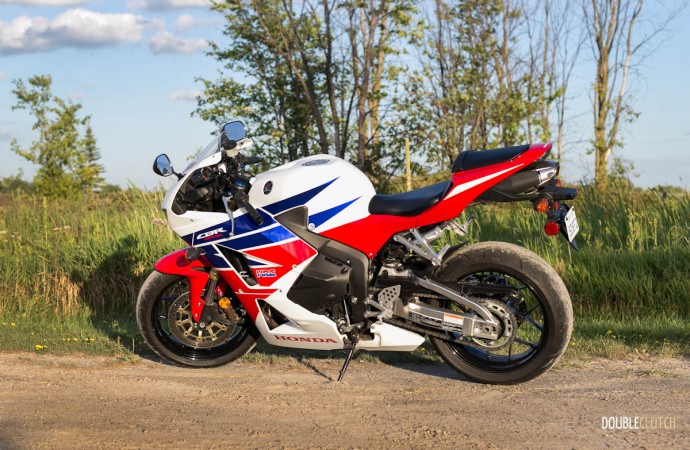 With the engine spooled, the CBR virtually leaps from corner to corner, eagerly bending into the curves almost telepathically.  The neutrality of its handling when pressed makes it a surprisingly easy dance partner.  Up front is a Showa 41 mm Big Piston fork, with Honda's Unit Pro-Link HMAS single shock rear end keeping things damped and suspended.  Even the ride quality is pretty decent for a sport bike on stock settings, but can be buttoned up with preload and rebound adjustability front and rear.
The brakes, with twin radial mounted calipers clamping down on 310 mm discs up front and optional ABS, are strong, progressive and confidence inspiring.  In the rear is a 220 mm disc.  The composed handling and braking help to make mediocre riders like me, look and feel like much more accomplished ones.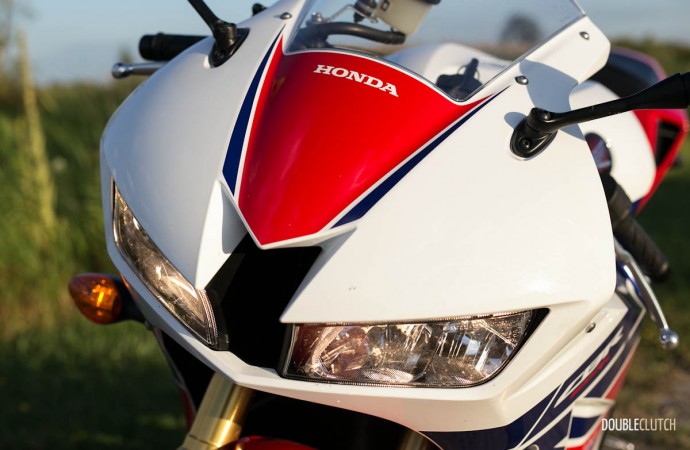 One of the most appealing aspects of the 600-class sport bikes is just how compact and lightweight they are.  Even full of fluids and ready to ride, the CBR600RR weighs in at only 197 kg (434 lbs) with the ABS model, giving it a lightness that's felt whether linking corners, or manhandling it into or out of a parking space.  
As ill equipped as the CBR600RR is for around town commuting duties, it's equally questionable as a touring bike – not that it's supposed to excel at either of these tasks of course, it's just that you shouldn't think the bike is a good choice for either despite its refinement.  The under-tail exhaust means sub-pillion "cargo capacity" is negligible, which just as well since it heats up a fair bit anyway.  Still, the fairings and windscreen provide decent protection from the elements and help give the bike a feeling of stability at highway speeds despite the relatively short wheelbase and low mass.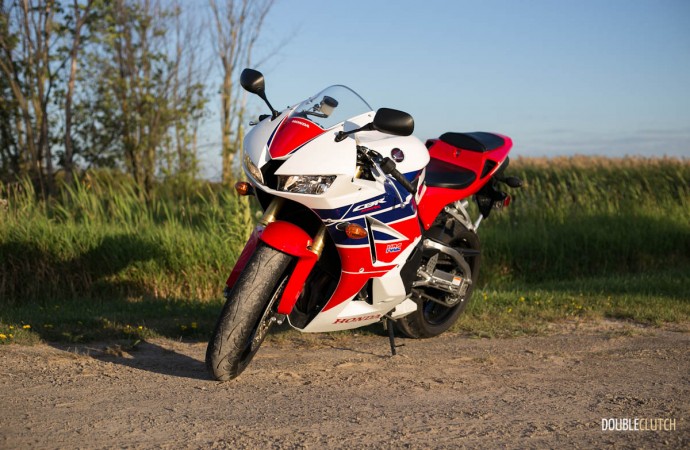 There are plenty of reviews of the CBR600RR that describe Honda's middleweight supersport as the comfortable and composed, everyday sports machine but it's still a pretty raw sport bike that's far from being at its best in much of the every day grind.  What it is though is very possibly the best in class for overall refinement and the ability to make its rider feel like a riding god when the rural routes turn serpentine.  Throw in Honda's legendary reputation for reliability and durability, and the 2015 Honda CBR600RR makes for a great choice in a middleweight sports bike.
2015 Honda CBR600RR Gallery
See Also: