The BMW X6 has always been somewhat of a question mark in the worldwide automotive landscape. There's no real middle ground; you either love it or hate it. A four-door "Sports Activity Coupé" that's essentially an X5 with a chop-top and a raked roofline, the X6 has garnered plenty of criticism as well as a somewhat loyal following in its first-generation production run. But much like other niche cult cars like the Chrysler PT Cruiser and the Volkswagen Beetle, you don't necessarily "redesign" such vehicles; you simply evolve on their styling. We borrowed a 2015 BMW X6 M and I set out to find out what exactly the point to its existence is.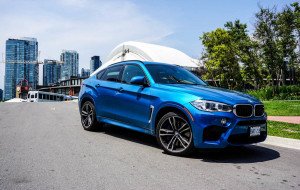 First things first; the X6 M test car we received was painted in a rather unique Long Beach Blue Metallic. While this colour may not seal the deal on the X6's styling for the haters out there, I'm a huge fan. I like things that are different, and the colour on this one certainly is just that. It actually sets off the crossover's lines decently well. I was a huge fan of the first-generation X6. In all of its pointlessness, I actually thought it was a charmer. It was pleasant to drive and I liked the way it looked. The new one looks like an appropriate evolution, and shares its front end with the X5, but the rear bumper appears to be a bit stubby-looking and unfinished. Unfortunately, the side profile suffers because of the very same rear bumper.
It may not be the prettiest girl at prom, but the X6 M is a brute in every sense of the word. The larger M cars (and trucks!) all share the same essential powerplant; this includes the M5, M6 family, and X5 M. The magic under the hood comes from a 4.4L twin-turbo V8, that's up 12 horsepower and 53 lb-ft of torque. Total numbers are drool-worthy; the X6 M pushes out 567 horsepower and 553 lb-ft of torque. Even those who like to criticize this crossover won't be laughing long. BMW's claims are that it can scoot to 100 km/h in an even four seconds, and I don't doubt it for a second.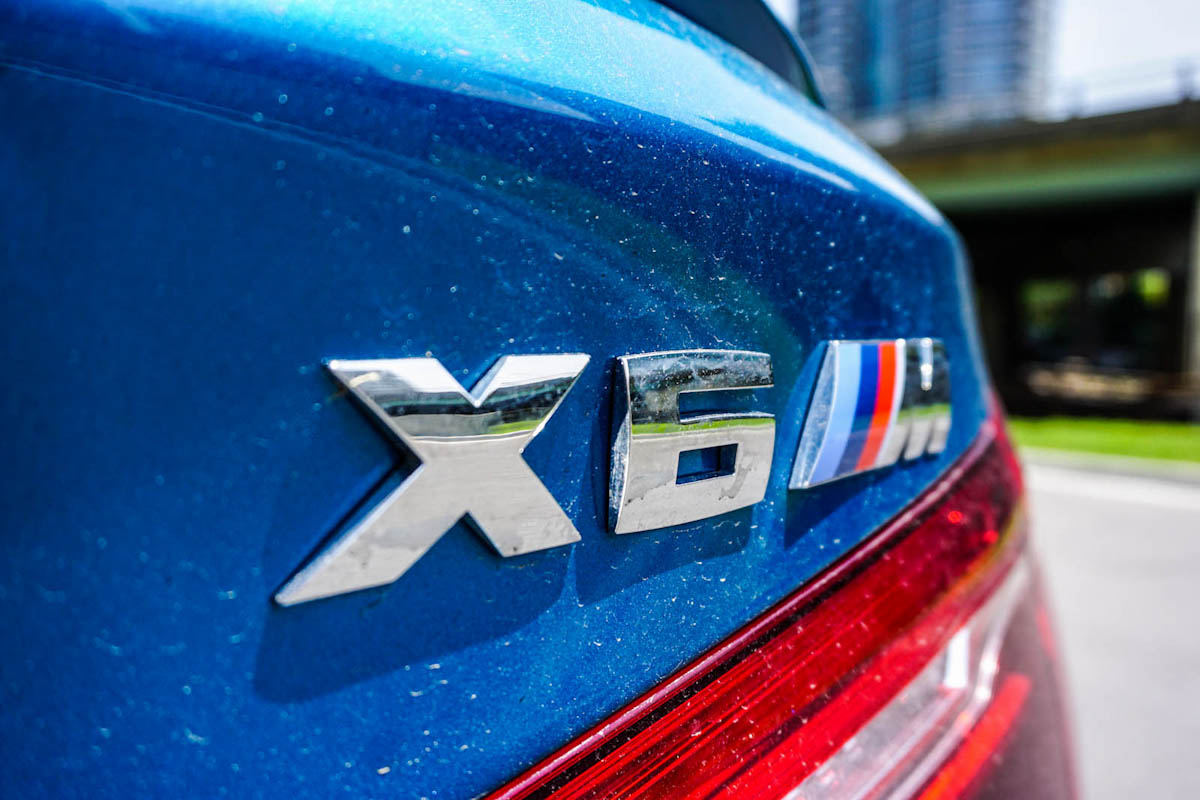 The throttle response is impeccably sharp, and there's no lag from the motor at all. I set up my "M-modes" on the car to meet my preferences, and this meant "M1" had the engine/transmission, adjustable suspension, and steering all in "Sport Plus". The more-tame "M2" setting had everything in "Comfort" or "Efficient". Having the drive modes set up this way meant the X6 M was an absolute chameleon, transforming between two distinct behaviours at the touch of a button. In "M1", the exhaust gets louder (thanks to artificial sound piped through the speakers), engine response is instantaneous, and the steering is crisp and precise. If anything, it almost feels like an angry tiger itching to pounce out of its cage.
What I found truly interesting is that BMW has implemented the shifter setup from the other M-cars equipped with the 7-speed dual-clutch transmission. It's one of my favourite shifters out there, as it's small and easy to toss back and forth when driving spiritedly. It was only when my colleague Louis informed me (while he was in the X5 M) that I found out that the X6 M does not use this transmission. It's the same ZF-sourced 8-speed automatic transmission in virtually every other BMW application, only tuned differently. It's snappy and feels exactly like a dual-clutch unit – only going further to guarantee its place as my favourite automatic transmission currently available.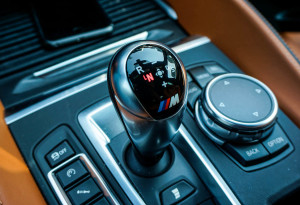 As every other product bearing the "M" badge (not to be confused with the lesser M-Sport moniker), the X6 M handles decently well. It doesn't let you forget its weight, but the 21" Michelin Pilot Super Sports are sticky and the electrically-assisted power steering is precise. The big Sports Activity Coupé corners like it's on rails, and I found it considerably sharper than the Mercedes-Benz ML63. Of course, there's a new Benz on its way here, and it's going to be interesting as the X6 M will now have a legitimate competitor. We'll report in after driving the GLE63 Coupé in the coming months, but my initial predictions are that the X6 M will be a sharper handler.
For reasons I can't even begin to fathom, previous-generation owners were complaining about fuel mileage. Don't get me wrong, I'm no more willing than the next guy to save a dollar, but a bi-turbo M-powered crossover wouldn't exactly be my first pick if fuel savings were a priority. Regardless, BMW has done their best to improve fuel economy for this new model, and it's rated for 16.6L/100km in the city, 12.1L/100km on the highway, and a combined 14.6L/100km. I did primarily highway driving with the X6 M, but I can't say I was trying to be conservative (how can I be, with 567 horsepower on tap?). I averaged 13.6L/100km over a combined cycle, using only 91-octane premium fuel. Not too shabby.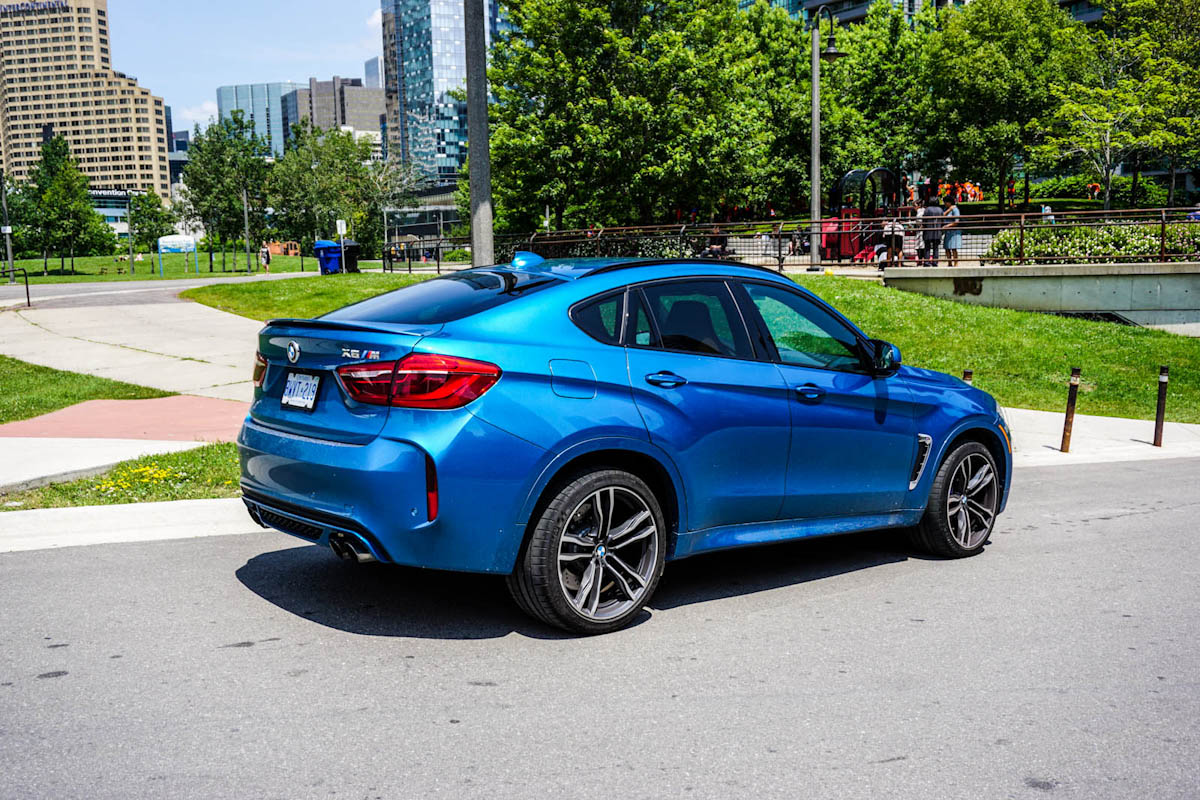 I've experienced this powertrain before, so while it's excellent, it wasn't a surprise for me. Where the surprise came with the X6 M was the interior of this particular test unit. Finished in beautiful Aragon Brown Merino leather with black accents, the upholstery is stunning. The dashboard and switchgear have all been refreshed and now match the rest of the BMW lineup, not a bad thing in the slightest. The seats are lovely, and, as with its sister the X5 M, they're adjustable in many ways. It only took seconds to set up my ideal driving position, and the higher ride height of the X6 M means you can tower over other drivers and have great visibility.
On the visibility front, there isn't really much through the rear window, and what little there is goes away when there are two rear-seat passengers. The raked "coupé-style" roofline of the X6 means the rear window is angled accordingly and is also rather small. The rear side windows are also on the smaller side and lack the greenhouse-like feel of the X5 (which I prefer personally). Rear headroom suffers considerably as well, as does practicality with regards to loading space in the trunk. Other than my gripes with the rear bumper design of the X6 M, my biggest issue with it is the lack of practicality. If I were opting for a crossover over something like the M5, I'd go with the X5 M for the added space and usefulness.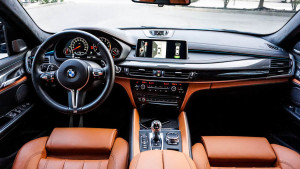 Adding to the base price of $108,200, my X6 M was pretty well loaded with a few unique options. This includes Carbon Fibre Trim on the interior for $300, Night Vision with pedestrian detection ($2500), full Merino leather ($4500), a Bang & Olufsen sound system ($4300), and smartphone integration ($600). The total sticker came to $121,000. Neat touches are also on board, such a projection of the "M" logo onto the ground through a projector on the bottom of the front doors. The heads-up display has an "M-mode" that displays performance information, definitely useful for those who plan to take their X6 M to the track.
The X6 M does something that almost every new BMW does; seamlessly integrate all vehicle controls into the iDrive infotainment system. I know I have raved about it before, but it seems to get sharper and more responsive with every new model that comes out. The iDrive controller capable of reading handwriting gestures is excellent, and the split-screen display is very practical for side-by-side use of both navigation information as well as media information. I like the Bang & Olufsen setup in BMW vehicles because it offers unlimited customization through a real equalizer, something very few other manufacturers offer. Because of this alone it would be worth swallowing the extra cost, but for those who aren't audiophiles like myself, the Harman/Kardon setup that's one tier below is just fine.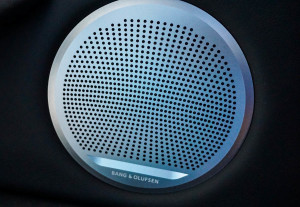 There's a good explanation for the amount of criticism the BMW X6 M has gotten. It's the performance version of a vehicle no one really asked for. Purists like to defer back to where BMW was in their "glory days", when they only made a handful of models. The benefit to the new lineup is that even though there are so many models, there's legitimately something for everyone. This isn't a practical or beautiful crossover made for the everyman, the 2016 BMW X6 M is a fire-breathing, snarling animal made for a very specific type of buyer, one that will enjoy every bit of its obsceneness.
2015 BMW X6 M Gallery
See Also: