The Internet is going to hurt the sales of the 2015 Suzuki GSX-S750 in North America, and that's a real shame. It's a shame because the new-to-us Gixxus is a much better bike than the facts and figures, and online forum commentators who haven't ridden the bike, would have us believe. Too many people are going to look at the numbers showing the Suzuki falling about 10 horsepower short of its FZ-09 nemesis from Yamaha, or that the GSX-S weighs in roughly 25 kg (55 lbs) heavier than the Fizzer and dismiss it as an unworthy competitor. And when painted up in the vibrant blue-and-white colour scheme of our ZA-trim test bike, they're priced right on top of each other (scrap the "Z" and you'll get a $300 cheaper Gixxus with dark charcoal coloured paint instead).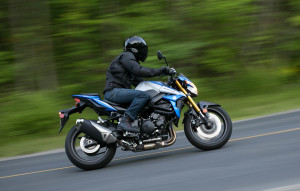 Those "Internet experts" will then spew uninformed opinions damning the Suzuki without having ever swung a leg over it, or worse still, march down to their Yamaha dealership without giving the GSX-S the attention it deserves. Last year I logged a few thousand kilometers on an FZ-09 and came away thoroughly impressed, recognizing some weaknesses that are a product of producing so much performance for so little money. This year, Suzuki has finally decided to import its GSR 750 (as it has been known overseas since its 2011 launch), no doubt thanks to the impressive sales by the Yamaha last year. And having completed more than 1,000 kms on the Gixxus (or G-Sex as I've crudely, but lustfully named it), there are some important observations that came to light.
First off, in hands of a pro rider at a race track, the Yamaha's power-to-weight advantage are likely to help it post quicker lap times. But most of us – myself included – don't spend all that much time on a racetrack, nor are my personal riding skills in the same league as, oh, say a Moto GP rider's. When ridden on my favourite local serpentine country road, the Suzuki's forgiving nature makes it an easier bike to ride faster than the FZ-09 I borrowed for back-to-back testing.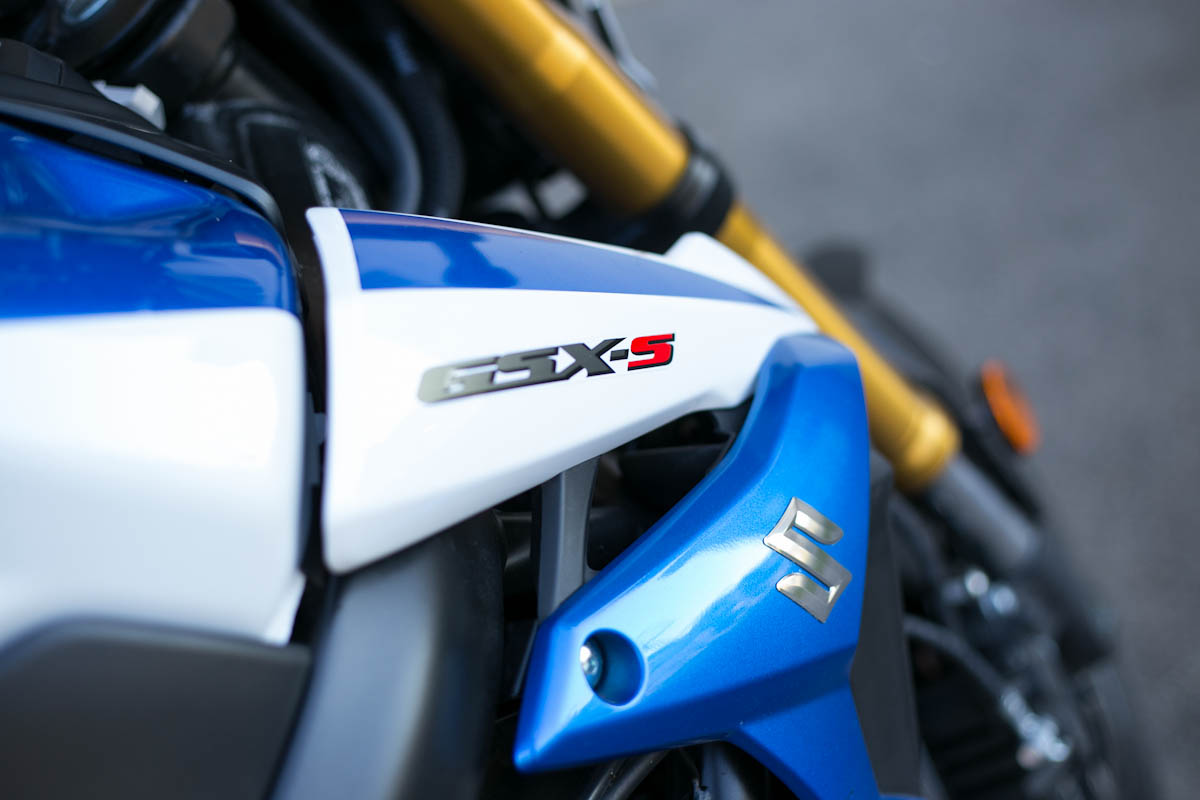 The heart of the GSX-S is an inline-4 engine whose roots can be traced back to the highly acclaimed GSX-R750 mill from 2005. As a robust, revered and proven basis, the old Gixxer engine makes for a great starting point. From there, Suzuki's engineers reworked the exhaust and intake ports, added new fuel injection and all new valve timing to make the GSX-S more amenable to road (versus track) work.
The result is an engine with a turbine-like smoothness and tractability from barely more than 3,000 rpms, where it's happy to loaf in a higher gear to save fuel, all the way up to over 10,000 rpms where it delivers its peak horsepower. The power builds linearly with revs, compared to the explosive torquey, low-end grunt of Yamaha's triple. The FZ-09 requires a steady throttle hand to keep it reined in, and always feels like it wants its front and rear wheels to swap positions. For hooligans, the Yamaha is the better choice.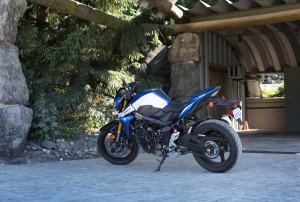 The GSX-S has no computerized multiple drive modes or ride-by-wire throttling and it's possibly better for it. Rather than unleash a half-baked digital mapping, Suzuki's engineers instead fine-tuned the throttle to work like the world's most precise rheostat, measuring out power in a manageable way all the way to redline. This means that out in the real world where road surfaces change frequently, the Gixxus is more controllable, enabling greater confidence and faster attack speeds through your favourite corners. There's more, though, like the transmission that works with incredible slickness and precision through each shift. Finding neutral is never an issue and while the clutch is a bit stiff, its action is true and linear.
Remember that extra 25-or-so kilos the Suzuki hauls around? It can be felt when hopping directly from the FZ-09 to the GSX-S, but it's quickly forgotten once under way. The width of the G-Sex at the leading edge of the seat and across the tank is considerably greater than the FZ-09's wasp waist, adding to a sense of bulk with its greater weight. The Suzuki requires a bit more work to get it to lean into turns than the hyperactive Yamaha, but once there, it remains stable and planted, again adding to a rider's confidence that just doesn't happen with the friskier FZ-09.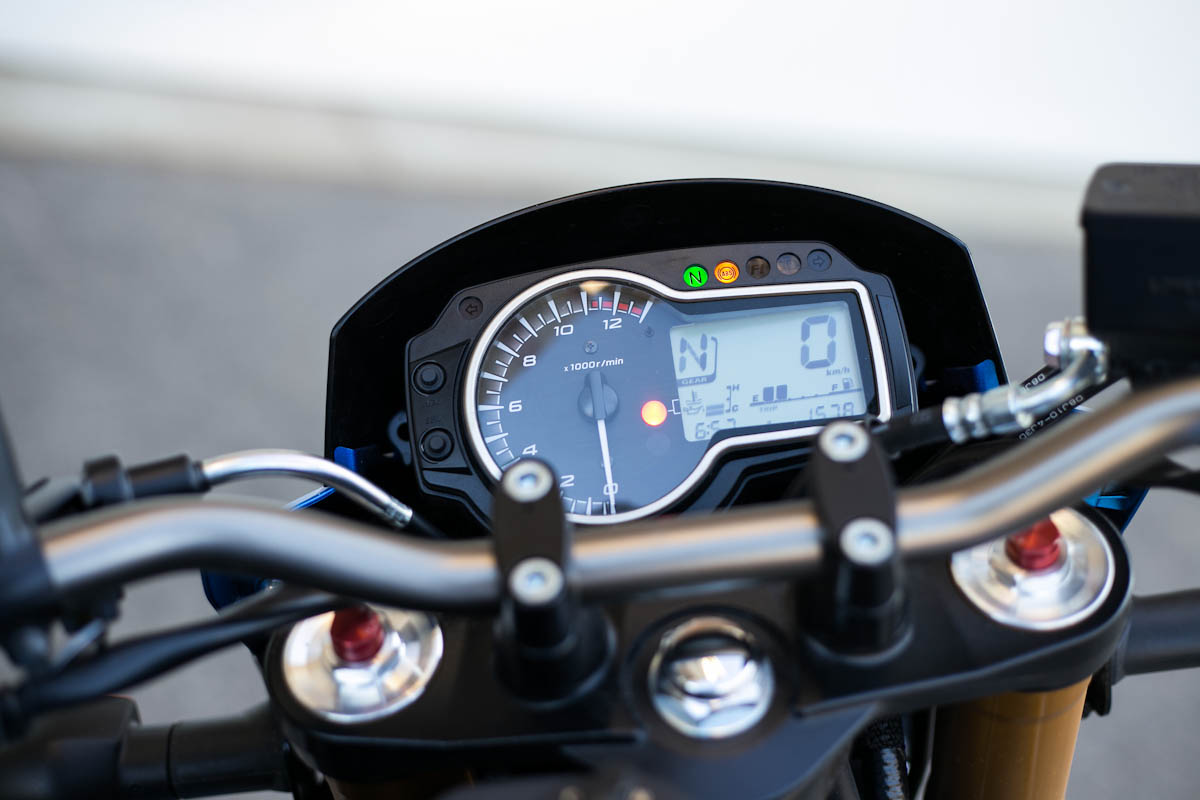 To top it off, Suzuki Canada has specified all 2015 GSX-S750s to come equipped with ABS brakes as standard fare. By comparison, neither the FZ-09 or comparably priced Aprilia Shiver 750 are available with ABS in North America – a feature which could make the Suzuki a leading choice for some buyers. It should be said that despite the ABS, the GSX-S's brakes have neither the initial bite, nor the impressive stopping power of the Yamaha's radial-mount discs.
It's the handling where the Suzuki shines compared to the Yamaha. The FZ-09 is more reactive to initial inputs, but with its squishy rear end, doesn't settle into its arcs as well as the GSX-S. The G-Sex is smooth and planted, and prompts a mediocre rider to press harder and improve his or her riding skills. The Yamaha simply enables riders who are slow through the corners to catch up on the straights.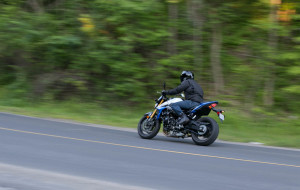 There are obvious cost-cutting measures the GSX-S has had to undergo in order to keep it on budget. The steel frame, and old-school swing arm that looks like a bridge girder, are heavier than aluminum. The pumpkin turn signals are ghastly and ridiculous, and the gauge pod looks rather old school. In an era of most sporting bikes going to all-digital displays, the Suzuki measures revs on an analogue tach. Still, the information provided is comprehensive (tach, speedo, fuel gauge, temperature, gear indicator) and impressively easy to read, even at a glance. Sometimes it's worth sticking with old school, especially when it just works thanks to its simplicity.
The seating is stuffed with enough padding to keep it comfortable even on multi-hour days in the saddle. The overall seating position of the GSX-S is more sporting and aggressive than the FZ-09 due to the Suzuki's higher peg placement and slightly lower bars, and yet, for those raised on bikes with clip-on handlebars, even the slightly more sporting stance of the Suzuki will still seem very upright.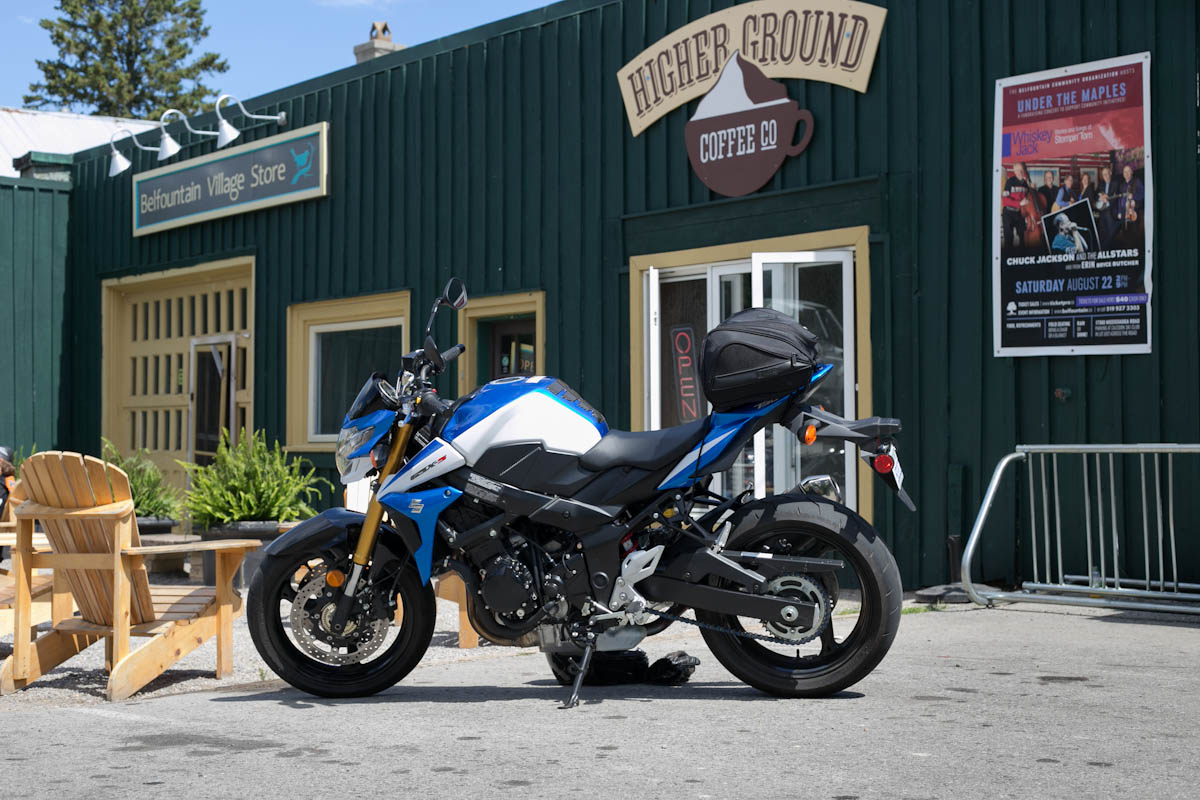 If some of the parts of the GSX-S750 are a bit older now, it only means Suzuki has had ample time to perfect them, making a bike that's refined and thoroughly enjoyable to ride. It's high time this naked bike phenomenon has caught on here in North America given the genre's ability to blend performance, comfort and style better than any other style of bike. It's a shame Suzuki took so long to bring us the GSX-S750, especially knowing that now all too many potential buyers won't give it the proper test ride it really deserves.
2015 Suzuki GSX-S750ZA Gallery
*Photos by Jeff Wilson & Rob Smith*
See Also: