I've written a lot about how pickup trucks have come a long way from the strictly utilitarian work vehicles to something of an icon. While I love the big, excessively luxurious $70,000+ Cowboy Cadillac-type trucks out there today, they are missing some of that hardworking honesty that comes with a simple truck. Trucks have typically been popular with younger and first time buyers- my own first car was actually a pickup- and those buyers don't need, nor can they afford, the excess of a fully loaded full-sized truck. For the last little while, if you were looking for an affordable basic pickup, your choices were either a base model full-sizer complete in ugly work truck trim, or a smaller truck like a Chevy Colorado or Toyota Tacoma.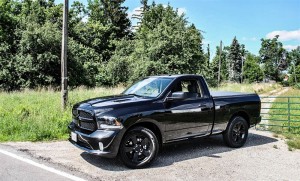 For 2015, the folks at Ram have put together a package specifically for the budget-minded buyer looking for a little bit of style and performance to go with their practical pickup. This could be the start of something great and a game changer for mid-size and full-size players alike. It's called the Express package and it takes a basic regular cab 2×4 Ram 1500 ST and turns it into the coolest truck at the party. The $2000 Express Blackout package adds a very well thought out set of convenience and aesthetic options, including 20" semi-gloss black wheels, LED tail lamps, cloth 40/20/40 bench seat, satellite radio, power windows, remote keyless entry and the Uconnect 5.0 touchscreen infotainment system.
My mean-looking tester also came with the $1000 25C package, which blacks out all the trim, bumpers and deletes all exterior badging; it also adds dual exhaust with hefty looking chrome tips and interior carpeting to replace the standard rubber mat floor. Adding those $3000 worth of options onto the base truck leaves you with an absolutely sinister looking machine that still has all the typical modern conveniences and functionality of a full-sized pickup. Completely blacked-out, my short and stubby test truck is certainly one of the best looking pickup trucks on the market today and garnered loads of attention from fellow truck enthusiasts.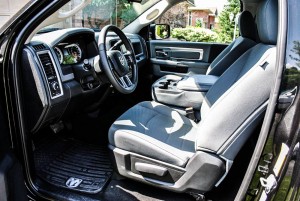 With all the badging deleted, one of the first questions you're going to be asked is "what's under the hood?" That's when you can proudly state that your bargain buy truck has the legendary 5.7L HEMI V8 with nearly 400 horsepower rumbling through those twin exhausts to backup the truck's mean no nonsense looks. If the HEMI doesn't make its presence known on the outside, from behind the wheel you'll definitely feel it. Firmly plant your foot on the right pedal and the rear tires loudly fight for grip while propelling the black beast forward with authority. Unfortunately, you won't hear much from the rather subdued exhaust note, although I am sure the Mopar parts catalogue will have a simple solution to that problem.
The Ram Express can be a handful with traction control turned off and a heavy right foot, but it does have a gentle side; throttle response is only slightly delayed, power delivery is very linear and smooth, and the steering is light and easy. That means that the Ram Express not only packs a powerful punch, it can also easily be driven slow and smoothly. The HEMI is mated to the standard 6-speed automatic, not the optional 8-speed, but the shifts from the 6-speed are crisp under throttle and very smooth while cruising at a relaxed pace.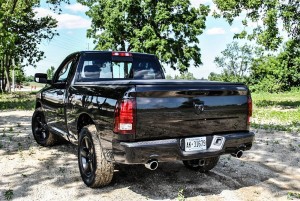 The ride in the Ram is very truck-like with a firm, solid feeling that gives the impression of a durable and well built truck. That said, whether traveling on rough city streets, smooth highways or back country roads, the Ram always remains well composed and never uncomfortable. Noise levels in the cab are impressively low, with almost no noticeable wind noise and very limited road noise from pavement-friendly Goodyear Wranglers on my test truck. The short bed and regular cab configuration of my truck made it easy to park in the city with zero blind spots and perfect sight lines; an optional rear view camera made the task even easier.
To be honest, I've never been a fan of regular cab trucks, so after ogling its good looks I was expecting the interior to be a letdown. It turns out I've just been driving the wrong regular cab trucks! The designers at Ram must have been moonlighting as magicians when they designed this small cab because despite spending many hours in the truck during my week with it, I never felt cramped or in need of more space in the cab. Behind the seats are large storage bins which easily hold all the tools and tie-downs you'd typically want to carry in a pickup, and they'll even handle a few grocery bags too. Up front every inch of space has been utilized to maximize storage; the space is loaded with cubbies, drawers and versatile storage compartments. When the center bench seat isn't in use, it flips down to offer a huge padded console. I actually did use the center seat to carry a third person a couple of times and the cab still felt roomy enough for three- for short drives at least.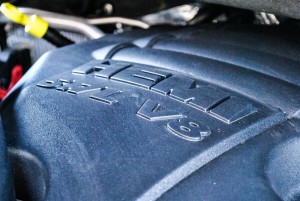 My hot summer week with the Ram also fell on a portion of my summer vacation, which meant I got the opportunity to experience the Ram in a number of different driving situations. I started the week commuting to work and in rush hour with a light foot, I was able to take advantage of the HEMI's cylinder deactivation feature to keep my fuel economy around 14.5L/100kms, right in line with the rated numbers. Next, I put the Ram to work by hauling an engine for a project car across town and then moving some dirt for a landscaping project. The Ram handled each load like it was nothing but air; however, I did find myself wishing for easier access to the bed in the form of a step, as even in 2×4 form the loading height is quite high.
The MOPAR optional tri-fold tonneau cover on my tester is the best I've used. Opening, closing and even completely removing and re-installing the cover took no more than a couple minutes. At the end of the week, the fiancée and I took the Ram on a trip up north to a popular beach, about a 3 hour round trip; with mostly highway driving, we averaged an impressive 10.8L/100km, which is notably better than the rated 12.1L/100km highway mileage. The truck's soft yet supportive cloth bench kept us in complete comfort for the entire ride, and after retiring from the beach the Ram's bed served as a great place to hangout and watch the sun set on a great week with a great truck.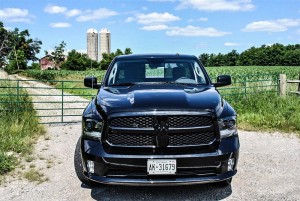 With the very necessary $3000 worth of Express options and a small list of other add-ons, the as tested price of my truck came out to just a few dollars over $37,000. That's a well-equipped full-size truck, with a legendary V8 and great looks for mid-size truck money. The only real sacrifice you'd be making for the Ram in this case is 4×4, but with the optional limited slip differential in my test truck I wouldn't miss it too much. If I were a single guy looking for a hard working truck that's still distinctive and fun, I wouldn't hesitate to put my money down on this. I also have to say that this truck has a certain charm and personality that few vehicles today offer and that I really enjoyed. It's not an overstated big plush luxury pickup, it's rough and ready for work or play.
2015 Ram 1500 Express Gallery
See Also: