A car can be a lot of different things to different people- from a tool and necessity to an obsession and everything in between. As an enthusiast with my own preferences, it is sometimes difficult to understand how someone can treat a car like a simple appliance, but the magnitude of beige Corollas on the road suggest I am in the minority. Interestingly though, as our modern lives evolve, so does our enthusiasm for our vehicles. For example, take the large and growing set of enthusiast groups that cater to hybrid and electric vehicles; while a group of traditional enthusiasts may sit around talking about power, handling and speed, these guys will talk about things like efficiency, range and reliability.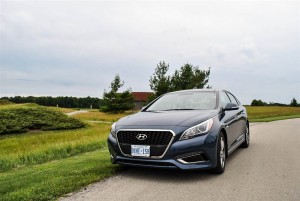 When it comes to hybrids specifically, Toyota has long since been the poster child of this new regime. However, with some age and experience now behind the technology, everyone is getting serious about the hybrid game. Hyundai's launch of the Sonata Hybrid is not to be left out. It was first available in 2011 and carried through to the 2015 update, and now to the latest generation. When I heard that Hyundai had just added a 2016 model to their press fleet, I figured it'd be a perfect opportunity to take my first drive in a 2016 Hyundai Sonata Hybrid and assess if this version would be as competitive as the regular gasoline version of the sedan.
The 2016 Sonata Hybrid looks a lot like its handsome gasoline brother, except for a handful of unique styling queues in the name of aerodynamics. The hybrid features a unique front fascia and grill, along with energy saving LED lights, aerodynamic alloy rims and of course the "Blue Drive" badging. Those tweaks allow Hyundai to boast a 0.25 drag coefficient- just slightly better than the current Nissan GT-R! While I understand the benefit of these aerodynamics, I think I would probably be willing to give up a little efficiency for some more sporty looking rims and wider tires. A new color pallet is available for 2016, including the gorgeous Night Sky Blue of my test car, which seemed to garner compliments everywhere I took it.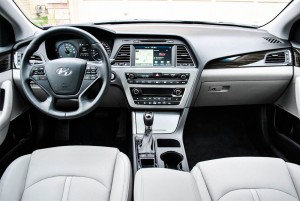 Inside the Sonata Hybrid there are no telltale signs that you're inside a vehicle built for absolute efficiency. In the top of the line Limited trim and sporting the optional Technology Package, my test car, with its MSRP just under $36,000, came loaded to the brim with everything you'd expect to find in a fully equipped mid-sized sedan. Notable features include a huge panoramic sunroof, dual climate control, heated front leather seats, navigation, a decent 400W sound system and a slick rear view camera. The hybrid has a very well laid out information display built into the gauge cluster, which allows you to view energy flow through the hybrid system, and will even breakdown your driving by percentage into three categories- economical, normal and aggressive. It's a nice touch and can help keep you focused on driving efficiently to maximize the benefits of owning a hybrid.
The interior itself is a very pleasant place to be. The designers at Hyundai have done an excellent job at maximizing the interior and trunk space; the car feels much bigger than it really is, even with that big hybrid battery hiding somewhere. Head and leg room in both the front and rear is exceptional and even taller adults would have no qualms about the rear seat. This is an affordable mid-size sedan; as such the materials used inside are on par with what I would expect. The leather is soft and there is plenty of soft-touch plastics used, but silver painted plastic and some glossy faux wood trim do cheapen the overall feel a little bit. Like all Hyundais, controls are clear, simple and well placed.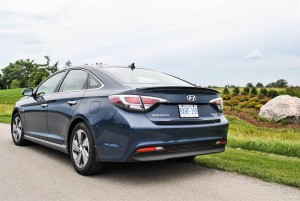 The hybrid system in the Sonata is one of the least invasive I've experienced. In fact unless you're watching the digital read out, it can be difficult to know whether you're running on the lithium-ion polymer battery – one of the smallest, lightest and most advanced hybrid batteries in the world, or the 2.4L 4-cylinder gasoline engine. The way this technology has been seamlessly integrated into the driving experience is quite impressive. With the hybrid system offering a total of 199 horsepower, throttle response and acceleration are definitely comparable with a similar 4-cylinder gasoline powered sedan and more than adequate for anything the typical driver would ask it to do. One area where the hybrid bests its gasoline-powered sibling is the smoothness of acceleration. With the assistance of the electric motor, power delivery feels very linear and very little engine noise is ever heard in the cabin, adding to the very comfortable and relaxed environment inside the Sonata.
Comfortable and relaxed is also how I would describe the car's handling dynamics. Perched on narrow 215/55/R17 Kumho tires, the Sonata Hybrid is intended to be driven efficiently, so it naturally doesn't respond in a way that encourages spirited driving. The suspension is soft and rolls through corners, but it does offer an extremely comfortable ride. Smoothly cruising along on the highway at a modest pace is where this car feels perfect, and doing so will reward you with excellent fuel economy.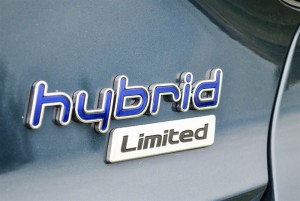 Speaking of fuel economy, I observed a thrifty average of 5.2L/100km throughout my week of mixed rush hour commuting. Making use of the hybrid's info center, I was able to monitor my driving to help keep me as efficient as possible. Another little trick I used was taking advantage of the "driver only" climate control button; this shuts down the A/C (or heat) to the passenger and rear vents and re-directs to the driver only, keeping the driver comfortable while reducing the power drawn. It's also great for those times when your passenger complains about the A/C being too cold.
What I like most about the Sonata Hybrid is that it so easy to be efficient while totally forgetting you're driving a hybrid. I've driven my share of comparable hybrids and I will say that the Sonata's system is the smoothest. Economy numbers can be debated, but I've yet to drive a hybrid that feels this "normal". The soft handling dynamics are the only true sacrifice to be made for the efficiency of the latest hybrid technology, and as a traditional gas-burning car enthusiast that's what I'd look for in a hybrid. Those normalcies make it easy for anyone to transition from an appliance-like commuter sedan to the Sonata Hybrid; that too at a very reasonable price without any real learning curve to get instant fuel savings. With that in mind, I'd consider the Sonata Hybrid a great gateway into the world of hybrids. It's unique enough to get you hooked, but not different enough for you to notice anything but the savings.
2016 Hyundai Sonata Hybrid Gallery
See Also: