A Volkswagen Golf TDI set the Guiness World Record for "lowest fuel consumption – 48 U.S. contiguous states for a non-hybrid car".
The Golf TDI beat the non-hybrid vehicle record of 77.99 mpg and the hybrid vehicle record of 74.34 mpg  by 3 and 6 mpg, respectively, with 81.17 mpg.
Equipped on the  Golf TDI were Goodyear Assurance Fuel Max tires, which are designed with an innovative fuel-saving treat compound that can allegedly save drivers up to 2,600 miles (or about 4184 km) of gas over the life of the tire.
Paul Raymondo, Goodyear's brand manager, said," Many consumers want their tires to offer confident handling in changing weather conditions, but also want to save money at the pump. This record drive has proven that our Fuel Max tires excel at both."
Founder of Cleanmpg.com Wayne Gerdes and co-driver Bob Winger started at Volkswagen of America's headquarters in Herndon, V, visited all 48 contiguous states, returned and covered just over 8,233 miles on 101 gallons of fuel.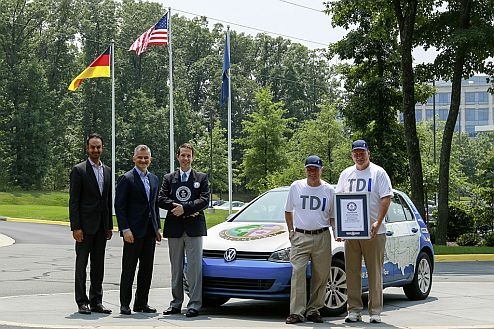 Source: Volkswagen