There's something to be said about the term "vintage". Typically used to describe things dating back decades to centuries, in this case it applies to one of the oldest unchanged vehicles on sale in the North American market. The Volvo XC90 was introduced to our eyes in 2002, and has carried on largely unchanged since then. It's finally been redesigned and is back in action, sporting a new chassis, full restyle and carrying an army of technological and mechanical features making it one of the most state-of-the-art vehicles on the road today. I was given a week with a 2016 Volvo XC90 T6 Inscription, loaded with all of the available bells and whistles, to evaluate for myself.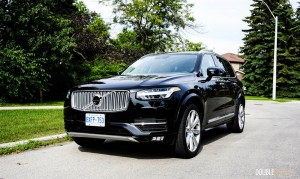 I've always been a little bit of a sucker for Volvos, remaining even more partial to the station wagon body style that they've maintained is still relevant to Canadian buyers. Everything to come out of the Volvo brand over the past little while has exhibited fantastic ergonomics, exceptional comfort, and a high level of elegance unmatched by anyone except the big three Germans. I maintain that the Swedes also make the best seats in the industry, and the new XC90 is no different. Materials are top notch with only the finest leather upholstering the upper dashboard, door panel trim and seats. The dash and interior trim are also finished with some bamboo-esque linear wood that looks like it's straight out of a Bentley.
The powertrain on our XC90 T6 tester isn't going to be a surprise to anyone familiar with Volvo's latest Drive-E applications. I tested this exact setup in the last S60 Drive-E I drove; it's a 2.0L inline 4-cylinder engine. The key element to this motor is that it's both turbocharged as well as supercharged, making it a twincharged motor. This helps considerably as the supercharger helps with low-end grunt while the turbocharger helps considerably through the powerband and near the top of the range. This motor is good for 320 horsepower and 295 lb-ft of torque, on par with competitors such as the BMW X5 xDrive35i, the Acura MDX, and the Audi Q7 3.0T.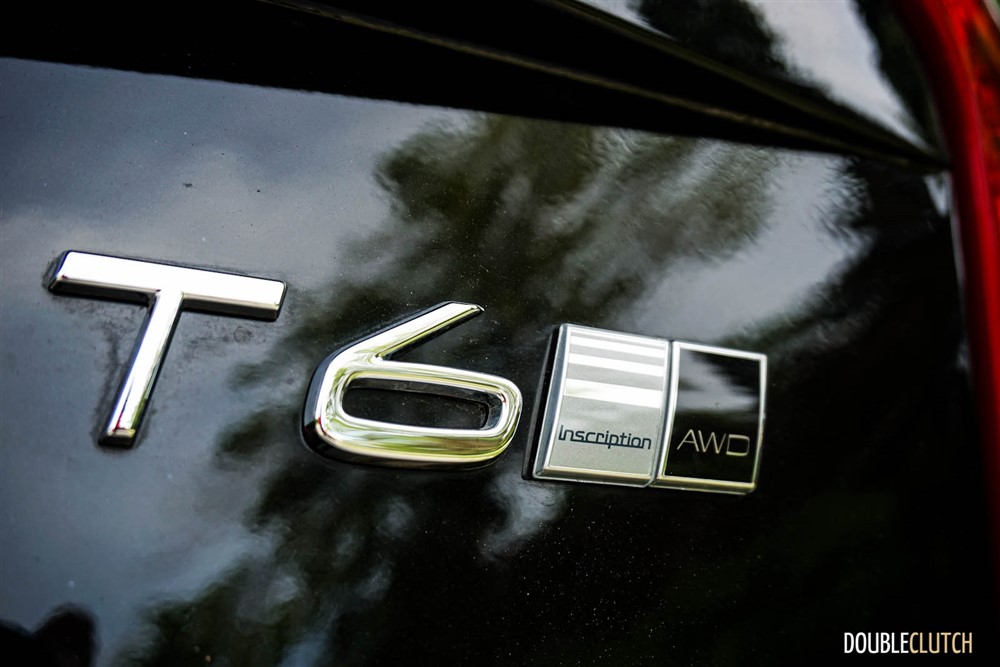 Power junkies might be disappointed with the XC90 T6's power delivery, but the focus here is on smoothness rather than raw power. Those craving a little bit more will have the option of the 400-horsepower T8 motor. Response from the accelerator pedal is excellent and buttery smooth, and the selectable drive modes include a "Dynamic" setting that livens the XC90 up. I chose to spend the majority of my week switching back and forth between the "Eco" and "Comfort" settings, trying to make the most of fuel consumption while enjoying the SUV's supple ride. The old transmissions have been removed, and replaced with a new eight-speed Geartronic automatic with an available manual shift mode. Accurately planning for the typical clientele, Volvo has opted not to include paddle shifters on this model.
The 2016 XC90 is also Volvo's first application of all-wheel-drive with the Drive-E powertrain. While this motor is now available on the S60, V60, and XC60 models, these cars are all on an older platform that cannot support all-wheel-drive along with the new eight-speed transmission. Therefore, until the next redesign, the rest of the Volvo Drive-E lineup makes do with front-wheel-drive. We had this XC90 tester during the summer so couldn't accurately depict how it behaves in the snow, and also didn't venture off the beaten path. Then again, the XC90 buyer isn't opting to explore the Rubicon Trail, so this isn't really necessary. The all-wheel-drive system, as in everything else Volvo offers, is going to be competitive and ensure maximum safety and collision avoidance.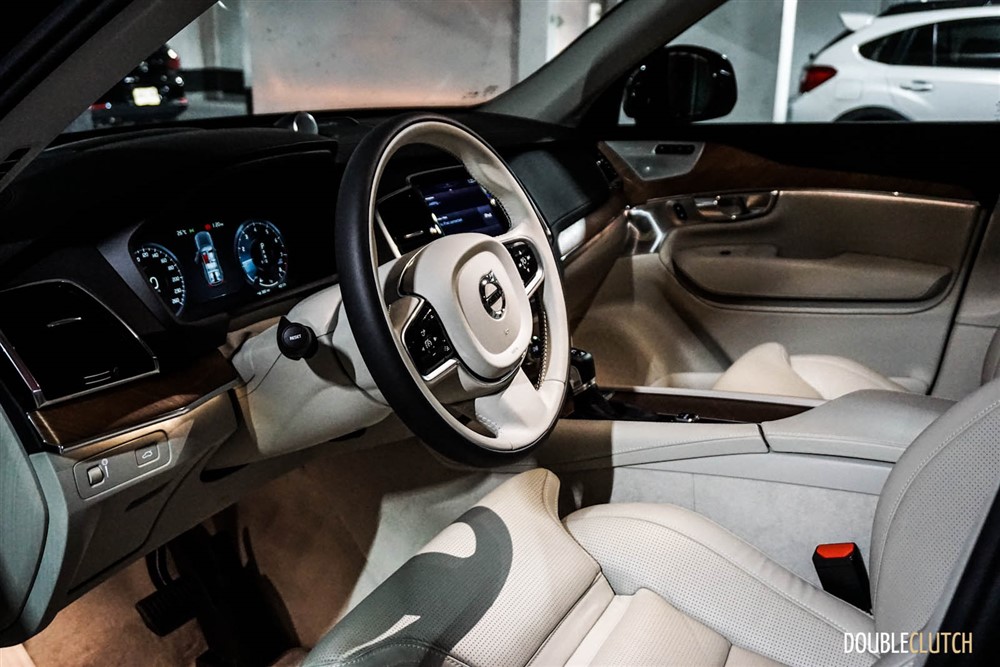 When pushed beyond its comfort zone, the Volvo XC90 remains a capable handler that doesn't wallow or float around as much as some of its competitors. The front double wishbone suspension and integral link rear axle with transverse leaf spring helps balance out the overall nature of the SUV, and almost helps it shrink. As with other modern applications with electrically assisted power steering, there is barely any feedback through the wheel, but the XC90 will go where it's pointed with very little body roll. However, it doesn't drive like a sedan and will never let you forget that it's a large three-row sport-utility-vehicle.
The main goal of the Drive-E setup from Volvo is the perfect balance between efficiency and power. The old inline 6-cylinder units from Volvo were good for their time, but they were never very efficient. After spending a week with the 2016 XC90, I was able to average 11L/100km on premium 91-octane fuel. Some extended highway runs saw the average go as low as 10L/100km, but most surprisingly, the XC90 never got any worse than 12.9L/100km even in bumper-to-bumper city traffic. Along with the unique powertrain, Volvo has implemented start/stop technology that is incredibly seamless and also helps conserve some fuel in heavy traffic.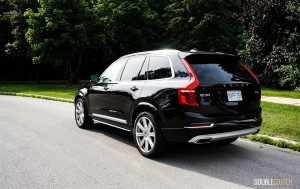 What's exceedingly astonishing about Volvo's new flagship vehicle is the sheer amount of technology they have managed to shoehorn into it. Things like blind spot monitoring, rear cross traffic alert, cameras all around, and heated/ventilated seats are now to be expected from an SUV straddling the $80,000 mark, but the XC90 just goes above and beyond. The new park assist system is capable of parallel parking the car on its own, along with reverse parking it into a designated spot. There's also a new feature called Park Out, which will aid the driver when pulling out of a tight parallel-parked position. When exploring the seemingly endless menus, I also found customizability within the drive modes to increase and decrease steering weight, which is something I've personally never seen in a luxury SUV (Hyundai and Kia offer a very simple version of this feature).
Infotainment within the XC90 is also just as state-of-the-art as the rest of the vehicle. It's all controlled via a 12.3" touchscreen that's very reminiscent of the one in the Tesla Model S, a car known for being a technological marvel. This screen is as responsive as the fastest Android tablets and is very simple to navigate through. It deals with navigation, multimedia, vehicle settings, and climate control, and is a seamless interface that will become second nature after a few days of intimate time within the Volvo. Something I found very relevant to our Canadian climate is that this system can be used with gloves on, and also supports swipe/pinch-to-zoom gestures like an iPad or Android tablet. There is also an 8" digital instrument cluster with tons of customizable features.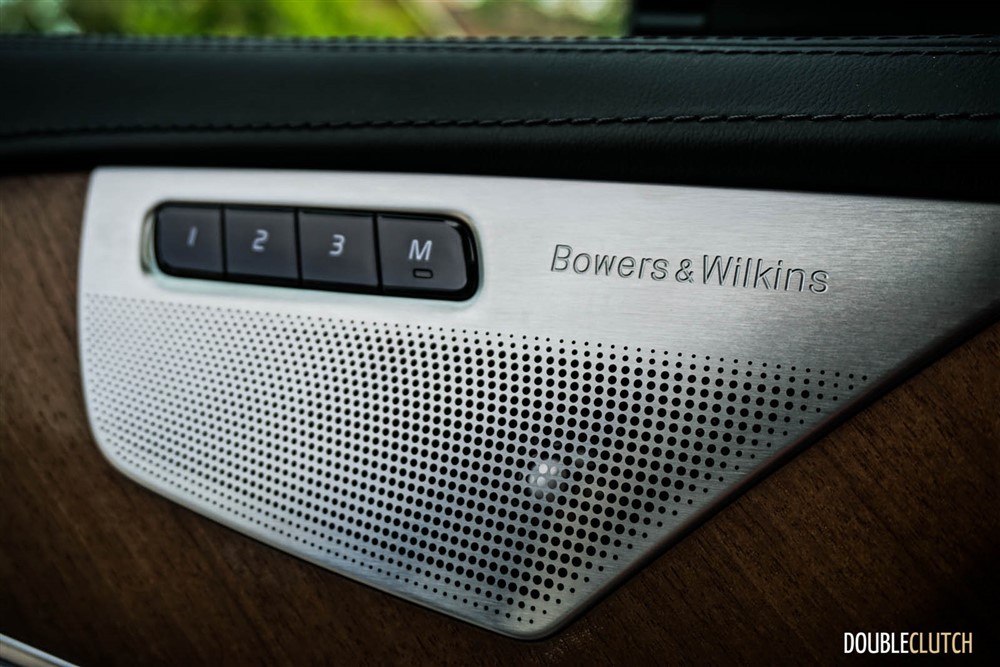 Our car was also optioned with the Bowers & Wilkins stereo, which, for an additional $2500, blows the socks off any other factory car audio application I have seen this year. The famous audio manufacturer has implemented a "Tweeter on top" feature that uses a center-mounted speaker on the dashboard to minimize acoustic reflection from the windshield. The equalizer has virtually infinite settings that allow the listener to tweak the sound to find that perfect spot for whichever genre is playing. There is also a separate subwoofer controls for those who enjoy additional bass than that provided by the speakers. This entire combination produces levels of clarity that I previously thought were impossible in a vehicular audio application.
The base price for the 2016 XC90 T6 AWD in Inscription trim is $66,900. This trim level includes everything from leather upholstery to third row seating, navigation, a full safety suite, and 20" wheels. Our car was also given the full treatment including metallic paint, a booster cushion, 4-corner air suspension, the previously-mentioned Bowers & Wilkins stereo, and a wheel upgrade to 21". The Vision Package, for $1800, adds automatically dimmed mirrors, blind spot information with cross traffic alert, and visual park assist. This is particularly helpful because the 360-degree parking camera on this car is unlike any other currently available. The $1350 Climate Package adds heated rear seats, steering wheel, and washer nozzles. Total cost for our test vehicle came up to $77,650.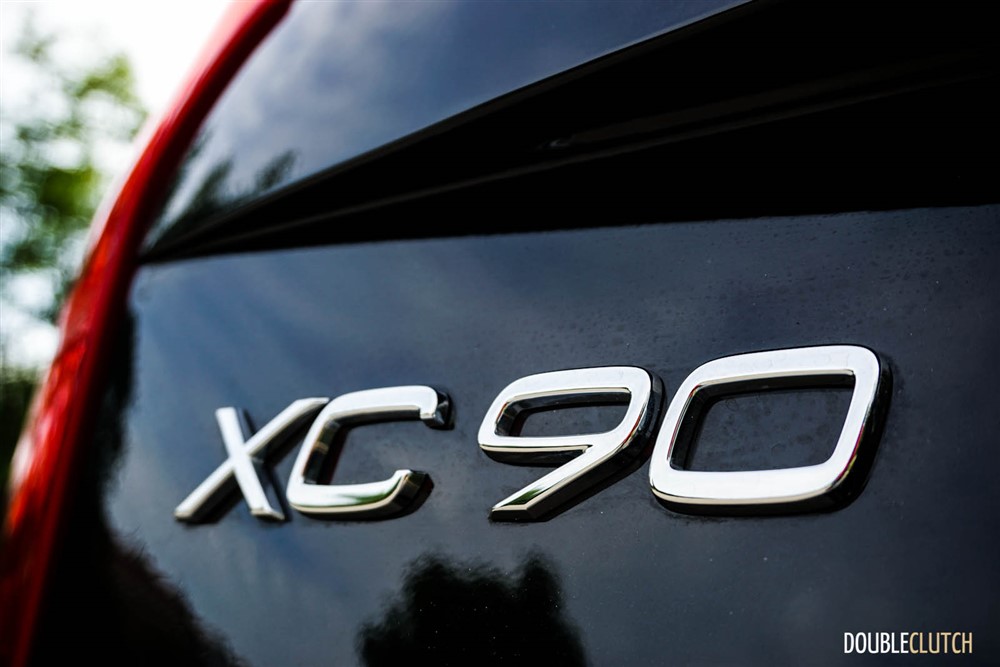 Throughout the entirety of my time with the XC90, I continued to find small features that I hadn't noticed before. The small touches that Volvo has added to make every single drive just a little bit better are limitless. The interior rear-view mirror is wide and provides an excellent view of everything behind you, and the ambient lighting in the cabin is customizable by both colour and brightness, tailored to the mood of the driver at any given time. There wasn't much not to like, because this is a vehicle that has loyal customers that will undoubtedly remain with the brand. I did find myself becoming increasingly annoyed with how easily the 12.3" touchscreen would hold fingerprints, and how difficult it was to clean. It's pretty impressive that I, an advocate of the sedan and station wagon, spent a week with a full-blown SUV and the only complaint I was able to muster was that the screen was too shiny…
Volvo has gone above and beyond with the all-new 2016 XC90, and this became evident to me very quickly after picking up my test vehicle. Though the previous-generation model was one of the oldest vehicles for sale in Canada, it still remained competitive and sold very well right up until the end. They certainly took their time developing this latest one, but the results are nothing short of staggering. This is the first time I've been this excited about a sport-utility-vehicle, because the 2016 Volvo XC90 T6 Inscription is capable of everything it promises, and a whole lot more – expect the unexpected.
2016 Volvo XC90 T6 Inscription Gallery
See Also: